If sifting through the internet seems like a bit too much of a task and you'd like us to beam this right to your phone (or home Cerebro-like computer system) try signing up for our handy weekly email newsletter!
FRIDAY NIGHT MAGIC SCHEDULE INFO!
HEY LADIES! LADIES' NIGHT 2K17 IS HERE!!!
Good news everyone! LADIES' NIGHT is returning to our Old City shop TONIGHT!

Since Cacey is running the event I've got nothing to add so here's what's going on as it's written on the  FACEBOOK EVENT:
It may have been a few years but Ladies' Night IS BACK!
If you're a woman, trans, or non-binary, you are cordially invited to our celebration of all things nerdy, hosted by our very own queen Cacey Crawford!
There will be special sections highlighting our favorite female creators, artists and characters. Come talk comics with all the geek goddesses that grace our great establishment every week. It's the perfect time to ask like minded ladies for new reading recommendations, or pick up that trade you've been eying!
Plus, we'll have plenty of tasty treats and refreshments, and who doesn't love that??
This event is entirely LADIES ONLY!! Sit down boys, be humble
G-G-G-G-GUESTS!

The fantabulous ladies of the Dirty Diamonds are coming! Kelly Phillips and Claire Folkman will be here with their latest issue of Dirty Diamonds and other things! Meet them! Talk comics! Get involved!  YES!

Yo we're super psyched that  Annie Mok's unique comics voice has been added to our list of guests coming out to Ladies' Night 2k17!  Nothing like supporting local comic creators, right?! C'mon out and see what she'll have with her!

Beth stopped by to drop off some more copies of her books and we locked her in to represent on the 21st! WOO HOO!
DID YOU READ THIS ONE?!
Sooooo a month ago or so I made a bold statement:
    "I'm thinking I'm going to try to recommend a sweet book that I've read recently that I think maybe at least one of you out there may enjoy…"
ANYWAY I've definitely failed at making this an actual weekly thing and at this point, over a month later, it's barely even a monthly thing. BUT I'm not going to give up totally just yet.
This time I'll recommend Hard Boiled.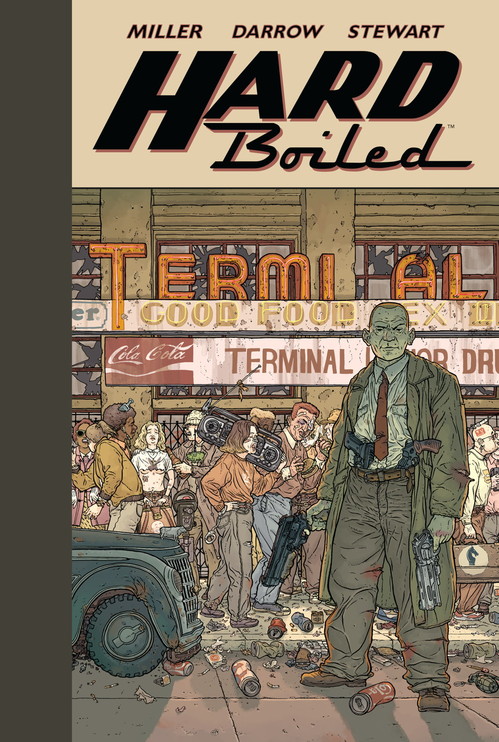 Recently Dark Horse Comics released a new edition of Frank Miller and Geoff Darrow's classic high-octane uber-violent joyride Hard Boiled. This time recolored by Eisner Award winning colorist Dave Stewart. Myself being a huge fan of all things Darrow I couldn't help but pick it up just to see what his art would look liked colored and printed with 2017 technology vs the original 1992 coloring (by Claude Legris) and printing constraints.
Now if you're not familiar with the original story you should think about it kinda like this…Blade Runner meets 80's Hong Kong action cinema meets Where's Waldo. In a lot of ways you don't read a Geoff Darrow comic as much as you just look at it long enough that it starts looking back. Darrow is a madman with detail and I've never envied anyone who's had to decipher his line work to give his pages color.
The other night, over some beers and with a pal, I went page for page with my copies of this series (yea I've got both versions in my collection) to really compare and contrast the work. By the end, and after many beers & "oh look at this" moments, we were split as to which version is the better looking version. Somehow both offered something that the other couldn't. Stewart's palette is much closer to his work on Darrow's current other series, Shaolin Cowboy, but makes tons of room for minutia. While Legris' at times popped more even though we lose some of that minutia in solid blocks of color (also there's some just plain ugly stuff too).
Either way I highly recommend adding this nice hardcover edition to your personal collection and getting lost in its' insanity. It should be available at either BNW location for $19.99.


DARK NIGHTS METAL TIE-INS AND 2ND PRINTS!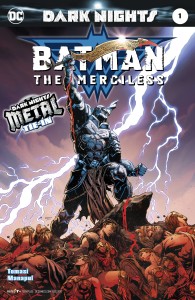 BATMAN THE MERCILESS #1 (METAL)
DC COMICS
(W) Peter J. Tomasi (A) Francis Manapul (CA) Jason Fabok
As the events of DARK NIGHTS: METAL rock the DC Universe, the creatures of the Dark Multiverse stand ready to invade our world! How can even the World's Greatest Heroes stop a horde of deadly beings that appear to be powerful, nightmare versions of familiar figures? Find out in these special tie-in issues!
METAL 2nd PRINT ZONE!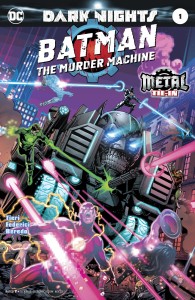 BATMAN THE MURDER MACHINE #1 2ND PTG METAL
DC COMICS
(W) Frank Tieri (A) Ricardo Federici (CA) Jason Fabok
BATMAN THE DAWNBREAKER #1 METAL 2ND PTG
DC COMICS
(W) Sam Humphries (A) Ethan Van Sciver (CA) Jason Fabok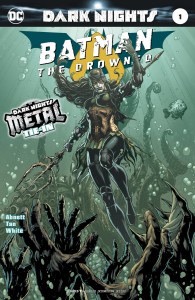 BATMAN THE DROWNED #1 METAL 2ND PTG
DC COMICS
(W) Dan Abnett (A) Philip Tan (CA) Jason Fabok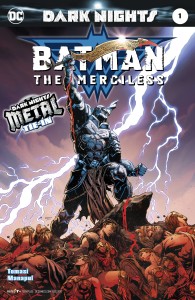 yea the 2nd and 1st prints come out the same week!
BATMAN THE MERCILESS #1 METAL 2ND PTG
DC COMICS
(W) Peter J. Tomasi (A) Francis Manapul (CA) Jason Fabok
THE OTHER STUFF!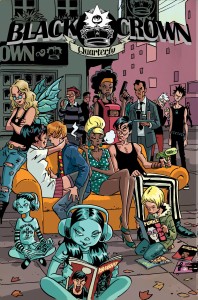 BLACK CROWN QUARTERLY #1 FALL 2017
IDW PUBLISHING
(W) Peter Milligan & Various (A) Tess Fowler & Various (CA) Rob Davis
Everything you always wanted once a season is packed within these 48 pages including a two-sided pullout poster and a wraparound cover! Delight in regular continuing features like legit publications with literary pedigrees! It all begins with the 10-page regular lead feature, Tales From the Black Crown Pub starring Stacey the barmaid by Award-winner Rob Davis (The Motherless Oven). Recurring short features include Canonball Comics: an exquisite corpse that will not stay dead kicked off by Jamie Coe (Artschooled) and Swell Maps by respectably divine music journalist/novelist Cathi Unsworth. Plus: Space CUDets rejoice: Live from a posh retirement village for wannabee 4-hit wonders we have co-writers/bandmates Will Potter and Carl Puttnam and occasional artist Philip Bond. Plus Plus: Special previews, creator interviews and behind the panel border secrets from Kid Lobotomy, Assassinistas, Punks Not Dead and much, much more!
Bullet points:
•  Featuring a pull-out poster! One side is a street map, the other is Frank Quitely's Kid Lobotomy #1 variant cover!
•  Plus, a wraparound cover by Rob Davis!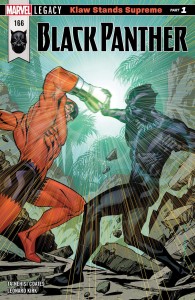 BLACK PANTHER #166

MARVEL COMICS
(W) Ta-Nehisi Coates (A) Leonard Kirk (CA) Brian Stelfreeze
KLAW STANDS SUPREME Part 1
Black Panther's greatest foe has returned – Ulysses Klaw is back and ready for war! Can T'Challa defeat the man who killed his father all while his country struggles to its feet?  And as war looms, Wakanda's gods have disappeared. Enter the Originators! The former gods are back – but what are their intentions for a land that has forgotten them?
PLUS: Includes 3 bonus MARVEL PRIMER PAGES! Story by Robbie Thompson and a TBA artist!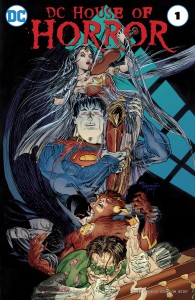 DC HOUSE OF HORROR #1
DC COMICS
(W) Keith Giffen & Various (A) Rags Morales & Various (CA) Michael William Kaluta
An all-new, all-creepy one-shot set in the DC Universe-just in time for Halloween! Martha Kent fights for her life against a creature from a spacecraft that lands in front of her farmhouse. A young woman is possessed by the spirit of a murderous Amazon warrior. The last surviving member of the Justice League faces down a horror beyond imagining. All these and more are what happens when the most exciting new voices in contemporary horror fiction are paired with the talents of some of the greatest artists in the DC firmament! And if that isn't enough to scare you, there's Keith Giffen, too.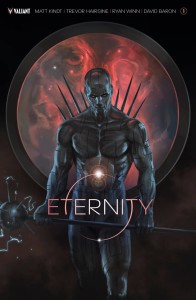 ETERNITY #1

VALIANT ENTERTAINMENT LLC
(W) Matt Kindt (A) Trevor Hairsine (CA) Jelena Kevic Djurdjevic
A VISIONARY NEW SERIES! From the minds of New York Times best-selling writer Matt Kindt (X-O MANOWAR, Mind MGMT) and blockbuster artist Trevor Hairsine (DIVINITY, X-Men: Deadly Genesis) comes an expedition into the Unknown. Beyond time… Beyond space… Beyond reality itself… ETERNITY awaits!
This October, Valiant unveils a new plane of existence beyond our own and unleashes a universe of new worlds, new beings, and new myths…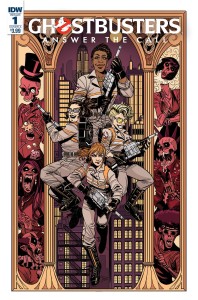 GHOSTBUSTERS ANSWER THE CALL #1
IDW PUBLISHING
(W) Kelly Thompson (A/CA) Corin Howell
"What Dreams May Come, Part 1!" On a routine house call to dispose of a simple Class III spook, Abby, Patty, Erin, and Holtzmann encounter a truly terrifying Class VII that appears to be feeding on fear. Able to create illusions that prey on their greatest fears, and with designs on turning the world into its own nightmare dimension ('natch!) our ladies may have finally met their match!
Bullet points:
* This is it! Don't miss the ladies from the 2016 film in their very own series!
* All-new hi-jinks and ghostly mayhem begins here!
* A perfect jumping on point for Ghostbuster fans both old and new!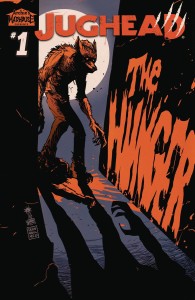 JUGHEAD THE HUNGER #1
ARCHIE COMIC PUBLICATIONS
(W) Frank Tieri (A) Pat Kennedy, Tim Kennedy (CA) Francesco Francavilla
Brand New Series! Jughead Jones is a werewolf, and Reggie Mantle has fallen victim to Jughead's monstrous ways. Now Betty Cooper: Werewolf Hunter along with Archie Andrews are hot on the trail of Jughead. For TEEN+ readers.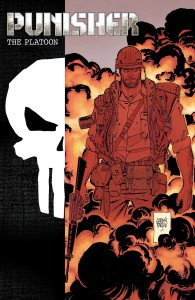 PUNISHER PLATOON #2 (OF 6)
MARVEL COMICS
(W) Garth Ennis (A) Goran Parlov, Goran Parlov
By the time the Punisher was born in Vietnam, Frank Castle had already become a dark legend of the battlefield. Stories about him were told in whispers, if at all. Now the legendary Punisher team of Garth Ennis and Goran Parlov (PUNISHER MAX, FURY MAX) brings the first of those stories to light: the tale of Frank Castle's first command, and his first kill. Don't miss this epic new series!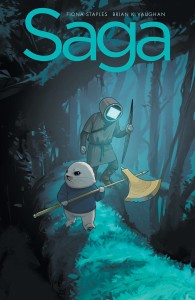 SAGA #48

IMAGE COMICS
(W) Brian K. Vaughan (A/CA) Fiona Staples
END OF STORY ARC
Ghüs and Squire have an adventure.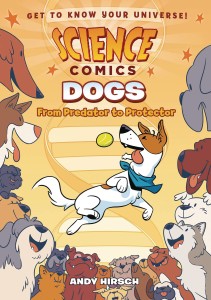 SCIENCE COMICS DOGS GN
:01 FIRST SECOND
(W/A/CA) Andy Hirsch
Each volume of Science Comics offers a complete introduction to a particular topic-dinosaurs, coral reefs, the solar system, volcanoes, bats, flying machines, and more. These gorgeously illustrated graphic novels offer wildly entertaining views of their subjects. Whether you're a fourth grader doing a natural science unit at school or a thirty-year-old with a secret passion for airplanes, these books are for you! In Dogs, we follow an adorable Cocker Jack named Rudy on a exciting trip to the dog park. There he introduces us to to his friends and works through key scientific principles from Gregory Mendel, Charles Darwin, and Dmitir Belyaev to explain dog taxonomy, origin, genetic makeup, and much more!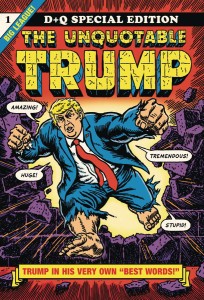 UNQUOTABLE TRUMP GN
DRAWN & QUARTERLY
(W/A/CA) R. Sikoryak
Cartoonist R. Sikoryak draws upon the power of comics and satire to frame President Trump and his controversial declarations as the words and actions of the most notable villains and antagonists in comic book history. Reimagining the most famous comic covers, Sikoryak transforms Wonder Woman into Nasty Woman; Tubby Tompkins into Trump; Black Panther into the Black Voter; the Fantastic Four into the Hombres Fantasticos and Trump into Magneto fighting the Ex-Men. In perfect Trumpian fashion, The Unquotable Trump will be a 48-page treasury annual needlessly oversized and garishly colored.
ALSO THIS RULES
NOW HERE'S THE FULL LIST!
If you want a full visual list of everything howabout you click on this hyperlink  (tho the Diamond  might not update til Monday or something)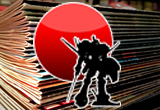 (the following list of comics reflects ALL the comics coming into BOTH locations. If there's something on this list that's NOT IN STOCK at your favorite BNW location DO NOT HESITATE  TO ASK FOR US TO ORDER IT FOR YOU!)
COMICS AND MAGAZINES
Action Comics #990
All New Wolverine #26
Amazing Spider-Man #790
America #8
Angel Season 11 #10
Angelic #2
ASH vs AOD #4
Back To The Future #24
Batgirl #16
Batman Beyond #13
Batman The Dawnbreaker #1 Metal 2nd Ptg
Batman The Drowned #1 Metal 2nd Ptg
Batman The Merciless #1 (METAL)
Batman The Merciless #1 Metal 2nd Ptg
Batman The Murder Machine #1 2nd Ptg Metal
Ben Reilly Scarlet Spider #9
Big Trouble In Little China Old Man Jack #2
Black Crown Quarterly #1 Fall 2017
Black Panther #166
Black Sable #2 (OF 6)
Bloodshot Salvation #2
Blue Beetle #14
BPRD Devil You Know #3
BTVS Season 11 #12
Captain Kronos #2
Captain Marvel #125
Catalyst Prime Incidentals #3
Copperhead #15
Damned #5
Daredevil #28
Dark Ark #2
DC House Of Horror #1
Deadly Class #31
Despicable Deadpool #288
Detective Comics #967
Doctor Who 11th Year Three #11
Elfquest Final Quest #22
Eternity #1
First Strike #6
Flash #33 (METAL)
Fu Jitsu #2
Gasolina #2
Ghostbusters Answer The Call #1
Glitterbomb Fame Game #2
Goosebumps Monsters At Midnight #1 (OF 3)
Gotham City Garage #2
Guardians Of Galaxy Telltale Series #4 (OF 5)
Hack Slash Resurrection #1
Hal Jordan And The Green Lantern Corps #31
Hard Place #3 (OF 5)
Haunted Horror #30
Hellblazer #15
Hi-Fi Fight Club #3 (OF 4)
Hobby Japan Oct 2017
Image Plus #3 (WYTCHES The Bad Egg Pt 3)
Jean Grey #8
Jim Henson Power Of Dark Crystal #8 (OF 12)
Jughead The Hunger #1
Justice League Of America #17
Kaijumax Season 3 #4
Kamandi Challenge #10 (OF 12)
Kim And Kim Love Is A Battlefield #4
Lady Mechanika Clockwork Assassin #3 (OF 3)
Lola Xoxo Vol 2 #4
Mass Effect Discovery #4
Mighty Morphin Power Rangers #20
Moon Girl And Devil Dinosaur #24
Mother Panic #12
Nightwing The New Order #3 (OF 6)
Outcast By Kirkman & Azaceta #31
Over Garden Wall Ongoing #19
Previews #350 November 2017
Marvel Previews Vol 04 #4 November 2017 Extras
Popeye Classics Ongoing #63
Punisher #17
Punisher Platoon #2 (OF 6)
Rebels These Free & Independent States #8 (OF 8)
Renato Jones Season Two #4 (OF 5)
Rick & Morty #31
Ruff & Reddy Show #1 (OF 6)
Saga #48
Samurai Jack Quantum Jack #2 (OF 5)
Scooby Doo Team Up #31
Shadow #3
Silver Surfer #14
Southern Cross #13
Spawn #279
Star Trek Boldly Go #13
Star Wars Jedi Republic Mace Windu #3 (OF 5)
Steven Universe Ongoing #9
Street Fighter Vs Darkstalkers #6 (OF 8)
Suicide Squad #28
Teen Titans #13
Thanos #12
The Beautiful Death (STATIX) #2 (OF 5)
Thor Where Walk The Frost Giants #1
TMNT Ongoing #75
Turok #3
Underwinter Field Of Feathers #1
Unsound #5 (OF 6)
US Avengers #11
Victor Lavalle Destroyer #6 (OF 6)
Violent Love #9
Wayward #24
Weapon X #10
Wonder Woman #33
WWE #10
X-Files JFK Disclosure #1 (OF 2)
X-Men Blue #14
X-O Manowar (2017) #8
TRADE PAPERBACKS, GRAPHIC NOVELS, HARDCOVERS AND MANGA
Avatar Last Airbender North And South Library Edition
Batman Night Of The Monster Men Tp (REBIRTH)
Civil War II Tp
Doctor Strange Tp Vol 03 Blood In The Aether
Goddamned Oversized Hc
Golgotha Tp
Green Valley Hc
Hellblazer Tp Vol 02 The Smokeless Fire (REBIRTH)
Injustice 2 Hc Vol 01
Invincible Iron Man Tp Vol 03 Civil War Ii
Lucifer Tp Vol 03 Blood In The Streets
Redneck Tp Vol 01 Deep In The Heart
Science Comics Dogs Gn
Secret Empire Hc
Shaolin Cowboy Hc Wholl Stop The Reign
Street Angel Superhero For A Day Hc
Tank Girl World War Tank Girl Tp
Transformers Lost Light Tp Vol 01
Unquotable Trump Gn
Venom Tp Vol 02 Land Before Crime
Weapons Of Mutant Destruction Tp
Wildstorm A Celebration Of 25 Years Hc
TOYS
Ash Vs Evil Dead Ultimate Ash 7in Af
Marvel Select Netflix Daredevil Af