It's the weekend a ton of you waited all year for…Stranger Things is BACK on Netflix! Oh yea and Halloween parties are abound! When you need a break from either take a look at what we'll have this week for the 1st New Comic Book Day of NOVEMBER!
If sifting through the internet seems like a bit too much of a task and you'd like us to beam this right to your phone (or home Cerebro-like computer system) try signing up for our handy weekly email newsletter!
FRIDAY NIGHT MAGIC SCHEDULE INFO!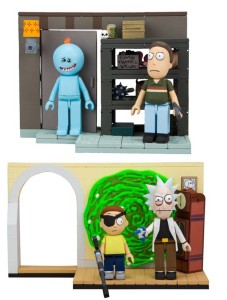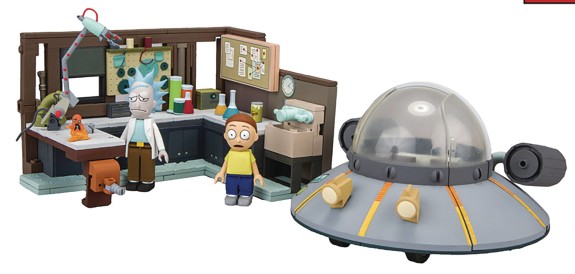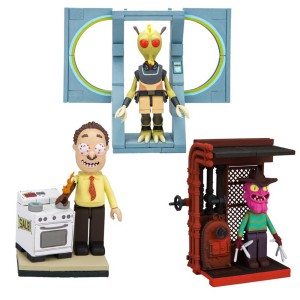 RICK & MORTY CONSTRUCTION SETS
TMP TOYS / MCFARLANE'S TOYS
From McFarlane's Toys. Pieced together with garbage and capable of interstellar travel, the spaceship is one of Rick's most useful inventions.  The ship is stored in the Smith family garage where Rick also keeps his laboratory.  It is here that Rick conducts his experiments, both benign and horrific. This Buildable "Spaceship and Garage" set inspired by Dan Harmon and Justin Roiland's Rick and Morty television series features buildable Rick and Morty figures and comes with garage setting and buildable Spaceship with functioning doors. Set contains approx. 294 pieces and figures feature articulation in the main joints and have swappable heads/limbs.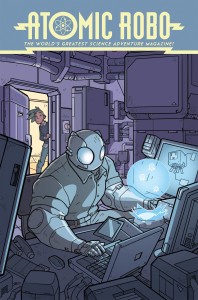 ATOMIC ROBO SPECTRE OF TOMORROW #1

IDW PUBLISHING
(W) Brian Clevinger (A/CA) Scott Wegener
Remember those carefree days when the world was only imperiled by things like giant mutants from the sea or the occasional mad scientist dinosaur? Now it's 2017 and everything's horrible all the time! But that's why Atomic Robo is setting up the new Tesladyne Institute in the badlands of New Mexico's Jornada del Muerto desert with Sir Richard Branson's Spaceport on one side and Elon Musk's Solar Farm on the other. With neighbors like these, who needs to uncover an insidious plot that threatens the lives of everyone in the world?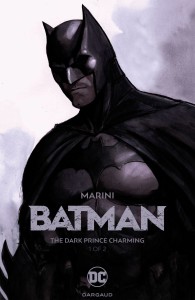 BATMAN THE DARK PRINCE CHARMING HC BOOK 01
DC COMICS
(W/A/CA) Enrico Marini
Acclaimed European comics master Enrico Marini (Eagles of Rome, Le Scorpion) makes his American comics debut with an original, two-part graphic novel starring the Dark Knight! What secret connection do both Batman and The Joker share with a strange and mysterious young girl? After she's kidnapped by The Joker, Batman must plunge deep into the underworld of Gotham City and race against time to find out where she's being held. The stakes are high, and for Batman, it's personal!
Watch for BATMAN: THE DARK PRINCE CHARMING BOOK TWO coming in spring 2018!
BATMAN THE DEVASTATOR #1 (METAL)
DC COMICS
(W) Frank Tieri (A) Tony S. Daniel (CA) Jason Fabok
As the events of DARK NIGHTS: METAL rock the DC Universe, the creatures of the Dark Multiverse stand ready to invade our world! How can the World's Greatest Heroes stop a horde of deadly bein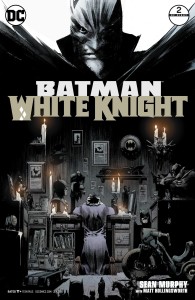 BATMAN WHITE KNIGHT #2 (OF 8)
DC COMICS
(W/A/CA) Sean Murphy
Public support for Batman dwindles and Gotham City's 99 percent rally around ex-Joker Jack Napier's crusade to expose decades of corruption within the GCPD. A proposition inspires new revelations about Harley and The Joker's past; and as Jack transforms into a hero of the middle class and takes extreme measures to mobilize a revolutionary army of super-villains, Bruce struggles to stay focused on engineering a technological breakthrough to save Alfred.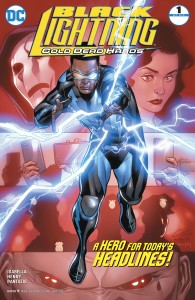 BLACK LIGHTNING COLD DEAD HANDS #1 (OF 6)
DC COMICS
(W) Tony Isabella (A/CA) Clayton Henry
All-new mini-series by original creator Tony Isabella teamed with superstar artist Clayton Henry! Black Lightning is back and things are not the same! In his home town of Cleveland, high school teacher Jefferson Pierce is a role model for his students. As Black Lightning, he's fighting to keep them safe, even as his city's streets are invaded by local gangs with deadly super-weapons. And wait until you see who their supplier is! Real-world issues in a super-hero world! Expect the unexpected!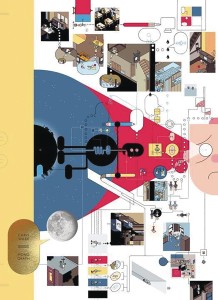 CHRIS WARE MONOGRAPH HC
RIZZOLI
(W) Chris Ware, Ira Glass (A/CA) Chris Ware
Monograph charts the art and literary world's increasing tolerance for the language of the empathetic doodle directly through the work of one of its most esthetically constipated practitioners. Arranged chronologically with all thoughtful critical and contemporary discussion common to the art book genre jettisoned in favor of Mr. Ware's unchecked anecdotes and unscrupulous personal asides, the author-as-subject has nonetheless tried as clearly and convivially as possible to provide a contrite, companionable guide to an otherwise unnavigable jumble of product spanning his days as a pale magnet for athletic upperclassmen's ire up to his contemporary life as a stay-at-home dad and agoraphobic graphic novelist.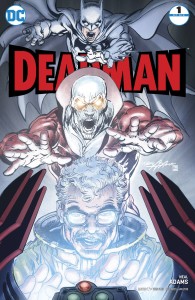 DEADMAN #1 (OF 6) GLOW IN THE DARK ED
DC COMICS
(W/A/CA) Neal Adams
"Journey into Death" part one! When we last left Deadman, the true story had barely begun! Deadman's death was unsolved, and his fate was intertwined with that of his parents and siblings. Even the Dark Night Detective couldn't solve the mysteries of Boston Brand's fantastic secrets! Now, Batman is back, confronting Deadman about who was really behind his death. Was Boston Brand's assassination a test for the League of Assassins? Why does Batman think Ra's al Ghul was involved? And why does Deadman need the help of Zatanna, Phantom Stranger, Dr. Fate and the Spectre to defend Nanda Parbat?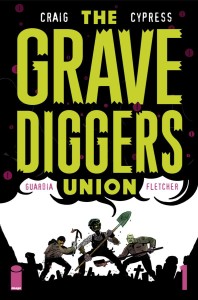 GRAVEDIGGERS UNION #1

IMAGE COMICS
(W) Wes Craig (A) Toby Cypress (CA) Wes Craig
DEADLY CLASS co-creator WES CRAIG launches a new series with art by rising star TOBY CYPRESS (Omega Men)! The supernatural world has gone crazy! The apocalypse is coming, and only the Gravediggers Union can stop it! How? Well, first their leader Cole has to find his estranged daughter. But is she the one behind the apocalypse? Wild comedic horror with steroid zombies, monster gods, swamp vampires, ghost storms, and space monkeys! OVERSIZED FIRST ISSUE!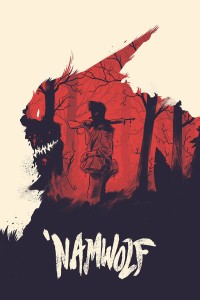 NAMWOLF TP VOL 01 HEART OF DARKNESS

ALBATROSS FUNNYBOOKS
(W) Fabian, Jr. Rangel (A/CA) Logan Faerber
When scrawny Marty Spencer is drafted into the Vietnam War, he finds himself smack dab in the middle of the heart of darkness. But Marty has a secret. A secret even from himself. And Vietnam is a hell of a place to find out you're a werewolf. Collects issues #1-4.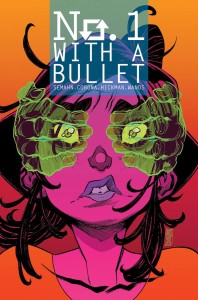 NO 1 WITH A BULLET #1
IMAGE COMICS
(W) Jacob Semahn (A/CA) Jorge Corona
"A sublime piece of futurism that is both entertaining in its absurdity and terrifying in its predictions."–Clive Barker
Her social media, strong. Her variety show segments, a hit. Nash Huang is at the top of her game. But when the iRis Shutter contact lens hits the market, Nash's life is personally invaded. The latest leap forward in "technological progress," these contacts not only play video or augment reality…but also record footage. Fighting to keep her life together after a leaked sex tape goes viral, a clingy super-fan is the last thing on Nash's mind…but that's exactly when the bodies pile up and the terror begins.
From the bestselling team that brought you GONERS, comes NO. 1 WITH A BULLET!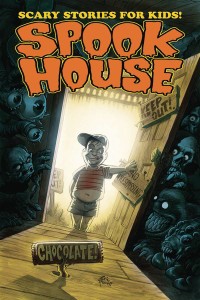 SPOOKHOUSE TP VOL 01

ALBATROSS FUNNYBOOKS
(W) Eric Powell & Various (A) Steve Mannion & Various (CA) Eric Powell
Spooky fun for kids and adults! Collects issues #1-5 of the kids horror anthology Spook House!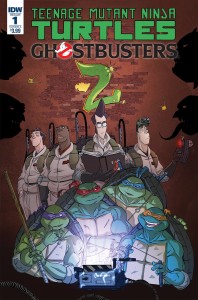 TMNT GHOSTBUSTERS II #1

IDW PUBLISHING
(W) Erik Burnham, Tom Waltz (A/CA) Dan Schoening
The two beloved franchises reunite for a new adventure more action-packed and hilarious than ever! The Turtles are stuck in a ghost dimension by an old adversary and only the Ghostbusters can save them. The ensuing adventure will be an inter-dimensional romp like never seen before!
Bullet points:
* The sequel to the surprise crossover hit!
* From the creative teams of both TMNT and Ghostbusters!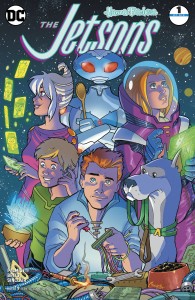 JETSONS #1
DC COMICS
(W) Jimmy Palmiotti (A) Pier Brito (CA) Amanda Conner
Meet George Jetson, a family man living an analog life in a digital world. His wife, Jane, is a brilliant NASA scientist working off-world at a conference, his daughter Judy is a social butterfly trying to discover her calling, and his boy Elroy is either doing homework or using robotic technology to break the rules. Strangest of all, George's mother has downloaded herself into Rosie the robot! Join this postmodern family as doom rockets toward them from the outer reaches of the galaxy on a crash course of destruction!

NOW HERE'S THE FULL LIST!
If you want a full visual list of everything howabout you click on this hyperlink  (tho the Diamond  might not update til Monday or something)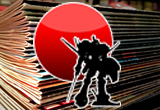 (the following list of comics reflects ALL the comics coming into BOTH locations. If there's something on this list that's NOT IN STOCK at your favorite BNW location DO NOT HESITATE  TO ASK FOR US TO ORDER IT FOR YOU!)
COMICS AND MAGAZINES
Adventure Time #70
Amory Wars Good Apollo #8
Archie #25
Astonishing X-Men #5
Atomic Robo Spectre Tomorrow #1
Avengers #673
Back Issue #101
Bane Conquest #7
Batman #34
Batman The Devastator #1
Batman White Knight #2
Bettie Page #4
Black Bolt #7
Black Lightning Cold Dead Hands #1
Bombshells United #5
Captain America #695
Clue #5
Crosswind #5
Cyborg #18
Dastardly And Muttley #3
Deadman #1
Deathstroke #25
Doctor Who Lost Dimension Omega #1
Doctor Who Lost Dimension Special #2
Ducktales #2
Elsewhere #4
Extremity #8
GI Joe A Real American Hero #245
Giant Days #32
Gravediggers Union #1
Green Arrow #34
Green Lanterns #34
Guardians Of Galaxy #146
Harley & Ivy Betty & Veronica #2
Iceman #7
Inhumans Once Future Kings #4
Injustice 2 #13
Iron Fist #74
Jetsons #1
Justice League #32
Lazaretto #3 (OF 5)
Lazarus X Plus 66 #4
Mask First Strike #1
Nightwing #32
No 1 With A Bullet #1
Old Man Logan #30
Optimus Prime #12
Paper Girls #17
Peter Parker Spider-Man #6
Power Pack #63
Robotech #4
Shadow Batman #2
Simpsons Comics Explosion #4
Spider-Man #234
Spread #23
Star Wars Darth Vader #7
Superman #34
Stray Bullets Sunshine & Roses #29
TMNT Ghostbusters II #1
Uber Invasion #9
Usagi Yojimbo #163
Voltron Legendary Defender Vol 2 #2
Walking Dead #173
Wormwood Goes To Washington #2
Weapon X #9
TRADE PAPERBACKS, GRAPHIC NOVELS, HARDCOVERS AND MANGA
Batman The Dark Prince Charming Hc Book 01
Chris Ware Monograph Hc
Deadpool Worlds Greatest Tp Vol 10 Secret Empire
Devilman Grimoire Gn Vol 01
Hatsune Miku Future Delivery Tp 01
Justice League Tp Vol 04 Endless (REBIRTH)
Man From The Great North Hc
Namwolf Tp Vol 01 Heart Of Darkness
Spookhouse Tp Vol 01
Steven Universe Original Gn Vol 02 Anti Gravity
Superman Action Comics Tp Vol 04 The New World (REBIRTH)
TOYS
DCtv The Flash Kid Flash Af
Rick & Morty Micro Construction Set
Rick & Morty Small Construction Set
Rick & Morty Spaceship Construction Set
ODDS AND ENDS
Operation Star Wars BB-8 Edition