If sifting through the internet seems like a bit too much of a task and you'd like us to beam this right to your phone (or home Cerebro-like computer system) try signing up for our handy weekly email newsletter!
FRIDAY NIGHT MAGIC SCHEDULE INFO!
HEY LADIES! LADIES' NIGHT 2K17 is BASICALLY HERE!!!
Good news everyone! LADIES' NIGHT is returning to our Old City shop in October!!!

Since Cacey is running the event I've got nothing to add so here's what's going on as it's written on the  FACEBOOK EVENT:
It may have been a few years but Ladies' Night IS BACK!
If you're a woman or identify as a woman, you are cordially invited to our celebration of all things nerdy, hosted by our very own queen Cacey Crawford!
There will be special sections highlighting our favorite female creators, artists and characters. Come talk comics with all the geek goddesses that grace our great establishment every week. It's the perfect time to ask like minded ladies for new reading recommendations, or pick up that trade you've been eying!
Plus, we'll have plenty of tasty treats and refreshments, and who doesn't love that??
This event is entirely LADIES ONLY!! Sit down boys, be humble
G-G-G-G-GUESTS!

The fantabulous ladies of the Dirty Diamonds are coming! Kelly Phillips and Claire Folkman will be here with their latest issue of Dirty Diamonds and other things! Meet them! Talk comics! Get involved!  YES!

Yo we're super psyched that  Annie Mok's unique comics voice has been added to our list of guests coming out to Ladies' Night 2k17!  Nothing like supporting local comic creators, right?! C'mon out and see what she'll have with her!

Beth stopped by to drop off some more copies of her books and we locked her in to represent on the 21st! WOO HOO!
TOYS! NEW TOYS!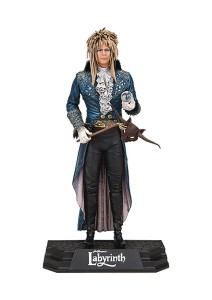 LABYRINTH 7IN JARETH AF
TMP TOYS / MCFARLANE'S TOYS
From McFarlane's Toys. A mystical figure possessing powers of transformation, Jareth, is the Goblin King of the Labyrinth. With an ability to create crystal orbs within his hands, Jareth is able to use them to create various illusions to entrance and manipulate others. This detailed 7-inch scale collectible Jareth action figure features his velvet tailcoat from the iconic Ballroom dream sequence and includes masquerade mask and crystal orb accessories. Designed with 12+ points of articulation for dynamic posing, The figure features a stylized Labyrinth branded display base and showcased in window box packaging.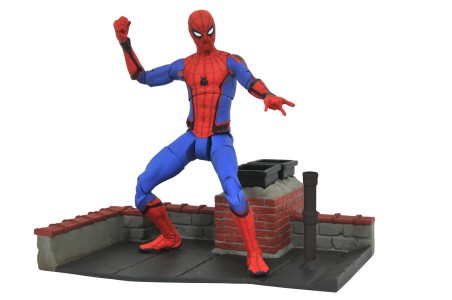 MARVEL SELECT SPIDER-MAN HOMECOMING MOVIE AF
DIAMOND SELECT TOYS LLC
A Diamond Select Release! The most anticipated Spider-Man film of all time is almost here, and this new Marvel Select action figure captures the excitement of the new movie! After his eye-opening appearance in Captain America: Civil War, making a figure of Spidey for Spider-Man: Homecoming was a no-brainer, and this 7″ tall figure features 16 points of articulation as well as interchangeable parts. Packaged in display-ready Select figure pacakaging, with side panel artwork for shelf reference. Sculpted by Gentle Giant Studios!
 DARK NIGHTS METAL TIE-INS AND 2ND PRINTS!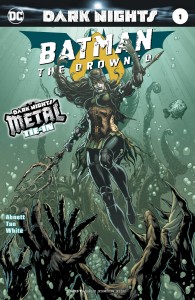 BATMAN THE DROWNED #1 (METAL)
DC COMICS
(W) Dan Abnett (A) Philip Tan (CA) Jason Fabok
As the events of DARK NIGHTS: METAL rock the DC Universe, the creatures of the Dark Multiverse stand ready to invade our world! How can even the World's Greatest Heroes stop a horde of deadly beings that appear to be powerful, nightmare versions of familiar figures? Find out in these special tie-in issues!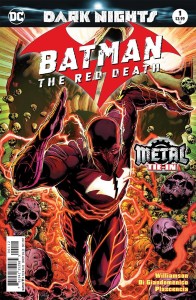 BATMAN THE RED DEATH #1 2ND PRINT! (METAL)

DC COMICS
(W) Joshua Williamson (A) Carmine Di Giandomenico (CA) Jason Fabok
As the events of DARK NIGHTS: METAL rock the DC Universe, the creatures of the Dark Multiverse stand ready to invade our world! How can even the World's Greatest Heroes stop a horde of deadly beings that appear to be powerful, nightmare versions of familiar figures? Find out in these special tie-in issues!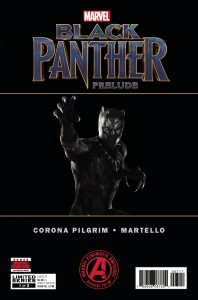 BLACK PANTHER PRELUDE #1 (OF 2)
MARVEL COMICS
(W) Will Pilgrim (A) Annapaola Martello
Wakanda. The most technologically advanced nation in the world – and protected by the mighty BLACK PANTHER! Learn how T'CHALLA became the legendary hero of Wakanda in this ALL-NEW, NEVER-BEFORE-TOLD tale set in the Marvel Cinematic Universe! See how the mantle was passed to the future king, in a time when super heroes were just emerging in the larger world, before this winter's BLACK PANTHER film hits theaters!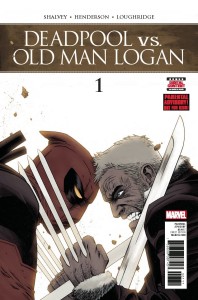 DEADPOOL VS OLD MAN LOGAN #1 (OF 5)
MARVEL COMICS
(W) Declan Shalvey (A) Mike Henderson (CA) Declan Shalvey
What do you get when you cross a regenerative, cranky, old X-Man with a regenerative, wacky Wade Wilson? DEADPOOL VS. OLD MAN LOGAN! Writer DECLAN SHALVEY (DEADPOOL, MOON KNIGHT) and Mike Henderson (SECRET WARS: BATTLEWORLD, Nailbiter) are teaming up to team up Marvel's deadliest heroes together in their own series! James "Logan" Howlett is after a newly discovered Omega-Level mutant, and he just won't let Deadpool help. So, naturally, Deadpool vows to outmatch his newly marked enemy for the entirety of his mission!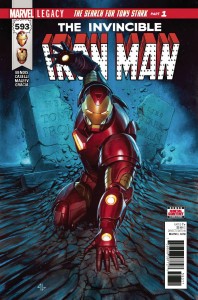 INVINCIBLE IRON MAN #593

MARVEL COMICS
(W) Brian Michael Bendis (A) Stefano Caselli (CA) Adi Granov
THE SEARCH FOR TONY STARK Part 1
Tony Stark has vanished! The mystery deepens as Stark friends and foes must decide, finally, who will wield the power of Iron Man! All the contenders are in position, and all the armor is polished. There can only be one Armored Avenger! The path to the most startling Iron Man story ever begins here! PLUS: Includes 3 bonus MARVEL PRIMER PAGES! Story by Robbie Thompson and a TBA artist!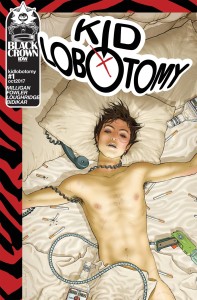 KID LOBOTOMY #1
IDW PUBLISHING
(W) Peter Milligan (A) Tess Fowler (CA) Frank Quitely
Kafka meets King Lear by way of Young Frankenstein in KID LOBOTOMY, a dark, demented, monthly satire that follows a dysfunctional family of hoteliers. Will sibling rivalry, seduction, and shapeshifting eventually lead to sanity or salvation?
Big Daddy is a rich hotelier who, in a cracked echo of King Lear, appoints his youngest descendant to manage The Suites, a peculiar hotel located behind the Black Crown Pub. Affectionately known as Kid, his good looks and swagger can't hide a rough childhood of strange therapies and brain operations that have awakened inner demons and psychodramas. This of course makes him eminently qualified to perform lobotomies. A failed rockstar/successful madman gets one last change to prove his worth-and regain his sanity-by turning the hotel that was once his childhood sanctuary into a lucrative business, despite a host of obstacles-including his own sister-who would love nothing more than to see him fail miserably.
Kid Lobotomy is co-created/written by Peter Milligan (Shade, the Changing Man, Brittania, Hellblazer) and illustrated by Tess Fowler (Rat Queens) with "A" covers by Fowler, a "B" cover by Frank Quitely, and a retailer incentive cover by comics superstar Frank Quitely (Jupiter's Legacy, We3)
Bullet points:
•  Grab your cockroach! Black Crown debuts here!
•  Special 23 pages of story in the first issue!
•  Letter columns, creator interviews, process pages & more!
•  Previews for upcoming Black Crown series!
LITTLE BOOK OF KNOWLEDGE HC TATTOOS
IDW PUBLISHING
(W) Jerome Pierrat (A/CA) Alfred
Never before has the tattoo been spread across the various strata of society with such enthusiasm. In just a few decades this practice dating from the Neolithic period has become a globalized phenomenon. Now retrace the history of the tattoo in this look at its role in fashion, societal standing, and aesthetics.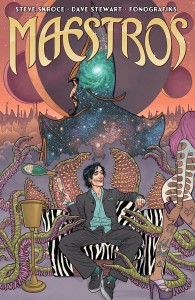 MAESTROS #1
IMAGE COMICS
(W/A/CA) Steve Skroce
The Maestro and his entire royal family have been murdered. Now, his banished son from Earth will inherit the Wizard King's throne along with a spell that turns its user into GOD. With enemies everywhere, will this Orlando-born millennial be able to keep his new magic kingdom?
From STEVE SKROCE, the storyboard artist of The Matrix trilogy, the artist and co-creator of WE STAND ON GUARD and Doc Frankenstein, the writer / artist of Wolverine, and the artist of Amazing Spider-Man and ALAN MOORE's YOUNGBLOOD.
"MAESTROS is a masterpiece, with one of the best first issues I've ever read. Steve is somehow an even greater writer than he is an artist. Get ready for your new favorite comic." -BRIAN K. VAUGHAN
MIGHTY THOR #700
MARVEL COMICS
(W) Jason Aaron (A) Russell Dauterman & Various (CA) Russell Dauterman
DEATH OF THE MIGHTY THOR Part 1
The final judgement comes as the Mangog arrives! The War Thor will meet the beast head on. But even the bloodthirst of this Ultimate Thor may pale in comparison to the might of the Mangog! The battle rages as Jane's cancer takes a turn for the worse, and she might not have to wait for the final judgment at all. The clock is ticking, and no hammer can save her this time. It's the beginning of the end that will lead to the most dramatic return in the Marvel Universe!
PLUS: Includes 3 bonus MARVEL PRIMER PAGES! Story by Robbie Thompson and a TBA artist!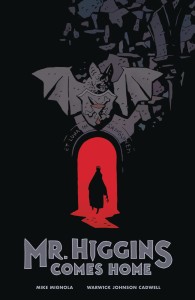 MR HIGGINS COMES HOME HC
DARK HORSE COMICS
(W) Mike Mignola (A) Warwick Johnson-Cadwell (CA) Mike Mignola
Preparations begin at Castle Golga for the annual festival of the undead, as a pair of fearless vampire killers question a man hidden away in a monastery on the Baltic Sea. The mysterious Mr. Higgins wants nothing more than to avoid the scene of his wife's death, and the truth about what happened to him in that castle. However, these heroic men sworn to rid the world of the vampire scourge inspire Higgins to venture out and to end the only suffering he really cares about-his own.
This sendup of classic vampire stories sees Mignola teaming with British artist Warwick Johnson Cadwell (Solid State Tank Girl, No. 1 Car Spotter) for an original graphic novel as outlandish as The Amazing Screw-On Head.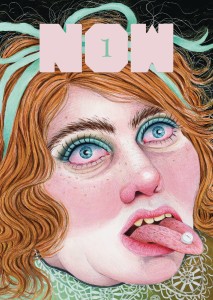 NOW #1

FANTAGRAPHICS BOOKS
Fantagraphics is proud to launch a new, ongoing comics anthology of short stories by a mix of established and up-and-coming talent. This three times per year series features all-new, done-in-one stories for comics fans of all stripes. The first issue includes new work from acclaimed authors such as Eleanor Davis, Noah Van Sciver, Gabrielle Bell, Dash Shaw, Sammy Harkham, and Malachi Ward, as well as international authors such as J.C. Menu, Conxita Herrerro, Tommi Parrish, Tobias Schalken, and Antoine Cossé. Plus other surprises, and a gorgeous painted cover by Chicago artist Rebecca Morgan.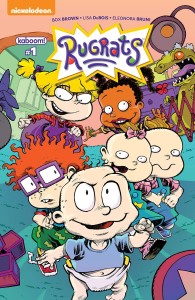 RUGRATS #1
BOOM! STUDIOS
(W) Box Brown (A) Lisa DuBois (CA) Jorge Corona
Hang on to your diapies, babies! We're teaming up with Nickelodeon for all-new Rugrats adventures with the most intrepid toddlers to ever bust out of a playpen!
Tommy, Chucky, Phil and Lil have noticed something-they are being watched. Somehow their parents can see every little thing that they can do. They're going to have to find a way to have fun while avoiding the electronic eyes of the babycam!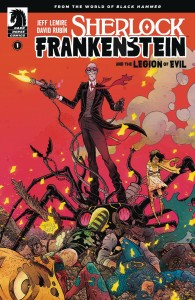 SHERLOCK FRANKENSTEIN & LEGION OF EVIL #1 (OF 4)

DARK HORSE COMICS
(W) Jeff Lemire (A/CA) David Rubin
Lucy Weber, daughter of the Black Hammer, grew up to become an investigative reporter for the Global Planet. Now she's on the hunt for the true story about what happened to Spiral City's superheroes after they defeated Anti-God and saved the world. All answers seem to lie with the dangerous super villain tenants of Spiral City's infamous asylum. As she gets closer to the truth she uncovers the dark origin stories of some of her father's greatest foes, and learns how they tie into the puzzle of what happened to Spiral City's greatest hero.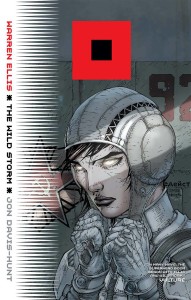 WILD STORM TP VOL 01
DC COMICS
(W) Warren Ellis (A) Jon Davis-Hunt (CA) Jim Lee, Scott Williams
New York Times best-selling writer Warren Ellis (TRANSMETROPOLITAN, RED, THE AUTHORITY) returns to reset the WildStorm universe with new iterations of Grifter, Voodoo, the Engineer, Jenny Sparks and more in this volume collecting issues #1-6 of the hit series. Everyone is looking up. A man has been thrown from the upper floor of a skyscraper. Angela Spica, sick from the transhuman implants she's buried in her own body – is the only person who can save him.
What she doesn't know is that the act of saving that one man will tip over a vast and secret house of cards that encloses the entire world, if not the inner solar system. This is how the Wild Storm begins, and it may destroy covert power structures, secret space programs and even all of human history.

NOW HERE'S THE FULL LIST!
If you want a full visual list of everything howabout you click on this hyperlink  (tho the Diamond  might not update til Monday or something)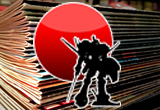 (the following list of comics reflects ALL the comics coming into BOTH locations. If there's something on this list that's NOT IN STOCK at your favorite BNW location DO NOT HESITATE  TO ASK FOR US TO ORDER IT FOR YOU!)
COMICS AND MAGAZINES
Adventure Time Comics #16
All New Guardians Of Galaxy #12
Animosity #10
Animosity Evolution #1
Aquaman #29
Archie And Me Comics Digest #1
Assassins Creed Uprising #8
Astro City #48
Batman #33
Batman The Drowned #1
Batwoman #8
Bill & Ted Save The Universe #5 (OF 5)
Bitch Planet Triple Feature #5
Black Panther Prelude #1 (OF 2)
Bombshells United #4
Cable #150
Catalyst Prime Superb #4
Champions #13
Curse Words #9
Dead Of Winter #3
Deadpool Vs Old Man Logan #1 (OF 5)
Dept H #19
Descender #25
Doctor Strange #26
Doctor Who 10th Year Three #10
Doctor Who 12th Year Three #8
Faith And The Future Force #4
Future Quest Presents #3
Game Of Thrones Clash Of Kings #5
Generation Gone #4
Generation X #7
Genius Cartel #3 (OF 5)
Ghost Station Zero #3 (OF 4)
Go Go Power Rangers #4
Green Arrow #33
Green Lanterns #33
Grrl Scouts Magic Socks #6 (OF 6)
Grumpy Cat Garfield #3 (OF 3)
Gwar Orgasmageddon #4 (OF 4)
Halo Rise Of Atriox #3 (OF 5)
Harley Quinn #30
Heartthrob Season 2 #4
Horizon #15
Howling #4
Incredible Hulk #709
Injustice 2 #12
Invincible #141
Invincible Iron Man #593
James Bond Kill Chain #4 (OF 6)
Jem & The Holograms Misfits Infinite #3 (OF 3)
Jim Butcher Dresden Files Dog Men #5 (OF 6)
Journey SW Last Jedi Capt Phasma #4 (OF 4)
Justice Inc Faces Of Justice #3 (OF 4)
Justice League #31
Kid Lobotomy #1
Kill Or Be Killed #13
Kill The Minotaur #5
Knights Of The Dinner Table #248
Kong Gods Of Skull Island Oneshot #1
Luke Cage #166
Lumberjanes #43
Mad Magazine #548
Maestros #1
Mage Hero Denied #3 (OF 15)
Magnus #5
Mighty Thor #700
Misfit City #6
Monsters Unleashed #7
Mr Higgins Comes Home Hc
Nightwing #31
Normandy Gold #4
Now #1
Optimus Prime First Strike #1
Peter Parker Spectacular Spider-Man #5
Realm #1 2nd Ptg
Realm #2
Rick & Morty Pocket Like You Stole It #4 (OF 5)
Riverdale (ONGOING) #7
Rom Vs Transformers Shining Armor #4
Rugrats #1
Secret Warriors #7
Sherlock Frankenstein & Legion Of Evil #1 (OF 4)
Shirtless Bear-Fighter #5 (OF 5)
Spider-Gwen #25
Spy Seal #3
Star Wars Adventures #3
Star Wars Poe Dameron #20
Super Sons #9
Superman #33
Swordquest #4
Teen Titans Go #24
Theyre Not Like Us #16
Three Stooges Halloween Stoogetacular
Titans #16
TMNT Universe #15
Torchwood The Culling #1 (OF 4)
Transformers Lost Light #10
Trinity #14
Vampirella #7
Van Helsing Vs The Werewolf #4
Venom #156
War Mother #3
Wild Storm #8
Wonder Woman Conan #2 (OF 6)
X-Men Gold #14
TRADE PAPERBACKS, GRAPHIC NOVELS, HARDCOVERS AND MANGA
America Tp Vol 01 Life & Times Of America Chavez
Black Panther Crew Tp We Are The Streets
Bottled Tp
Girl From Other Side Siuil Run Gn Vol 01
I Hate Fairyland Tp Vol 03 Good Girl
Jean Grey Tp Vol 01 Nightmare Fuel
Little Book Of Knowledge Hc Tattoos
Low Dlx Hc Vol 01
Mr Higgins Comes Home Hc
Pele Hc Gn
Star Wars Adventures Tp Vol 01
Steven Universe Ongoing Tp Vol 01 Warp Tour
Wild Storm Tp Vol 01
TOYS
DC Designer Series Bombshells Batgirl Af
DC Designer Series Bombshells Hawkgirl Af
DC Designer Series Bombshells Katana Af
DC Designer Series Bombshells Mera Af
Labyrinth 7in Jareth Af
Marvel Select Spider-Man Homecoming Movie Af
ODDS AND ENDS
2000 Ad X Threea Judge Dredd 1/6 Scale Fig
DC Batman Universe Bust Coll
Marvel Gallery GOTG 2 Gamora & Rocket Raccoon Pvc