Here's another dose of what's going on and what will be out on 9.13.17!
If sifting through the internet seems like a bit too much of a task and you'd like us to beam this right to your phone (or home Cerebro-like computer system) try signing up for our handy weekly email newsletter!
LADIES MARK YOUR CALENDARS!
Good news everyone! LADIES' NIGHT is returning to our Old City shop in October!!!

Since Cacey is running the event I've got nothing to add so here's what's going on as it's written on the  FACEBOOK EVENT:
It may have been a few years but Ladies' Night IS BACK!
If you're a woman or identify as a woman, you are cordially invited to our celebration of all things nerdy, hosted by our very own queen Cacey Crawford!
There will be special sections highlighting our favorite female creators, artists and characters. Come talk comics with all the geek goddesses that grace our great establishment every week. It's the perfect time to ask like minded ladies for new reading recommendations, or pick up that trade you've been eying!
Plus, we'll have plenty of tasty treats and refreshments, and who doesn't love that??
This event is entirely LADIES ONLY!! Sit down boys, be humble
More details to come. In the meantime, save the date!
NEW HOT TOYS!
HERE'S A NEW WEEKLY FEATURE:
DID YOU READ THIS ONE?!
So I'm thinking I'm going to try to recommend a sweet book that I've read recently that I think maybe at least one of you out there may enjoy…so here goes something…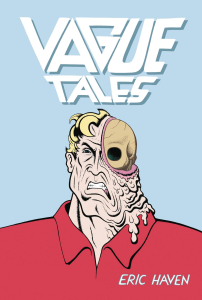 Vague Tales is pretty dang surreal. A seemingly normal Stretch Armstrong looking dude in his mundane apartment has some oddball visions of other not so normal people and places. Then all these visions sorta add up and collide…almost think of it as Twin Peaks meets some middle-of-the-night short on Adult Swim that you caught one hazy night. You're not so sure what the heck just happened but you enjoyed it and then a few days down the road everyone and their mother is posting on Facebook saying "did you see this weird thing!? It's great!" Except this is a comic book that no one has read yet so get in on the ground floor. Heck the dude who made it worked on Mythbusters too so that's cool!
I think I liked the He-Man with the retracting sword character the best!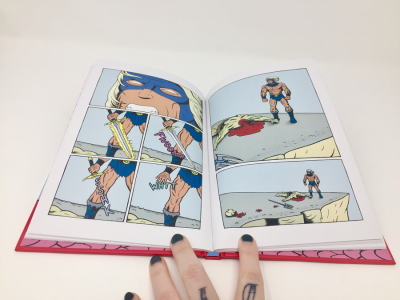 VAGUE TALES HC

FANTAGRAPHICS BOOKS
(W/A/CA) Eric Haven
While experiencing a succession of bewildering parallel universes, a solitary figure has telepathic encounters with a demonic aviatrix, a wandering crystalline being, a flaming sword-wielding warrior, and a mysterious sorceress, all within the confines of his own apartment. Having contributed short comic stories for years to publications such as The Believer and Kramers Ergot, Vague Tales is the debut graphic novel from Eisner Award nominated cartoonist Eric Haven (UR).
Haven's work is dark, absurdist, and deadpan, reflecting the apocalyptic undercurrent of modern times.
ALIEN!!!
Like the movie or not EVERYONE LOVES a new Xeno toy!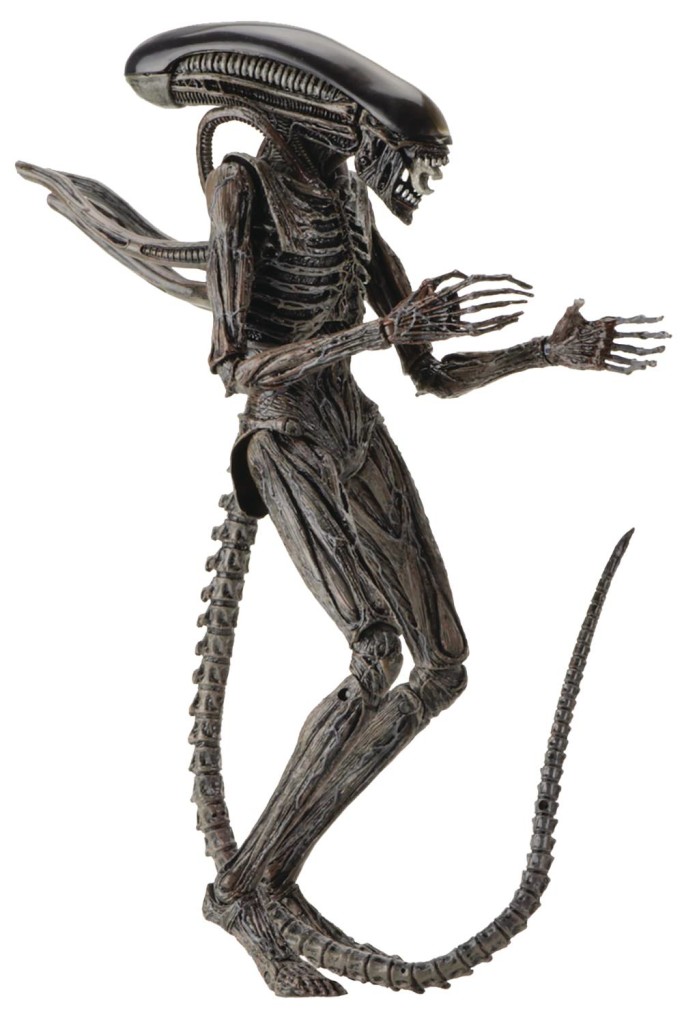 ALIEN COVENANT XENOMORPH 7IN AF
NECA
From NECA. From the new film Alien: Covenant, directed by Ridley Scott, comes this screen-accurate version of the chilling Xenomorph that features over 30 points of articulation and a bendable tail. Clamshell packaging.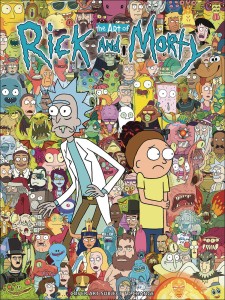 ART OF RICK & MORTY HC

DARK HORSE COMICS
(W) James Siciliano (A) James McDermott
The animated science-fiction adventures seen in Rick and Morty are irreverent, shocking, and hilarious-from the cynical and rapid-fire one-liners to the grotesque and endearing character designs. Now, take a deep transdimensional dive into the creation of these many insane universes with The Art of Rick and Morty!
o Exclusive never-before-seen concept and production art from the making of the hit animated series!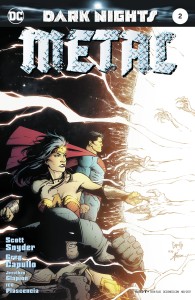 DARK NIGHTS METAL #2 (OF 6)
DC COMICS
(W) Scott Snyder (A/CA) Greg Capullo, Jonathan Glapion
As Superman and Wonder Woman hunt for a missing ally, Batman investigates a mystery spanning centuries. When the World's Greatest Detective discovers a foe even greater than the Justice League could possibly imagine, will Earth's heroes be ready?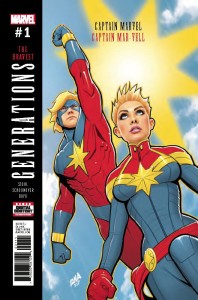 GENERATIONS CAPT MARVEL & CAPT MAR-VELL #1
MARVEL COMICS
(W) Margaret Stohl (A) Brent Schoonover (CA) David Nakayama
Carol Danvers, THE MIGHTY CAPTAIN MARVEL, finds herself face-to-face with someone she never thought she'd see again – Mar-Vell of the Kree, THE MIGHTY CAPTAIN MARVEL! But before she can get to the bottom of this impossible reunion, she gets embroiled in combat with someone who wants the Kree destroyed – talk about terrible timing!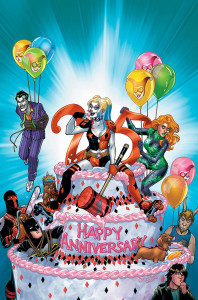 HARLEY QUINN 25TH ANNIVERSARY SPECIAL #1
DC COMICS
(W/A) Amanda Conner & Various (CA) Amanda Conner
In a story written by Amanda Conner and Jimmy Palmiotti, with art by Conner, learn what really happened when Harley, Catwoman, and Poison Ivy hit Vegas!
Then, a tale written by Paul Dini with art by Chad Hardin takes us back to Harley's days with the Joker to see the hell he unleashes when he makes the mistake of scheduling the biggest heist of their career on Harley's birthday!
Plus, writer Chip Zdarsky and artist Joe Quinones pit Harley and the Joker against Batman and Robin — but while you might think the Joker knows how to play with Batman's mind, it's nothing compared to Harley's ability to crack Robin's psyche!
And that's not all! Writer Dale Kibblesmith with art by David LaFuente put Coney Island right in the path of a hurricane — and put Harley on a collision course with Swamp Thing, of all people…monsters…things…?
This issue also includes Harley pin-up pages with art by Babs Tarr, Bengal, Dustin Nguyen and more!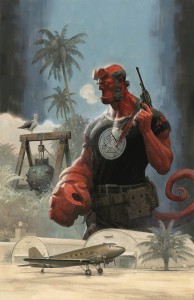 HELLBOY & BPRD 1955 OCCULT INTELLIGENCE #1 (OF 3)
DARK HORSE COMICS
(W) Mike Mignola, Chris Roberson (A/CA) Shawn Martinbrough
A layover on a remote island drops Hellboy into a web of intrigue involving government secrets and foreign agents waging their own cold war over a weapon that might be right up the BPRD's alley. In England Bruttenholm uncovers more secrets, indicating a worldwide supernatural conflict about to boil over.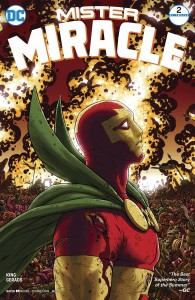 MISTER MIRACLE #2 (OF 12)
DC COMICS
(W) Tom King (A) Mitch Gerads (CA) Nick Derington
What do you do after the most death-defying act of your escape artist career? You go to war, of course! Scott Free has skipped out on his trip to the great beyond and taken a boom tube to New Genesis instead, where he and his wife, Big Barda, take on the invading hordes of Apokolips. Things are a little off, however, and Mister Miracle starts to doubt why he's fighting when Orion takes over the mantle of Highfather. It's enough to make a New God miss Granny Goodness's orphanage! From Eisner Award-nominated writer Tom King and artist Mitch Gerads, the team that brought you THE SHERIFF OF BABYLON and the recent Swamp Thing crossover in BATMAN #23!
(ALSO GET YOUR HANDS ON A 2nd PRINT OF ISSUE #1 ON THE SAME DAY!)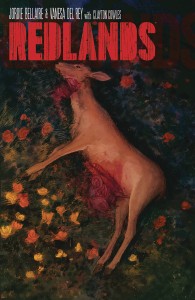 REDLANDS #2

IMAGE COMICS
(W) Jordie Bellaire, Vanesa Del Rey (A/CA) Vanesa Del Rey
A mysterious and bloodthirsty matriarchal force runs the town of Redlands, Florida, and in order to stay on top, sacrifices must be made. But someone is intent on removing these powerful women from the top of the food chain. And he's ready to unleash their darkest secret…
(ANOTHER BOOK WHERE THE 2nd PRINTING OF #1 IS OUT THE SAME DAY!)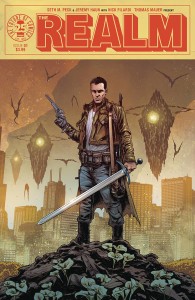 REALM #1

IMAGE COMICS
(W) Seth Peck (A/CA) Jeremy Haun
NEW SERIES! Fifteen years ago, our world was overrun by creatures of myth; orcs, dragons, and other nameless horrors threw the entire planet into total chaos. Today, the shattered remnants of civilization must fight just to survive in a deadly new era of violence and mayhem. While a powerful sorcerer marshals his forces, a group of warriors embark on a journey to reclaim our world from the growing darkness. An all new post-apocalyptic high-fantasy adventure series from co-creators SETH M. PECK (X-Men) and JEREMY HAUN (THE BEAUTY) featuring colors by NICK FILARDI and letters by THOMAS MAUER.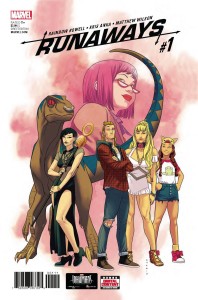 RUNAWAYS #1
MARVEL COMICS
(W) Rainbow Rowell (A/CA) Kris Anka
GET READY TO RUN!
The "IT" book of the early 2000s with the original cast is back – Nico! Karolina! Molly! Chase! Old Lace! And, could it be? GERT?! The heart of the Runaways died years ago, but you won't believe how she returns! Superstar author Rainbow Rowell (Eleanor & Park, Carry On) makes her Marvel debut with fan-favorite artist Kris Anka (ALL-NEW X-MEN, CAPTAIN MARVEL) in the series that will shock you and break your heart!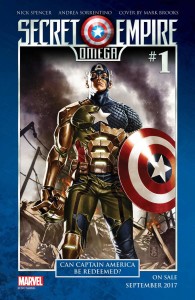 SECRET EMPIRE OMEGA #1
MARVEL COMICS
(W) Nick Spencer (A) Andrea Sorrentino (CA) Mark Brooks
SECRET EMPIRE AFTERMATH!
•  Hydra has fallen, but the world is still not secure! As the heroes of the Marvel Universe stir from the wreckage of the battlefield, the inevitable rebuilding must begin.
•  However, one question hangs in the air over the proceedings: What redemption can there be for Captain America?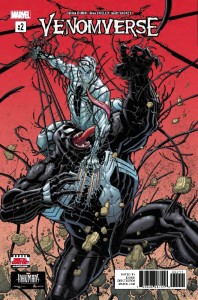 VENOMVERSE #2 (OF 5)
MARVEL COMICS
(W) Cullen Bunn (A) Iban Coello (CA) Nick Bradshaw
• The Poisons' relentless campaign against the Venoms continues, and Spider-Man is among the first to fall!
•  VENOM VS. POISON SPIDER-MAN: NO HOLDS BARRED!
•  Meanwhile, Deadpool's cooked up an idea of how to stop the Poisons, but it ain't exactly sane!
NOW HERE'S THE FULL LIST!
If you want a full visual list of everything howabout you click on this hyperlink  (tho the Diamond  might not update til Monday or something)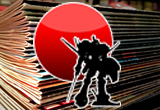 (the following list of comics reflects ALL the comics coming into BOTH locations. If there's something on this list that's NOT IN STOCK at your favorite BNW location DO NOT HESITATE  TO ASK FOR US TO ORDER IT FOR YOU!)
COMICS AND MAGAZINES
Action Comics #987
Adventure Time Regular Show #2
All New Wolverine #24
Amazing Spider-Man #32
Ash Vs AoD #3
Assassins Creed Uprising #7
Babyteeth #4
Ben Reilly Scarlet Spider #7
Birthright #26
Black Science #31
Blood Bowl More Guts More Glory #4 (OF 4)
Briggs Land Lone Wolves #4
Clue #4
Curse Words #8
Damned #4
Dark Nights Metal #2 (OF 6)
Dead Of Winter #2
Deadpool #36
Defenders #5
Detective Comics #964
Divided States Of Hysteria #4
Doctor Strange Sorcerers Supreme #12
Doctor Who 10th Year Three #9
Dragon Age Knight Errant #5
First Strike #3
Fissure #3
Flash #30
Generations Capt Marvel & Capt Mar-Vell #1
Ghost Money #2 (OF 10)
Ghost Station Zero #2 (OF 4)
Grant Morrisons 18 Days #26
Grant Morrisons Avatarex #4
Grass Kings #7
Groo Play Of Gods #3
Gwenpool #20
Hal Jordan And The Green Lantern Corps #28
Harley Quinn 25th Anniversary Special #1
Harrow County #25
Hellboy & BPRD 1955 Occult Intelligence #1
Hulk #10
Insexts #13
Invader Zim #23
Jim Butcher Dresden Files Dog Men #4 (OF 6)
Justice League Of America #14
Kill Or Be Killed #12
Kiss Vampirella #4 (OF 5)
Lola Xoxo Vol 2 #3
Lumberjanes #42
Mage Hero Denied #2 (OF 15)
Marvel Universe Guardians Of Galaxy #22
Mech Cadet Yu #2
Miraculous #13
Mister Miracle #1 (OF 12) 2nd Ptg
Mister Miracle #2 (OF 12)
Ms Marvel #22
My Little Pony Friendship Is Magic #58
Neil Gaiman American Gods Shadows #7
New Super Man #15
Ninjak #0
Old Man Logan #28
Pestilence #4
Popeye Classics Ongoing #62
Powerless #4
Real Science Adventures Flying She-Devils #6 (OF 6)
Realm #1
Red Hood And The Outlaws #14
Redlands #1 2nd Ptg
Redlands #2
Retcon #1
Rick & Morty Pocket Like You Stole It #3 (OF 5)
Riverdale (ONGOING) #6
Rocket #5
Rose #6
Runaways #1
Sacred Creatures #3
Scooby Apocalypse #17
Scooby Doo Where Are You #85
Secret Empire Omega #1
Secret Warriors #6
Shadow #2
Shadows On The Grave #8 (OF 8)
Sheena #1
Skin & Earth #3 (OF 6)
Slam Next Jam #1
Sovereigns #5 (OF 5)
Spongebob Comics #72
Spy Seal #2
Star Wars #36
Star Wars Darth Vader #3 2nd Ptg
Star Wars Darth Vader #4 2nd Ptg
Star Wars Doctor Aphra #12
Street Fighter Vs Darkstalkers #5 (OF 8)
Suicide Squad #25
Supergirl #13
Superwoman #14
Teen Titans #12
Titans #15
TMNT Amazing Adventures Robotanimals #3 (OF 3)
TMNT Universe #14
Totally Awesome Hulk #21 2nd Ptg
Transformers Lost Light #9
Unbeatable Squirrel Girl #24
Uncanny Avengers #27
Van Helsing Vs The Werewolf #3
Venomverse #2 (OF 5)
Vision Directors Cut #4 (OF 6)
War For Planet Of The Apes #3 (OF 4)
Weapon X #6 2nd Ptg
Weapon X #8
Will Eisner Spirit Corpse Makers #4 (OF 5)
Winnebago Graveyard #4 (OF 4)
Wonder Woman #30
X-Men Blue #11
Youngblood #5
TRADE PAPERBACKS, GRAPHIC NOVELS, HARDCOVERS AND MANGA
Art Of Rick & Morty Hc
Batman His Greatest Adventures Tp
Britannia Tp Vol 02 We Who Are About To Die
DBZ Ms Piece Manga Dimensions Super Saiyan Vegeta
Duran Duran Imelda Marcos And Me Gn
Green Lanterns Tp Vol 03 Polarity (REBIRTH)
Guardians Of Galaxy New Guard Tp Vol 03 Civil War Ii
Hard Boiled Hc 2nd Edition
Harley Quinn Tp Vol 03 Red Meat (REBIRTH)
Hellblazer Tp Vol 17 Out Of Season
Jane Hc
Lady Mechanika Tp Vol 04 La Dama De La Muerte
Nick Cave Mercy On Me Gn
Sherlock Blind Banker Tp
Superman Reborn Hc (REBIRTH)
Sword Art Online Phantom Bullet Gn Vol 03
Taproot Gn
Total Tank Girl Omnibus Hc
TOYS
Alien Covenant Xenomorph 7in Af
DC Comics Cover Girls Power Girl Statue
DC Comics Icons Deathstroke Statue
DC Comics Icons Flash 1/6 Scale Statue
DC Icons Nightwing Af
DC Icons Robin & Superboy Af 2 Pack
DC Icons Supergirl Af
Thor Legends 6in Af
ODDS AND ENDS
Batman Black & White Statue Darwyn Cooke 2nd Ed
DC Designer Ser Batman By Andy Kubert Mini Statue
Invincible Atom Eve Pin
Star Trek Starships Fig Mag #102 Klingon D-5
Star Trek Starships Fig Mag #103 Vidiian Ship
Star Trek Starships Special #13 Swarm Ship