Another September weekend is upon us! Here's what's up with Brave New Worlds this week!
If sifting through the internet seems like a bit too much of a task and you'd like us to beam this right to your phone (or home Cerebro-like computer system) try signing up for our handy weekly email newsletter!
LADIES MARK YOUR CALENDARS!
Good news everyone! LADIES' NIGHT is returning to our Old City shop in October!!!

Since Cacey is running the event I've got nothing to add so here's what's going on as it's written on the  FACEBOOK EVENT:
It may have been a few years but Ladies' Night IS BACK!
If you're a woman or identify as a woman, you are cordially invited to our celebration of all things nerdy, hosted by our very own queen Cacey Crawford!
There will be special sections highlighting our favorite female creators, artists and characters. Come talk comics with all the geek goddesses that grace our great establishment every week. It's the perfect time to ask like minded ladies for new reading recommendations, or pick up that trade you've been eying!
Plus, we'll have plenty of tasty treats and refreshments, and who doesn't love that??
This event is entirely LADIES ONLY!! Sit down boys, be humble
More details to come. In the meantime, save the date!
UPDATES!

The fantabulous ladies of the Dirty Diamonds are coming! Kelly Phillips and Claire Folkman will be here with their latest issue of Dirty Diamonds and other things! Meet them! Talk comics! Get involved!  YES!
LEN WEIN (1948-2017)…
Last weekend we lost another COMICS GIANT….Len Wein sadly passed away at just 69 years of age. The man who created Wolverine, Swamp Thing and edited Watchmen (can you imagine editing Allan Moore?!) has left one heck of a mark on the industry. Man, just look at a list of his creations!
Thanks for everything Len!
SYFY has a nice little thing over here with a great quote from his wife at the end.
I'm not crying…you're crying
WANNA KNOW WHAT DC STORIES INSPIRED DARK NIGHTS METAL!?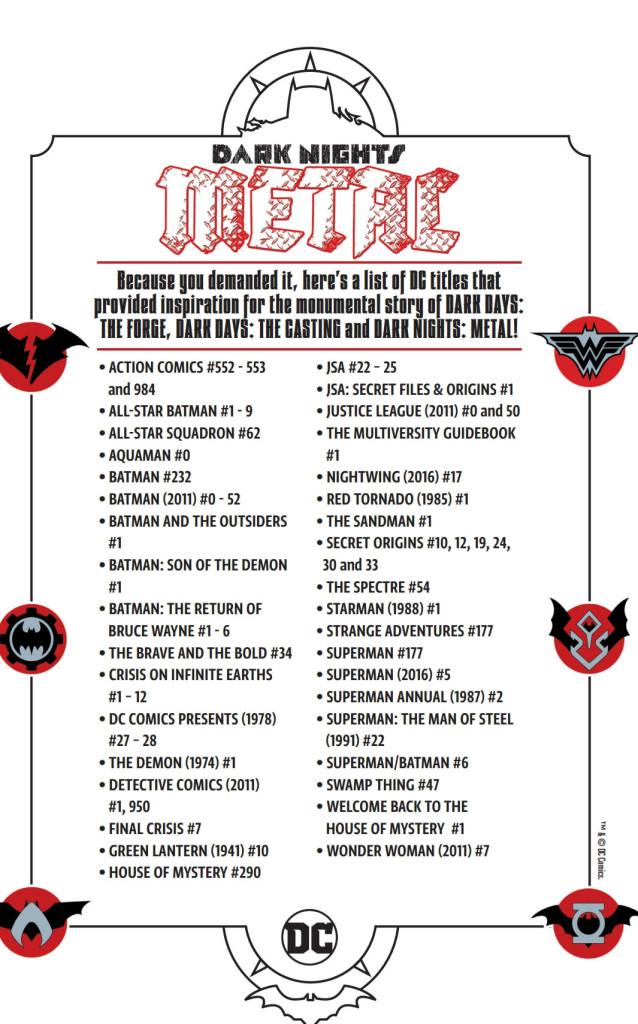 Thanks again handy internet checklist making person!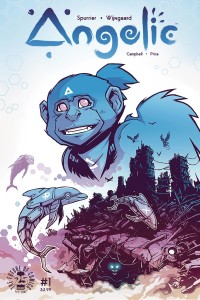 ANGELIC #1
IMAGE COMICS
(W) Simon Spurrier (A/CA) Caspar Wijngaard
– WINGED MONKEYS! TECHNO-DOLPHINS! QUANTUM ALLEYCATS!
– Humanity's long gone. Its memory lingers only as misunderstood rituals among mankind's leftovers: the genetically modified animals they used and abused for eons.
– But for one young flying monkey, QORA, the routines are unbearable. All she wants is to explore. Instead she's expected to settle down, to become a mother… to lose her wings.
– Eisner nominee SIMON SPURRIER (The Spire, CRY HAVOC, X-Men Legacy) and rising-star CASPAR WIJNGAARD (LIMBO, Dark Souls, Assassin's Creed) present your new bittersweet adventure obsession: teenage rebellion and animal antics amidst the ruins of civilization!
– Think WALL-E by way of Watership Down. Fly, my pretties!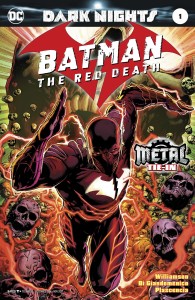 BATMAN THE RED DEATH #1

DC COMICS
(W) Joshua Williamson (A) Carmine Di Giandomenico (CA) Jason Fabok
As the events of DARK NIGHTS: METAL rock the DC Universe, the creatures of the Dark Multiverse stand ready to invade our world! How can even the World's Greatest Heroes stop a horde of deadly beings that appear to be powerful, nightmare versions of familiar figures? Find out in these special tie-in issues!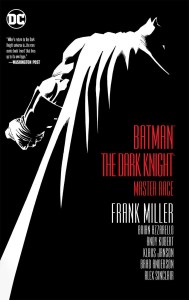 BATMAN DARK KNIGHT MASTER RACE HC
DC COMICS
(W) Frank Miller, Brian Azzarello (A) Andy Kubert & Various (CA) Andy Kubert
One of the most highly anticipated sequels of all time is here in DARK KNIGHT III: THE MASTER RACE! In a world gone awry, left in the aftermath of the toppling of Lex Luthor and the apparent death of Batman himself, who will save Gotham City and the rest of the planet against the mysterious Master Race? This hardcover includes the entire nine-issue series with each issue's minicomic presented at the same size.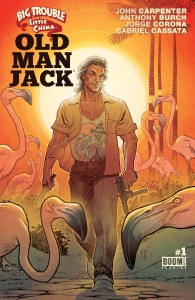 BIG TROUBLE IN LITTLE CHINA OLD MAN JACK #1

BOOM! STUDIOS
(W) John Carpenter, Anthony Burch (A) Jorge Corona (CA) Stéphane Roux, Sam Bosma
"    From John Carpenter (director of Big Trouble in Little China, Halloween, The Thing, Escape from New York) and Anthony Burch (writer of Borderlands 2) comes the story of old man Jack Burton's final ride in the Pork-Chop Express.
"    The year is 2020, and hell is literally on Earth. Ching Dai, sick of relying on screw-ups like Lo Pan to do his bidding, has broken the barriers between Earth and the infinite hells, and declared himself ruler of all.
"    Sixty-year-old Jack Burton is alone in a tiny corner of Florida with only his broken radio to talk to, until one day it manages to pick up a message. Someone is out there in the hellscape, and they know a way to stop Ching Dai.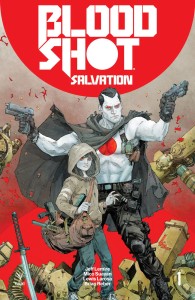 BLOODSHOT SALVATION #1

VALIANT ENTERTAINMENT LLC
(W) Jeff Lemire (A) Lewis LaRosa, Mico Suayan (CA) Kenneth Rocafort
    A BLOCKBUSTER NEW ONGOING SERIES! From New York Times best-selling writer Jeff Lemire (BLOODSHOT REBORN, Moon Knight) and extraordinary artists Lewis LaRosa (BLOODSHOT REBORN) & Mico Suayan (BLOODSHOT REBORN), a bloody and vengeful new era for Bloodshot begins this September as Ray Garrison escapes his violent past to build the one thing he never thought he'd earn: a family. But when a hateful secret from his true love's past threatens their fragile peace, Bloodshot will be forced to run headlong into a barrage of blood, bullets, and broken bones for a revenge-fueled assault that will have crushing consequences for those he holds most dear…
Now: In the arms of his beloved girlfriend Magic, Bloodshot has finally found hope for the future…in the form of the couple's unborn child. But when Magic's estranged family – a cruel and sadistic clan of homegrown criminals – re-emerge to lay claim to their lost daughter, Bloodshot will be pushed back to the brink of madness, mayhem, and warfare…
Soon: Eight years from today, Bloodshot's daughter has inherited her father's incredible abilities. Hunted by a high-tech kill squad called Omen, Jessie must hone her powers…and learn how to survive before the world is swallowed whole by the darkness that now pervades America…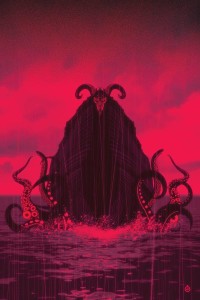 DARK ARK #1
AFTERSHOCK COMICS
(W) Cullen Bunn (A/CA) Juan Doe
NEW SERIES!
The wickedness of mankind has moved the Creator to destroy the world by way of the flood. Noah has been tasked with building an ark to save his family and the animals of the world. But this is not Noah's story. For darker powers have commanded the sorcerer Shrae to build his own ark and save the unnatural creatures of the world-such as the vampires, the dragons, the naga, and the manticore. But what will happen on a vessel crawling with monsters, where insidious intrigue and horrific violence are the rule of law?
From writer Cullen Bunn (X-Men Blue, Deadpool, Venom) and artist Juan Doe (AMERICAN MONSTER, WORLD READER) comes a sinister tale of biblical proportions that HAD to be told at AfterShock Comics.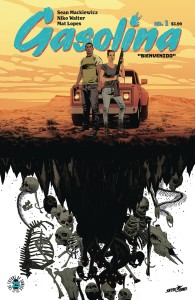 GASOLINA #1

IMAGE COMICS
(W) Sean Mackiewicz (A/CA) Niko Walter
NEW SERIES! Fugitives. Rebels. Newlyweds. In their journey south from El Norte, Amalia and Randy have played many roles in order to survive. Now, they must become unlikely leaders in the fight against a new cartel who uses inhuman tactics to ignite the most monstrous war Mexico – and the world – has ever seen. Everything burns in this new series from SEAN MACKIEWICZ and NIKO WALTER, where love and devotion can only be measured in fire and blood.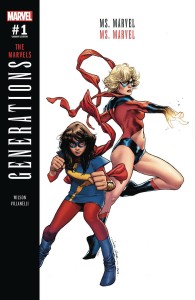 GENERATIONS MS MARVEL & MS MARVEL #1

MARVEL COMICS
(W) G. Willow Wilson (A) Paolo Villanelli (CA) Olivier Coipel
• Ms. Marvel's falling out with her idol Carol Danvers, a.k.a. the Mighty Captain Marvel, just took a BIZARRE turn!
•  Kamala suddenly finds herself as an intern at Woman Magazine – Carol's former place of employment! Between cozying up to her boss, filing back issues, and her usual super-heroing, how will Kamala find time to figure out what got her here in the first place?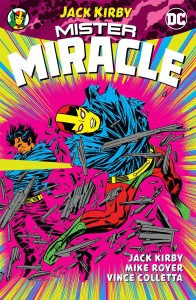 MISTER MIRACLE BY JACK KIRBY TP
DC COMICS
(W) Jack Kirby (A) Jack Kirby & Various (CA) Jack Kirby, Mike Royer
For the first time, DC collects the complete run of Jack Kirby's MISTER MIRACLE in one stand-alone color volume! Traded as an infant as part of a peace pact between the twin worlds New Genesis and Apokolips, Scott Free grew up in the cruel care of Granny Goodness to become a super escape artist who fights for freedom. Along the way, he battles Darkseid's forces, including Dr. Bedlam, Kanto the assassin, the Female Furies and more, with the help of his assistant, Oberon, and former Apokoliptean enforcer Big Barda. Collects MISTER MIRACLE #1-18.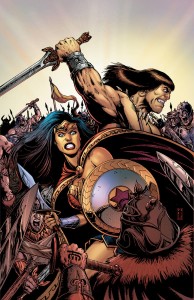 WONDER WOMAN CONAN #1 (OF 6)
DC COMICS
(W) Gail Simone (A) Aaron Lopresti, Matt Ryan (CA) Darick Robertson
What makes one a legend? How do legends carve their names into history, when countless others are forgotten? Wonder Woman and Conan the Barbarian are destined by the fates to be legendary, but when their stories collide, will both emerge victorious, or will the fickle Gods cut their lives short? Co-published with Dark Horse Comics.
NOW HERE'S THE FULL LIST!
If you want a full visual list of everything howabout you click on this hyperlink  (tho the Diamond  might not update til Monday or something)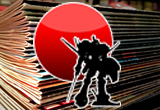 (the following list of comics reflects ALL the comics coming into BOTH locations. If there's something on this list that's NOT IN STOCK at your favorite BNW location DO NOT HESITATE  TO ASK FOR US TO ORDER IT FOR YOU!)
COMICS AND MAGAZINES
Adventure Time Comics #15
All New Guardians Of Galaxy #10
Amazing Spider-Man Renew Your Vows #11
America #7
Angelic #1
Aquaman #28
Avengers #11
Batman #31
Batman The Red Death #1
Batwoman #7
Big Trouble In Little China Old Man Jack #1
Bill & Ted Save The Universe #4
Bitch Planet Triple Feature #4
Black Hammer #13
Bloodshot Salvation #1
Bug The Adventures Of Forager #4 (OF 6)
Catalyst Prime Superb #3
Cave Carson Has A Cybernetic Eye #12
Dark Ark #1
Dept H #18
Descender #24
Disney Princess #13
Doctor Strange #25
Future Quest Presents #2
Game Of Thrones Clash Of Kings #4
Gasolina #1
Generation Gone #3
Generations Ms Marvel & Ms Marvel #1
GI Joe First Strike #1
Glitterbomb Fame Game #1
Go Go Power Rangers #3
Green Arrow #31
Green Lanterns #31
Grrl Scouts Magic Socks #5 (OF 6)
Halo Rise Of Atriox #2
Harley Quinn #28
Head Lopper #7
Hobby Japan Sep 2017
Horizon #14
Howling #3
Injustice 2 #10
Invincible #140
Invincible Iron Man #11
James Bond Kill Chain #3 (OF 6)
Jean Grey #7
Journey To STar Wars Last Jedi Capt Phasma #2 (OF 4)
Justice League #29
Kill The Minotaur #4
Luke Cage #5
Magnus #4
Micronauts Wrath Of Karza #5 (OF 5)
Millarworld Annual 2017
Miraculous #15
Mirror #8
Misfit City #5
Nightwing #29
Over The Garden Wall 2017 Special #1
Peter Parker Spectacular Spider-Man #4
Royals #8
Samurai Jack Quantum Jack #1 (OF 5)
Secret Weapons #4 (OF 4)
Shirtless Bear-Fighter #4 (OF 5)
Simpsons Treehouse Of Horror #23
Snotgirl #7
Spider-Men II #3 (OF 5)
Star Trek Boldly Go #11
Star Wars Adventures #2
Star Wars Annual #3
Star Wars Poe Dameron #19
Super Sons #8
Superman #31
Totally Awesome Hulk #23
Trinity #13
Unholy Grail #3
Unsound #4 (OF 4)
US Avengers #10
Venom #154
Venomverse #3 (OF 5)
Violent Love #8
Wayward #23
Wild Storm #7
Wonder Woman 77 Bionic Woman #6 (OF 6)
Wonder Woman Conan #1 (OF 6)
World Of Animosity #1
X-Men Gold #12
TRADE PAPERBACKS, GRAPHIC NOVELS, HARDCOVERS AND MANGA
Batman Dark Knight Master Race Hc
Captain America Secret Empire Tp
DC Meets Hanna Barbera Tp
Disney Descendants Rotten To The Core Gn Vol 02
East Of West Tp Vol 07
Invincible Tp Vol 24 End Of All Things Part 1
Last Days Of American Crime Tp
Lighter Than My Shadow Gn
Little Red Wolf Hc
Mister Miracle By Jack Kirby Tp
Moon Knight Tp Vol 03 Birth And Death
Naruto 3in1 Tp Vol 20
Neil Gaiman Graveyard Book Comp Sc Gn
Nightwing Tp Vol 03 Nightwing Must Die (REBIRTH)
Power Man And Iron Fist Tp Vol 03 Street Magic
Regular Show Tp Vol 09
Savage Town Ogn
Slayers & Vampires Comp Unauthorized Hist Buffy & Angel
Sons Of The Devil Tp Vol 03
Tokyo Ghoul Re Gn Vol 01
TOYS
Atomic Godzilla 2001 12-In Long Vg Ver Af
ODDS AND ENDS
Saga Lying Cat Pin
Sandman Overture Statue
Walking Dead Lucille Pin
Walking Dead Walker Head Pin
Wonder Woman Art Of War Statue By Amanda Conner
AND LASTLY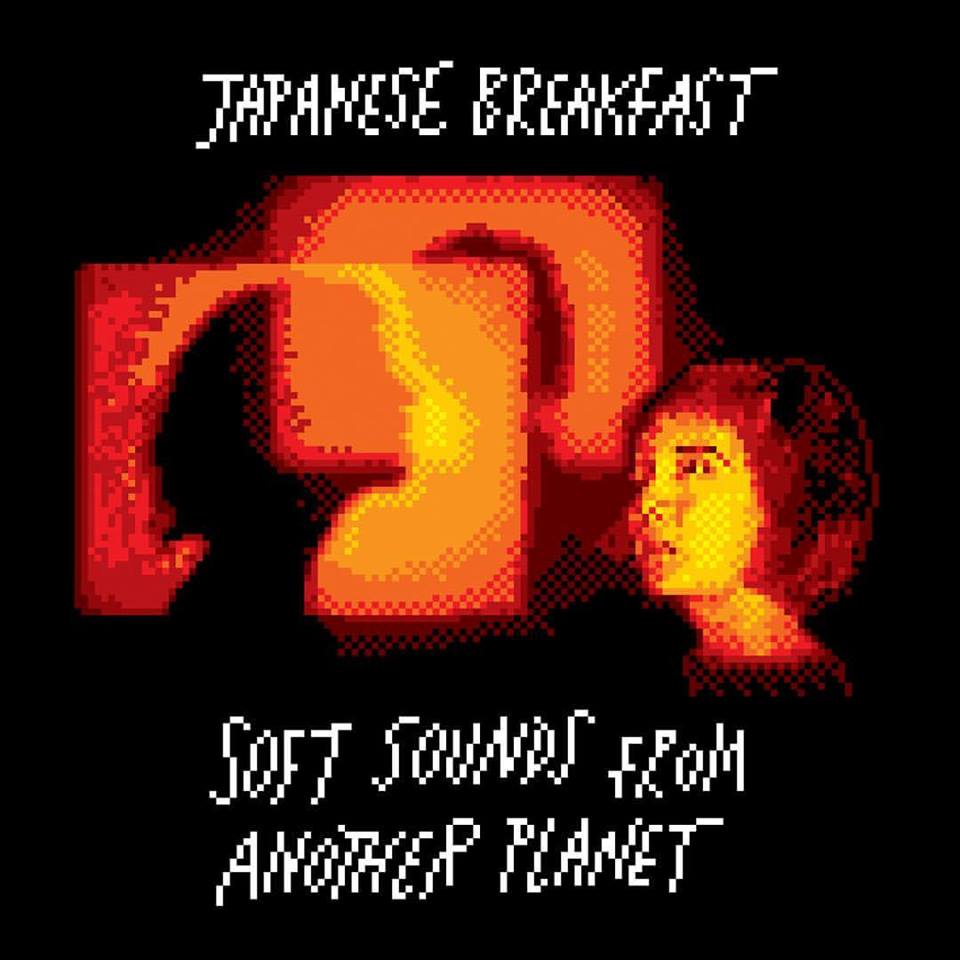 Remember when Michelle worked with us in Old City?! Well she's a huge rock star (Japanese Breakfast)  that has a great new album out NOW (we recommend you go spend a few bucks on it asap!) AND also just launched a free to play online RPG based on the album! Check it out over here!