We've got Marvel Legacy #1 coming this week as well as a signing in Willow Grove! Get that scrolling finger ready and click into this post already!
If sifting through the internet seems like a bit too much of a task and you'd like us to beam this right to your phone (or home Cerebro-like computer system) try signing up for our handy weekly email newsletter!
LADIES! LADIE'S NIGHT 2K17 is a MONTH AWAY!!!
Good news everyone! LADIES' NIGHT is returning to our Old City shop in October!!!

Since Cacey is running the event I've got nothing to add so here's what's going on as it's written on the  FACEBOOK EVENT:
It may have been a few years but Ladies' Night IS BACK!
If you're a woman or identify as a woman, you are cordially invited to our celebration of all things nerdy, hosted by our very own queen Cacey Crawford!
There will be special sections highlighting our favorite female creators, artists and characters. Come talk comics with all the geek goddesses that grace our great establishment every week. It's the perfect time to ask like minded ladies for new reading recommendations, or pick up that trade you've been eying!
Plus, we'll have plenty of tasty treats and refreshments, and who doesn't love that??
This event is entirely LADIES ONLY!! Sit down boys, be humble
More details to come. In the meantime, save the date!

The fantabulous ladies of the Dirty Diamonds are coming! Kelly Phillips and Claire Folkman will be here with their latest issue of Dirty Diamonds and other things! Meet them! Talk comics! Get involved!  YES!
LATEST LADIES' NIGHT UPDATE!

Yo we're super psyched that  Annie Mok's unique comics voice has been added to our list of guests coming out to Ladies' Night 2k17!  Nothing like supporting local comic creators, right?! C'mon out and see what she'll have with her!
WILLOW GROVE RETURNS TO THE COMICVERSE!!!

Comicverse: Subspace Chatter #1 Launch
Come and see writer Bianca Alu-Marr and our Free Comic Book Day artist Steve Peters and get a free sketch! They are celebrating the release of Comicverse: Subspace Chatter #1, a 60-page podcast in comic book form about nerd culture, old sci-fi t.v. shows, and comic book controversies!
 MARVEL LEGACY!
We're going to be offering pretty dang sweet deal for Marvel Legacy #1 at both of our locations! "How sweet a deal?" you ask…well how about you'll be able to get Regular cover ($5.99) and the Lenticular Variant cover ($5.99) together for just $9.99!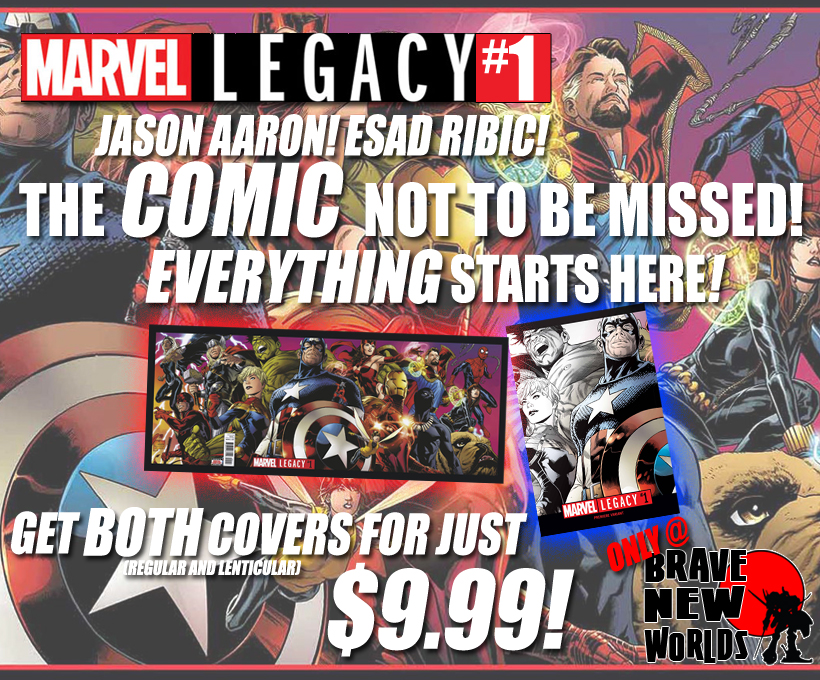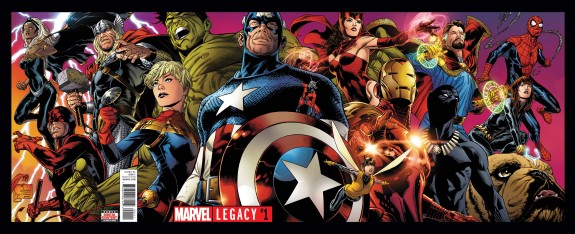 MARVEL LEGACY #1
MARVEL COMICS
(W) Jason Aaron (A) Esad Ribic & Various (CA) Joe Quesada
EVERYTHING STARTS HERE!
It begins at the dawn of the human race, and ends with a child's prayer! In between, empires fall, mysteries brew, secrets are revealed, quests are undertaken and legends are forged! All leading up to the dramatic return you've been waiting for – and one you've been dreading!
Jason Aaron (MIGHTY THOR) and Esad Ribic (SECRET WARS) usher in a new dawn – one whose rays will touch every corner of the Marvel Universe in the days to come!
MARVEL LEGACY: It's everything you've been longing for – and more!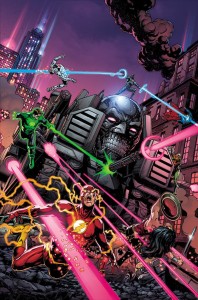 BATMAN THE MURDER MACHINE #1 (METAL)
DC COMICS
(W) Frank Tieri (A) Ricardo Federici (CA) Jason Fabok
As the events of DARK NIGHTS: METAL rock the DC Universe, the creatures of the Dark Multiverse stand ready to invade our world! How can even the World's Greatest Heroes stop a horde of deadly beings that appear to be powerful, nightmare versions of familiar figures? Find out in these special tie-in issues!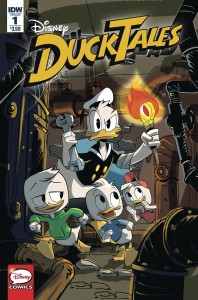 DUCKTALES #1
IDW PUBLISHING
(W) Joe Caramagna (A) Lucas Usai, Gianfranco Florio (CA) Marco Ghiglione
Woo-oo! In "The Great Experiment of the Washing Machine," Donald and the Nephews visit a top-secret lab, chock-full of crazy inventions to make life easier… but might make them SHORTER, instead! And then, learn "The Chilling Secret of the Lighthouse!"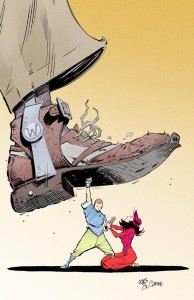 FU JITSU #1

AFTERSHOCK COMICS
(W) Jai Nitz (A/CA) Wesley St. Claire
NEW SERIES!
Fu Jitsu is the world's smartest boy, and has been for the last hundred years.  Wait, what?  Fu is an un-aging genius, and has had adventures around the globe and around the galaxy.  From Einstein and the Wright brothers, to Gandhi and Johnny Unitas, Fu has met everyone in history while protecting Earth from Robert Wadlow, the world's tallest man, and his dangerous magi-science.
Fu exiles himself to Antarctica to try and forget the painful break up with his ex-girlfriend, Rachel.  Meanwhile, Wadlow returns from the far-flung future and sends James Dean, his ultimate assassin, to kill Fu at the South Pole.  And you though your teenage years were tough?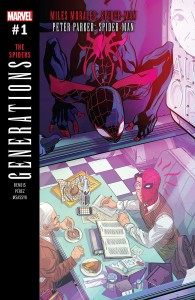 GENERATIONS MORALES & PARKER SPIDER-MAN #1
MARVEL COMICS
(W) Brian Michael Bendis (A/CA) Ramon K. Perez
• When it comes to problems, Peter Parker's got it all! Bullies at school, ailing aunt, a doppelganger, crushing responsibility, and –
wait, a doppelganger?!
•  Can't Peter ever catch a break? And what does all this craziness have to do with Miles Morales?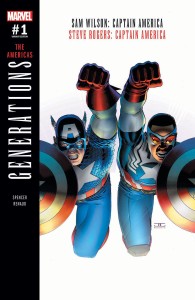 GENERATIONS CAPTAIN AMERICAS #1

MARVEL COMICS
(W) Nick Spencer (A) Paul Renaud (CA) John Cassaday
They were part of the Greatest Generation! And now Sam Wilson finds himself alongside them yet again in a strange yet familiar setting – fighting shoulder-to-shoulder with Captain America and Bucky against a seemingly unstoppable threat to the safety of the world!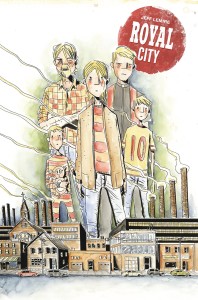 ROYAL CITY TP VOL 01 NEXT OF KIN
IMAGE COMICS
(W/A/CA) Jeff Lemire
In his most ambitious and most personal project to date, JEFF LEMIRE spins the captivating and engaging story of a family from the small factory town of Royal City and the ghosts that haunt them.
In a return to the literary and thematic territory of LEMIRE's breakthrough graphic novel Essex County, ROYAL CITY follows Patrick Pike, a fading literary star who reluctantly returns to the once-thriving factory town where he grew up. Patrick is quickly drawn back into the dramas of his two adult siblings, his overbearing mother, and his browbeaten father, all of whom are still haunted by different versions of his youngest brother, Tommy, who drowned decades ago.
As each member of the family struggles to keep themselves above water, it quickly becomes clear that Tommy's death isn't the only dark secret tearing the town, and this family, apart at the seams. Can each member of the Pike family come to terms with their own guilt over Tommy's death, and make peace with the many versions of Tommy that still haunt them, or will they all be dragged down below the river along with his lingering ghost? ROYAL CITY promises to be a sprawling serialized graphic novel that will chart the lives, loves, and losses of a troubled family and a vanishing town, across three decades. JEFF LEMIRE is the creator of DESCENDER (with DUSTIN NGUYEN), A.D.: AFTER DEATH (with SCOTT SNYDER), Roughneck, Secret Path (with GORD DOWNIE), PLUTONA (with EMI LENNOX), Essex County, Sweet Tooth, Trillium, and The Underwater Welder. He had also written celebrated stories featuring Green Arrow, Animal Man, Bloodshot, Wolverine, Hawkeye, Teen Titans, the Valiant, the X-Men, and Inhumans for the major comic book publishers.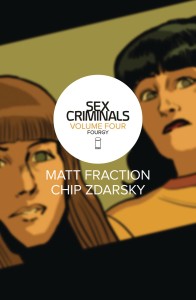 SEX CRIMINALS TP VOL 04 FOURGY (MR)
IMAGE COMICS
(W) Matt Fraction (A/CA) Chip Zdarsky
Everybody's favorite sex-having, time-freezing, bank-robbing crew of lovable lovemisfits come together and ask themselves the big question: are we still into this? THE ANSWER MIGHT SURPRISE YOU (if you think the answer is no).
"Part romance, part sex comedy, and part heist drama, [SEX CRIMINALS] manages to turn a story about two lovers who rob banks with orgasms into the most emotionally realistic and relatable sex comic ever made."-Wired Magazine
Collects SEX CRIMINALS #16-20
NOW HERE'S THE FULL LIST!
If you want a full visual list of everything howabout you click on this hyperlink  (tho the Diamond  might not update til Monday or something)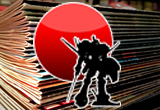 (the following list of comics reflects ALL the comics coming into BOTH locations. If there's something on this list that's NOT IN STOCK at your favorite BNW location DO NOT HESITATE  TO ASK FOR US TO ORDER IT FOR YOU!)
COMICS AND MAGAZINES
Aardvark Comics #1 (OF 1)
Action Comics #988
Angel Season 11 #9
Archie #24
Batgirl #15
Batman Beyond #12
Batman The Murder Machine #1
Batman The Shadow #6 (OF 6)
Ben Reilly Scarlet Spider #8
Bettie Page #3
Black Magick #8
Black Monday Murders #7
Black Panther #18
Blue Beetle #13
Bombshells United #2
BTVS Season 11 #11
Cable #5
Captain Kronos (HAMMER) #1
Catalyst Prime Incidentals #2
Crosswind #4
Deadpool Kills Marvel Universe Again #5 (OF 5)
Detective Comics #965
Diablo House #2
Doctor Who 11th Year Three #10
Doctor Who 12th Year Three #7
Ducktales #1
Faith And The Future Force #3
First Strike #4
Flash #31
Frozen 2017 Annual
Fu Jitsu #1
Generations Captain Americas #1
Generations Morales & Parker Spider-Man #1
GI Joe A Real American Hero #244
Godshaper #6 (OF 6)
Gold Digger #246
Guardians Of Galaxy Telltale Series #3 (OF 5)
Hal Jordan And The Green Lantern Corps #29
Hard Place #2 (OF 5)
Hellblazer #14
Hi-Fi Fight Club #2 (OF 4)
I Am Groot #5
Image Plus #2 (WYTCHES The Bad Egg Pt 2)
Infamous Iron Man #12
It Secret World Of Modern Banking 2 #1 (OF 5)
Jem & The Holograms Infinite #3 (OF 3)
Jim Henson Power Of Dark Crystal #7 (OF 12)
Justice League Of America #15
Justice League Power Rangers #6 (OF 6)
Kamandi Challenge #9 (OF 12)
Knights Of The Dinner Table #247
Lazarus X Plus 66 #3 (OF 6)
Looney Tunes #239
Marvel Legacy #1
Marvel Previews Vol 04 #3 October 2017 Extras
Micronauts First Strike #1
Mighty Captain Marvel #9
Mighty Morphin Power Rangers #19
Mighty Thor #23
Moon Girl And Devil Dinosaur #23
Mother Panic #11
Nick Fury #6
Nightwing The New Order #2 (OF 6)
Normals #5
Over Garden Wall Ongoing #18
Paklis #5
Pathfinder Runescars #5 (OF 5)
Previews #349 October 2017
Project Superpowers Hero Killers #5 (OF 5)
Punisher #16
Rat Queens Special Orc Dave #1 (ONE-SHOT)
Rebels These Free & Independent States #7 (OF 8)
Redneck #6
Revolutionaries #8
Rick & Morty #30
Robotech #3
Rockstars #7
ROM #13
ROM Vs Transformers Shining Armor #3
Rough Riders Riders On The Storm #6
Saga #47
Saucer State #4 (OF 6)
Sisters Of Sorrow #3 (OF 4)
Skull Island Birth Of Kong #3
Southern Bastards #18
Spider-Gwen #24
Star Wars Jedi Republic Mace Windu #2 (OF 5)
Steven Universe Ongoing #8
Suicide Squad #26
Tarot Witch Of The Black Rose #106
Thanos #11
The Beautiful Death #1
TMNT Ongoing #74
Turok #2
Venomverse #4 (OF 5)
Victor Lavalle Destroyer #5 (OF 6)
War Mother #2
Wonder Woman #31
WWE #9
X-Files Origins Ii Dog Days Of Summer #4 (OF 4)
X-Men Blue #12
X-O Manowar (2017)
Zodiac Starforce Cries Of Fire Prince #2
TRADE PAPERBACKS, GRAPHIC NOVELS, HARDCOVERS AND MANGA
Amory Wars Hc Second Stage Turbine Blade
Annual Tp
Batman 66 Meets Wonder Woman 77 Hc
Best American Comics Hc 2017
Colder Omnibus Tp
Complete Voodoo Hc Vol 03
Corto Maltese Gn Fable Of Venice
DC Super Hero Girls Tp Vol 04 Past Times At Super
Future Quest Tp Vol 02
Girl Genius Second Journey Gn Vol 03 Incorruptible
Injustice Ground Zero Hc Vol 02
Neil Gaiman Neverwhere Illustrated Hc Ed
Rock Candy Mountain Tp Vol 01
Royal City Tp Vol 01 Next Of Kin
Sex Criminals Tp Vol 04 Fourgy
Shutter Tp Vol 05 So Far Beyond
Spider-Man Deadpool Tp Vol 03 Itsy Bitsy
Star Trek Green Lantern Tp Vol 02 Stranger Worlds
Titans Tp Vol 02 Made In Manhattan (REBIRTH)
Unbeatable Squirrel Girl Tp Vol 06 Who Run The World
Walking Dead Tp Vol 28
Wolverine Old Man Logan Tp Vol 05 Past Lives
ODDS AND ENDS
DC Comics Wonder Woman New 52 Premium Motion Statue
Marvel Gallery Netflix Punisher Pvc Fig
Saga Ghus Pin
Wicked & Divine Kllk Enamel Pin
Wicked & Divine Skull Enamel Pin