Here's your weekly update of all things Brave New Worlds…including Old City turning 10 and what's coming out on 9.6.17!
If sifting through the internet seems like a bit too much of a task and you'd like us to beam this right to your phone (or home Cerebro-like computer system) try signing up for our handy weekly email newsletter!
OLD CITY TURNS 10!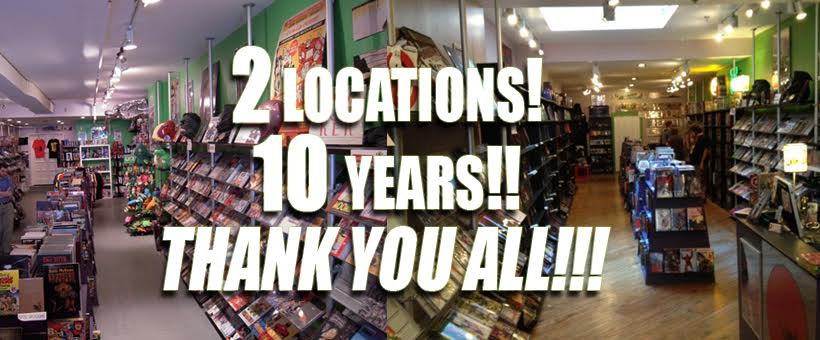 Believe it or not Old City opened it's doors on September 1, 2007!  Here's what i wrote over on our INSTAGRAM about it all!
"It almost doesn't feel real that 10 years ago today we officially opened the doors of BNW Old City! Time has flown by! We've met so many great people and have made so many great memories in this past decade! Thanks to everyone who's come to us for comics recommendations, brought us snacks & coffees, participated in the past art shows, shot work/school videos, recorded podcasts, brought their families(we've seen so many kids grow up before our eyes!), helped us move, had signings and a special thanks for everyone who's made us their LCS!"
GUARDIANS KIDS BOOK!
OLD CITY IS HAVING ANOTHER LADIES' NIGHT!

Cacey will be hosting a Ladies' Night in October! Mark your calendars! Also there's a FACEBOOK EVENT PAGE that will get updated as we get closer and sure up what will be happening! Ladies get excited!
HERE'S WHAT WE'LL HAVE FOR YOU THIS WEEK! (9.6.17!)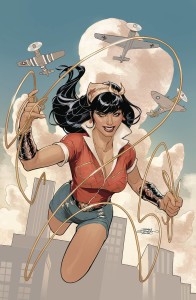 BOMBSHELLS UNITED #1
DC COMICS
(W) Marguerite Bennett (A) Marguerite Sauvage (CA) Terry Dodson, Rachel Dodson
The Bombshells are back in an all-new series! As our new tale begins, the year is 1943, and Wonder Woman is called to Arizona for help by two young girls named Cassie Sandsmark and Donna Troy! The girls' friends and families are being displaced from their homes and forced into internment camps! To save them, can Wonder Woman fight against the same people she once fought alongside?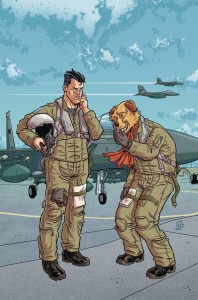 DASTARDLY AND MUTTLEY #1 (OF 6)
DC COMICS
(W) Garth Ennis (A/CA) Mauricet
It's a red-letter day for the good folk of Unliklistan as they start to power up their first atomic reactor. But after pushing the wrong button, the ultra-rare radioactive element, unstabilium, has been released into the atmosphere! Now it's up to pilot Lt. Col. Richard "Dick" Atcherly and his navigator Captain Dudley "Mutt" Muller to save the day. Will they safely complete their mission? Or are things about to get a little…wacky?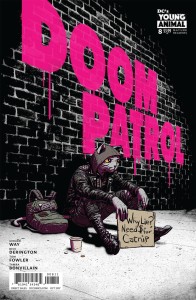 DOOM PATROL #8

DC COMICS
(W) Gerard Way (A/CA) Nick Derington
What is S**t, and why is everyone eating it? Cliff doesn't like it, but Casey can't get enough. Sure, Cliff doesn't like a lot of stuff, but that doesn't mean he's wrong to be suspicious this time around. Meanwhile, we find out where Lotion the cat got off to, and how his journey has changed him. Life on the streets has made him an entirely different animal!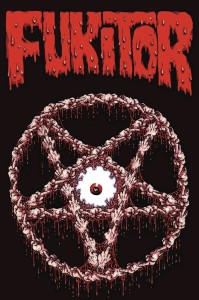 FUKITOR GN

FANTAGRAPHICS BOOKS
(W/A/CA) Jason Karns
Jason Karns' Fukitor is an attack of a different kind: reprinted from the artist's self-published zine, the book is a 144 page compilation of full color comics that reside uneasily between a straight and satirical response to the violence, xenophobia, and sexual and racial stereotypes found in pop culture.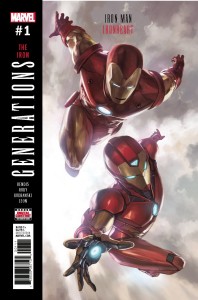 GENERATIONS IRON MAN & IRONHEART #1
MARVEL COMICS
(W) Brian Michael Bendis (A) Marco Rudy (CA) Skan
• Riri Williams is given a once-in-a-lifetime chance to meet Tony Stark…Sorcerer Supreme!
•  Join Ironheart as she discovers things about the Iron Man legacy that will change her forever.
•  IRON MAN writer and Riri co-creator Bendis teams up with the award-winning multimedia artist Marco Rudy to give you a beautiful, unique look at the first step into a new era of Iron Man!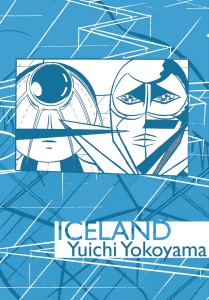 ICELAND GN
BIG PLANET/ RETROFIT COMICS
(W/A/CA) Yuichi Yokoyama
A new surrealist tale by the creator of neo manga, the critically-acclaimed Yuichi Yokoyama. His frenetic visual style contrasts with the taciturn pace of the story and dialogue as a group of friends wander the high-latitude areas of the strange icy Far North looking for someone.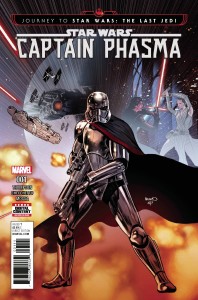 JOURNEY SW LAST JEDI CAPT PHASMA #1 (OF 4)
MARVEL COMICS
(W) Kelly Thompson (A) Marco Checchetto (CA) Paul Renaud
As the excitement ramps up for this December's Star Wars: The Last Jedi, come back with us to the final moments of The Force Awakens and the destruction of Starkiller Base to learn the fate of Captain Phasma! Captured by the Resistance and thrown into a garbage masher, we follow the chrome-adorned warrior from the site of the First Order's biggest defeat to the doorstep of this holiday season's biggest blockbuster! Written by Kelly Thompson (HAWKEYE, STAR WARS ANNUAL 2016) and drawn by Marco Checchetto (STAR WARS: SHATTERED EMPIRE, STAR WARS: SCREAMING CITADEL), Captain Phasma will recondition you to love Star Wars again!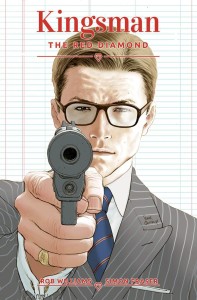 KINGSMAN RED DIAMOND #1 (OF 6)
IMAGE COMICS
(W) Rob Williams (A) Simon Fraser (CA) Frank Quitely
Kingsman: The Golden Circle (starring Channing Tatum and Colin Firth)is in cinemas in September, and we're launching the sequel to the hit comic book series by MARK MILLAR and DAVE GIBBONS with KINGSMAN: THE RED DIAMOND. Working-class super-spy Eggsy follows in his mentor's footsteps but is still rough around the edges for a Kingsman agent. Rejected by his high school crush and hot on the heels of a rescue mission to save Prince Phillip, he embarks on an international terror plot in a story that starts where James Bond draws the line. ROB WILLIAMS (Suicide Squad, Action Comics) and SIMON FRASER take the helm for this stunning six-issue miniseries.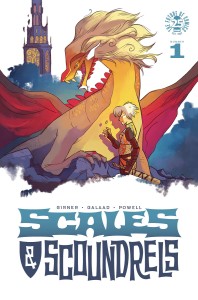 SCALES & SCOUNDRELS #1
IMAGE COMICS
(W) Sebastian Girner (A/CA) Galaad
NEW SERIES! It's hard to make an honest living in a land brimming with magic and mystery, and treasure hunter Luvander is tired of being a penniless adventurer. Ever in search of gold and glory, she sets off for a fabled dungeon, "the Dragon's Maw," an ancient labyrinth, at the bottom of which slumbers endless wealth… or certain doom! But what starts out as a road to riches becomes the first step on an epic journey to destiny, for Luvander holds a secret in her heart that will shatter the chains of fate and bring light to a world encroached upon by an ancient darkness. Writer SEBASTIAN GIRNER (SHIRTLESS BEAR-FIGHTER!) and artist GALAAD are proud to present SCALES & SCOUNDRELS, a colorful and exciting new monthly fantasy adventure from Image Comics, for scoundrels of all ages!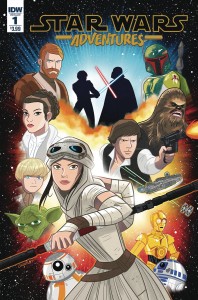 STAR WARS ADVENTURES #1
IDW PUBLISHING
(W) Cavan Scott (A/CA) Derek Charm
Introducing an exciting new era in all-ages Star Wars comics! Each issue in this monthly series will feature two stories, starring your favorite Star Wars characters from all the films! This debut issue will reveal Rey's early adventures on Jakku as well as a comical tale of clone catastrophe!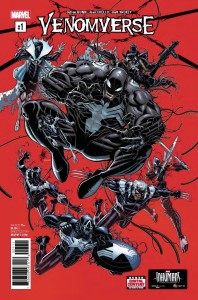 VENOMVERSE #1 (OF 5)
MARVEL COMICS
(W) Cullen Bunn (A) Iban Coello (CA) Nick Bradshaw
THE VENOM EPIC OF THE FALL STARTS HERE!
During a routine battle with the villainous Jack O'Lantern, Venom finds himself transported to a far-off world and learns a terrible truth – a deadly new species called the Poisons has emerged from the vastness of space, and to make matters worse, they're hunting Venoms! Trapped on the planet's surface with a ragtag band of Venomized heroes, Eddie has no choice but to mount a counteroffensive and hope to find a way home!
VENOMVERSE WAR STORIES #1
MARVEL COMICS
(W) Declan Shalvey & Various (A) Annapaola Martello & Various (CA) Francesco Mattina
• Sure, you know about some of the adventures All-New Wolverine, Gwenpool, Ghost Rider, Old Man Logan and Deadpool went on with their symbiotes, but what about the rest?!
•  Featuring a star-studded lineup of creators and characters, including…
•  …a VENOMIZED PUNISHER story written and drawn by Declan Shalvey!
•  And the awesome adventures of VENOMIZED ROCKET RACCOON by Magdalene Visaggio!
NOW HERE'S THE FULL LIST!
If you want a full visual list of everything howabout you click on this hyperlink  (tho the Diamond  might not update til Monday or something)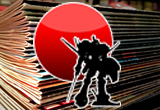 (the following list of comics reflects ALL the comics coming into BOTH locations. If there's something on this list that's NOT IN STOCK at your favorite BNW location DO NOT HESITATE  TO ASK FOR US TO ORDER IT FOR YOU!)
COMICS AND MAGAZINES
4 Kids Walk Into A Bank #5
Adventure Time #68
All New Guardians Of Galaxy #9
Amory Wars Good Apollo #6 (OF 12)
Animal Jam #3 (OF 3)
Animosity The Rise #3
Astonishing X-Men #3
Astro City #47
Back Issue #100
Bane Conquest #5 (OF 12)
Batman #30
Beautiful Canvas #3
Black Bolt #5
Black Sable #1 (OF 6)
Bombshells United #1
Champions #12
Cyborg #16
Daredevil #26
Dastardly And Muttley #1 (OF 6)
Deathstroke #23
Doctor Who 9th Doctor Year Two #1
Doom Patrol #8
Elsewhere #2
Generation X #6
Generations Iron Man & Ironheart #1
Giant Days #30
Greatest Adventure #5
Green Arrow #30
Green Hornet 66 Meets Spirit #3 (OF 5)
Green Lanterns #30
Grumpy Cat Garfield #2 (OF 3)
Harbinger Renegade #7
Harley Quinn #27
Hawkeye #10
Iceman #5
Infinite Seven #7
Inhumans Once Future Kings #2 (OF 5)
Injustice 2 #9
Iron Fist #7
Jack Kirby Collector #72
Jessica Jones #12
Journey Sw Last Jedi Capt Phasma #1 (OF 4)
Judge Dredd Blessed Earth #5
Justice League #28
Kingsman Red Diamond #1 (OF 6)
Mercy Sparx Year One #3 (OF 3)
Motor Crush #6
Nightwing #28
Outcast By Kirkman & Azaceta #30
Penny Dreadful #5
Postal #22
Predator Hunters #5
Robyn Hood The Hunt #2
Rocket Girl #9
Royals #7
Scales & Scoundrels #1
Seven To Eternity #9
Shade The Changing Girl #12
Spider-Man #20
Spider-Man Deadpool #21
Star Wars Adventures #1
Star Wars Darth Vader #5
Star Wars Insider #175 Newsstand Ed
Star Wars Rogue One Adaptation #6 (OF 6)
Superman #30
Uber Invasion #8
Usagi Yojimbo #161
Venomverse #1 (OF 5)
Venomverse War Stories #1
Walking Dead #171
Wicked & Divine #31
Woods #35
World Reader #6
X-Men Gold #11
TRADE PAPERBACKS, GRAPHIC NOVELS, HARDCOVERS AND MANGA
All Star Batman Hc Vol 02 Ends Of The Earth (REBIRTH)
All Star Batman Tp Vol 01 My Own Worst Enemy (REBIRTH)
Black Beetle Kara Bocek Hc
Boruto Gn Vol 02 Naruto Next Generations
Captain Harlock Dimensional Voyage Gn Vol 01
Death Note Slipcase Gn All In One Edition
Extremity Tp Vol 01 Artist
Fukitor Gn
Iceland Gn
Johnny Appleseed Hc
Kong Of Skull Island Tp Vol 02
Man-Thing By R L Stine Tp Vol 01
Last Girl Standing Sc Trina Robbins
Manifest Destiny Tp Vol 05
Mouse Guard Alphabet Book Hc
One Punch Man Gn Vol 12
Star Wars Darth Maul Tp
Star Wars Marvel Uk Omnibus Hc
Suicide Squad Tp Vol 03 Burning Down The House (REBIRTH)
Sweet Tooth Book 01
Thor & Hulk Digest Tp
ODDS AND ENDS
Marvel Fact Files Special #28 Venom
Marvel Gallery Black Panther Pvc Fig
Vintage DC Comics 2018 12 Month Wall Calendar