We're back once again (much like the Fall weather today) with all the things that you need to know about our Brave New Worlds over here and what's coming out on 10.4.17!
If sifting through the internet seems like a bit too much of a task and you'd like us to beam this right to your phone (or home Cerebro-like computer system) try signing up for our handy weekly email newsletter!
LADIES! LADIE'S NIGHT 2K17 is a MONTH AWAY!!!
Good news everyone! LADIES' NIGHT is returning to our Old City shop in October!!!

Since Cacey is running the event I've got nothing to add so here's what's going on as it's written on the  FACEBOOK EVENT:
It may have been a few years but Ladies' Night IS BACK!
If you're a woman or identify as a woman, you are cordially invited to our celebration of all things nerdy, hosted by our very own queen Cacey Crawford!
There will be special sections highlighting our favorite female creators, artists and characters. Come talk comics with all the geek goddesses that grace our great establishment every week. It's the perfect time to ask like minded ladies for new reading recommendations, or pick up that trade you've been eying!
Plus, we'll have plenty of tasty treats and refreshments, and who doesn't love that??
This event is entirely LADIES ONLY!! Sit down boys, be humble
More details to come. In the meantime, save the date!

The fantabulous ladies of the Dirty Diamonds are coming! Kelly Phillips and Claire Folkman will be here with their latest issue of Dirty Diamonds and other things! Meet them! Talk comics! Get involved!  YES!
LATEST LADIES' NIGHT UPDATE!

Yo we're super psyched that  Annie Mok's unique comics voice has been added to our list of guests coming out to Ladies' Night 2k17!  Nothing like supporting local comic creators, right?! C'mon out and see what she'll have with her!
SATURDAY OCT 7th AT NOON IN OLD CITY!
The Starset's lead singer will be hanging out in Old City this coming Saturday at 12 noon and signing his NEW Graphic Novel THE PROX TRANSMISSIONS!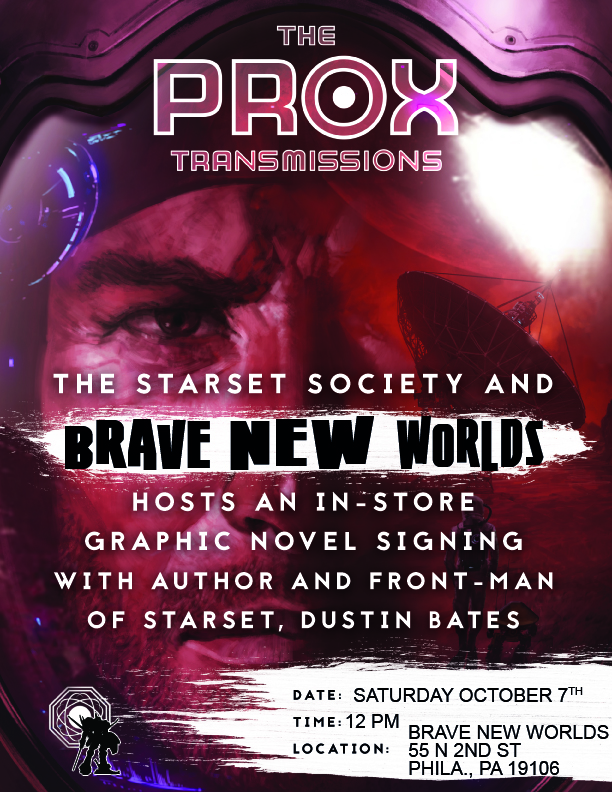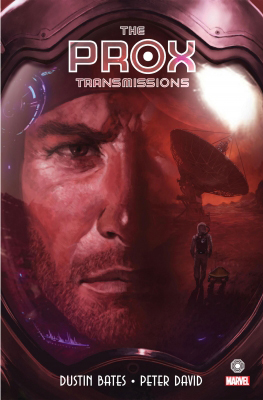 PROX TRANSMISSIONS TP
MARVEL COMICS
(W) Dustin Bates, Peter David (A) Mirko Colak & Various
A secret transmission from the far reaches of the galaxy falls into the hands of SETI radio astronomer Dr. Stephen Browning. His world begins to unravel as he discovers the cryptic message includes information of advanced technology and a dire warning from the future. Seeking the aid of brilliant-yet-impetuous playboy, Dr. Aston Wise, the two set off on an epic journey to discover the meaning of the transmission, only to discover that they are pawns in a much bigger game.  Humanity hangs in the balance as powerful forces vie for control of the future, with only Wise and Browning to stop them.
Dustin Bates is the lead singer and founder of the multi-media, modern rock band Starset. Inspired by the likes of Nikola Tesla, Carl Sagan and Ray Kurzweil (AKA, The Father of Singularity) their albums Transmissions and Vessels, along with videos, websites, novels and one-of-a-kind live performances, were created as part of the over arching concept The Starset Society. Science and fiction collide, raising awareness of the sweeping – and potentially catastrophic – changes that science and technology are making in our world.
With over 350 shows logged to date and the recent release of Vessels, Bates and his helmeted-and-pressure-suited crew (bassist Ron DeChant, guitarist Brock Richards and drummer Adam Gilbert) have set themselves apart with their unique and genre-defying brand of cinematic rock.
TOYS, TOYS, TOYS!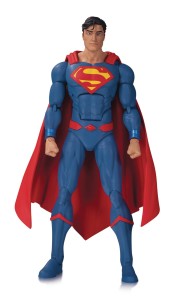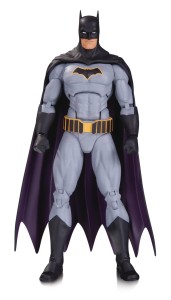 DC ICONS REBIRTH ACTION FIGURES
DC COMICS
  As seen in the DC REBIRTH: JUSTICE LEAGUE ACTION FIGURE 7-PACK, the Dark Knight is back in a new solo action figure featuring his appearance in DC's smash-hit Rebirth titles!
BATMAN-6.25
SUPERMAN-6.25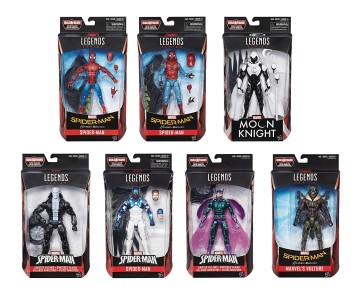 SPIDER-MAN 6IN LEGENDS AF
HASBRO TOY GROUP
Get ready for adventures with Spider-Man and his amazing friends with these new 6″ scale action figures! Collect Spider-Man web wings, Spidey, Moon Knight, Cosmic Spidey, Tombstone, Beetle, and Vulture. Collect them all to build your own Vulture Wings!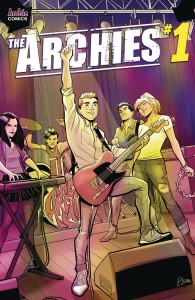 ARCHIES #1
ARCHIE COMIC PUBLICATIONS
(W) Alex Segura, Matthew Rosenberg (A/CA) Joe Eisma
What's next for the teenage rockers The Archies? When someone makes a decision that leaves the rest of the band scrambling, can the group keep it together? It's friendship vs. fame in this must-read #1 issue to the new, ongoing The Archies series!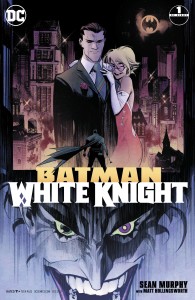 BATMAN WHITE KNIGHT #1 (OF 7)
DC COMICS
(W/A/CA) Sean Murphy
In a world where Batman has gone too far, The Joker must save Gotham City.
He's been called a maniac, a killer and the "Clown Prince of Crime" but "white knight"? Never. Until now…
Set in a world where the Joker is cured of his insanity and homicidal tendencies, The Joker, now known as "Jack," sets about trying to right his wrongs. First he plans to reconcile with Harley Quinn, and then he'll try to save the city from the one person who he thinks is truly Gotham City's greatest villain: Batman!
Superstar writer and artist Sean Murphy (PUNK ROCK JESUS, THE WAKE) presents a seven-issue miniseries of a twisted Gotham City with a massive cast of heroes and villains that, at its heart, is a tragic story of a hero and a villain: Batman and The Joker. But which is the hero-and which the villain?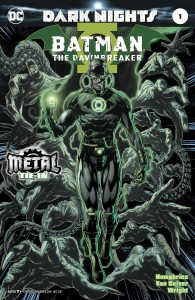 BATMAN THE DAWNBREAKER #1 (METAL)
DC COMICS
(W) Sam Humphries (A) Ethan Van Sciver (CA) Jason Fabok
As the events of DARK NIGHTS: METAL rock the DC Universe, the creatures of the Dark Multiverse stand ready to invade our world! How can even the World's Greatest Heroes stop a horde of deadly beings that appear to be powerful, nightmare versions of familiar figures? Find out in these special tie-in issues!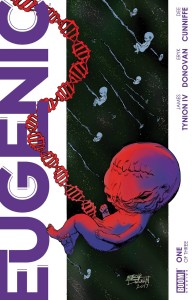 EUGENIC #1 (OF 3)
BOOM! STUDIOS
(W) James TynionIV (A/CA) Eryk Donovan
From the GLAAD award-nominated team James Tynion IV (Dark Nights: Metal, Detective Comics) and Eryk Donovan (Constantine: The Hellblazer) comes a new vision of humanity's future in the vein of Black Mirror.
When a plague ravages the world, one scientist discovers the cure and becomes the savior of mankind. Hope is restored, and the world rebuilds. But then people who took the cure begin having children who are… unnatural, and the definition of "normal" is forever altered.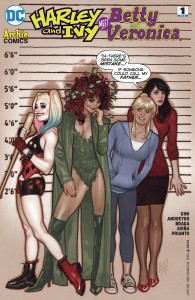 HARLEY & IVY MEET BETTY & VERONICA #1 (OF 6)
DC COMICS
(W) Paul Dini, Marc Andreyko (A) Laura Braga (CA) Adam Hughes
Free college tuition for all Riverdale residents?! That's the plan-after the town drains the wetlands that lie between it and Gotham City and then builds a new campus. The only snag? A certain botany-obsessed super-villain. When Poison Ivy enlists her bestie, Harley, to kidnap both Veronica Lodge, daughter of Riverdale's most important citizen, and her friend Betty, she's counting on some assistance-and the mayhem that ensues will probably work as well!
DC Comics and Archie are proud to present the adventure of a lifetime for all these best pals. Their hijinks are brought to you by the real-life team-up of Paul Dini (HARLEY QUINN) and Marc Andreyko (WONDER WOMAN '77), with art by Laura Braga (DC BOMBSHELLS)!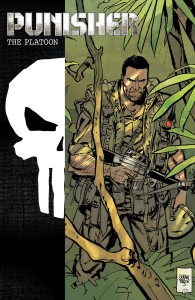 PUNISHER PLATOON (MR) #1 (OF 6) (MR)
MARVEL COMICS
(W) Garth Ennis (A/CA) Goran Parlov
By the time the Punisher was born in Vietnam, Frank Castle had already become a dark legend of the battlefield. Stories about him were told in whispers, if at all. Now the legendary Punisher team of Garth Ennis and Goran Parlov (PUNISHER MAX, FURY MAX) brings the first of those stories to light: the tale of Frank Castle's first command, and his first kill. Don't miss this epic new series!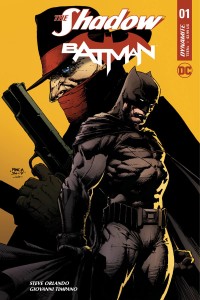 SHADOW BATMAN #1 (OF 6)
D. E.
(W) Steve Orlando (A) Giovanni Timpano (CA) David Finch
The World's Greatest Mystery. The World's Greatest Detective. They can barely stand each other, so how will they possibly deal with the World's Greatest Evil? What legacy can two of the world's most enduring icons of justice leave once they discover an ancient evil has been living inside the world they protect for centuries, attached to its heart. Can Batman and the Shadow save the world without killing it in the process?
Writer Steve Orlando (Batman/The Shadow, Justice League of America) and artist by Giovanni Timpano (The Shadow, Transformers) unite to tell an instantly classic tale of noir, mortality and generational heroes and villains.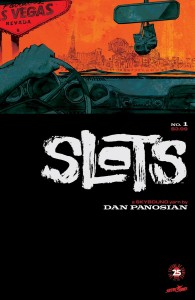 SLOTS #1
IMAGE COMICS
(W/A/CA) Dan Panosian
NEW SERIES
You can say this about the life of Stanley Dance: he did it his way. Unfortunately, his way never took getting old into account. Now, the former boxer is on his last legs, looking for redemption…but he'll settle for going down swinging.
Roll the dice with superstar artist DAN PANOSIAN as he creates a bold and breathtaking vision of Las Vegas, where everything old can become new, and superstition influences how the chips fall.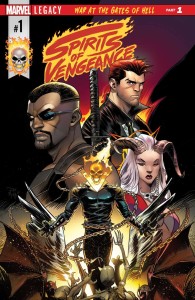 SPIRITS OF VENGEANCE #1 (OF 5)

MARVEL COMICS
(W) Victor Gischler (A) David Baldeon (CA) Dan Mora
WAR AT THE GATES OF HELL Part 1
A dead angel. A silver bullet. A kept promise. For ages, the war between Heaven and Hell raged in the unseen corners of society, both sides in delicate balance that could topple if the right weapons were in the wrong hands… When an undercover angel is murdered, Johnny Blaze, the Ghost Rider, must find the killers and punish them…But this time he won't do it alone: A deadly team must rise from the darkest depths of the Marvel Universe to form an unholy alliance – HELLSTORM! SATANA! BLADE! They are the SPIRITS OF VENGEANCE! PLUS: Includes 3 bonus MARVEL PRIMER PAGES! Story by Robbie Thompson and TBA!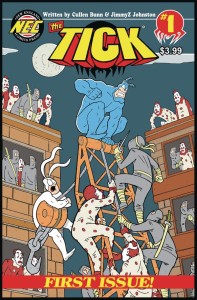 TICK 2017 #1
NEW ENGLAND COMICS
(W) Cullen Bunn, JimmyZ Johnston (A/CA) Douglas Paskiewicz
Amazon is bringing The Tick back to TV this summer! And NEC is bringing The Tick back to comics in August with an all-new continuing color series! Written by Cullen Bunn (Deadpool Kills the Marvel Universe, X-Men Blue, Harrow County) and drawn by Douglas Paszkiewicz (Arsenic Lullaby), The Tick and Arthur confront the dire menaces of ninjas and murder clowns, while also flashing back to blasts from The Tick's heretofore unexplored past! Join us for fun as Bunn imprints The Tick with his own creative style of storytelling!
 OH AND ONE LAST THING…
FYI! Our Old City location will be uncharacteristically
CLOSED   
on TUESDAY OCTOBER 3rd for a PRIVATE FUNCTION. Things will be all honky dory and comics will be available as usual on Wednesday morning at 11am! So don't you all worry!
NOW HERE'S THE FULL LIST!
If you want a full visual list of everything howabout you click on this hyperlink  (tho the Diamond  might not update til Monday or something)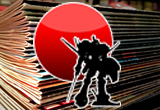 (the following list of comics reflects ALL the comics coming into BOTH locations. If there's something on this list that's NOT IN STOCK at your favorite BNW location DO NOT HESITATE  TO ASK FOR US TO ORDER IT FOR YOU!)
COMICS AND MAGAZINES
Adventure Time #69
All New Guardians Of Galaxy #11
All Star Batman #14
Amory Wars Good Apollo #7 (OF 12)
Archies #1
Astonishing X-Men #4
Avengers #672
Bane Conquest #6 (OF 12)
Batman #32
Batman The Dawnbreaker #1 (METAL)
Batman White Knight #1 (OF 7)
Black Bolt #6
Bubblegun Vol 2 #5
Cannibal #8
Catalyst Prime Astonisher #1
Cinema Purgatorio #12
Cyborg #17
Dastardly And Muttley #2 (OF 6)
Deathstroke #24
Doctor Crowe #3 (OF 4)
Eleanor & The Egret #4
Elephantmen #78
Elsewhere #3
Eugenic #1 (OF 3)
Extremity #7
Giant Days #31
Green Arrow #32
Green Hornet 66 Meets Spirit #4 (OF 5)
Green Lanterns #32
Hack Slash Vs Vampirella #1 (OF 5)
Harley & Ivy Meet Betty & Veronica #1 (OF 6)
Harley Quinn #29
Hawkeye #11
Hillbilly #8
I Hate Fairyland Spec Ed
Iceman #6
Injustice 2 #11
Iron Fist #73
Jessica Jones #13
Journey to Star Wars Last Jedi Capt Phasma #3 (OF 4)
Judge Dredd Blessed Earth #6
Justice League #30
Manifest Destiny #31
Miraculous Adventures Ladybug Cat Noir #3
Moonstruck #3
Motor Crush #7
Motor Girl #9
My Little Pony Friendship Is Magic #59
Nightwing #30
Old Man Logan #29
Paper Girls #16
Postal #23
Punisher Platoon #1 (OF 6)
Regression #5
Ringside #12
Robyn Hood The Hunt #3
Rocket Girl #10
Royals #9
Shadow Batman #1
Sherlock The Great Game #3 (OF 6)
Slots #1
Spider-Man #21
Spider-Man Deadpool #22
Spirits Of Vengeance #1 (OF 5)
Spread #22
Star Wars #37
Star Wars Darth Vader #6
Stray Bullets Sunshine & Roses #28
Superman #32
The Beautiful Death (STATIX) #1 (OF 5)
Three Stooges Halloween Stoogetacular
Tick 2017 #1
Usagi Yojimbo #162
Venom #155
Venomverse #5 (OF 5)
Voltron Legendary Defender Vol 2 #1
Walking Dead #172
War For Planet Of The Apes #4 (OF 4)
X-Men Gold #13
TRADE PAPERBACKS, GRAPHIC NOVELS, HARDCOVERS AND MANGA
Batman Detective Tp Vol 03 League (REBIRTH)
Flintstones Tp Vol 02
Justice League Ult Gd Worlds Greatest Superheroes
Outcast By Kirkman & Azaceta Tp Vol 05
Predator Vs Judge Dredd Vs Aliens Splice & Dice Tp
Red Hood & The Outlaws Tp Vol 02 Who Is Artemis (REBIRTH)
Royals Tp Vol 01 Beyond Inhuman
Screwed Up Gn
Shang-Chi Master Of Kung Fu Omnibus Hc Vol 04
Steam Clean Gn
Visitor How And Why He Stayed Tp
Walking Dead Heres Negan Hc
William Gibson Archangel Hc
William Shakespeare Force Doth Awaken Hc
TOYS
Spider-Man 6in Legends Af Asst 201702
TMNT Michelangelo 1/4 Scale Af
ODDS AND ENDS
DC Icons Batman Rebirth Af
DC Icons Superman Rebirth Af