Here's our list of what's going on in the world of Brave New Worlds including what we'll have on the shelves this Wednesday 8.23.17!
5 YEARS AGO?! Yea, 5 Years ago!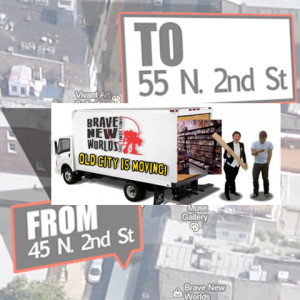 5 years ago THIS POST went live on our website reminding you all that we were going to be moving out Old City shop up the block to it's current location. It's insane how fast time goes by sometimes…thanks to everyone for making the last 5 years pretty dang awesome!
If sifting through the internet seems like a bit too much of a task and you'd like us to beam this right to your phone (or home Cerebro-like computer system) try signing up for our handy weekly email newsletter!
T800 EXOSKELETON HOT TOY!
"Listen, and understand. That terminator is out there. It can't be bargained with. It can't be reasoned with. It doesn't feel pity, or remorse, or fear. And it absolutely will not stop, ever, until you are dead." -Kyle Reese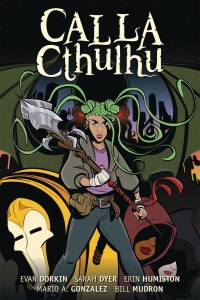 CALLA CTHULHU TP

DARK HORSE COMICS
(W) Evan Dorkin, Sarah Dyer (A) Erin Humiston, Mario A. Gonzalez (CA) Erin Humiston
Being a teenager isn't easy-especially after you learn you carry the bloodline of Lovecraft's Great Old Ones in your veins. Instead of a summer job and checking out colleges, Calla Tafali finds herself battling supernatural monsters, human assassins, and her uncle, the King in Yellow. She must resist his call to embrace her own chaotic heritage and join the "family business," as well as prevent the awakening of the terrible deity asleep and dreaming in the corpse city of R'lyeh-the Dread Dead One! Prepare yourself for weird action, adventure, and mystery in the Mighty Mythos Manner!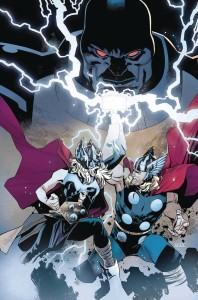 GENERATIONS UNWORTHY THOR & MIGHTY THOR #1
MARVEL COMICS
(W) Jason Aaron (A/CA) Mahmud A. Asrar
HER HAMMER, HIS AX: A WORTHY APOCALYPSE.
•  When a battle goes south, Thor finds herself in ancient Egypt – facing a young Odinson!
•  A misguided party of Vikings has bitten off way more than they can spear. But when the prince of Asgard answers their cries for help, he ends up in a fight no axe alone can win! And Apocalypse is not one for mercy.
•  Can a not-yet-worthy god and a time-lost hero take on one of the world's most powerful mutants at the height of his empire? And what does their encounter mean for the future of two Thors?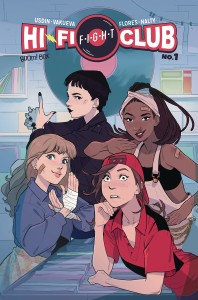 HI-FI FIGHT CLUB #1 (OF 4)
BOOM! STUDIOS
(W) Carly Usdin (A) Nina Vakueva, Irene Flores (CA) Nina Vakueva
Film and TV director Carly Usdin (Suicide Kale, RuPaul's Drag Race) teams up with breakout artist Nina Vakueva for a new series that's music to our ears!
New Jersey, 1998. Chris has just started the teen dream job: working at Vinyl Mayhem, the local record store. She's prepared to deal with anything-misogynistic metalheads, grunge wannabes, even a crush on her wicked cute co-worker, Maggie.
But when Rory Gory, the staff's favorite singer, mysteriously vanishes the night before her band's show in town, Chris finds out her co-workers are doing more than just sorting vinyl…her local indie record store is also a front for a teen girl vigilante fight club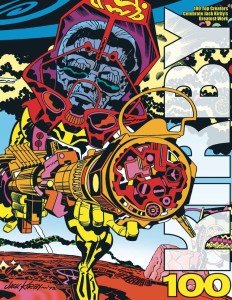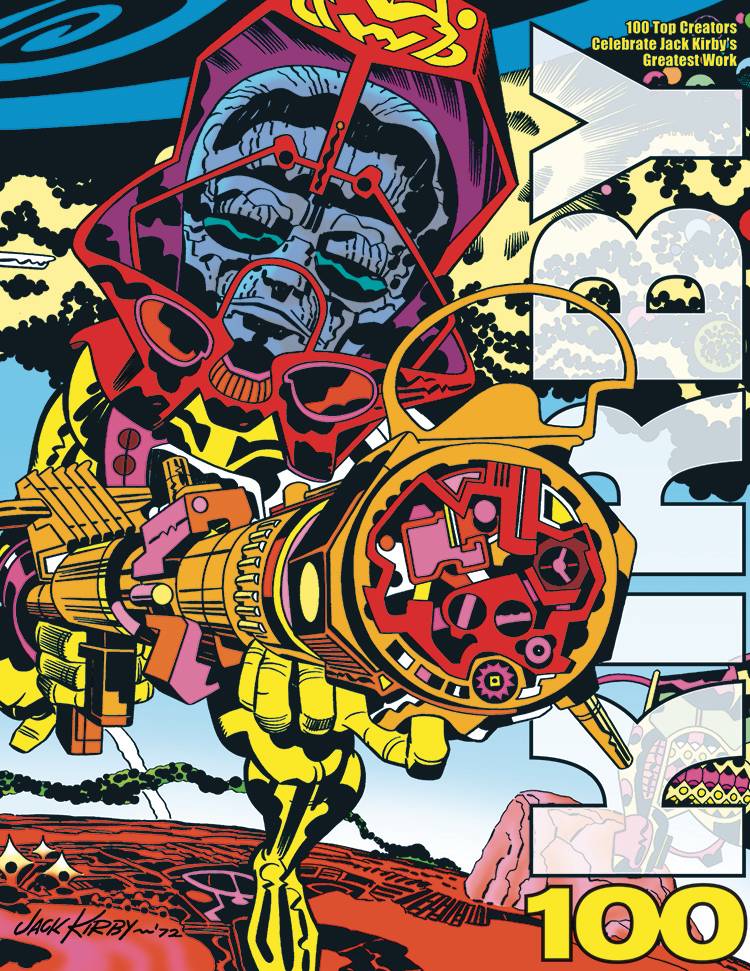 KIRBY 100
TWOMORROWS PUBLISHING
The party starts here! TwoMorrows and the Jack Kirby Collector magazine celebrate Jack Kirby's 100th birthday in style with the release of KIRBY100, a full-color visual holiday for the King of comics! It features an all-star line-up of 100 comics pros who critique key images from Kirby's 50-year career, admiring his page layouts, dramatics, and storytelling skills, and lovingly reminiscing about their favorite characters and stories. Featured are Bruce Timm, Alex Ross, Walter Simonson, John Byrne, Alan Davis, Joe Sinnott, Steve Rude, Adam Hughes, Wendy Pini, John Romita Sr., Dave Gibbons, P. Craig Russell, and dozens more of the top names in comics. Their essays serve to honor Jack's place in comics history, and prove (as if there's any doubt) that Kirby is King! This double-length book is edited by John Morrow and Jon B. Cooke, with a Kirby cover inked by Mike Royer.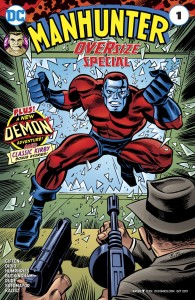 MANHUNTER SPECIAL #1
DC COMICS
(W) Keith Giffen & Various (A) Mark Buckingham, Steve Rude (CA) Bruce Timm
Big-game hunter and private detective Paul Kirk has marshaled his skills to fight crime as the masked vigilante known as Manhunter. But now crime has reached epidemic proportions that may push him to the limits – and draw the attention of the Golden Age heroes Sandman and Sandy! Plus: a short story featuring Etrigan the Demon by writer Sam Humphries and artist Steve Rude.
This issue also includes the stories "The Face Behind the Mask," from TALES OF THE UNEXPECTED #13, "Rocket Lanes of Tomorrow," from REAL FACT COMICS #1 and "A World of Thinking Machines," from REAL FACT COMICS #2, all featuring art by Jack Kirby.
NIGHTWING THE NEW ORDER #1 (OF 6)
DC COMICS
(W) Kyle Higgins (A/CA) Trevor McCarthy
NIGHTWING: THE NEW ORDER is the story of a future world without "weapons"-where superpowers have been eliminated and outlawed. The man responsible? None other than Dick Grayson, a.k.a. Nightwing, now leader of a government task force called the Crusaders who are charged with hunting the remaining Supers. But when events transpire which turn the Crusaders' aim toward Grayson's own family, the former Boy Wonder must turn against the very system he helped create, with help from the very people he's been hunting for years-the last metahumans of the DC Universe. Don't miss this bold new vision from the team behind the New York Times bestseller BATMAN: GATES OF GOTHAM!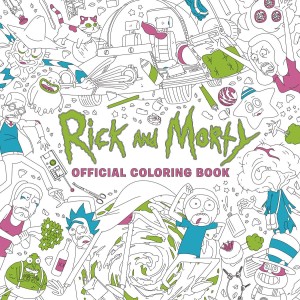 RICK AND MORTY OFFICIAL COLORING BOOK
TITAN BOOKS
(W) Titan Studios
Nobody belongs anywhere, nobody exists on purpose, everybody's going to die… come do some coloring. Burrrp, we've got all your favorites: Krombopulos Michael, meeseeks, plumbuses and more. Prepare for intricate adult coloring patterns and high-concept sci-fi rigmarole in the best coloring book in dimension C-137! Peace among worlds Rick and Morty fans… peace among worlds.
STAR WARS DOCTOR APHRA ANNUAL #1

MARVEL COMICS
(W) Kieron Gillen (A) Marc Laming (CA) Phil Noto
• Doctor Aphra has a troubled past full of parental drama and war.
•  But what about her Wookiee shadow, Black Krrsantan?
•  Find out just how this Wookiee warrior is as frightening as they say…
•  …and then some!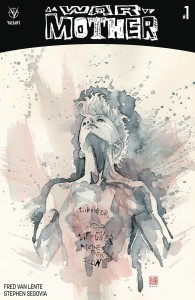 WAR MOTHER #1 (OF 4)
VALIANT ENTERTAINMENT LLC
(W) Fred Van Lente (A) Stephen Segovia (CA) David Mack
BECAUSE YOU DEMANDED IT – WAR MOTHER RETURNS IN A RIVETING NEW SERIES! Out of the pages of 4001 A.D., the breakout hero of 41st century charges onward in an high-powered tale of tomorrow from New York Times best-selling writer Fred Van Lente (ARCHER & ARMSTRONG) and high-octane artist Stephen Segovia (NINJAK, Action Comics)!
Two millennia from today, Earth is not the hospitable home we once we knew. Ravaged by an endless onslaught of war, disaster, and time, the world is littered with desolate badlands, fortified kingdoms, and secretive enclaves where humanity still clings to life… Enclaves like The Grove – Earth's last known repository of scientific knowledge and bioengineered prosperity. Now, under the leadership of the lone protector called WAR MOTHER and her sentient sniper rifle, the denizens of The Grove face a critical choice: remain where they are and die, or find a new land and flourish. Can War Mother lead her people out of isolation and reignite the fires of a dying planet? And even if she can locate the distant citadel she seeks, can she fight back the horrors and perverse monstrosities that lurk just beyond her doorstep?
In the footsteps of RAI and BOOK OF DEATH, raw power meets tribal warfare as Fred Van Lente & Stephen Segovia forge a modern myth of the near future through the fire-tempered frontier of 41st century Earth for Valiant's next stunning science-fiction showdown!
NOW HERE'S THE FULL LIST!
If you want a full visual list of everything howabout you click on this hyperlink  (tho the Diamond  might not update til Monday or something)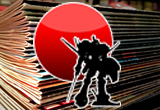 (the following list of comics reflects ALL the comics coming into BOTH locations. If there's something on this list that's NOT IN STOCK at your favorite BNW location DO NOT HESITATE  TO ASK FOR US TO ORDER IT FOR YOU!)
COMICS AND MAGAZINES
Action Comics #986
Archie #23
B & V Friends Fall Annual Digest #255
Batgirl #14
Batman Beyond #11
Batman The Shadow #5 (OF 6)
Ben Reilly Scarlet Spider #6
Bettie Page #2
Black Hammer #12
Blue Beetle #12
Cable #4
Conan The Slayer #12
Daredevil #25
Deadpool Kills Marvel Universe Again #4 (OF 5)
Dept H #17
Detective Comics #963
Doctor Strange #24
Doctor Who 12th Year Three #6
Doctor Who 11th Year Three #8
Dying And The Dead #5
Edge Of Venomverse #5 (OF 5)
Elfquest Final Quest #21
Eternal Empire #4
First Strike #2
Flash #29
Game Of Thrones Clash Of Kings #3
Generation Gone #1 2nd Ptg
Generation Gone #2
Generations Unworthy Thor & Mighty Thor #1
Grrl Scouts Magic Socks #4 (OF 6)
Hal Jordan And The Green Lantern Corps #27
Harley Quinn #26
Heartthrob Season 2 #3
Hellblazer #13
Hi-Fi Fight Club #1 (OF 4)
I Am Groot #4
Iceman #4
Jem & The Holograms Infinite #2 (OF 3)
Jim Henson Power Of Dark Crystal #6 (OF 12)
Josie & The Pussycats #9
Kamandi Challenge #8 (OF 12)
Lazarus X Plus 66 #2 (OF 6)
Letter 44 #35
Lumberjanes #41
Manhunter Special #1
Mask Mobile Armored Strike Kommand #9
Mighty Morphin Power Rangers #18
Moonstruck #2
Mother Panic #10
Nightwing The New Order #1 (OF 6)
Over Garden Wall Ongoing #17
Pathfinder Runescars #4
Peter Parker Spectacular Spider-Man #3
Plastic #5 (OF 5)
Project Superpowers Hero Killers #4
Punisher #15
Red Sonja #8
Redneck #5
Renato Jones Season Two #3 (OF 5)
Revolution Aw Yeah #3
Rick & Morty #29
Robotech #1 2nd Ptg
Rom Vs Transformers Shining Armor #2
Sabrina #8
Saucer State #3 (OF 6)
Scooby Doo Team Up #29
Secret Empire #9 (OF 10)
Shipwreck #5
Shirtless Bear-Fighter #3
Star Wars Darth Vader #2 2nd Ptg
Star Wars Doctor Aphra Annual #1
Suicide Squad #24
Teen Titans #11
Tmnt Dimension X #4
War Mother #1 (OF 4)
Weapon X #7
WWE #8
X-Men Gold #10
X-O Manowar (2017) #6
TRADE PAPERBACKS, GRAPHIC NOVELS, HARDCOVERS AND MANGA
Adventure Time Tp Vol 12
Beauty Tp Vol 03
Calla Cthulhu Tp
Dark Horse Book Of Horror Hc
Hilda & Black Hound Tp
Kirby 100 Hc Ltd Ed
Kirby 100 Sc
Lead Poisoning Pencil Art Of Geof Darrow Hc
Mighty Captain Marvel Tp Vol 01 Alien Nation
New Teen Titans Tp Vol 07
Rick And Morty Official Coloring Book
Weapon X Tp Vol 01 Weapons Of Mutant Destruction Prelude
Wonder Woman Tp Vol 03 The Truth (REBIRTH)
X-Men Blue Tp Vol 01 Strangest
X-Men Gold Tp Vol 01 Back To Basics
TOYS
Marvel X Tokidoki Frenzies Blind Box
Shin Godzilla 2016 12-In Long Vg Ver Af