Good news everyone! It's time to look into the future at what's coming down the lane this Wednesday in the realm of new stuff!
It's the FIRST NEW COMIC WEEK OF AUGUST 2017!
If sifting through the internet seems like a bit too much of a task and you'd like us to beam this right to your phone (or home Cerebro-like computer system) try signing up for our handy weekly email newsletter!

BATMAN ELMER FUDD SPECIAL #1 2ND PTG
DC COMICS
(W) Tom King (A) Lee Weeks, Byron Vaughns (CA) Lee Weeks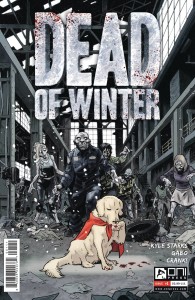 DEAD OF WINTER #1
ONI PRESS INC.
(W) Kyle Starks (A) Gabo (CA) Brian Hurtt, Bill Crabtree
From the tabletop smash hit comes this new series starring beloved characters from Plaid Hat Games' Dead of Winter, written by Kyle Starks (the Eisner-nominated Sexcastle), and illustrated by GABO (The Life After). In the pantheon of heroes, none are more lovable and loyal than everyone's beloved good ol' dog, Sparky. Surviving in the wintery apocalypse of the undead, this former TV star turned zombie killing machine just wants to make friends and be a good boy. As his fellow survivors scavenge for supplies in the frigid wasteland, will Sparky be able to protect his companions from threats both undead and not yet undead?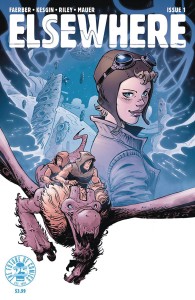 ELSEWHERE #1
IMAGE COMICS
(W) Jay Faerber (A/CA) Sumeyye Kesgin
COPPERHEAD WRITER JAY FAERBER TEAMS WITH RISING STAR SUMEYYE KESGIN TO UNVEIL ELSEWHERE: THE FANTASTIC STORY OF WHAT REALLY HAPPENED TO AMELIA EARHART!
Mysteriously transported to a strange new world filled with flying beasts and alien civilizations, Amelia desperately struggles to return home. Along the way, she forges alliances and makes enemies as she goes from aviator to freedom fighter in a rebellion against a merciless warlord!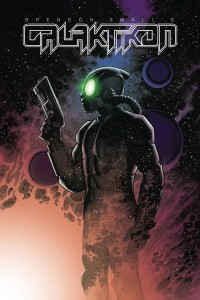 GALAKTIKON #1
ALBATROSS FUNNYBOOKS
(W) Eric Powell, Brendon Small (A) Steve Mannion, Jason Moore (CA) Eric Powell
From Brendon Small, the man who brought you Dethklok and Metalocalypse, comes a high stakes intergalactic extreme rock comic. Based on his album, Galaktikon, we follow Triton, intergalactic hero of the universe, who will face the ultimate outer space struggle: getting over his divorce.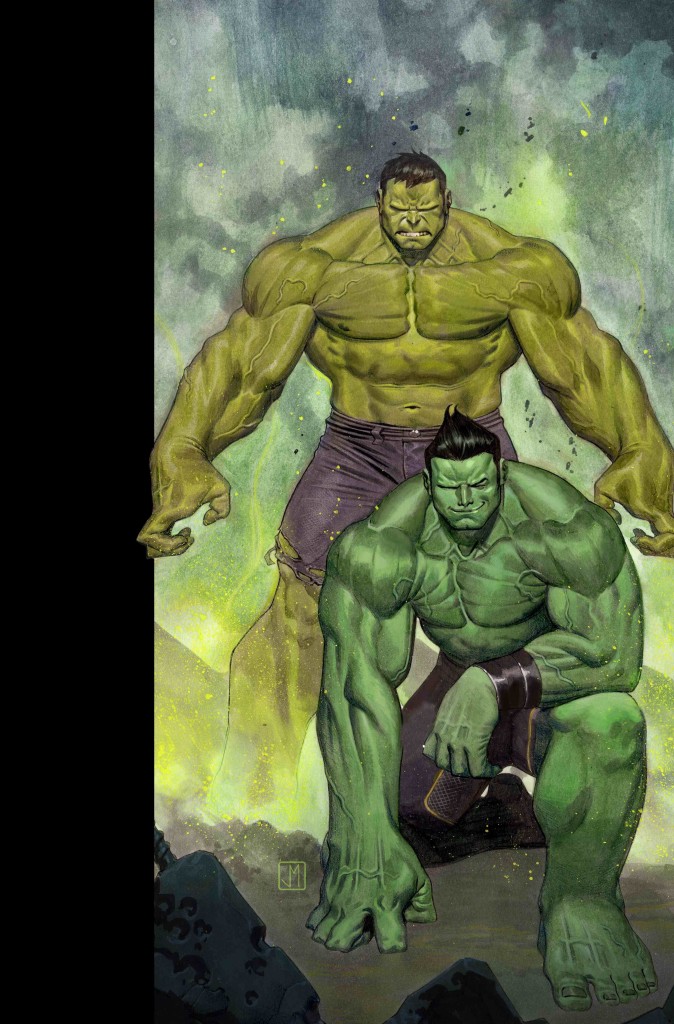 GENERATIONS BANNER HULK & TOTALLY AWESOME HULK #1
MARVEL COMICS
(W) Greg Pak (A) Matteo Buffagni (CA) Jorge Molina
• BRUCE BANNER. AMADEUS CHO. Both have carried the curse of the Hulk. Now they come face-to-face at last – but will they meet as friends or foes?
•  Fan-favorite Hulk scribe GREG PAK is joined by red-hot artist MATTEO BUFFAGNI (X-MEN BLUE) for a time-bending tale that will finally answer the question on everyone's minds: WHO IS THE STRONGEST ONE THERE IS?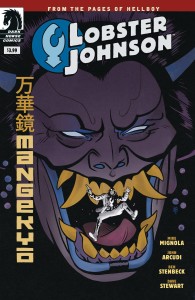 LOBSTER JOHNSON MANGEKYO ONE SHOT
DARK HORSE COMICS
(W) John Arcudi, Mike Mignola (A) Ben Stenbeck (CA) Tonci Zonjic
The Lobster foils an attempted prison break, but must answer to the person behind it-the assassin, witch, and longtime enemy the Crimson Lotus, one of the most enigmatic villains of the Hellboy world.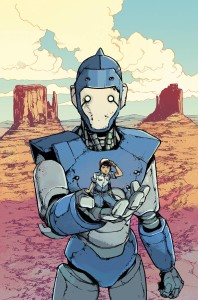 MECH CADET YU #1 (OF 4)

BOOM! STUDIOS
(W) Greg Pak (A/CA) Takeshi Miyazawa
Once a year, giant robots from outer space come to Earth and bond with young cadets from the elite Sky Corps Academy to defend the world from the terrifying aliens known as the Sharg. It's a great honor to be chosen, but this year…well, the wrong kid was picked.
Greg Pak (Totally Awesome Hulk) and Takeshi Miyazawa (Ms. Marvel) team up for an action-packed adventure perfect for fans of Amadeus Cho and Pacific Rim!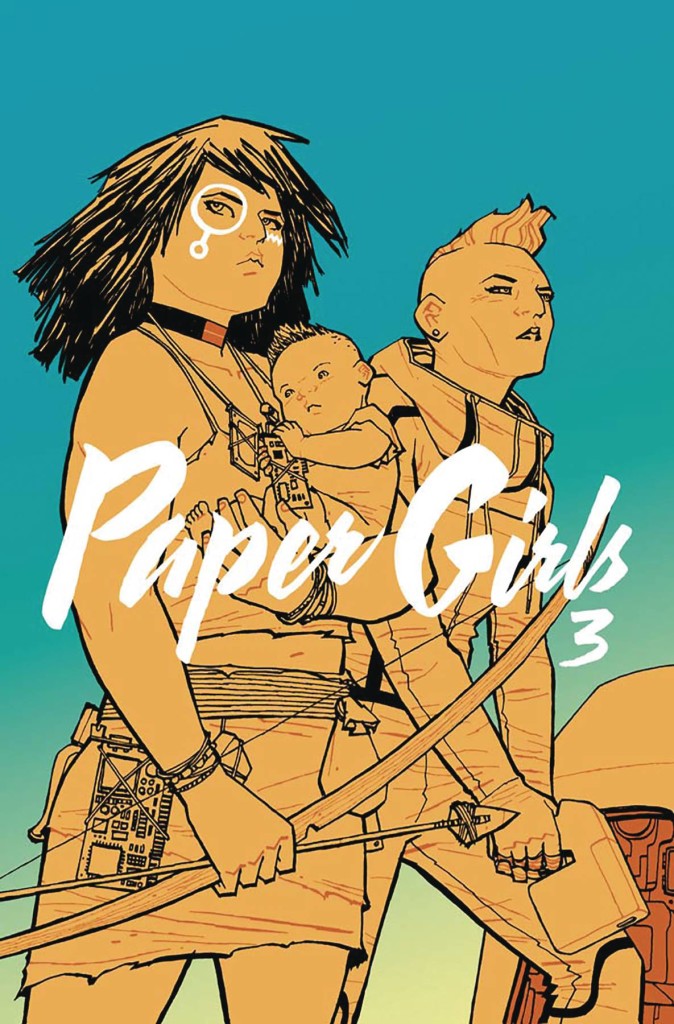 PAPER GIRLS TP VOL 03
IMAGE COMICS
(W) Brian K. Vaughan (A/CA) Cliff Chiang
The multiple Eisner and Harvey Award-winning series from BRIAN K. VAUGHAN and CLIFF CHIANG continues, as newspaper deliverers Erin, Mac, and Tiffany finally reunite with their long-lost friend KJ in an unexpected new era, where the girls must uncover the secret origins of time travel…or risk never returning home to 1988.
Collects PAPER GIRLS #11-15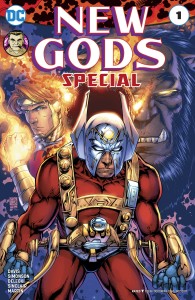 NEW GODS SPECIAL #1
DC COMICS
(W) Shane Davis, Walter Simonson (A) Shane Davis & Various (CA) Shane Davis, Michelle Delecki
In a feature length story, Orion and Lightray must come to the aid of Forager and his people, as Kalibak has established a brutal dictatorship over the Bug colony. In confronting his evil brother, Orion faces the darker side of his own nature. And, in a back-up story, master comics writer/artist Walter Simonson tells a tale of a young Orion and his friend Seagrin. This issue also includes tales of Lonar of New Genesis reprinted from FOREVER PEOPLE #4 and 7, written and pencilled by Jack Kirby.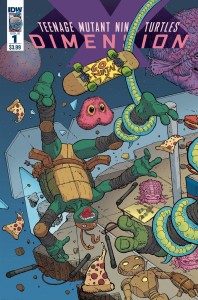 TMNT DIMENSION X #1
IDW PUBLISHING
(W) Paul Allor (A) Pablo Tunica (CA) Nick Pitarra
The Turtles journey to find a reclusive and indestructible empath- only to find that the assassin Hakk-R has found him first… and convinced him that the Turtles are the enemy!
*    Directly ties in to the exciting events of the main series, "The Trial of Krang!"
*    Continuing the events from Free Comic Book Day!
NOW HERE'S THE FULL LIST!
If you want a full visual list of everything howabout you click on this hyperlink  (tho the Diamond  might not update til Monday or something)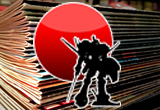 (the following list of comics reflects ALL the comics coming into BOTH locations. If there's something on this list that's NOT IN STOCK at your favorite BNW location DO NOT HESITATE  TO ASK FOR US TO ORDER IT FOR YOU!)
COMICS AND MAGAZINES
Adventure Time Regular Show #1
All New Guardians Of Galaxy #7
All Time Comics Blind Justice #1
Alters #6
Amory Wars Good Apollo #5 (OF 12)
Archangel #5 (OF 5)
Ash Vs AoD #2
Assassins Creed Uprising #6
Avengers #10
Bane Conquest #4 (OF 12)
Batman #28
Batman Elmer Fudd Special #1 2nd Ptg
Black #6 (OF 6)
Black Bolt #4
Champions #11
Champions #11
Cyborg #15
DC Comics Bombshells #32
Dead Of Winter #1
Deathstroke #22
East Of West #34
Elsewhere #1
Everafter From The Pages Of Fables #12
Extremity #6
Galaktikon #1
Generations Banner Hulk & Totally Awesome Hulk #1
GFT Red Agent Human Order #9
GI Joe A Real American Hero #242
Giant Days #29
Greatest Adventure #4
Green Arrow #28
Green Lanterns #28
Grumpy Cat Garfield #1 (OF 3)
Hadrians Wall #8 (OF 8)
Hawkeye #9
Hillbilly #7
Injection #14
Injustice 2 #7
Iron Fist #6
James Bond #6
Jessica Jones #11
Jim Henson Power Of Dark Crystal #1 (OF 12) 2nd Print
Jim Henson Power Of Dark Crystal #2 (OF 12) 2nd Print
Justice League #26
Kiss #10 (OF 10)
Knights Of The Dinner Table #245
Lobster Johnson Mangekyo One Shot
Love & Rockets Magazine #3
Marvel Comics Digest #2 The Avengers
Marvel Universe Avengers Ultron Revolution #12
Marvels Thor Ragnarok Prelude #3 (OF 4)
Mech Cadet Yu #1 (OF 4)
Monster Bash Magazine #30
New Gods Special #1
Nick Fury #5
Nightwing #26
Predator Hunters #4
Robyn Hood The Hunt #1
Rocket Girl #8
Savage Things #6 (OF 8)
Seven To Eternity #8
Sex Criminals #20
Sex Criminals #20 Xxx Joe Quinones Var
Shade The Changing Girl #11
Spider-Man #19
Spider-Man Deadpool #20
Spiritus #1 (OF 5)
Star Trek Waypoint #6
Star Wars Darth Vader #4
Star Wars Rogue One Adaptation #5 (OF 6)
Stray Bullets Sunshine & Roses #26
Superman #28
TMNT Dimension X #1
TMNT Ongoing #73
Turok #1
Unstoppable Wasp #8
Walking Dead #170
Woods #34
X-Files Origins II Dog Days Of Summer #2 (OF 4)
X-Men Gold #9
TRADE PAPERBACKS, GRAPHIC NOVELS, HARDCOVERS AND MANGA
Black Panther Hc Vol 01 A Nation Under Our Feet
BTVS Season 11 Tp Vol 01 Spread Of Evil
Captain America Steve Rogers Tp Vol 03 Empire Building
God Country Tp
Green Arrow Tp Vol 03 Emerald Outlaw (REBIRTH)
Heathen Tp Vol 01
Invader Zim Tp Vol 04
Paper Girls Tp Vol 03
Reborn Hc
She And Her Cat Gn
Superman Tp Vol 03 Multiplicity (REBIRTH)
WWE Ongoing Tp Vol 01
TOYS
SW Black Series 6in Af Asst
ODDS AND ENDS
Batman 16 Month 2018 Wall Cal
DC Superhero Girls 2018 Wall Calendar
Legend Of Zelda 2018 16 Month Wall Cal
Marvel Avengers 16 Month 2018 Wall Cal
Marvel Comics Retro 16 Month 2018 Wall Calendar
Star Wars Saga 2018 Wall Cal