Guess what it's another HOT weekend…go figure. Here's what we've got for ya for 7.19.17!
If sifting through the internet seems like a bit too much of a task and you'd like us to beam this right to your phone (or home Cerebro-like computer system) try signing up for our handy weekly email newsletter!
WELCOME TO ANATOMY PARK!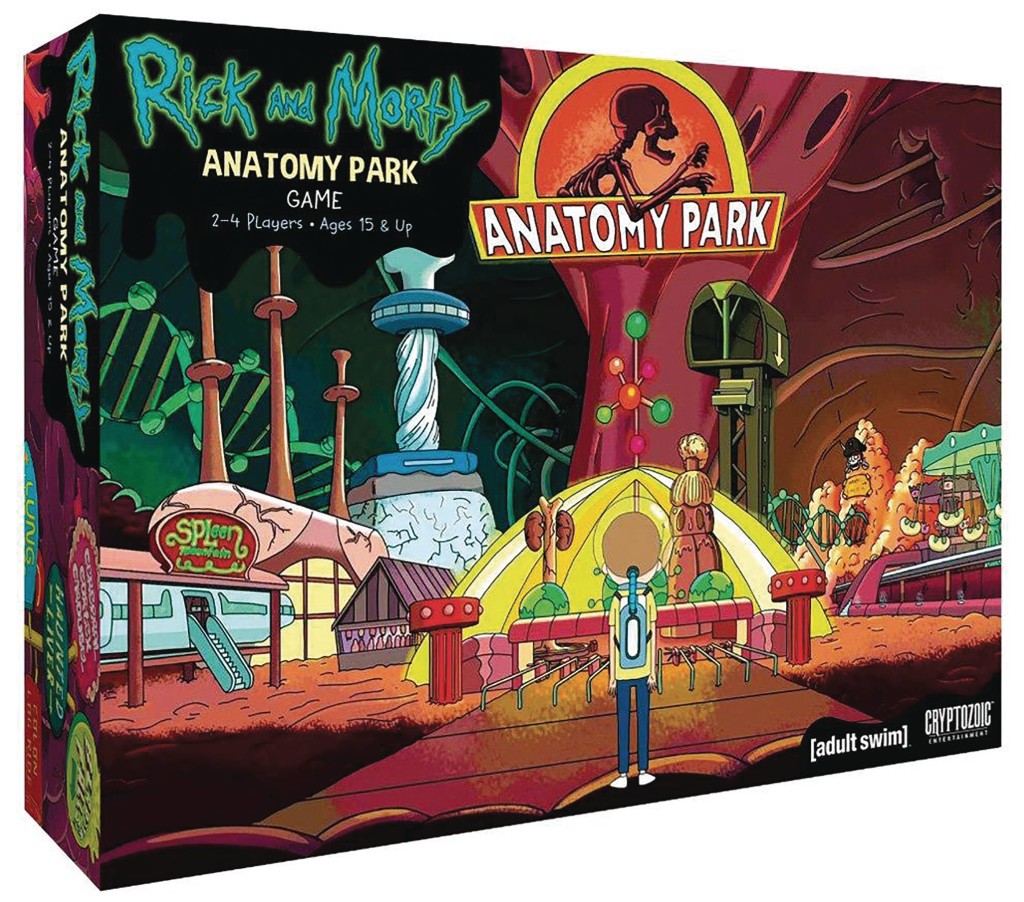 RICK AND MORTY ANATOMY PARK BOARD GAME

CRYPTOZOIC ENTERTAINMENT
Welcome to Anatomy Park! Based on the popular episode of Rick and Morty, this hilarious, competitive tile-placing strategy game takes place within the body of Ruben, the homeless department store Santa! In Rick and Morty: Anatomy Park The Game, you and your fellow players will be designing the Park, vying for the best spots, and shifting internal organs around to suit your needs. Unfortunately, Ruben is not the most stable host out there, so time (and Ruben) may expire before you know it!
SO LONG, ERIC!
You've probably heard by now but Eric is leaving the Willow Grove shop after years and years and years (and years and years) of slingin' comics and tappin' mana n castin' spells!
If you see him this week wish him well on his journey to Texas and all the crazy cool adventures him and Caron will surely get into down in Texas!
We'll miss ya, Eric!
wait a sec….do they have Krampus in Texas?

ASTONISHING X-MEN #1
MARVEL COMICS
(W) Charles Soule (A/CA) Jim Cheung
ONLY THE X-MEN CAN SAVE US!
An ancient evil is attacking the world's most powerful minds. It will have them by the time you finish this sentence, and a moment later, it will have us all. A band of X-MEN discovers the truth behind the threat, but there is no time left. PSYLOCKE, OLD MAN LOGAN, BISHOP, ARCHANGEL, FANTOMEX, ROGUE and GAMBIT will attempt to save a world that hates and fears them. Why? BECAUSE THEY ARE THE X-MEN.
From blockbuster writer CHARLES SOULE and joined by a roster of superstar artists beginning with JIM CHEUNG. ASTONISHING X-MEN. It's the X-book you need.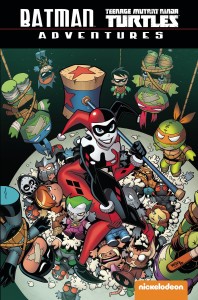 BATMAN TMNT ADVENTURES TP DIRECT MARKET EXC
IDW PUBLISHING
(W) Matthew K. Manning (A/CA) Jon Sommariva
The animated worlds of the current Teenage Mutant Ninja Turtles Nickelodeon cartoon and Batman: The Animated Series collide in this outstanding mini-series featuring fan-favorite characters from both universes! Villains start to mysteriously escape Arkham and Batman seeks to track them down, but he discovers that they have left Gotham completely… and gone to the New York City of the Teenage Mutant Ninja Turtles!
•  A Direct Market comic shop exclusive! A variant version of the trade paperback celebrating some of the best characters in comics or animation ever! Only one printing will be made of this book!
•  The first Batman: The Animated Series new material since 2004 when The Batman Adventures concluded.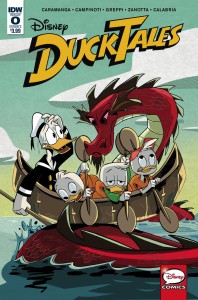 DUCKTALES #0

IDW PUBLISHING
(W) Joe Caramagna (A) Gianfranco Florio & Various (CA) Marco Ghiglione
DuckTales (woo-hoo) returns! Featuring beloved characters like Uncle Scroohge, Donald Duck, and Huey, Dewey, and Louie, this new #0 issue is the perfect jumping-on point for fans old and new in anticipation of the brand-new Disney XD TV series coming Summer 2017! Experience the wackiest, quackiest hijinks in two brand (Duck) Tales!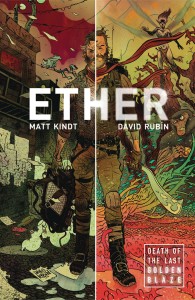 ETHER TP VOL 01 DEATH OF THE LAST GOLDEN BLAZE

DARK HORSE COMICS
(W) Matt Kindt (A/CA) David Rubin
A science-minded adventurer gets mixed up in the mysteries of a fantasy world in this charming new adventure from an award-winning creative team. Boone Dias is an interdimensional explorer, a scientist from Earth who has stumbled into great responsibility. He's got an explanation for everything, so of course the Ether's magical residents turn to him to solve their toughest crimes. But maybe keeping the Real and the Abstract separate is too big a job for just one man. Collects issues #1-#5.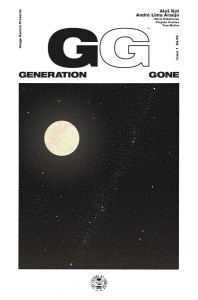 GENERATION GONE #1

IMAGE COMICS
(W) Ales Kot, Andre Araujo (A/CA) Andre Araujo
America, 2020. Three young hackers with nothing to lose. A secretive scientist with a plan. One final job.
What happens when you're poor, angry, and get superpowers you never asked for? Skins + Unbreakable = GENERATION GONE, sort of- if you also include multiple trips to the sun, weird black goo, a breakup fight inside a nuclear factory, love, hate, anger, loss…and survival. GENERATION GONE is for every kid struggling out there. It's about what it means to be young in the USA, 2017.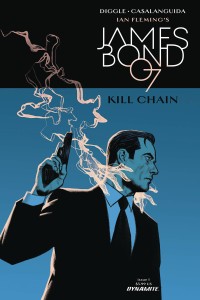 JAMES BOND KILL CHAIN #1 (OF 6)
D. E.
(W) Andy Diggle (A) Luca Casalanguida (CA) Greg Smallwood
When a counterespionage operation in Rotterdam goes catastrophically wrong, James Bond finds himself in the crosshairs of a plot to smash NATO. Someone is assassinating allied agents, and 007 is the next target in the kill chain. Having kept the peace for decades, the old alliance is collapsing, pitting MI6 against its former ally – the CIA! Dynamite Entertainment proudly presents the return of writer Andy Diggle (James Bond: Hammerhead, The Losers, Green Arrow: Year One) and artist Luca Casalanguida (James Bond: Hammerhead) as they plot the return of James Bond's oldest and deadliest foe: SMERSH!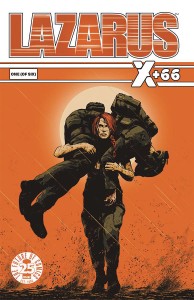 LAZARUS X PLUS 66 #1 (OF 6)
IMAGE COMICS
(W) Greg Rucka, Eric Trautmann (A) Steve Lieber (CA) Michael Lark
In the wake of "CULL" and setting the stage for "FRACTURE," the sixth storyline of the critically acclaimed LAZARUS, this series takes us into the year +66 with six separate stories. Casey Solomon has caught the eye of the Lazarus, but gaining the Family's attention can be as much a curse as a blessing. Will Dagger Selection destroy Casey, or will survival mean something worse?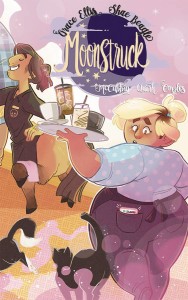 MOONSTRUCK #1
IMAGE COMICS
(W) Grace Ellis (A) Shae Beagle, Kate Leth (CA) Shae Beagle
A NEW ONGOING SERIES from Lumberjanes creator GRACE ELLIS and talented newcomer SHAE BEAGLE that tells a story of monsters, romance, and magical hijinks! The first arc also includes an additional short story with artist KATE LETH!
Fantasy creatures are living typical, unremarkable lives alongside humans, and barista Julie strives to be the most unremarkable of all. Normal job, normal almost-girlfriend, normal…werewolf transformations that happen when she gets upset? Yikes!
But all bets are off when she and her centaur best friend Chet find themselves in the middle of a magical conspiracy. Will Julie and Chet be able to save their friends? Is Julie's dogged determination to be normal a lost cause? Who's going to watch the coffee shop while our heroes are out saving the world?? These questions and more will be answered in MOONSTRUCK, coming July 19 from Image Comics.
NOW HERE'S THE FULL LIST!
If you want a full visual list of everything howabout you click on this hyperlink  (tho the Diamond  might not update til Monday or something)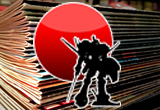 (the following list of comics reflects ALL the comics coming into BOTH locations. If there's something on this list that's NOT IN STOCK at your favorite BNW location DO NOT HESITATE  TO ASK FOR US TO ORDER IT FOR YOU!)
COMICS AND MAGAZINES
Adventure Time Comics #13
Aliens Dead Orbit #3
All New Guardians Of Galaxy #6
Amazing Spider-Man Renew Your Vows #9
America #5
Angel Season 11 #7
Aquaman #26
Astonishing X-Men #1
Back Issue #98
Back To The Future #21
Batman #27
Batman 66 Meets The Legion Of Super Heroes #1
Batwoman #5
Bettie Page #1
Bitch Planet Triple Feature #2
Britannia We Who #4 (OF 4)
BTVS Season 11 #9
Cave Carson Has A Cybernetic Eye #10
Charmed #5 (OF 5)
Clue #2
Courier #4 (OF 5)
Curse Words #6
Daredevil #24
Darkness Visible #6
DC Comics Bombshells #31
Deadpool Kills Marvel Universe Again #2
Dept H #16
Descender #22
Disney Frozen #8
Doctor Strange #23
Ducktales #0 10
Generation Gone #1
Green Arrow #27
Green Lanterns #27
Grimm Fairy Tales #7
Grrl Scouts Magic Socks #3
Harley Quinn #24
Heartthrob Season 2 #2
I Hate Fairyland #14
Injustice 2 #6
Insexts #12
Invincible #138
Invincible Iron Man #9
James Bond Kill Chain #1 (OF 6)
Jimmys Bastards #2
Justice League #25
Kill The Minotaur #2
Lazarus X Plus 66 #1
Luke Cage #3
Marvels Thor Ragnarok Prelude #2 (OF 4)
Mask Mobile Armored Strike Kommand #8
Mighty Morphin Power Rangers #17
Mighty Thor #21
Miraculous Adventures Ladybug Cat Noir #1
Monsters Unleashed #4
Moonstruck #1
Ms Marvel #20
Nightwing #25
Penny Dreadful #4
Pestilence #3
Peter Parker Spectacular Spider-Man #2
Popeye Classics Ongoing #60
Rapture #3
Regression #1 3rd Ptg
ROM Vs Transformers Shining Armor #1
Royal City #5
Royals #5
Secret Empire #6 (OF 10)
Secret Empire Brave New World #4 (OF 5)
Secret Weapons #2 (OF 4)
Shaolin Cowboy Wholl Stop The Reign #4
Simpsons Comics #240
Spider-Man 2099 #25
Star Wars Darth Maul #5 (OF 5)
Star Wars Poe Dameron #17
Super Sons #6
Superman #27
TMNT Amazing Adventures Robotanimals #2 (OF 3)
TMNT Universe #12
Totally Awesome Hulk #21
Trinity #11
Ultimates 2 #9
US Avengers #8
Victor Lavalle Destroyer #3 (OF 6)
Weird Love #19
Wild Storm #6
Winnebago Graveyard #2 (OF 4)
X-Files (2016) #16
X-Men Gold #8
TRADE PAPERBACKS, GRAPHIC NOVELS, HARDCOVERS AND MANGA
Aho Girl (CLUELESS Girl) Gn Vol 01
Batman TMNT Adventures Tp Direct Market Exclusive
Batman TMNT Tp Vol 01
Black Science Tp Vol 06
Blue Monday Tp Vol 03
Certain Scientific Railgun Gn Vol 12
Daredevil Back In Black Tp Vol 04 Identity
Deadpool Classic Tp Vol 18 Deadpool Vs Marvel
Elseworlds Justice League Tp Vol 02
Ether Tp Vol 01 Death Of The Last Golden Blaze
Gotham Academy Second Semester Tp Vol 01
Jason Shiga Demon Sc Gn Vol 03
Legend Of Zelda Legendary Ed Gn Vol 05 Four Swords
Mobile Suit Gundam Wing Gn Vol 01
Ms Marvel Tp Vol 07 Damage Per Second
Overstreet Comic Bk Pg Sc Vol 47
Patsy Walker Aka Hellcat Tp Vol 03 Careless Whisker
Punisher Tp Vol 02 End Of The Line
Rick & Morty Tp Vol 05
Ringside Tp Vol 02 Work
Scalped Tp Book 01
Southern Cross Tp Vol 02 Romulus
TOYS
Batman Animated Series Batgirl Af (GRAYSUIT)
ODDS AND ENDS
Marvel Fact Files Special #27 Miles Morales Ultimate Spider-Man