The Nation's nerds have eyes turned to and their fingers on the pulse of all things SDCC this weekend. Since we're #notatsdcc like those of you reading this (we assume) here's what'll be out this week: 7.26.17!
If sifting through the internet seems like a bit too much of a task and you'd like us to beam this right to your phone (or home Cerebro-like computer system) try signing up for our handy weekly email newsletter!

Here's the part where I copy and paste solicitation information and images for you to look at of some new things you may want to look into this week…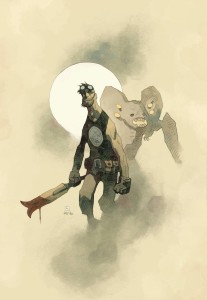 BPRD DEVIL YOU KNOW #1

DARK HORSE COMICS
(W) Mike Mignola, Scott Allie (A) Laurence Campbell (CA) Mike Mignola
Before they were vanquished by the BPRD, Lovecraftian monsters created a Hell on Earth. Now Liz Sherman leads a crew through monster-infested ruins on the most important rescue mission of her life. As society tries to rebuild, strange cults vie for influence, and a demon emerges to lead the way . . .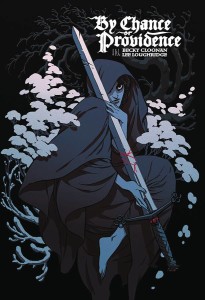 BY CHANCE OR PROVIDENCE TP
IMAGE COMICS
(W/A/CA) Becky Cloonan
BY CHANCE OR PROVIDENCE collects BECKY CLOONAN's award-winning trilogy: WOLVES, THE MIRE, and DEMETER, with lush colors by LEE LOUGHRIDGE and a sketchbook/illustration section. These stories cast a spell of hypnotic melancholy, weaving their way through medieval landscapes of ancient curses and terrible truths that will haunt you long after you've set them down.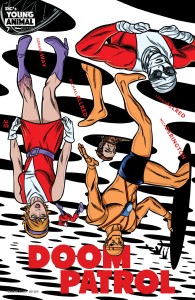 DOOM PATROL #7

DC COMICS
(W) Gerard Way (A/CA) Michael Allred
How have you been, Niles Caulder? The Chief is back, and he's ready to reshape the new Doom Patrol to be just like the old Doom Patrol – a prospect not everyone is happy with. But the team's former leader hasn't grown less manipulative in his old age, so nobody make any rash decisions. Pretty sure he's up to something. Michael Allred (iZOMBIE, Silver Surfer) joins The team for this special issue.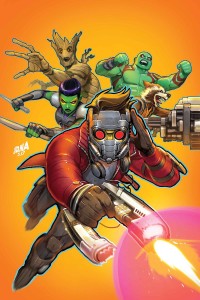 GUARDIANS OF GALAXY TELLTALE SERIES #1 (OF 5)
MARVEL COMICS
(W) Fred Van Lente (A) Salva Espin (CA) David Nakayama
An all-new prequel to the interactive episodic game Marvel's Guardians of the Galaxy: The Telltale Series! A group of cultists have taken over the planet Titan, turning it into a proverbial hive of scum and villainy, all worshipping its most infamous native son, the cosmic tyrant Thanos!  Luckily for the Guardians of the Galaxy, it's also the target of their newest heist! Hired by a mysterious buyer, our band or ragtag misfits will have to get in and get out without being sliced and diced by a planet full of crazies. Easier said than done! Join Star-Lord, Drax, Gamora, Rocket and Groot on an action-packed, laugh-filled adventure that's not only being created in conjunction with Telltale, but also leads directly to the new smash hit game!
HENRY AND GLENN FOREVER AND EVER HC
MICROCOSM PUBLISHING
(W/A) Tom Neely, Various (CA) Jim Rugg
Two myths.  One legend.  The greatest love story ever told has finally been released in graphic novel form, featuring 29 short stories about the domestic life of "Henry" and "Glenn" and sometimes their neighbors "Daryl" and "John."  Glenn deals with issues with his mother while Henry, "a loud guy with a good work ethic," shows his darker side and indifference to a fan as he drinks black coffee and bonds with Glenn over their distaste for their own bands.  These are two men who truly suffer best together.  This book collects four serialized comics, adds even more never-before-published pages than the previous collective edition, and will have a spiffy hardcover.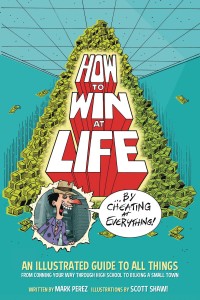 HOW TO WIN AT LIFE BY CHEATING AT EVERYTHING TP

DARK HORSE COMICS
(W) Mark Perez (A) Scott Shaw, Annastasia Goldberg (CA) Scott Shaw
A lot of how-to books assume that the reader is a good and wholesome person who wants to follow the law and not rip other people off. This is FOOLISH! Let John D'Hough (not his real name) tell you all about the glorious world of grift, the science of scam, and the craft of criminality as he explains how he was able to fleece the entire town of Honest, Indiana. A biting comedic satire, this debut novel from Hollywood screenwriter Mark Perez pulls no punches, and everybody gets his fair share. Featuring a cover and interior cartoon illustrations from former Flintstones character designer Scott Shaw!
o Darkly comedic debut novel by screenwriter Mark Perez.
SOLID STATE TP
IMAGE COMICS
(W) Jonathan Coulton, Matt Fraction (A/CA) Albert Monteys
From musician, singer-songwriter, and internet superstar JONATHAN COULTON comes the graphic novel accompaniment (in square-bound, 10″ x 10″ format) to his new concept album, SOLID STATE.
Two guys, connected by a name and hundreds of years, somehow stand at the end of man's beginning, and the beginning of man's end. But…it's funny? Also kind of a nightmare. But mostly funny? A funny science FACTion nightmare about the end of everything, but how that's all kind of okay.
Teaming up with MATT FRACTION, the writer of SEX CRIMINALS, CASANOVA, and ODY-C; and the award-winning Spanish artist of Universe! ALBERT MONTEYS, COULTON's SOLID STATE is a tech mashup where 2001: A Space Odyssey meets Office Space and getting all we ever wanted might just be a terrible idea.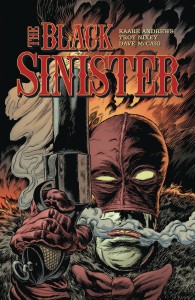 BLACK SINISTER HC

DARK HORSE COMICS
(W) Kaare Andrews (A/CA) Troy Nixey
A pitch-black tale of a city that lives in fear-not of crime or gangs, but the billionaire vigilante sworn to protect them.
Emerson Black's superhero identity is no secret: patrolling the night skies as the Black Sinister, he enforces his own brand of psychotic justice, no matter the cost. Joined by his unhinged butler Danby, Emerson protects the citizens of Coal City from kidnappers, gangs, and jaywalkers alike. But who will protect the city from the Black Sinister? And what happens when the mayor hatches a plan to finally rid Coal City of its deranged antihero?
From the creator of Renato Jones, and the artist on Lobster Johnson and director of Guillermo del Toro's horror masterpiece Don't Be Afraid of the Dark!
LEGEND OF KORRA TP VOL 01 TURF WARS PT 1

DARK HORSE COMICS
(W) Michael Dante Dimartino (A) Irene Koh (CA) Heather Campbell
Relishing their new relationship, Korra and Asami leave the spirit world . . . but find nothing in Republic City but political high jinks and human vs. spirit conflict!
A pompous developer plans to turn the new spirit portal into an amusement park, potentially severing an already tumultuous connection with the spirits. What's more, the triads have realigned and are in a brutal all-out brawl at the city's borders-where hundreds of evacuees have relocated!
Written by series cocreator Michael Dante DiMartino and drawn by Irene Koh (Secret Origins: Batgirl, Afrina and the Glass Coffin), with consultation by Bryan Konietzko, this is the official continuation of The Legend of Korra!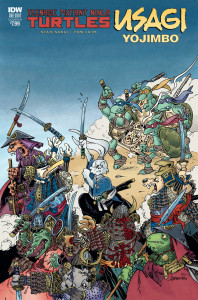 TMNT USAGI YOJIMBO

IDW PUBLISHING
(W/A) Stan Sakai (CA) Sergio Aragones
The TMNT are teleported to a world of talking animals-the world of Usagi Yojimbo! When the samurai rabbit embarks on a quest to save Japan and the deadly Jei blocks his path, a Turtle team-up may be the only chance for survival!
NOW HERE'S THE FULL LIST!
If you want a full visual list of everything howabout you click on this hyperlink  (tho the Diamond  might not update til Monday or something)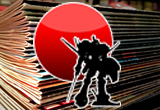 (the following list of comics reflects ALL the comics coming into BOTH locations. If there's something on this list that's NOT IN STOCK at your favorite BNW location DO NOT HESITATE  TO ASK FOR US TO ORDER IT FOR YOU!)
COMICS AND MAGAZINES
Action Comics #984
All New Classic Archie Your Pal Archie #1
All Star Batman #12
Back To The Future Biff To The Future #6 (OF 6)
Batgirl #13
Batman Beyond #10
Batman The Shadow #4 (OF 6)
Beautiful Canvas #2
Ben Reilly Scarlet Spider #5
Black Hammer #11
Black Panther #16
Blue Beetle #11
BPRD Devil You Know #1
Cable #3
Cannibal #7
Captain America Sam Wilson #24
Conan The Slayer #11
Crosswind #2
Damned #3
Deadpool #34
Detective Comics #961
Doctor Who 10th Year Three #7
Doctor Who 11th Year Three #7
Doctor Who 9th #1
Doom Patrol #7
Edge Of Venomverse #3 (OF 5)
Faith And The Future Force #1 (OF 4)
Flash #27
Ghostbusters 101 #5 (OF 6)
Go Go Power Rangers #1
Guardians Of Galaxy Telltale Series #1 (OF 5)
Gwenpool #18
Hal Jordan And The Green Lantern Corps #25
Hellblazer #12
I Am Groot #3
Iceman #3
Image Plus #16 (WALKING Dead Heres Negan Pt 16)
Infamous Iron Man #10
Jim Henson Power Of Dark Crystal #5 (OF 12)
Joe Golem Occult Detective Outer Dark #3
Justice League Of America #11
Kamandi Challenge #7 (OF 12)
Looney Tunes #238
Lumberjanes #40
Mass Effect Discovery #3
Mighty Captain Marvel #7
Moon Girl And Devil Dinosaur #21
Mother Panic #9
Namwolf #4
Occupy Avengers #9
Old Man Logan #25 2nd Ptg
Outcast By Kirkman & Azaceta #29
Over Garden Wall Ongoing #16
Paklis #3
Pathfinder Runescars #3
Plastic #4 (OF 5)
Postal #21
Previews #347 August 2017
Marvel Previews Vol 04 #1 August 2017 Extras
Punisher #14
Rebels These Free & Independent States #5 (OF 8)
Redneck #3 2nd Ptg
Redneck #4
Revolutionaries #6
Rick & Morty #28
Rough Riders Riders On The Storm #5
Saga #45
Secret Empire #7 (OF 10)
Shirtless Bear-Fighter #2 (OF 5)
Shutter #30
Sons Of The Devil #14
Spawn #276
Spider-Gwen #22
Star Trek Boldly Go #10
Star Wars Doctor Aphra #10
Suicide Squad #22
Tarot Witch Of The Black Rose #105
Teen Titans #10
Thanos #9
TMNT Ongoing #72
TMNT Usagi Yojimbo
Transformers Lost Light #8
Wayward #22
Weapon X #4 2nd Ptg
Weapon X #6
Wonder Woman #27
Wwe #7
X-Men Blue #5 2nd Ptg
X-Men Blue #8
X-Men Gold #5 2nd Ptg
X-Men Gold #5 2nd Ptg
X-O Manowar (2017) #5
Zojaqan #
TRADE PAPERBACKS, GRAPHIC NOVELS, HARDCOVERS AND MANGA
Black Road Tp Vol 02 A Pagan Death
Black Sinister Hc
By Chance Or Providence Tp
Cloud Stories Gn
Extraordinary X-Men Tp Vol 04 Ivx
Flash Rebirth Dlx Coll Hc Book 01
Flash Tp Vol 03 Rogues Reloaded (REBIRTH)
Henry And Glenn Forever And Ever Hc
How To Win At Life By Cheating At Everything Tp
KoDT Bundle Of Trouble Tp Vol 57
Legend Of Korra Tp Vol 01 Turf Wars Pt 1
Nova Resurrection Tp
Serenity Hc Vol 05 No Power In The Verse
Solid State Tp
Star Wars Inferno Squad Hc
Star Wars Jedi Academy Yr Hc Vol 05
Street Angel Gang Hc
ODDS AND ENDS
Batman 1966 Shakespeare Head Bust Bank
Deadpool 16 Month 2018 Wall Calendar
Marvel Gallery Gwenpool Pvc Fig
Marvel Gallery Jean Grey Pvc Fig
Simpsons 2018 Wall Cal
Star Trek Starships Fig Mag #100 Daedalus Class
Star Trek Starships Fig Mag #101 Bajoran Freighter
Star Trek Starships Fig Mag #99 Artic Explorer
Women Of Marvel 2018 16 Month Wall Cal
X-Men 16 Month 2018 Wall Cal