Hey again Brave New Worlders! In this week's post we've got a list of all the things coming out AND some other stuff we got in this week (at both shops!)…hope everyone survived the muggy August style weather we've been dealing with all week…
What's up for the week of Wednesday June 28, 2017!
If sifting through the internet seems like a bit too much of a task and you'd like us to beam this right to your phone (or home Cerebro-like computer system) try signing up for our handy weekly email newsletter!
NEW HOT TOY!
Drax
NEW FUNKO!
Alien Covenant
MAYBE YOU'VE SEEN THESE!?
We've been trying to make sure you are able to keep up to date on what's coming out so on Wednesday mornings we've been doing a quick little video collage of all the new titles in situ on the wall! It seems to be helping too!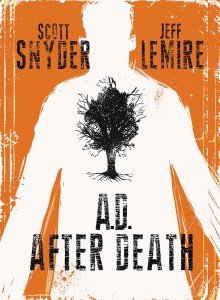 AD AFTER DEATH HC
IMAGE COMICS
(W) Scott Snyder (A/CA) Jeff Lemire
What if we found a cure for death?
Two of comics' most acclaimed creators, SCOTT SNYDER (WYTCHES, Batman, American Vampire) and JEFF LEMIRE (DESCENDER, PLUTONA, Moon Knight, Sweet Tooth) unite to create an epic like no other, set in a future where a genetic cure for death has been found. Years after the discovery, one man starts to question everything, leading him on a mind-bending journey that will bring him face-to-face with his past and his own mortality.
A unique combination of comics, prose, and illustration, A.D.: AFTER DEATH is an oversized hardcover graphic novel written by SNYDER and fully painted by LEMIRE.
Trim Size — 8.375″ x 10.1875″
Collects AD: AFTER DEATH #1-3.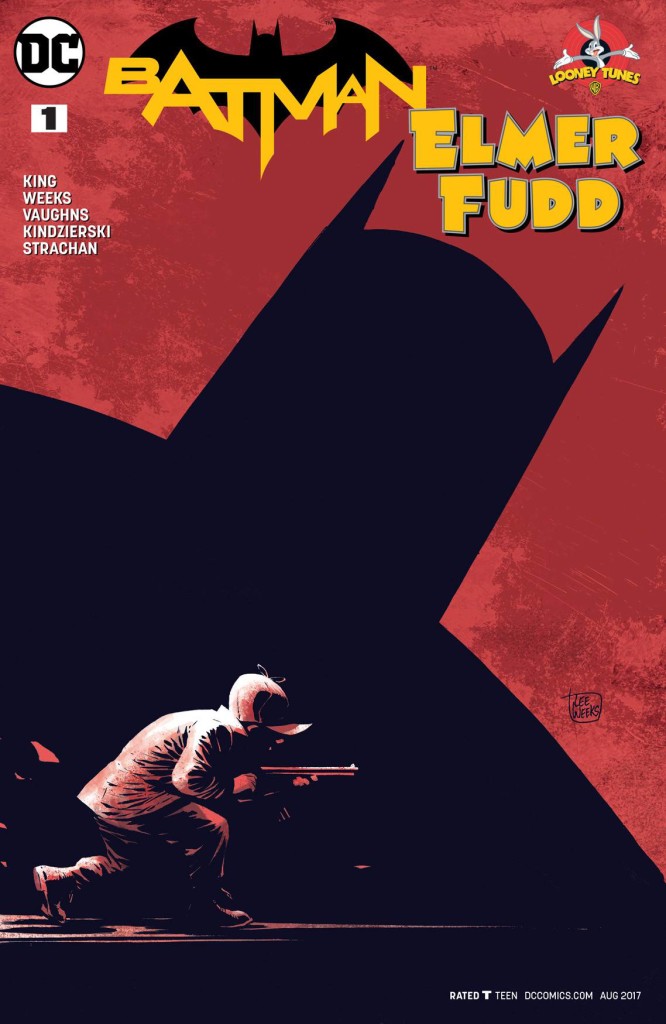 BATMAN ELMER FUDD SPECIAL #1
DC COMICS
(W) Tom King (A) Lee Weeks, Byron Vaughns (CA) Lee Weeks
After a chance meeting with billionaire Bruce Wayne, Elmer Fudd's obsession quickly escalates into stalking Batman through the dark alleys and high-class social settings of Gotham City. Welcome to Bat Season! And the bonus Looney Tunes backup story features DC characters written by Tom King and artwork by Byron Vaughns.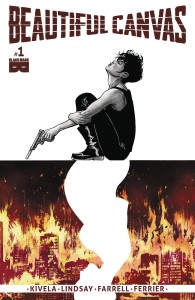 BEAUTIFUL CANVAS #1

BLACK MASK COMICS
(W) Ryan Lindsay (A/CA) Sami Kivela
Lon Eisley is a hitwoman hired to kill a small child a few days after discovering her girlfriend pregnant. In a bold declaration of uncertainty, she saves the boy and hits the road, despire the fact her boss clearly wanted him dead for a reason. This warped crime dystopia delves into the emotional dichotomy of creator/destroyer as Lon tries to connect the two very different worlds she now inhabits. From Sami Kivela (Chum) & Ryan K Lindsay (Negative Space, DC Writers Workshop) comes a gonzo tale of personal discovery, animal/hybrid hit troupes, and reactive pyrokinesis.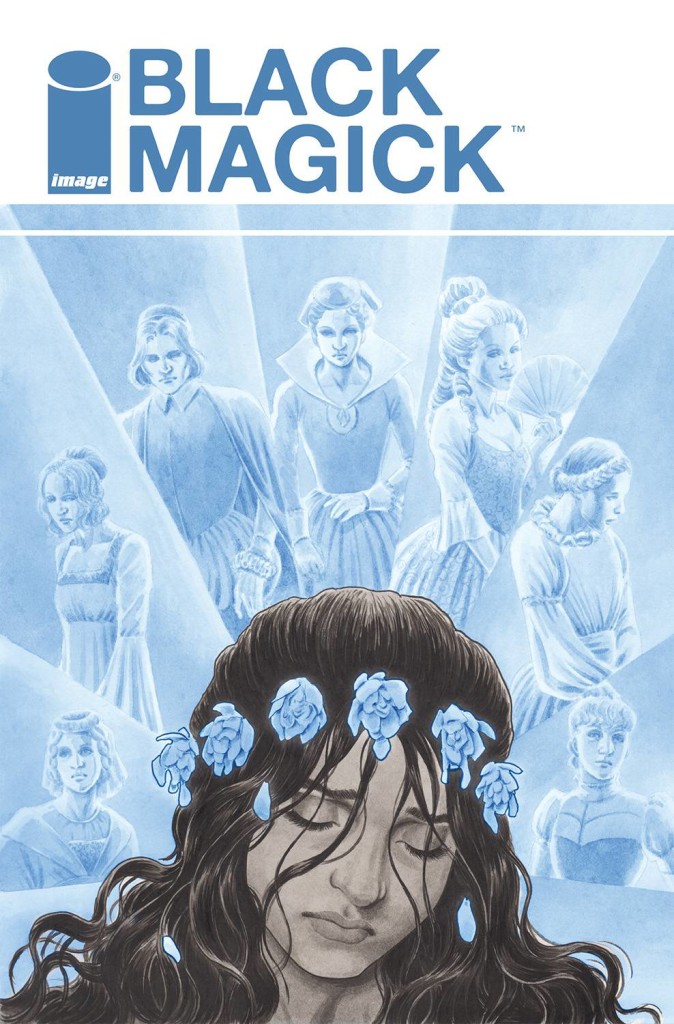 BLACK MAGICK #6

IMAGE COMICS
(W) Greg Rucka (A/CA) Nicola Scott
    NEW STORY ARC
What the hell is the deal with Rowan Black, anyway? For that matter, just how many "real" witches are there? What is the bond that ties Rowan and Alex together? Is the series really coming back, or is this just the creative team messing with your heads?
Yes, it's true-the critically acclaimed series returns with a standalone story detailing how Rowan was awakened to her family's legacy…and the enormous cost of being its inheritor.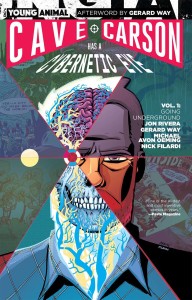 CAVE CARSON HAS A CYBERNETIC EYE TP VOL 01 GOING UNDERGROUND
DC COMICS
(W) Gerard Way & Various (A) Michael Avon Oeming, Tom Scioli (CA) Michael Avon Oeming
Cave Carson has done it all: survived countless adventures below the Earth's surface, met the love of his life, and gotten a cybernetic eye…somehow. Now, newly widowed, Cave tries to piece his life back together when a knock on the door of his secret underground lab pulls him back into a past that he and Eileen thought they had left buried deep within the Earth.
In these tales from issues #1-6, Cave must determine if his recent hallucinations are the work of his mind or his mysterious cybernetic eye. (Spoiler: It's the eye.)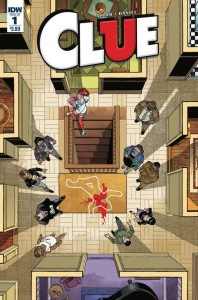 CLUE #1
IDW PUBLISHING
(W) Paul Allor (A) Nelson Daniel (CA) Gabriel Rodriguez
When the mysterious Mr. Boddy turns up dead at his own dinner party, everyone's a suspect! Miss Scarlett, Colonel Mustard, Mrs. Peacock, Professor Plum-all the familiar faces from the famous board game are back, with a couple new twists. But will Boddy's Body be the last to fall, or is it just the beginning? Follow the clues and solve the mystery in IDW's new CLUE series!
•  A NEW TAKE ON THE CLASSIC DETECTIVE GAME-WITH NEW DESIGNS BY ARTIST NELSON DANIEL UPDATING ALL THE CLASSIC CHARACTERS!
•  Featuring three alternate endings! To help you get a clue, we've hidden multiple endings to this first issue across the regular and subscription variants that will help you solve the case!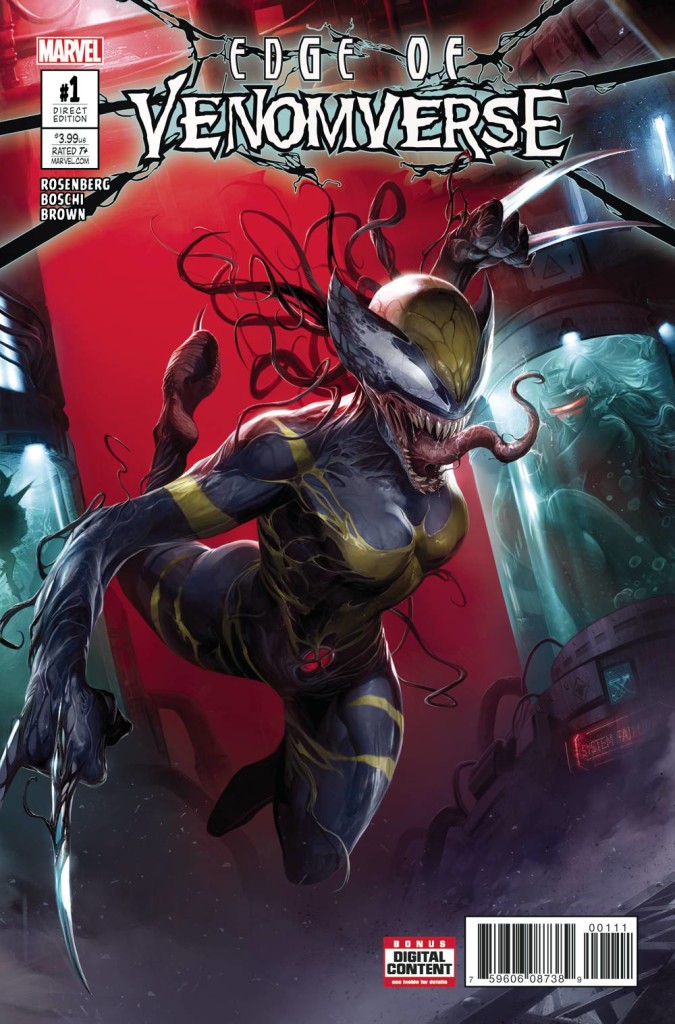 EDGE OF VENOMVERSE #1 (OF 5)
MARVEL COMICS
(W) Matthew Rosenberg (A) Roland Boschi (CA) Francesco Mattina
EDGE of VENOM-VERSE starts here!
The series that sets up the epic VENOM EVENT of 2017 STARTS HERE! Each issue introduces another major Venomized character that will feed into VENOMVERSE itself! THIS ISSUE, the young mutant clone designated X-23 collides with a cryogenic tube containing a strange alien symbiote during her frenzied escape from The Facility, . Bonding with the alien enhances her already considerable abilities, and aids in her escape, but it begins to alter her mind! On the run from the very people that made her, can X-23 hold it together or is she doomed to give in to Venom!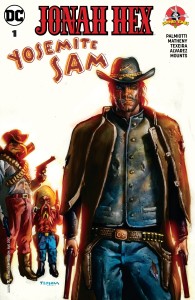 JONAH HEX YOSEMITE SAM SPECIAL #1
DC COMICS
(W) Jimmy Palmiotti, Bill Matheny (A) Mark Texeira, Dave Alvarez (CA) Mark Texeira
When miner Yosemite Sam strikes it rich, word gets out as everyone comes gunning for his wealth! To protect himself and his new riches, he hires bounty hunter Jonah Hex–but the man protecting him may be his worst nightmare! And the bonus Looney Tunes backup story features DC characters written by Bill Matheny and artwork by Dave Alvarez.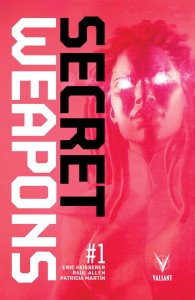 SECRET WEAPONS #1 (OF 4)

VALIANT ENTERTAINMENT LLC
(W) Eric Heisserer (A/CA) Raul Allen
Academy Award-nominated screenwriter Eric Heisserer (Arrival) joins Harvey Award-nominated artist Raúl Allén (Wrath of the Eternal Warrior) for Valiant's next prestige format limited series, starring Livewire and an extraordinary new team of heroes! The government has dispatched Amanda McKee – the technopath codenamed Livewire – to investigate the ruins of a secret facility formerly run by Toyo Harada, the most powerful telepath on Earth and her former mentor. In his quest for world betterment at any cost, Harada sought out and activated many potential psiots like himself. Those who survived, but whose powers he deemed to have no value to his cause, were hidden away at this installation. But Livewire, having studied Harada's greatest strengths and learned his deepest weaknesses, senses opportunity where he once saw failure. A young girl who can talk to birds… A boy who can make inanimate objects gently glow… To others, these are expensive failures. But, to Livewire, they are secret weapons…in need of a leader. Now, as a mechanized killer called Rexo seeks to draw them out, Livewire and her new team of cadets will be forced to put their powers into action…in ways they never could have imagined…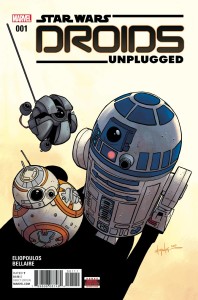 STAR WARS DROIDS UNPLUGGED #1
MARVEL COMICS
(W/A/CA) Chris Eliopoulos
• Collecting three stories featuring everyone's favorite droids!
•  What adventures did the probe droids in The Phantom Menace get into when Darth Maul wasn't looking?
•  Luke's got a mission for R2-D2! But can the astromech complete it in time?
•  And all BB-8 wants is to help…two Resistance soldiers fall in love!
Reprinting Poe Dameron #1 (BB-8 story), Star Wars #25 (R2-D2 story), Star Wars: Darth Maul #1 (Probe Droid story), and 2-pages additional material.
NOW HERE'S THE FULL LIST!
If you want a full visual list of everything howabout you click on this hyperlink  (tho the Diamond  might not update til Monday or something)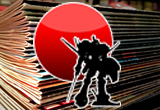 (the following list of comics reflects ALL the comics coming into BOTH locations. If there's something on this list that's NOT IN STOCK at your favorite BNW location DO NOT HESITATE  TO ASK FOR US TO ORDER IT FOR YOU!)
COMICS AND MAGAZINES
Action Comics #982
All New Guardians Of Galaxy Annual #1
Amazing Spider-Man #29
Astro City #45
Batgirl #12
Batman 66 Meets Wonder Woman 77 #6 (OF 6)
Batman Beyond #9
Batman Elmer Fudd Special #1
Batman The Shadow #3 (OF 6)
Beautiful Canvas #1
Ben Reilly Scarlet Spider #4
Black Magick #6
Black Panther #15
Blue Beetle #10
Cable #2
Clue #1
Conan The Slayer #10
Dark Knight III Master Race #9 (OF 9) Collectors Ed Hc
Deadpool Vs Punisher #5 (OF 5)
Defenders #2
Detective Comics #959
Dregs #4
Edge Of Venomverse #1 (OF 5)
Eleanor & The Egret #3
Elektra #5
Elephantmen #77
Elfquest Final Quest #20
Flash #25
GFT Robyn Hood Tarot One Shot
Ghostbusters 101 #4 (OF 6)
GI Joe A Real American Hero #241
Gold Digger #244
Grant Morrisons 18 Days #24
Greatest Adventure #3
Hal Jordan And The Green Lantern Corps #23
Haunted Horror #28
Hellblazer #11
I Am Groot #2
Image Plus #15 (WALKING Dead Heres Negan Pt 15)
Infamous Iron Man #9
Jean Grey #3
Jem & The Holograms Infinite #1 (OF 3)
Jim Henson Power Of Dark Crystal #4 (OF 12)
Joe Golem Occult Detective Outer Dark #2
Jonah Hex Yosemite Sam Special #1
Jughead #16
Justice League Of America #9
Kamandi Challenge #6 (OF 12)
Kiss #9
Kull Eternal #1
Lucifer #19
Lumberjanes #39
Magdalena Vol 4 #4
Mass Effect Discovery #2
Mighty Captain Marvel #6
Moon Girl And Devil Dinosaur #20
Mother Panic #8
My Little Pony Movie Prequel #1
Namwolf #3
Occupy Avengers #8
Over Garden Wall Ongoing #15
Paklis #2
Pathfinder Runescars #2
Powerpuff Girls Time Tie #2 (OF 3)
Previews #346 July 2017
Marvel Previews #24 July 2017 Extras
Project Superpowers Hero Killers #2
Punisher #13
Rebels These Free & Independent States #4
Redneck #3
Renato Jones Season Two #2 (OF 5)
Rick & Morty #27
Rough Riders Riders On The Storm #4
Saga #44
Saucer State #2 (OF 6)
Scooby Doo Team Up #27
Secret Empire #5 (OF 10)
Secret Weapons #1 (OF 4)
Shutter #29
Skull Island Birth Of Kong #2
Snowfall #9
Spawn #275
Spider-Gwen #21
Star Trek TNG Mirror Broken #2 (OF 6)
Star Wars Doctor Aphra #8
Star Wars Droids Unplugged #1
Star Wars Poe Dameron #16
Steven Universe Ongoing #5
Suicide Squad #20
Supergirl Being Super #4 (OF 4)
Teen Titans #9
Throwaways #9
TMNT Ongoing #71
Totally Awesome Hulk #20
Transformers Lost Light #7
Wayward #21
Wonder Woman #25
Wonder Woman 77 Bionic Woman #5 (OF 6)
WWE #6
X-Files (2016) #15
X-Men Blue #6
X-O Manowar (2017) #4
Zombie Tramp Ongoing #36
TRADE PAPERBACKS, GRAPHIC NOVELS, HARDCOVERS AND MANGA
AD After Death Hc
Alack Sinner Age Of Innocence Tp
Batman Beyond Tp Vol 01 Escaping The Grave (REBIRTH)
Buffy High School Years Parental Parasite Tp
Cave Carson Has A Cybernetic Eye Tp Vol 01 Going Underground
Dark Night A True Batman Story Tp
Doctor Strange Tp Vol 02 Last Days Of Magic
Flash Tp Vol 09 Full Stop
Fog Over Tolbiac Bridge Hc Tardi
Ghost Rider Tp Vol 01 Four On The Floor
Moon Girl And Devil Dinosaur Tp Vol 03 Smartest There Is
Nnewts Gn Vol 03 Battle For Amphibopolis
Regular Show Original Gn Vol 04 Wrasslesplosion
Superman Action Comics Tp Vol 03 Men Of Steel (REB
Thanos Tp Vol 01 Thanos Returns
Usagi Yojimbo Tp Vol 31 Hell Screen
X-O Manowar 2017 Tp Vol 01 Soldier
TOYS
Marvel Select Gambit Af (RESTOCK)
Walking Dead Tv Negan 7in Af
ODDS AND ENDS
Marvel Gallery Old Man Logan Pvc Fig
Star Trek Starships Special #12 USS Franklin NX-32
LAST BUT IN NO WAY LEAST THIS WEEK
Rest in peace Jim…