We're adding to our already sweet as heck 50% OFF offerings! Here's a full list of what's coming in (or possibly already in stock!)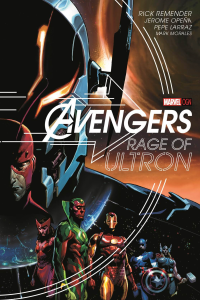 Avengers Rage Of Ultron Ogn Hc
MARVEL COMICS
(W) Rick Remender (A) Jerome Opena, Pepe Larraz (CA) Jerome Opena
It was another glorious victory for the Mighty Avengers. Good triumphed over evil and Ultron was shot into space, never to be seen again. Or so they thought. Now, years later, the homicidal artificial intelligence – so long devoted to ending life on Earth – has found a new world to conquer, one with its own horrific legacy. When Titan, birthplace of Thanos, falls, Planet Ultron rises in its place! Thanos' brother Starfox must seek the aid of his former allies – but the Avengers he finds are radically different from the ones he once knew. Among them is Ultron's creator Giant-Man – and when Hank Pym confronts his now planet-sized "son," the responsibilities of fatherhood have never loomed so large. Rick Remender (UNCANNY AVENGERS) and Jerome Opeña (AVENGERS) unleash the full robotic rage of Ultron on Earth's Mightiest Heroes!
Deadpool Worlds Greatest Tp Vol 01 Millionaire With A Mouth
MARVEL COMICS
He's annoying. He's dangerous. He smells terrible. But the public loves him! That's right – the Merc with a Mouth is now the most popular hero in the world. Eat that, Spidey! But with great popularity comes overbearing responsibility, so Wade has called in a little help being him. You won't believe – or recognize – who he signed up! (Unless you've memorized every volume of the Official Handbook.) But when an imposter sets out to ruin Wade Wilson, our hero has the perfect bait to lure the baddie out: his innocent daughter, Ellie! Plus: Jump 84 years into the future for an even-newer, even-different-er Deadpool 2099! And – in an entirely Spanish-language tale – meet Masacre, the Deadpool of Mexico! This book has more Deadpool than you can handle! Collecting DEADPOOL (2015) #1-6 and #3.1: TRES PUNTO UNO.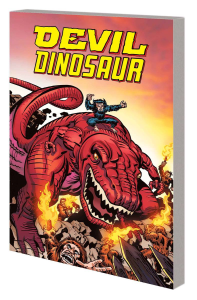 Devil Dinosaur By Jack Kirby Tp Complete Collection
MARVEL COMICS
(W/A/CA) Jack Kirby
The adventures of a boy and his dinosaur! At the dawn of human evolution, during a time when primitive man co-existed with the dinosaurs that dominated the Earth, a unique friendship is born – a friendship that may be the only thing that can save mankind! Meet Moon Boy and his Tyrannosaurus pal – the red-skinned Devil Dinosaur – as they face off against giant spiders, enormous ants, and rampaging dinosaurs of all shapes and sizes! And don't forget the Small Folk, led by the warlord Seven Scars, who rejected Moon Boy for befriending the fearsome Devil – and who aim to dominate the forest by force! Throw in aliens from outer space, and you've got a timeless romp through the ages – delivered courtesy of the imagination of Jack "King" Kirby! Collecting DEVIL DINOSAUR #1-9.
Doomwar Tp
MARVEL COMICS
(W) Jonathan Maberry (A) Scot Eaton (CA) John Romita
Written by JONATHAN MABERRY
Penciled by SCOT EATON
Cover by JOHN ROMITA JR.
Revolution Wakanda! The royal family of Wakanda – former Black Panther and King T'Challa, X-Man Queen Storm and the current Black Panther, Princess Shuri – is unseated by a group of conservative dissidents in a coup funded and organized by the nefarious Dr. Doom! Having unlocked the mystical properties of the rare and precious metal Vibranium, Doom's political maneuvering gains him access to the world's largest store of the metal and the source of unlimited magical power. The royal family will require the help of Marvel's best – the X-Men, the Fantastic Four and the always-ready-for-action Deadpool – to stop Doom before he unlocks the power to rule the world! Collecting DOOMWAR #1-6.
FF By Jonathan Hickman Tp Vol 01
MARVEL COMICS
(W) Jonathan Hickman (A) Steve Epting, Barry Kitson (CA) Steve Epting
Before his death, the Human Torch made his wishes known: If anyone were to replace him in the Fantastic Four, it should be his best super-hero buddy, Spider-Man. But even with the addition of Spidey to their ranks, Mr. Fantastic, the Invisible Woman and the Thing are now so much more than four. Welcome to the FF – the Future Foundation! Marvel's First Family has moved beyond the simple pursuits of super heroing into a bold new era of discovery. But to make tomorrow today, they'll need to expand their ranks even beyond Spider-Man and their genius children. What does the future mean when it depends on the likes of the Wizard, the Mad Thinker, A.I.M. and Dr. Doom? Collecting FF #1-5.
Generation X Classic Tp Vol 01
MARVEL COMICS
(W) Scott Lobdell, Fabian Nicieza (A) Ben Steeves & Various (CA) Ben Steeves
Written by SCOTT LOBDELL & FABIAN NICIEZA
Penciled by JOE MADUREIRA, ANDY KUBERT, ROGER CRUZ & CHRIS BACHALO
Cover by CHRIS BACHALO
The techno-organic alien race known as the Phalanx has struck! Targeting Earth's mutants as the only threat to their complete assimilation of the planet, the Phalanx have already taken out the X-Men-and now they've set their sights on the next generation of mutants! Synch, Husk, M, Skin and Blink find themselves in the crosshairs, while Jubilee, Banshee and the White Queen are all that's left to save them! But in order to defeat the Phalanx, one will make the ultimate sacrifice. Then, it's the dawning of a new day as Xavier's School opens its doors once again! Jubilee says goodbye to the X-Men as she joins the fledgling Generation X, along with the sullen Chamber and the mysterious Penance-but when the marrow-sucking monster known as Emplate strikes, will any of the new students survive their baptism of fire? Collecting UNCANNY X-MEN #316-318, X-MEN #36-37, GENERATION X #1-4, GENERATION X ASHCAN EDITION and material from GENERATION X COLLECTOR'S PREVIEW.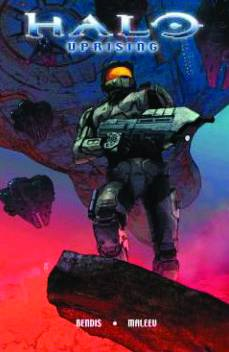 Halo Prem Hc Uprising
MARVEL COMICS
(W) Brian Michael Bendis (A/CA) Alex Maleev
Written by BRIAN MICHAEL BENDIS
Penciled by ALEX MALEEV
Cover by ALEX MALEEV
The Eisner Award-winning team of superscribe Brian Michael Bendis and artist extraordinaire Alex Maleev unleash an epic story of mankind's struggle against the alien threat of the Covenant. Picking up from the conclusion of blockbuster video game Halo 2, the must-read saga reveals how the Master Chief, while onboard a hostile ship headed towards Earth, is battling against Covenant forces! Intertwined with Master Chief's interstellar one-man-war is the saga of a great American city's rebellion and downfall, two disparate lives' collision and shared fate, and the Convenant's hunt for an ancient relic of untold power and value. With hope dwindling and the fate of humanity hanging by a thread, is there any chance for a future? Journey into the Halo universe! Collecting HALO: UPRISING #1-4 and MARVEL SPOTLIGHT: HALO.
Howard The Duck Tp Vol 01 Complete Collection
MARVEL COMICS
(W) Steve Gerber (A) Various (CA) Frank Brunner
Get the full story of how Marvel's most notorious movie star became trapped in a world he never made! Howard the Duck takes an adventure into fear when he's plucked from Duckworld and finds himself on Earth, bill to proboscis with the melancholy muck-monster Man-Thing! Stuck here on a planet of hairless apes, the furious fowl forges a future for himself in, of all places, Cleveland. But the would-be Master of Quack Fu will have his wings full hanging out with Spider-Man – and waging "waaaugh" with madcap menaces like the Space Turnip, the Cookie Creature, the Beaver and Doctor Bong. Will that earn him a spot on the Defenders? Better yet, Howard for president! Collecting FEAR #19, MAN-THING (1974) #1, HOWARD THE DUCK (1976) #1-16 and ANNUAL #1, MARVEL TREASURY EDITION #12, and material from GIANT-SIZE MAN-THING #4-5.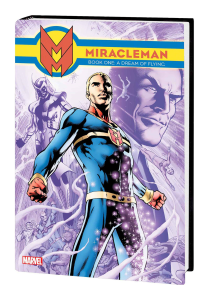 Miracleman Prem Hc Book 01 Dream Of Flying
MARVEL COMICS
(W/A) Various (CA) Alan Davis
KIMOTA! With one magic word, a long-forgotten legend lives again! Freelance reporter Michael Moran always knew he was meant for something more-now, an unexpected series of events leads him to reclaim his destiny as Miracleman! The groundbreaking graphic novel that heralded a literary revolution begins here in A DREAM OF FLYING. After nearly two decades away, Miracleman uncovers his origins and their connection to the British military's "Project Zarathustra" – while his alter ego, Michael Moran, must reconcile his life as the lesser half of a god. Collecting material from MIRACLEMAN (2014) #1-4.
Muppets Tp Four Seasons
MARVEL COMICS
(W/A) Roger Langridge (CA) Elisabetta Melaranci, Silvano Scolari
Experience a year in the life of the Muppets in this special four-part story! As the Muppet Theatre celebrates spring, special guest Meredith the Mountain Gorilla arrives – and her many admirers compete for her affections! Then, the Muppets throw a summer beach extravaganza! But when a competing troupe hires Fozzie, Scooter is left without a partner for his act. Can Scooter find a replacement – and can Fozzie overcome his homesickness? As fall sets in, longtime doorman Pops finds himself being forced into retirement by his union. Can the Muppets find a way to keep Pops around? And finally, the holidays arrive, and everyone gets into the spirit of the season! The Swedish Chef causes chaos in the kitchen! Gonzo introduces his new performing protégé! And Kermit and Piggy exchange holiday gifts! Collecting MUPPETS #1-4.
Mystique By Brian K Vaughan Ultimate Collection Tp
MARVEL COMICS
(W) Brian K. Vaughan (A) Jorge Pereira Lucas & Various (CA) Mike Mayhew
Written by BRIAN K. VAUGHAN
Penciled by JORGE LUCAS, MICHAEL RYAN & MANUEL GARCIA
Cover by MIKE MAYHEWZ
Born with the ability to look and sound like anyone, the shapeshifting Mystique is a former pro-mutant terrorist wanted by nearly every government in the world for alleged crimes against humanity. She's used her morphing powers to stand against the X-Men in their battle for mutant-human coexistence for years – but in this increasingly complicated world, Mystique begins to find the battle lines are no longer so clear. In exchange for protection from her countless enemies, Mystique reluctantly agrees to go to work for Professor Charles Xavier, telepathic leader of the X-Men. But instead of being invited to join the team, Mystique is asked to participate in politically sensitive operations as one of Xavier's secret agents, operatives who can't be traced back to Xavier in the event of their capture or death. Can this former mutant-rights terrorist, who can disguise herself as anyone on the planet, be trusted? Collecting MYSTIQUE #1-13.
Punisher In Blood Tp
MARVEL COMICS
(W) Rick Remender (A) Roland Boschi (CA) Jean-Sebastien Rossbach
Written by RICK REMENDER
Penciled by ROLAND BOSCHI
Cover by JEAN-SEBASTIAN ROSSBACH
Frank Castle is back. Back for revenge. Back in New York. Back to cleaning its streets. Back together, healed and strong, his mission resumed as he partakes in the sweet wet work and notches up one of the highest body counts in Punisher history. Cyber sensei Henry Russo is back, keeping Frank proficient with an eye in the sky. Others are back, as well – two of Frank's most sadistic enemies united in a new vindictive plot: Enter the Jigsaw Bothers! Collecting PUNISHER: IN THE BLOOD #1-5.
Secret Avengers By Rick Remender Tp Vol 01
MARVEL COMICS
(W) Rick Remender (A) Patrick Zircher, Gabriel Hardman (CA) Arthur Adams
Captain America has handpicked Hawkeye to take over his covert Avengers squad – as long as the world's greatest marksman proves he can cut it in the spy game. And with a new leader comes a fresh lineup as Giant-Man, Captain Britain and the original Human Torch join Black Widow, Beast, Valkyrie and Ant-Man in the ranks of Earth's stealthiest heroes. But Hawkeye draws the line at Cap's final recruit: the deadly and unpredictable Venom! Will the quickly assembled team of powerful personalities unite behind the brash bowman? Can the archer lead them safely through their first mission, against the human/synthozoid hybrids known as the Descendants? Or will an Avenger make the ultimate sacrifice on Hawkeye's watch? Writer Rick Remender (UNCANNY X-FORCE, VENOM) presents his all-new, all-different Secret Avengers! Collecting SECRET AVENGERS #21.1 & #22-25.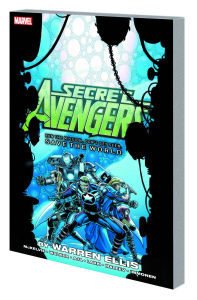 Secret Avengers Tp Run Mission Save World
MARVEL COMICS
(W) Warren Ellis (A) Various (CA) John Cassaday
One visionary writer. Six superstar artists. Six missions. Six chances to save the world. No time to lose. No margin for error. And no one will ever know – unless they lose.
Collecting SECRET AVENGERS #16-21.
Spider-Man Hobgoblin Lives Tp
MARVEL COMICS
(W) Glenn Greenberg, Roger Stern (A) Ron Frenz, Luke Ross (CA) John Romita
Written by ROGER STERN & GLENN GREENBERG
Penciled by RON FRENZ & LUKE ROSS
Cover by JOHN ROMITA JR.
For years, the mystery of the Hobgoblin's identity plagued not only Spider-Man and his friends, but also fans! Now, all is revealed – and the answers will shock you! As the Hobgoblin stands exposed at last, the threats of Norman Osborn and an all-new Green Goblin wait in the wings! Featuring all your favorite Spidey characters, from Mary Jane to Betty Brant to Robbie Robertson! Collecting SPIDER-MAN: HOBGOBLIN LIVES #1-3 and PETER PARKER, THE SPECTACULAR SPIDER-MAN #259-261.
Spider-Man Tp Kravens First Hunt
MARVEL COMICS
(W) Marc Guggenheim (A) Phil Jimenez (CA) Ben Steeves
Written by MARC GUGGENHEIM, BOB GALE, DAN SLOTT & ZEB WELLS
Penciled by PHIL JIMENEZ, PAULO SIQUERA & PATRICK OLLIFFE
Cover by CHRIS BACHALO
Her name is Kraven. She's Spider-Man's newest and most terrifying nemesis – and she just discovered his secret identity. With an army of villains at her command, even with the help of Daredevil, can Spidey protect his secret identity from his new foe? Find out as Marc Guggenheim and Phil Jimenez give you the fight of Spidey's life against the Brand New Kraven!!! Collecting AMAZING SPIDER-MAN #564-567 and the Harry Osborn story from BRAND NEW DAY EXTRA.
Spider-Man Next Chapter Tp Vol 01
MARVEL COMICS
(W) John Byrne & Various (A) Various (CA) John Byrne
Written by JOHN BYRNE, HOWARD MACKIE & DAN JURGENS
Penciled by JOHN BYRNE, JOHN ROMITA JR., ANDY SMITH,
JOHN BUSCEMA & BART SEARS
Cover by JOHN BYRNE
Peter Parker thought he'd given up a life as Spider-Man, but he keeps getting pulled back in! With threats like the Kingpin, Bullseye, Dr. Octopus, Shadrac, the Scorpion, the Frightful Four, Marrow and Tokkots coming at him from every angle, it's a good thing Spider-Man has friends like the X-Men, the Fantastic Four, Madame Web, Thor and Man-Thing at his side! Plus: the debuts of not one, but two new Spider-Women! And one of them is not so nice. Collecting AMAZING SPIDER-MAN (1999) #1-6 and ANNUAL '99, PETER PARKER: SPIDER-MAN (1999) #1-6 and THOR (1998) #8.
Spider-Man Next Chapter Tp Vol 02
MARVEL COMICS
(W) Howard Mackie (A) John Byrne & Various (CA) John Romita
Written by HOWARD MACKIE & J.M. DEMATTEIS
Penciled by JOHN BYRNE, JOHN ROMITA JR., LIAM SHARP & AL RIO
Cover by JOHN ROMITA JR.
There may not be another "next chapter" in the life of the Amazing Spider-Man if the villains in this volume get their way! Featuring such classic antagonists as Kraven the Hunter, Dr. Octopus, the Vulture and the Blob – not to mention alternate versions of Green Goblin, Electro and the Red Skull – this riotous roster reads like a veritable who's who of Spider-rogues! Plus: the return of Venom! Collecting AMAZING SPIDER-MAN (1999) #7-12, and PETER PARKER: SPIDER-MAN (1999) #7-12 and ANNUAL '99.
Squadron Supreme Tp

MARVEL COMICS
(W) Mark Gruenwald (A) Bob Hall & Various (CA) Alex Ross
On an Earth much like our own, the world's greatest superhuman champions are confronted by a society in ruins. Faced with the possibility of a new dark age for mankind, they choose the only course available to them – and take control of the world's governments themselves! Now, they have one year in which to completely restructure human society. Can their plan succeed? Will a renegade member bring about their downfall? And what will happen when this Earth's mightiest heroes find themselves becoming instead its all-powerful, totalitarian overlords? Before Watchmen, before MARVELS, before Kingdom Come – there was Squadron Supreme, a deconstructionist parable of the super-hero paradigm in a real-world setting considered by many to be the late Mark Gruenwald's finest work. Collecting SQUADRON SUPREME (1985) #1-12 and CAPTAIN AMERICA (1968) #314.
Thanos Infinity Relativity Ogn Hc
MARVEL COMICS
(W/A/CA) Jim Starlin
Annihilus, lord of the Negative Zone, makes a renewed assault on the positive universe, searching for a source of infinite power. To stop him, a fragile alliance of cosmic protectors forms. The Guardians of the Galaxy. Gladiator, Majestor of the Shi'ar. And Adam Warlock – whose complex cycle of death and rebirth has left him more confused than ever about his true nature. With Adam reunited with his Infinity Watch comrades Gamora, Drax and Pip the Troll – and joined by newer friends like Star-Lord, Rocket Raccoon and Groot – they hold the potential to end Annihilus' threat once and for all…if only they knew how! But the answer lies in the dark mind of another. A Titan, whom some would hold as mad. Could the fate of everything rest in the hands of…Thanos? Cosmic maestro Jim Starlin's infinite odyssey continues!
Thor Black Galaxy Saga Tp
MARVEL COMICS
(W/A/CA) Various
Written by TOM DEFALCO
Penciled by RON FRENZ
Cover by RON FRENZ
The Black Galaxy beckons, and the mysteries of the living bioverse wait to be discovered! The Celestials are converging, the High?Evolutionary and his new race of men are prepared to exploit the new universe, and the Watcher…watches. Meanwhile, Thor,?Hercules and the Avengers must face the threat of Stellaris on Earth before rocketing into space! You won't believe what waits for the God of Thunder in the deadly Black Galaxy! Collecting THOR (1966) #419-425.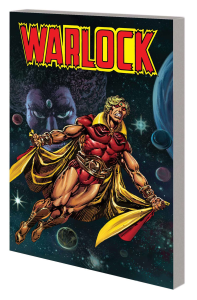 Warlock By Jim Starlin Tp Complete Collection
MARVEL COMICS
(W/A/CA) Jim Starlin
At '70s Marvel, no one mastered the startling scope and high-concept complexity of cosmic adventure like Jim Starlin! And his work on Adam Warlock set the tone for star-spanning spectacle that is considered a high-water mark to this day. Starlin evolved Warlock to the next level, imbuing the character with the inner demons of a man-god on the brink of insanity. Forced to confront an evil version of himself and the nihilistic menace Thanos, Warlock's conflicts weren't just knuckle-grinding throw-downs – they were epic, existential struggles for his very soul. Featuring the first-ever assembling of the Infinity Gems; the debuts of Gamora and Pip the Troll; and an all-out struggle to save the universe joined by the Avengers, Captain Marvel and Spider-Man! Collecting STRANGE TALES (1951) #178-181, WARLOCK (1972) #9-15, AVENGERS ANNUAL #7 and MARVEL TWO-IN-ONE ANNUAL #2.
Wolverine By Claremont And Miller Hc
MARVEL COMICS
(W) Chris Claremont (A) Frank Miller, Paul Smith (CA) Frank Miller
Wolverine's vacation from the X-Men is interrupted when he discovers that his beloved, Mariko Yashida, has been married off by her criminal father Lord Shingen! When Shingen humiliates Wolverine in front of Mariko, the hero loses heart, drowning his sorrows in beer, bar fights – and the arms of wild assassin Yukio. But when ninjas attack and betrayal strikes from a most unexpected source, can Wolverine reclaim his honor, and rescue Mariko and himself from the trap Shingen has drawn around them both? Then: The X-Men travel to Japan to rejoin their wayward teammate, but the villainous duo of Viper and the Silver Samurai want to guarantee that the mutants' story won't have a happy ending. It's secrets, shockers and broken hearts in Wolverine's legendary first solo adventure! Collecting WOLVERINE (1982) #1-4 and UNCANNY X-MEN (1963) #172-173.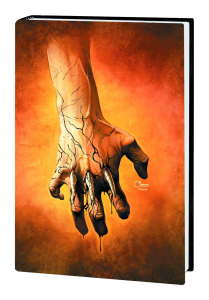 Wolverine Origin Hc New Ptg
MARVEL COMICS
(W) Paul Jenkins (A) Andy Kubert (CA) Joe Quesada
For decades, Wolverine's shadowy past has been shrouded in mystery. But before he was the savage mainstay of the X-Men, before he was a tormented secret agent codenamed Weapon X – even before he was a barroom brawler in the wilds of Canada – he was a child. And now, in this landmark event, Marvel reveals all! The birth and childhood of sickly young James Howlett, the secrets and intrigue of his family history, the first struggle with his subconscious savagery that culminated in tragedy, and how James' flight from everything he once knew led to the forging of the man known as Logan! Paul Jenkins and Andy Kubert, two of Marvel's most capably acclaimed creators, unite to tell the tale that shaped mutantdom's mightiest misfit. Collecting ORIGIN #1-6.
Wolverine Sabretooth Hc
MARVEL COMICS
(W) Jeph Loeb (A/CA) Simone Bianchi
Superstars Jeph Loeb and Simone Bianchi's titanic two-part tale is collected in one oversized, blood-soaked volume! Sworn foes Wolverine and Sabretooth have been locked in an endless grudge match that goes back longer than either can remember – or even imagine. But the key to their bloody history is eons old: Who is the immortal manipulator Romulus? And exactly how deep does the conspiracy surrounding Wolverine's century-long life go? As Sabretooth cheats certain death and the villainous duo close in for the kill, long-buried secrets are revealed that rewrite Wolverine's entire history, and he finds himself forced to make a terrible choice: stop Sabretooth, or stop Romulus – and deal with the lives lost either way! Guest-starring Storm, Black Panther, Wolfsbane, Sasquatch, Wild Child, Cloak and Dagger, and more! Collecting WOLVERINE (2003) #50-55 and WOLVERINE (1988) #310-313.