Have you all seen Guardians of the Galaxy 2 yet?! You should. Are you ready for Free Comic Book Day!? You should be! Let's see what else is up this week…
If sifting through the internet seems like a bit too much of a task and you'd like us to beam this right to your phone (or home Cerebro-like computer system) try signing up for our handy weekly email newsletter!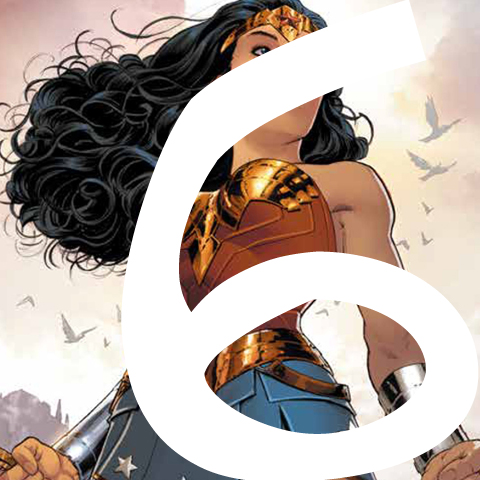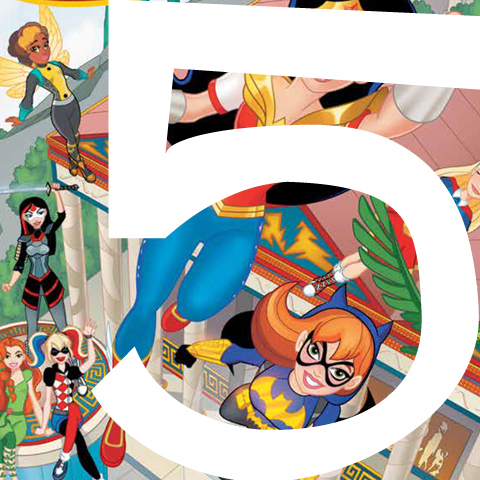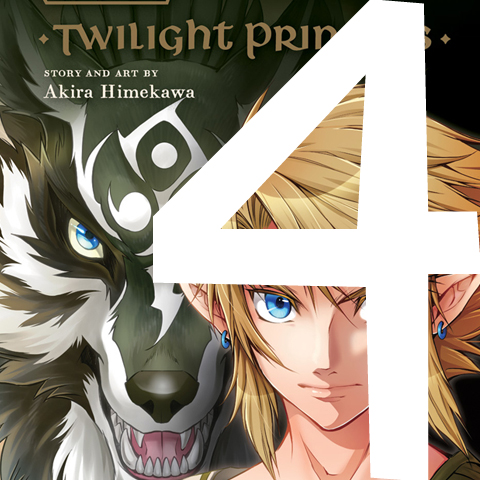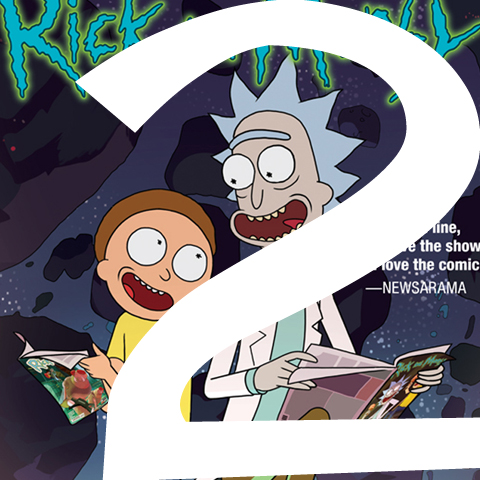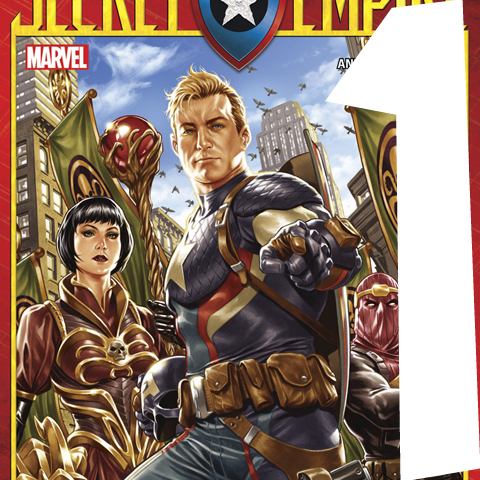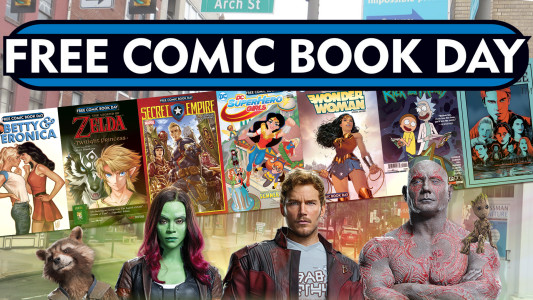 THE COUNTDOWN TO FREE COMIC BOOK DAY IS OVER!!!



FREE COMIC BOOK DAY ( FCBD 2017) is tomorrow (or today depending on when you read this BUT let's hope not yesterday when you read this) so be sure you find yourself at either (or both) BNW locations tomorrow for some awesome stuff! We'll see ya there!
Looks Like Magic is in the Cards!

Our Willow Grove location will be hosting Magic: the Gathering Standard Showdown Events starting next Saturday, May 13th.
The event format is Swiss standard constructed.  Your $6 entry will contribute 1 and 1/2 packs of Amonkhet boosters towards the prize pool.  More importantly, the top 6 players for each event will receive a special Standard Showdown booster pack.  Here's what's in these packs (pictured below):
Standard Showdown: Amonkhet booster packs each contain four cards*:
2 rare or mythic rare from a currently legal Standard set
1 Amonkhet full-art land
1 premium card of any rarity from a currently legal Standard set, including Amonkhet full-art lands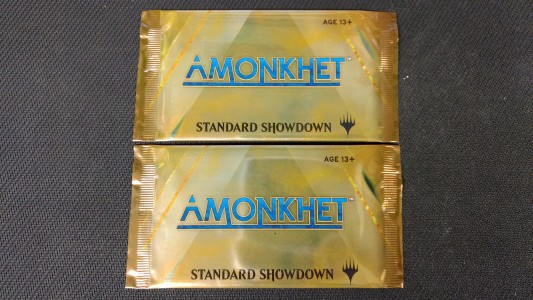 (We will NOT be running an event Saturday, May 6th, as we will be hosting Free Comic Book Day)
STAR WARS SHIPS IN MODEL FORM!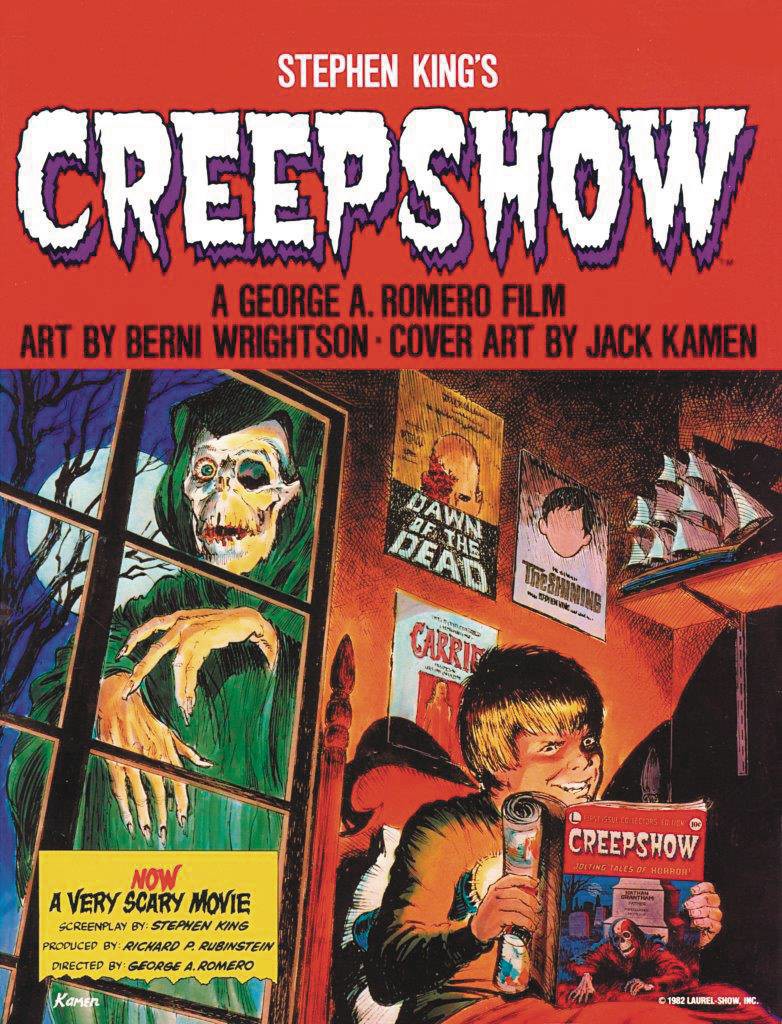 CREEPSHOW GN
G13
(W) Stephen King (A) Bernie Wrightson (CA) Jack Kamen
Now back in print: the graphic novel adaptation of Stephen King's Creepshow, based on the 1982 horror anthology and cult classic film directed by George Romero (Night of the Living Dead, Dawn of the Dead) and featuring stunning illustrations by the legendary Bernie Wrightson wutg cover art by the acclaimed Jack Kamen! A harrowing and darkly humorous tribute to the controversial and influential horror comics of the 1950s, Creepshow presents five sinsister stories from the #1 New York Times bestselling author – "Father's Day," "The Lonesome Death of Jordy Verrill," "Something to Tide You Over," "The Crate," and "They're Creeping Up on You." Unforgettable tales of terror to haunt your days and nights!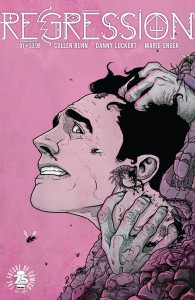 REGRESSION #1

IMAGE COMICS
(W) Cullen Bunn (A/CA) Danny Luckert
Adrian is plagued by ghastly waking nightmares. To understand and possibly treat these awful visions, Adrian reluctantly agrees to past life regression hypnotherapy. As his consciousness is cast back through time, Adrian witnesses a scene of horrific debauchery and diabolism. Waking, he is more unsettled than before, and with good reason-something has followed him back. Adrian descends into a world of occult conspiracy, mystery, reincarnation, and insanity from which there is no escape.
Presented by CULLEN BUNN (Harrow County, The Sixth Gun, The Empty Man), DANNY LUCKERT (Haunted), and MARIE ENGER (Pistolwhip, 2 Sisters), REGRESSION is a tale of supernatural terror and intrigue unlike any horror comic you've ever experienced.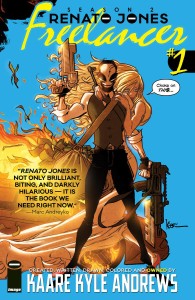 RENATO JONES SEASON TWO #1 (OF 5)

IMAGE COMICS
(W/A/CA) Kaare Kyle Andrews
"THE FREELANCER," Part One
Mysterious vigilante Renato Jones showed the One% that, for all their money, for all their power, they are not untouchable. But now they're pushing back, and the resulting class warfare may be more than even Renato can handle. When full-time villains control the whole world, the only hero who can take on the job is self-employed…a Freelancer.
KAARE KYLE ANDREWS proudly presents Season Two of the most dangerous comic on the planet!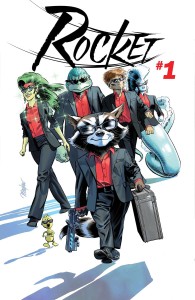 ROCKET #1
MARVEL COMICS
(W) Al Ewing (A) Adam Gorham (CA) Mike Mayhew
GET READY FOR A LIFE OF SPACECRIME!
It's a dirty universe out there, even when you're not regularly mistaken for trash-foraging vermin. And it's about to get dirtier. He thought his paws were clean, that he was on the up-and-up. But then an old flame swam back into his life, and he was back in the game… the heist game. If you need a safe cracked, a vault busted or a score taken…ask for Rocket. Just don't call him a raccoon.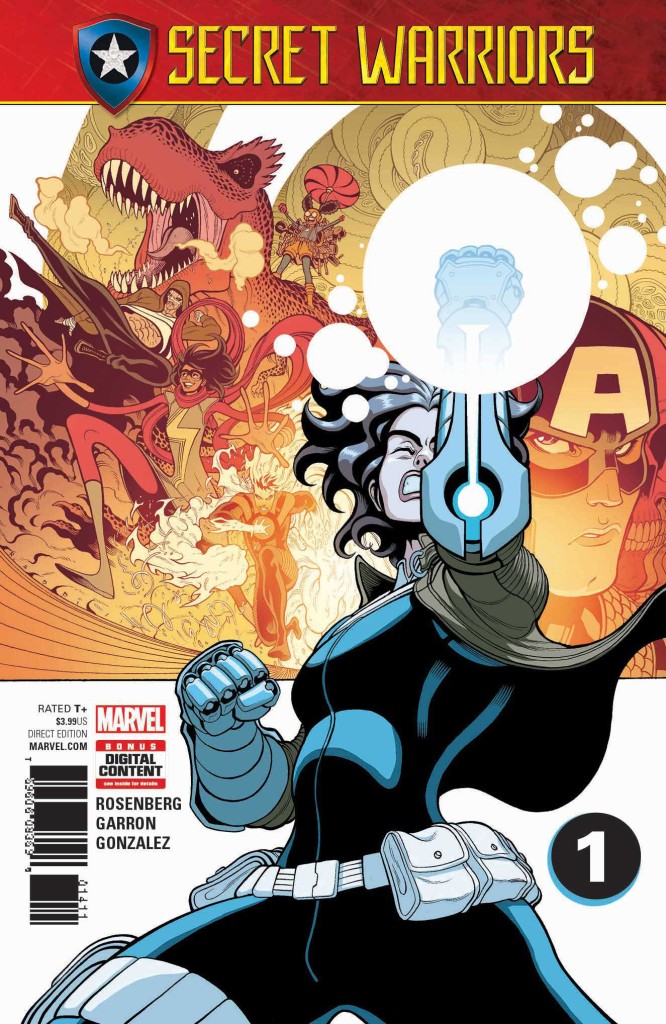 SECRET WARRIORS #1
MARVEL COMICS
(W) Matthew Rosenberg (A) Javi Garron (CA) Tradd Moore
A SECRET EMPIRE TIE-IN!
Captain America has been revealed to be an agent of Hydra – and he's coming after Inhumans!
S.H.I.E.L.D. Agent Daisy Johnson, a.k.a. QUAKE, wants no part of Hydra, so she goes underground, teaming up with MS. MARVEL, MOON GIRL & DEVIL DINOSAUR, KARNAK and INFERNO to set things right – for the Inhumans, but also for the entire country!
Penned by rising star Matthew Rosenberg (Kingpin, Rocket Raccoon, 4 Kids Walk Into A Bank) and drawn by the immensely talented Javier Garrón (Death of X, Inhumans vs X-Men), SECRET WARRIORS is one part coming-of-age story, one part spy-thriller, all action and all heart. Don't miss the next (and final?) generation of Inhumans as they take the Marvel Universe by storm!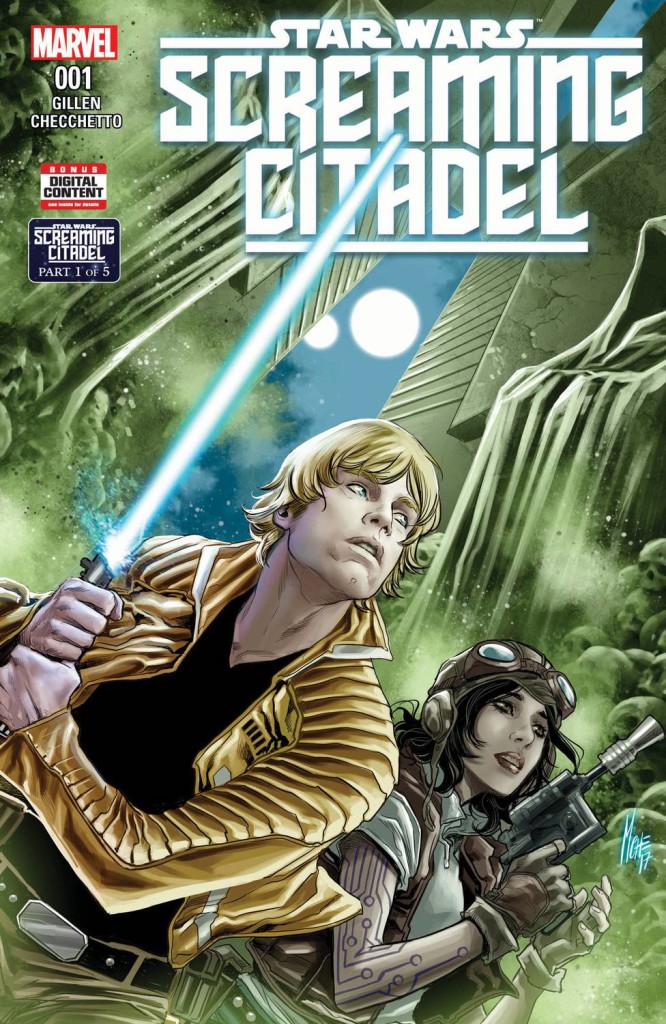 STAR WARS SCREAMING CITADEL #1
MARVEL COMICS
(W) Kieron Gillen (A/CA) Marco Checchetto
"THE SCREAMING CITADEL" – PART 1
Rebel pilot and rogue archaeologist wander side by side into the darkest shadows of the galaxy as Luke Skywalker reluctantly teams up with Doctor Aphra! The Doctor makes Luke an offer he can't afford to pass up…one that leads him to a very rare gathering at the heart of the infamous Screaming Citadel. Will Luke find what he's looking for? Can Aphra be trusted? Or will they both wind up victims of the Citadel's Queen?
ONE-SHOT
NOW HERE'S THE FULL LIST!
If you want a full visual list of everything howabout you click on this hyperlink  (tho the Diamond  might not update til Monday or something)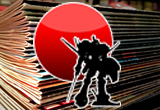 (the following list of comics reflects all the comics coming into both locations. If there's something on this list that's not in stock at your favorite BNW location do not hesitate to ask for us to order it for you!)
COMICS AND MAGAZINES
Action Comics #979
AD After Death Book 03 (OF 3)
All New Wolverine #20
All Star Batman #10
Amazing Spider-Man #27
Amazing Spider-Man Renew Your Vows #7
America #3
Avengers #7
Back To The Future #19
Batgirl And The Birds Of Prey #10
Batman Tmnt Adventures #6 (OF 6)
Black Cloud #1 2nd Ptg
Black Cloud #2
Black Panther Crew #2
Bug The Adventures Of Forager #1 (OF 6)
Cannibal #5
Captain America Steve Rogers #15 2nd Ptg
Charmed #3
Copperhead #13
Dark Souls Tales Of Ember #2 (OF 2)
Deadpool #30
Detective Comics #956
Disney Frozen #7
Doctor Who 11th Year Three #5
Dragon Age Knight Errant #1
Eternal Warrior Awakening #1
Fix #9
Future Quest #12
GFT Day Of The Dead #4 (OF 6)
Ghostbusters Funko Universe
Godshaper #2
Gotham Academy Second Semester #9
Grand Passion #5 (OF 5)
Grant Morrisons 18 Days #23
Grass Kings #3
Green Valley #8 (OF 9)
Guardians Of Galaxy Mother Entropy #2 (OF 5)
Gwenpool #15
Hal Jordan And The Green Lantern Corps #20
Harrow County #23
Inhumans Prime #1 2nd Ptg
Injustice Ground Zero #11
Invader Zim #19
John Carter The End #4
Justice League Of America #6
Kingpin #4
Lazarus Sourcebook #2
Marvel Universe Guardians Of Galaxy #19
Ms Marvel #18
My Little Pony Legends Of Magic #2
New Super Man #11
Old Man Logan #23
Over Garden Wall Ongoing #13
Penny Dreadful #2
Planet Of Apes Green Lantern #4
Red Hood And The Outlaws #10
Redline #3
Regression #1
Renato Jones Season Two #1 (OF 5)
Rock Candy Mountain #2
Rocket #1
Rough Riders Riders On The Storm #3
Scooby Apocalypse #13
Secret Warriors #1
Shade The Changing Girl #8
Shadows On The Grave #4
Sherlock Blind Banker #5 (OF 6)
Silver Surfer #11
Sons Of Anarchy Redwood Original #10
Sons Of The Devil #12
Spongebob Comics #68
Star Wars Screaming Citadel #1
Suicide Squad #17
Supergirl #9
Superwoman #10
Tank Girl World War Tank Girl #2 (OF 4)
Throwaways #8
Titans #11
Transformers Lost Light #5
Uncanny Avengers #23
Weapon X #3
Wonder Woman #22
X-Files (2016) #13
X-Men Blue #3
X-Men Gold #1 2nd Ptg
X-Men Prime #1 2nd Ptg
Zombies Assemble #1 (OF 4)
TRADE PAPERBACKS, GRAPHIC NOVELS, HARDCOVERS AND MANGA
Batman Detective Tp Vol 02 Victim Syndicate (REBIRTH)
Blue Beetle Tp Vol 01 The More Things Change (REBITH)
Casanova Acedia Tp Vol 02
Creepshow Gnfante Bukowski Gn Vol 02 Two
Faith Tp Vol 03 Superstar
Grimm Something Wicked This Way Comes Tp
Jessica Jones Tp Vol 01 Uncaged
Last Days Of The Justice Society Of America Tp
Raven Tp
Star Wars Rogue One Rebel Rising Hc Novel
ODDS AND ENDS
Marvel Fact Files Special #25 Amazing Spider-Man
Marvel Now Super Deadpool Artfx Statue
Also!
Michelle who used to sell you comics in Old City has another music video out as Japanese Breakfast! Check it out here! (it's super sci-fi and anime inspired!)