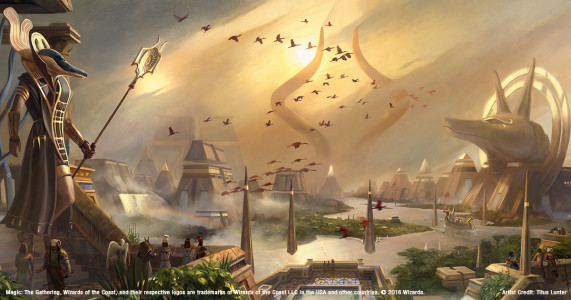 Our Willow Grove location will be host Prerelease sealed events for the new Magic: the Gathering set, Amonkhet.  Your $30 entry will get you a prerelease pack which will include 6 Amonkhet booster packs and a random foil promo card from which to build a 40-card sealed deck.  2 booster packs of Amonkhet per player will be contributed to the prize pool.  Event dates and times are as follows:
Friday, April 21st @ midnight (into Saturday)
Saturday, April 22nd @ noon
Sunday, April 23rd @ noon
We will also run booster drafts for Amonkhet the following week:
Saturday, April 29th @ noon
Amonkhet has an ancient Egyptian flavor and theme.  There are new indestructible god cards, special Aftermath split cards,and randomly included in a few lucky boosters are classic reprints called Invocations that feature new ancient Egyptian-themed artwork.  A few examples are pictured below.
For more information on the new mechanics, visit the official MTG website here.