The new X titles continue this week and Black Panther and the Crew take off in their own series!
Welcome back to you're weekly installment of all things Brave New Worlds!
If sifting through the internet seems like a bit too much of a task and you'd like us to beam this right to your phone (or home Cerebro-like computer system) try signing up for our handy weekly email newsletter!

  THE PREVIEWS EXCLUSIVE BLADE POP IS HERE!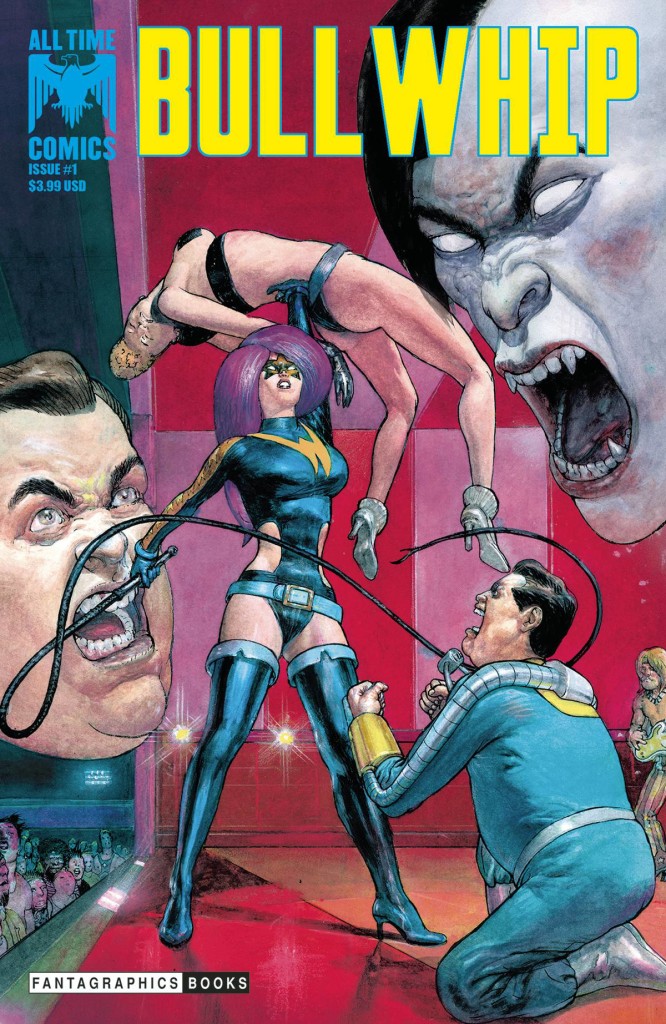 ALL TIME COMICS BULLWHIP #1 (C: 0-1-2)
FANTAGRAPHICS BOOKS
(W) Josh Bayer, Benjamin Marra (A) Al Milgrom, Benjamin Marra
Behold Bullwhip: the mysterious crimefighter sworn to keep Metro City's streets safe from villainy and violence! Writer Josh Bayer, acclaimed artist Ben Marra (TERROR ASSAULTER: O.M.W.O.T.), and Firestorm co-creator Al Milgrom team up for the startling story "Web of Oblivion!", which pits our hero against The Misogynist, Raingod, and the Time Vampire. Don't miss the most unexpected, fanta*tastic superhero comics of the year – and be sure to collect the stunning variant covers by legendary artists Gilbert Hernandez and Tony Millionaire!
 You guys see this?!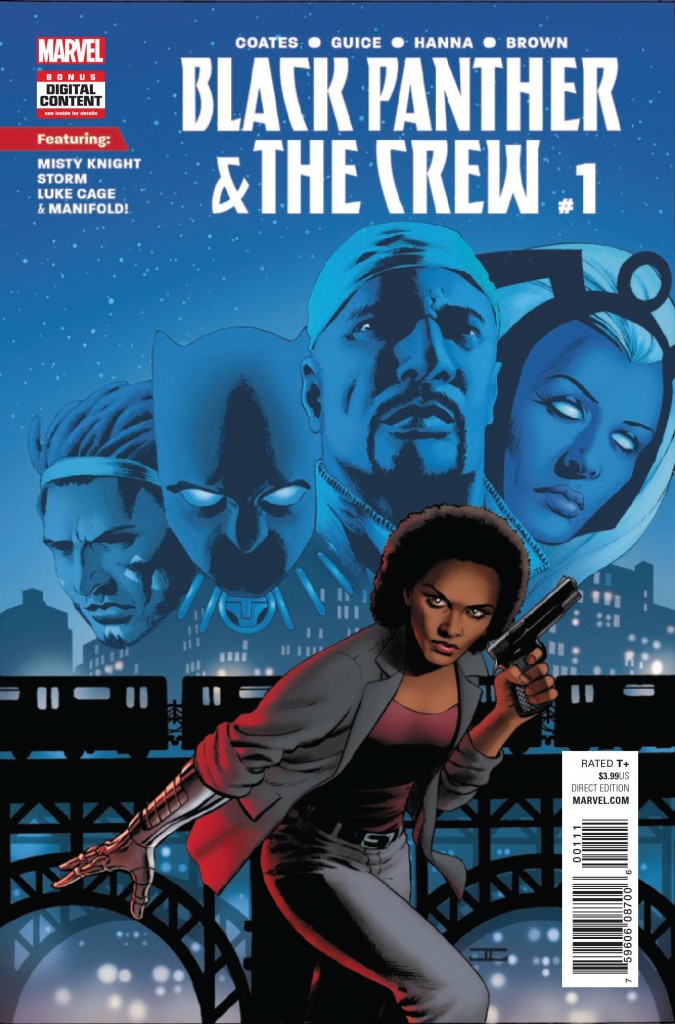 BLACK PANTHER CREW #1
MARVEL COMICS
(W) Ta-Nehisi Coates (A) Butch Guice (CA) John Cassaday
Black Panther, Storm, Luke Cage, Misty Knight and Manifold band together to take on a dangerous wave of street-level threats in this new ongoing series by co-writers Ta-Nehisi Coates (New York Times best-selling author of Between the World and Me and Marvel's Black Panther) and Yona Harvey (Black Panther: World of Wakanda) and legendary artist Butch Guice!
The death of a Harlem activist kicks off a mystery that will reveal surprising new secrets about the Marvel Universe's past and set the stage for a big story in the Marvel Universe's near future.
Fear, hate and violence loom, but don't worry, The Crew's got this: "We are the streets."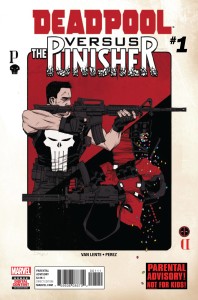 DEADPOOL VS PUNISHER #1 (OF 5)
MARVEL COMICS
(W) Fred Van Lente (A) Pere Perez (CA) Declan Shalvey
Frank Castle has an unstoppable will – a powerful drive to punish those who do wrong, rooted in the tragic killing of his family. Wade Wilson has an unstoppable mouth – an unthinking knack for annoying everyone around him, rooted in thinking he's funny. Both men, however, are among the deadliest on the planet. When they find themselves in disagreement over the criminal known as The Bank, they're in for one of the most brutal fights of their lives! Can Frank kill Wade over and over without ever dying once himself? Or will Wade bug him until he welcomes death?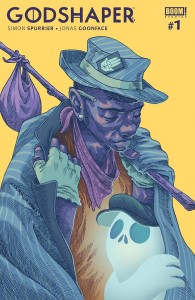 GODSHAPER #1
BOOM! STUDIOS
(W) Simon Spurrier (A) Jonas Goonface, Jonas Goonface
Written by Eisner Award-nominated writer Simon Spurrier (The Spire, X-Men Legacy) and illustrated by breakout talent Jonas Goonface, Godshaper introduces a vast world where there's a god for every person and a person for every god…though for Ennay, unfortunately exceptions may apply. People like him are Godshapers, godless social pariahs with the ability to mold and shape the gods of others. Paired with Bud, an off-kilter but affectionate god without a human, the two travel from town to town looking for shelter, a hot meal, and the next paying rock 'n' roll gig.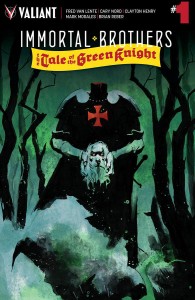 IMMORTAL BROTHERS GREEN KNIGHT #1
VALIANT ENTERTAINMENT LLC
(W) Fred Van Lente (A) Clayton Henry, Cary Nord (CA) Cary Nord
Archer and Armstrong! The Eternal Warrior! Ivar, Timewalker! (And a very brief appearance by Faith!)
In the great Armstrong tradition of telling history as it really happened, join the immortal Anni-Padda brothers for a journey to King Arthur's court, where the true history of the monstrous GREEN KNIGHT is revealed!
It's winter at King Arthur's court in Camelot, when the monstrous GREEN KNIGHT appears at the Round Table wearing no armor and bearing a gigantic axe. Eager for a challenge suitable for the weaker knights, he insists that they participate in a friendly "winter's game". Anyone can strike him once with his axe, but on the condition that the Green Knight may return the exact blow in one year's time. Arthur agrees to the game, but the youthful knight, GILAD, takes up the challenge to protect his king. Much to the court's surprise, the Knight doesn't move as Gilad strikes his head off. The Green Knight picks up his own head and gives Gilad his own mighty axe, telling him he is fated to receive the same blow before the year is out. Now, Sir Gilad must solve the mystery of who the Green Knight is before his hour at the axe comes to pass! But first, he'll need to find some help… in the form of his immortal brothers, who will be united once again!
New York Times best-selling writer Fred Van Lente returns to Archer & Armstrong as Eisner Award-winning artist Cary Nord (X-O Manowar) joins in for an oversized, 48-page one shot epic!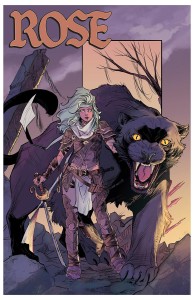 ROSE #1
IMAGE COMICS
(W) Meredith Finch (A) Ig Guara (CA) David Finch
SERIES PREMIERE
A classic fantasy tale about a girl trying to restore balance to a broken world. Rose must connect with her Khat-Thorne-to become the Guardian the world needs. But things aren't easy for Rose and Thorne, the powerful sorcerous Drucilla has many powerful and demonic allies-all of them focused on stopping one scared little girl who's desperately trying to stay alive and do what's right. Written by MEREDITH FINCH (Wonder Woman, Little Mermaid), and drawn by fan-favorite artist IG GUARA (Batman: Arkham Knight, Blue Beetle, The Ravagers).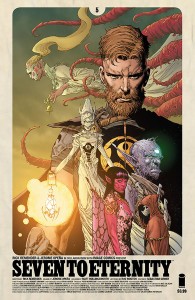 SEVEN TO ETERNITY #5
IMAGE COMICS
(W) Rick Remender (A) Jerome Opena (CA) Jerome Opena, Matt Hollingsworth
NEW STORY ARC!
Adam Osidis and the Mosak come to a crossroads. The choices they make here will echo throughout the lands of Zhal for all eternity.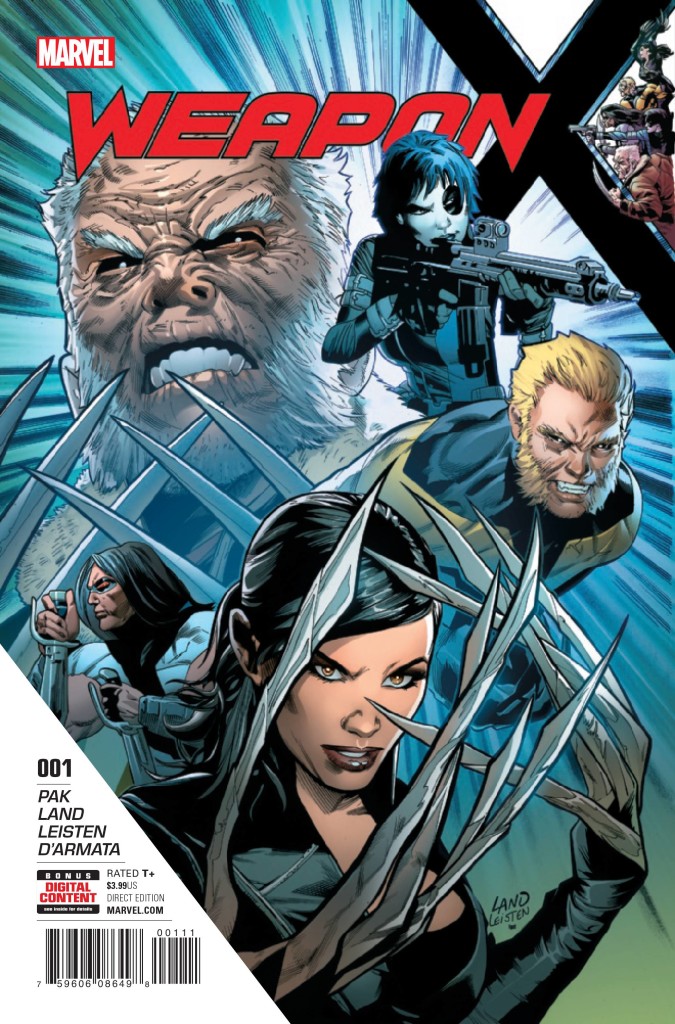 WEAPON X #1
MARVEL COMICS
(W) Greg Pak (A/CA) Greg Land
Decades ago, the Weapon X program produced the deadliest mutant killers on the planet. Now, with more research, more funding and more Adamantium at its disposal, the Weapon X program is creating new killers for old targets: Old Man Logan. Sabretooth. Lady Deathstrike. Weapon X isn't just experimenting on mutants anymore…it's eradicating them. All of them.
Plus: Deadlier and more shadowy than ever, you won't believe who's taken the job as Director of Weapon X! Reuniting X-Men: Phoenix – Endsong creative team GREG PAK (World War Hulk) and GREG LAND (Uncanny X-Men)!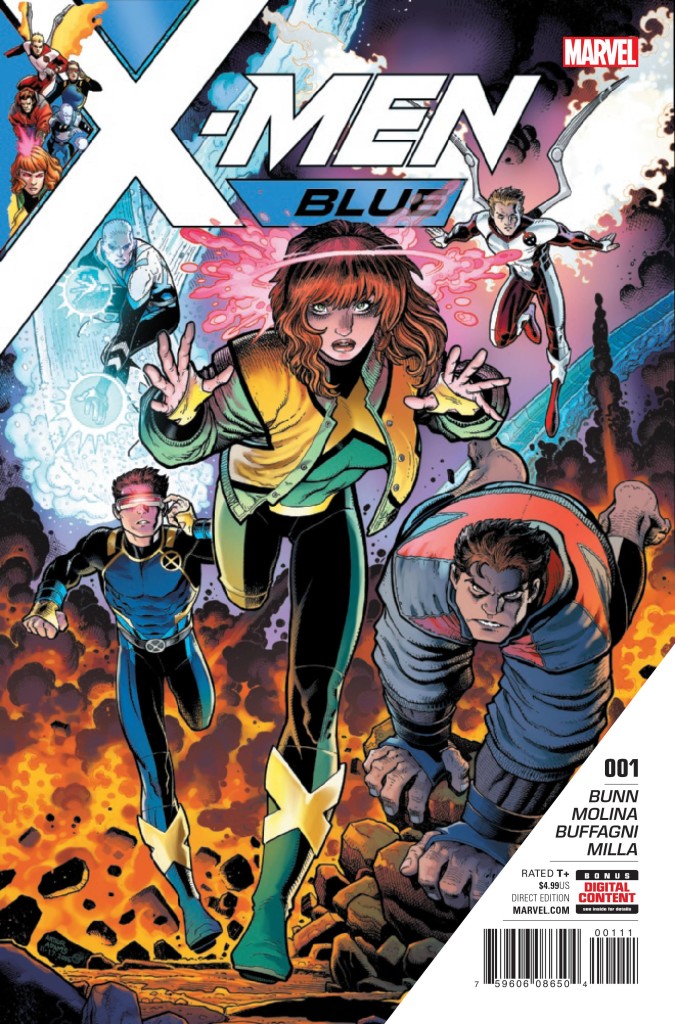 X-MEN BLUE #1
MARVEL COMICS
(W) Cullen Bunn (A) Jorge Molina, Matteo Buffagni (CA) Arthur Adams
THE ORIGINALS!
Join MARVEL GIRL, CYCLOPS, BEAST, ICEMAN and ANGEL as they reclaim the title of X-MEN. After the world-shaking events of IVX, the original five X-Men are here to bring mutant criminals to justice and restore a heroic sheen to their team. But with a new leader in JEAN GREY and a new mentor in their "arch-frenemy" MAGNETO, will old rivalries and new conflicts tear these heroes apart?
NOW HERE'S THE FULL LIST!
If you want a full visual list of everything howabout you click on this hyperlink  (tho the Diamond  might not update til Monday or something)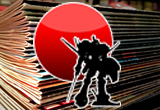 (the following list of comics reflects all the comics coming into both locations. If there's something on this list that's not in stock at your favorite BNW location do not hesitate to ask for us to order it for you!)
COMICS AND MAGAZINES
Action Comics #977
All Time Comics Bullwhip #1
Amazing Spider-Man #26
America #1 2nd Ptg
Assassins Creed Awakening #6 (OF 6)
Assassins Creed Reflections #2 (OF 4)
Babybel Wax Bodysuit (ONE Shot)
Batgirl And The Birds Of Prey #9
Black Panther Crew #1
Captain America Sam Wilson #21
Charmed #2
Cinderella Serial Killer Princess #4
Circuit Breaker #5 (OF 5)
Copperhead #12
Dark Knight III Master Race #8 (OF 9) Collectors Ed Hc
Deadpool And Mercs For Money #10
Deadpool Vs Punisher #1 (OF 5)
Detective Comics #954
Disney Princess #10
Doctor Strange Sorcerers Supreme #7
Doctor Who 11th Year Three #4
Doctor Who 12th Year Three #1
Drifter #18
Dungeons & Dragons Frost Giants Fury #2
Flash #20
G Fan #115
GFT Grimm Tales Of Terror Vol 3 #4
Godshaper #1
Gotham Academy Second Semester #8
Grant Morrisons 18 Days #22
Grass Kings #2
Green Valley #7 (OF 9)
Guardians Of Galaxy #19
Gwenpool #14
Hal Jordan And The Green Lantern Corps #18
Harrow County #22
Helena Crash #2 (OF 4)
Hellboy And BPRD 1954 Ghost Moon #2
Hi Fructose Magazine Quarterly #43
Immortal Brothers Green Knight #1
John Carter The End #3
Justice League Of America #4
Kingpin #3
Knights Of The Dinner Table #242
Marvel Universe Guardians Of Galaxy #18
Mercury Heat #12
Micronauts #11
Mosaic #7
Motor Crush #5
My Little Pony Legends Of Magic #1
Neil Gaiman American Gods Shadows #2
New Super Man #10
Old Man Logan #21
Planet Of Apes Green Lantern #3
Popeye Classics Ongoing #57
Power Man And Iron Fist #15
Ragnarok #12
Rat Queens #2
Red Hood And The Outlaws #9
Redline #2
ROM #9
Rose #1
Scooby Apocalypse #12
Seven To Eternity #5
Sherlock Blind Banker #4 (OF 6)
Silver Surfer #10
Sons Of Anarchy Redwood Original #9
Spawn #272
Spider-Man 2099 #22
Spongebob Comics #67
Star Trek Boldly Go #7
Star Wars Doctor Aphra #6
Star Wars Insider #172 Newsstand Ed
Suicide Squad #15
Super Powers #6 (OF 6)
Supergirl #8
The Mummy (HAMMER) #5 (OF 5)
Think Tank Vol 5 #2
Throwaways #7
Titans #10
Torchwood 2 #3
Unbeatable Squirrel Girl #19
Unstoppable Wasp #4
Vampirella #2
Warhammer 40000 Revelations #2 (OF 4)
Weapon X #1
Wicked & Divine #28
Wonder Woman #20
X-Men Blue #1
TRADE PAPERBACKS, GRAPHIC NOVELS, HARDCOVERS AND MANGA
Aliens Life And Death Tp
Aquaman Tp Vol 02 Black Manta Rising (REBIRTH)
Atomic Robo Tp Vol 11 Atomic Robo And The Temple Of Od
Batman 66 Meets The Man From Uncle Tp
Batman Legacy Tp Vol 01
Batman Tp Vol 02 I Am Suicide (REBIRTH)
Black Panther Tp Book 03 Nation Under Our Feet
Captain America Steve Rogers Tp Vol 02 Trial Of Maria Hill
Enchanted Tiki Room Hc
Fix Tp Vol 02
GI Joe A Real American Hero Tp Vol 17
Jem & The Holograms Tp Vol 04 Enter The Stingers
Scooby Doo Team Up Tp Vol 03
Star Wars Thrawn Hc
Toppu Gp Gn Vol 01
TOYS
SW BLACK 40TH ANN 6IN AF ASST
ODDS AND ENDS
Star Trek Starships Fig Mag #92 Medusan Ship
Star Trek Starships Fig Mag #93 Ecs Horizon