We get Neil Gaiman's American Gods in comics form this week as well as the return of a few of my favorite Image series! Plus we've got news about signing and stuff going on at BOTH locations! So while it's turned back into WINTER out there check out what we've got for you this week!
Welcome back to you're weekly installment of all things Brave New Worlds!
SCEINCE! COMICS! BATS! SIGNING SATURDAY MARCH 11th!


On Saturday March 11th well we'll be hosting our friend Falynn Koch from 6-8pm as she signs the crap outt her new book! It's an awesome and full all ages book about BATS will be a crowd pleaser for sure!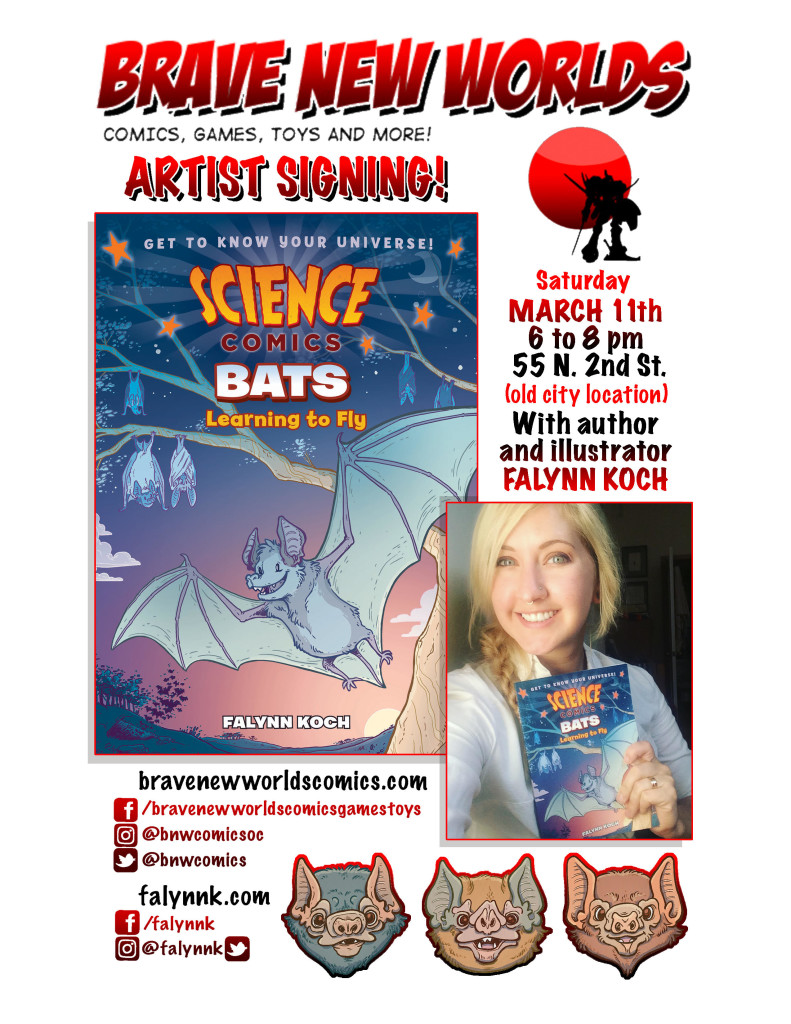 We've got a Facebook event up over HERE for all the updates!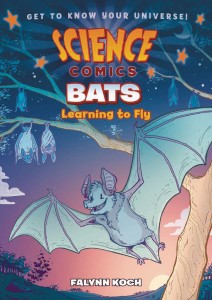 SCIENCE COMICS BATS SC GN

:01 FIRST SECOND
(W/A/CA) Falynn Koch
Welcome to Science Comics, an action-packed nonfiction graphic novel series for middle-grade readers! Every volume offers a complete introduction to a particular topic – dinosaurs, coral reefs, the solar system, volcanoes, bats, flying machines, and more. These gorgeously illustrated graphic novels offer wildly entertaining views of their subjects. In this ultrasonic volume, Falynn Koch introduces us to a remarkable but misunderstood flying mammal: the bat! In Bats, we follow a little brown bat whose wing is injured by humans on a nature hike. He is taken to a bat rehabilitation center where he meets many different species of bats. They teach him how they fly, what they eat, and where they like to live.
SIGNING IN WILLOW GROVE!
Join Bianca Alu-Marr and Steve Peters as they launch the newest issue of their sci-fi humor comic, The Comicverse. Steve will be drawing free sketches like he's done at Brave New Worlds for the past six years on Free Comic Book Day. There will also be blank sketch covers available,and Steve will have much more time to add a lot of detail to his drawings than on FCBD, so this is the best time to get a sketch!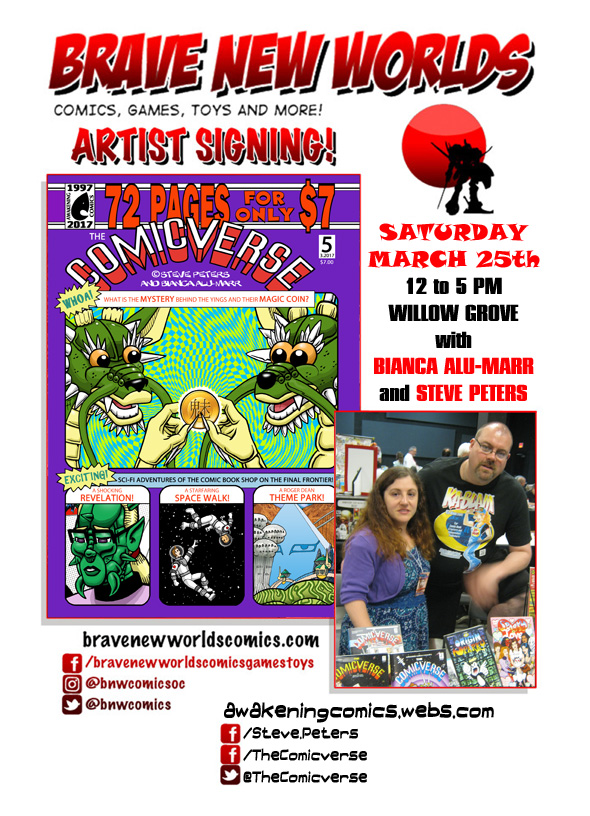 MAGIC! MODERN MASTERS! WILLOW GROVE!

Our Willow Grove location will be running 2 booster draft events to celebrate the release of the newest Modern Masters set, Modern Masters 2017.  A sampling of the cards in the set are pictured below.  Your $40 entry will get you 3 packs of Modern Masters 2017 from which you will draft the deck you will play with.  1 pack of Modern Masters 2017 per person will be added to the prize pool.  Pods will be determined based on the amount of players, but prize packs will be divided among the top 1/2 of players in a roughly 4-2-1-1 breakdown.  For more information on the set, check out the official website here or the visual spoiler here on the Mythic Spoiler website here.
Booster Draft times are as follows:
Friday, March 17th @ 9:30 PM (after FNM)
Saturday, March 18th @ 12 noon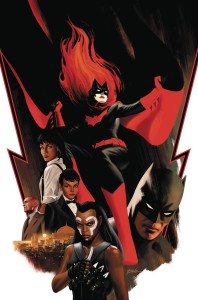 BATWOMAN #1
DC COMICS
(W) Marguerite Bennett, James TynionIV (A/CA) Steve Epting
"The Many Arms Of Death" part one! At last – Batwoman is back in her own ongoing series! On the island nation of Coryana, anything goes for members of the criminal underworld… and during her lost years after being drummed out of the military, Kate Kane found a kind of refuge there. But now, a deadly new bioweapon is available in the markets of Coryana, and Batwoman will have to face up to the things she did in those days… and the people she left behind, some of whom would be happier to see her dead than alive! Writer Marguerite Bennett (DC BOMBSHELLS) is joined by James Tynion IV (DETECTIVE COMICS) and superstar artist Steve Epting (Captain America, Velvet) to present an epic Batwoman story that will alter the course of her life forever! This one's unmissable!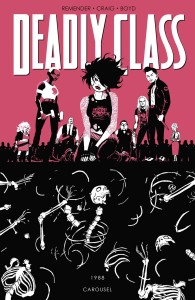 DEADLY CLASS TP VOL 05 CAROUSEL

IMAGE COMICS
(W) Rick Remender (A/CA) Wesley Craig
It's morning in America, and those who lived through last arc's brutal finale barely have had time to consider what they've done before a new class of kids enroll in the school, eager to pick up the bloody mantle. Sophomore survivor Saya Kuroki is given a chance to ascend in the ranks of the school's deadliest and most ruthless students, and all it will cost her is what's left of her humanity. RICK REMENDER & WES CRAIG present a new beginning to the dark saga of DEADLY CLASS. Collecting DEADLY CLASS #22-26.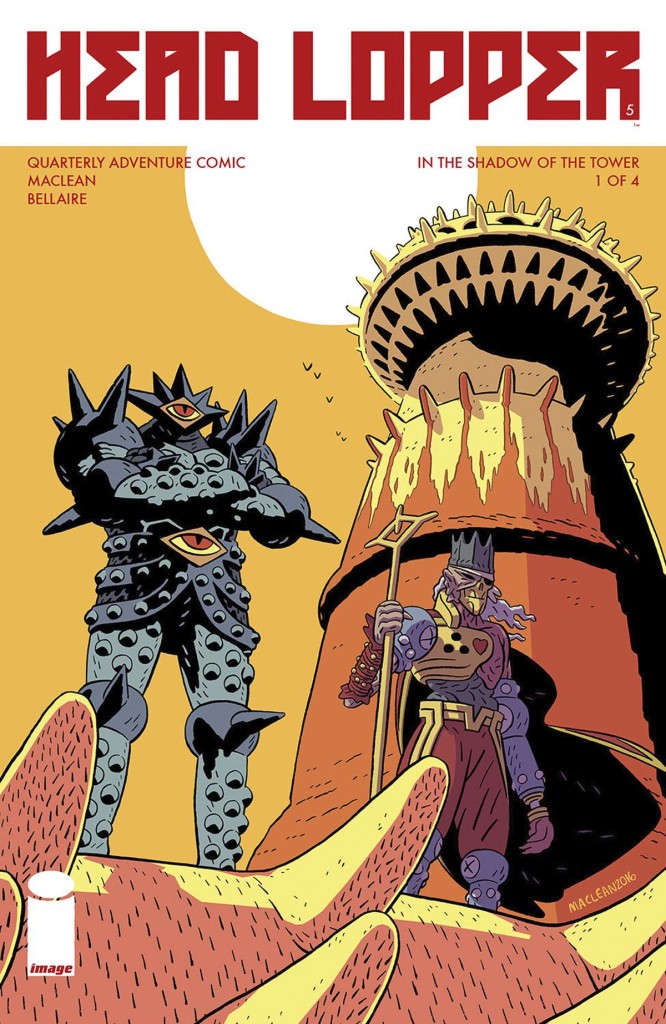 HEAD LOPPER #5

IMAGE COMICS
(W/A/CA) Andrew MacLean
NEW STORY ARC! "IN THE SHADOW OF THE TOWER"-Norgal and Agatha are back! A daring new adventure awaits, looming like the Crimson Tower, home of Ulrich the Twice Damned, sworn enemy of Zhaania Kota Ka. With old friends and new, our heroes boldly enter the bloodied pinnacle with bare steel and steady hearts. The quarterly series HEAD LOPPER has returned!
INJECTION #11
IMAGE COMICS
(W) Warren Ellis (A/CA) Declan Shalvey
NEW STORY ARC! Flensed human skeletons chained to the rocks of an archaeological site in Cornwall.  The tentacles of FPI, reaching into the fabric of time.  Brigid Roth of the Injection team, sent in by Maria Kilbride to separate data from legend, and accident from murder.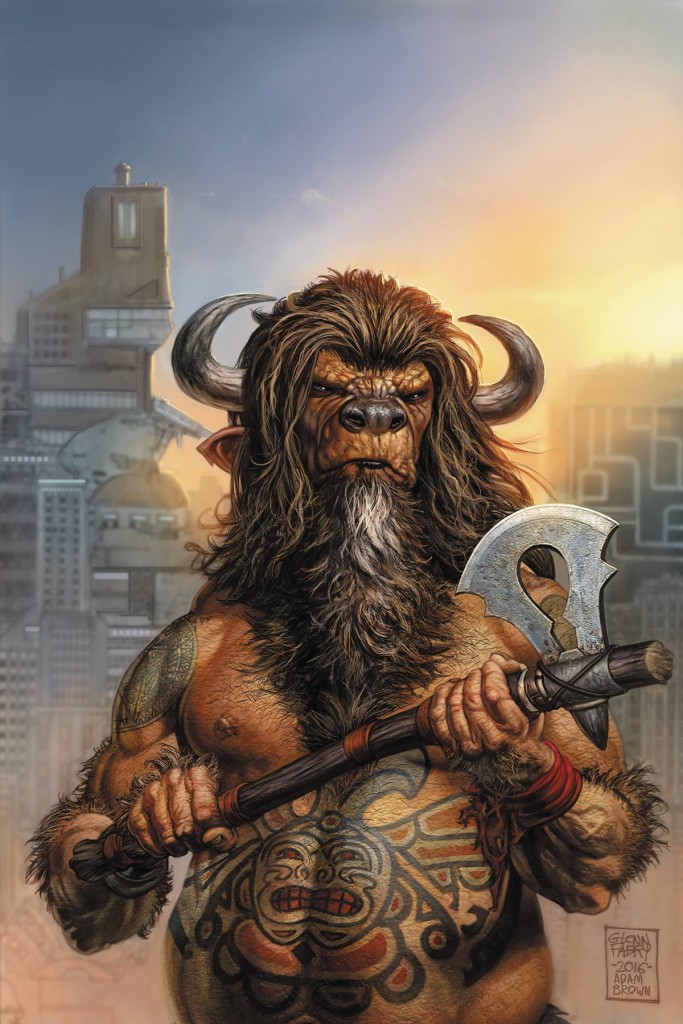 NEIL GAIMAN AMERICAN GODS SHADOWS #1

DARK HORSE COMICS
(W) Neil Gaiman, P. Craig Russell (A) P. Craig Russell (CA) Glenn Fabry
NEIL GAIMAN! P. CRAIG RUSSELL! SCOTT HAMPTON! Shadow Moon just got out of jail, only to discover his wife is dead. Defeated, broke, and uncertain as to where to go from here, he meets the mysterious Mr. Wednesday, who employs him to serve as his bodyguard – thrusting Shadow into a deadly world of the supernatural, where ghosts of the past come back from the dead, and a brewing war between old and new gods hits a boiling point. The Hugo, Bram Stoker, Locus, World Fantasy, and Nebula award-winning novel and upcoming Starz television series by Neil Gaiman is adapted as a comic series for the first time!
NOW HERE'S THE FULL LIST!
If you want a full visual list of everything click this link whydonthca (tho this might not update til Monday or something)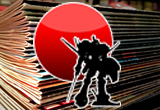 (the following list of comics reflects all the comics coming into both locations. If there's something on this list that's not in stock at your favorite BNW location do not hesitate to ask for us to order it for you!)
COMICS AND MAGAZINES
Adventure Time Comics #9
All Star Batman #8
Amazing Spider-Man #25
Angel Season 11 #3
Angry Birds Comics Game Play #2
Aquaman #19
Archie #18
Batman #19
Batwoman #1
Betty & Veronica Comics Annual Digest #252
Black Panther World Of Wakanda #5
Captain America Sam Wilson #20
Casanova Acedia #8
Cave Carson Has A Cybernetic Eye #6
Cinderella Serial Killer Princess #3
Coady & The Creepies #1
Daredevil #18
Dark Horse Presents #32
Darkness Visible #2
DC Comics Bombshells #24
Dead Inside #4 (OF 5)
Deadpool The Duck #5 (OF 5)
Divinity III Escape From Gulag 396 #1
East Of West #32
Eclipse #5
Ether #5
GFT Grimm Tales Of Terror Vol 3 #3
GFT Robyn Hood I Love Ny #10 (OF 12)
GI Joe (2016) #3
God Country #1 3rd Ptg
God Country #2 2nd Ptg
God Country #3
Grant Morrisons Avatarex #3
Great Lakes Avengers #6
Green Arrow #19
Green Lanterns #19
Guardians Of Galaxy #18
Harley Quinn #16
He Man Thundercats #6 (OF 6)
Head Lopper #5
Highlander American Dream #2
Horizon #9
I Hate Fairyland #11
Injection #11
Injustice Ground Zero #8
Invincible #134
Island #15
James Bond Felix Leiter #3 (OF 6)
Jeff Steinberg Champion Of Earth #6
Justice League #17
Kill Or Be Killed #7
Knights Of The Dinner Table #241
Kong Of Skull Island #9
Lady Death Extinction Express #1
Lucifer #16
Manifest Destiny #27
MASK Mobile Armored Strike Kommand Annual #1
Mighty Morphin Power Rangers #13
Mighty Thor #17
Mirror #6
Monsters Unleashed #5 (OF 5)
Ms Marvel #16
Neil Gaiman American Gods Shadows #1
Nightwing #17
Odyssey Of The Amazons #3 (OF 6)
Patsy Walker Aka Hellcat #16
Punisher #10
Red Sonja #3
Revolutionaries #3
Rockstars #4
Scooby Doo Where Are You #79
Sex Criminals #17
Sex Criminals #17 Xxx Gina Wynbrandt Var
Spawn #271
Spider-Man #14
Spookhouse #3
Star Trek Deviations
Star Wars Poe Dameron #12
Star-Lord #4
Super Sons #2
Superman #19
Totally Awesome Hulk #17
Trinity #7
Uncanny Avengers #21
US Avengers #4
Vampirella #1
Venom #5
Warhammer 40000 Revelations #1 (OF 4)
Wild Storm #2
Wonder Woman 77 Bionic Woman #3 (OF 6)
TRADE PAPERBACKS, GRAPHIC NOVELS, HARDCOVERS AND MANGA
Bart Simpson Gn Suckerpunch
Batman & Superman In Worlds Finest Tp Vol 01 The Silver Age
DC Comics Bombshells Tp Vol 03 Uprising
Deadly Class Tp Vol 05 Carousel
Deadpool Classic Tp Vol 17 Headcanon
Demonic Tp
Harley Quinn Tp Vol 01 Die Laughing (REBIRTH)
Legend Of Zelda Legendary Ed Gn Vol 03
Legend Of Zelda Twilight Princess Gn Vol 01
Peter Panzerfaust Tp Vol 05 On Til Morning
Providence Act 01 Hc Final Ptg
TMNT 100 Project Tp
Unbelievable Gwenpool Tp Vol 02 Head Of Modok
Wolverine Vs Marvel Universe Tp
World Of Warcraft Chronicle Hc Vol 02
Wrath Of The Eternal Warrior Tp Vol 03 Deal With A Devil
TOYS
DC Designer Series Bombshells Batwoman Af
DC Designer Series Bombshells Harley Quinn Af
DC Designer Series Bombshells Poison Ivy Af
DC Designer Series Bombshells Wonder Woman Af
Legends Of Tomorrow Hawkgirl Af
Rick And Morty Mini Figures 24pc Bmb Disp (RESTOCK!)
ODDS AND ENDS
Batman 1966 Mad Hatter Bust