We've got new FNM news, a tease of a signing in OC and a list of new comics for ya! Enjoy your weekend!
Do You Get Our EMail Newsletter Every Monday?

Sing up over HERE and get updates every Monday afternoon and help break up those early in the week doldrums!
OLD CITY BOOK SIGNING COMING UP!
Keep you eyes peeled for info on a sweet lil book signing in March with our friend and her new book about bats!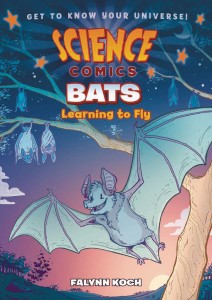 SCIENCE COMICS BATS SC GN

:01 FIRST SECOND
(W/A/CA) Falynn Koch
Welcome to Science Comics, an action-packed nonfiction graphic novel series for middle-grade readers! Every volume offers a complete introduction to a particular topic – dinosaurs, coral reefs, the solar system, volcanoes, bats, flying machines, and more. These gorgeously illustrated graphic novels offer wildly entertaining views of their subjects. In this ultrasonic volume, Falynn Koch introduces us to a remarkable but misunderstood flying mammal: the bat! In Bats, we follow a little brown bat whose wing is injured by humans on a nature hike. He is taken to a bat rehabilitation center where he meets many different species of bats. They teach him how they fly, what they eat, and where they like to live. Available in Softcover and Hardcover editions.
LOOKIE HERE YA MAGIC PAUPERS!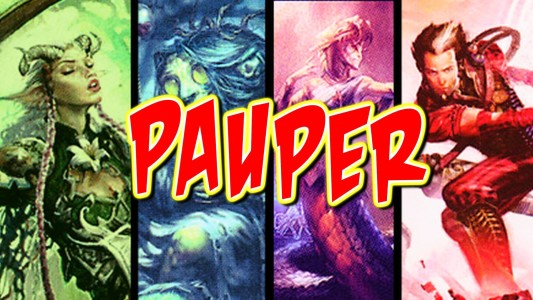 In the interest of diversifying our Friday Night Magic events, we will be hosting a Pauper Magic event on Friday, Feb 24th at our Willow Grove location!  The event will be Pauper constructed, which is a format which only allows common cards to be included in decks.  For more on the format, including the banned list, check out the Wizards of the Coast Pauper MTG site HERE.
Would you like us to run other Magic formats for our Friday Night Magic events?  If so, e-mail Eric with your suggestions at ericBNW@gmail.com
LEGEND OF ZELDA ART & ARTIFACTS HC

DARK HORSE COMICS
(W/A) Usa Nintendo
The Legend of Zelda: Art and Artifacts contains over four-hundred pages of fully-realized illustrations from the entire thirty-year history of The Legend of Zelda including artwork from the upcoming The Legend of Zelda: Breath of the Wild! This book includes rare promotional pieces, game box art, instruction booklet illustrations, official character illustrations, sprite art, interviews with the artists, and much, much more!
• Select artwork from the entirety of the franchise!
• A nostalgic look at the past!
• An exciting look at the future!
• Interviews with some of the artists behind The Legend of Zelda series!

BATMAN NIGHT OF THE MONSTER MEN HC
DC COMICS
(W) Steve Orlando & Various (A) Riley Rossmo & Various (CA) Riley Rossmo
The first crossover of the "Rebirth" era is here! As a huge storm approaches Gotham City, Batman, Batwoman and Nightwing try and prepare for the worst, but nothing can prepare them for enormous monsters rampaging through the streets! Batman will need all of his allies to unite in order to stop these mad science monsters from tearing their city apart! Will the Dark Knight, Batwoman, Nightwing, Robin, Spoiler, Orphan and Clayface be enough? And who is the mastermind behind it all? Collects BATMAN #7-8, NIGHTWING #5-6 and DETECTIVE COMICS #941-942.
BRITANNIA TP
VALIANT ENTERTAINMENT LLC
(W) Peter Milligan (A) Juan Jose Ryp, Raul Allen (CA) Cary Nord
On the fringes of civilization, the world's first detective is about to make an unholy discovery…
Ruled by the Fates. Manipulated by the Gods. Commanded by Caesar. In the year 65 A.D., one's destiny was not his own. At the height of Nero's reign, a veteran of Rome's imperial war machine has been dispatched to the farthest reaches of the colonies to investigate unnatural happenings… In the remote outpost of Britannia, Antonius Axia – the First Detective – will become Rome's only hope to reassert control over the empire's most barbaric frontier…and keep the monsters that bridge the line between myth and mystery at bay…
From comics mastermind Peter Milligan (X-Statix, Shade the Changing Man) and incendiary artist Juan Jose Ryp (NINJAK, Clone) comes a psychological journey into terror, temptation, and bloodshed in Valiant's latest magnum opus.!
Collecting BRITANNIA #1-4.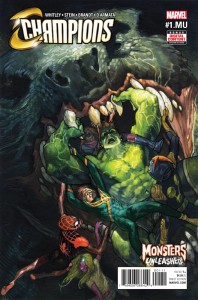 CHAMPIONS #1.MU
MARVEL COMICS
(W) Jeremy Whitley (A) Ted Brandt, Ro Stein (CA) Simone Bianchi
A MONSTERS UNLEASHED TIE-IN!
•  An endangered habitat! A peaceful protest! And a team of freelance troubleshooters determined to end the work-stoppage at any cost!
•  Sounds like a job for the Champions, right? Only, nobody mentioned anything about GIANT MONSTERS FALLING FROM THE SKY!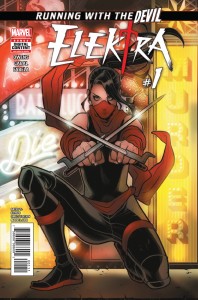 ELEKTRA #1
MARVEL COMICS
(W) Matt Owens (A) Juan Cabal (CA) Elizabeth Torque
CASINO BATTLE ROYALE!
Running from her tumultuous past, ELEKTRA attempts to lose herself in a vibrant sea of neon, noise and anonymity: LAS VEGAS. But how long can a former ninja assassin really hope to escape the vortex of violence that encompasses her life…especially when there's a new player in Sin City that has her in his sights for his newest game? Enter: Arcade.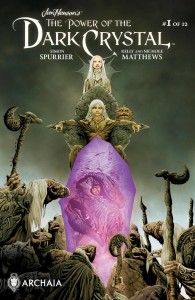 JIM HENSON POWER OF DARK CRYSTAL #1 (OF 12)
BOOM! STUDIOS
(W) Simon Spurrier (A) Nichole Matthews, Kelly Matthews (CA) Jae Lee, June Chung
In celebration of the 35th anniversary of Jim Henson's The Dark Crystal, return to the world of Thra in an official sequel to the beloved fantasy film.
Discover an all-new race of creatures called Firelings that live in a realm near the planet's core, based on official character designs by Brian Froud.
Years have passed since the events of the original film, and though Jen and Kira have ruled Thra as King and Queen, bringing Gelfling back to the land, they have become distracted by power and can no longer feel or see the needs of the world the way they once did.
Thurma is a young Fireling tasked with stealing a shard of the Dark Crystal to restore power to her realm. Along the way she'll befriend the young Gelfling Kensho, bring back the Skeksis and Mystics, and embark on one incredible adventure.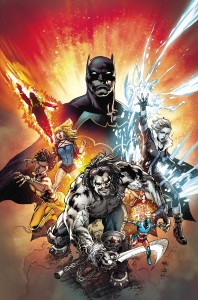 JUSTICE LEAGUE OF AMERICA #1
DC COMICS
(W) Steve Orlando (A/CA) Ivan Reis, Joe Prado
Meet the Extremists-self-proclaimed saviors from another Earth, they thirst for peace, prosperity and total submission to the will of their leader, Lord Havok! How can the newly assembled JLA stop this group of misguided maniacs before the Extremists unleash their own unique-not to mention dangerous!-brand of law and order on our chaotic world?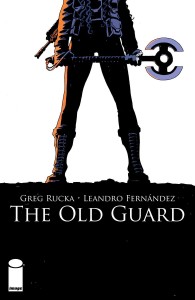 OLD GUARD #1

IMAGE COMICS
(W) Greg Rucka (A/CA) Leandro Fernandez
Eisner-winning writer GREG RUCKA (LAZARUS, BLACK MAGICK, Wonder Woman) and critically acclaimed artist LEANDRO FERNANDEZ (THE DISCIPLINE, Deadpool, Punisher: MAX) team up together to introduce THE OLD GUARD, the story of old soldiers who never die…and yet cannot seem to fade away. Trapped in an immortality without explanation, Andromache of Scythia – "Andy" – and her comrades ply their trade for those who can find-and afford-their services. But in the 21st century, immortality is a hard secret to keep, and when you live long enough, you learn that there are many fates worse than death.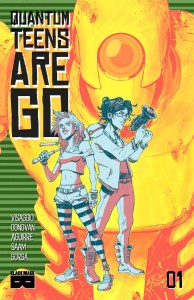 QUANTUM TEENS ARE GO #1

BLACK MASK COMICS
(W) Magdalene Visaggio, Eryk Donovan
Mad science is the punkest s*** there is. Teenage sweethearts Nat & Sumesh spend their nights breaking into abandoned superlabs to steal the parts they need to build a time machine – and they've just found the most important part. But mysterious entities keep trying to stop them turning it on. Now all they've gotta do is hang on long enough to figure out why. Magdalene Visaggio (Kim & Kim) and Eryk Donovan (Memetic) bring you a high-octane adventure full of robots, muscle cars, and queer-a** skater punks.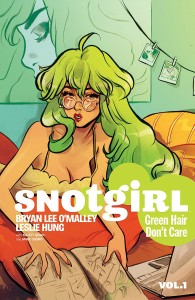 SNOTGIRL TP VOL 01 GREEN HAIR DONT CARE
IMAGE COMICS
(W) Bryan Lee O'Malley (A/CA) Leslie Hung
From bestselling BRYAN LEE O'MALLEY (Scott Pilgrim) and superstar newcomer LESLIE HUNG! Lottie Person is a glamorous fashion blogger living her best life-at least that's what she wants you to think. The truth is, her friends are terrible people, her boyfriend traded her up for someone younger, her allergies are out of control, and she may or may not have killed somebody! SNOTGIRL, VOL. 1 is the perfect introduction to one of 2016's most buzzed-about titles! Collects SNOTGIRL #1-5.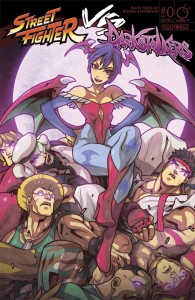 STREET FIGHTER VS DARKSTALKERS #0 (OF 8)
UDON ENTERTAINMENT INC
(W) Matt Moylan (A) Hanzo Steinbach (CA) Edwin Huang
Two classic Capcom fighting franchises collide as the martial artists of Street Fighter are haunted by the mad monsters of Darkstalkers! The crossover chaos all starts in this special prelude issue!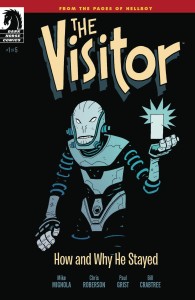 VISITOR HOW AND WHY HE STAYED #1 (OF 5)
DARK HORSE COMICS
(W) Mike Mignola, Chris Roberson (A/CA) Paul Grist
In 1944 Hellboy was conjured in a ceremony meant to give Hitler the ultimate occult weapon. Fortunately, Professor Trevor Bruttenholm was there to witness, and to guide Hellboy to become the greatest paranormal detective in the world.  But Bruttenholm wasn't the only witness to Hellboy's arrival. A visitor was there, sent to kill the Beast that had been prophesied to kill us all. What the visitor saw, and why he stayed his hand, leads to the most mysterious Hellboy spinoff yet …
NOW HERE'S THE FULL LIST!
If you want a full visual list of everything click this link whydonthca (tho this might not update til Monday or something)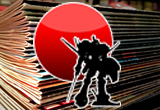 (the following list of comics reflects all the comics coming into both locations. If there's something on this list that's not in stock at your favorite BNW location do not hesitate to ask for us to order it for you!)
COMICS AND MAGAZINES
Action Comics #974
Aliens Vs Predator Life And Death #3
Amazing Spider-Man #24
Angry Birds Flight School #1
Astro City #41
Avengers #4.1
Back To The Future #17
Backstagers #7 (OF 8)
Batgirl #8
Batman 66 Meets Wonder Woman 77 #2 (OF 6)
Batman Beyond #5
Batman TMNT Adventures #1 Directors Cut
Beauty #12
Black Hood Season 2 #3
Black Panther #11
Black Road #7
Blue Beetle #6
Captain America Steve Rogers #12
Champions #1.MU
Clean Room #16
Curse Words #1 2nd Ptg
Curse Words #2
Darkness Visible #1
Deadpool The Duck #4 (OF 5)
Deathstroke #13
Descender #19
Detective Comics #951
Dirk Gently Salmon Of Doubt #5
Divinity III Stalinverse #3
Doctor Who 3rd #5 (OF 5)
Drifter #17
Elektra #1
Enchanted Tiki Room #5 (OF 5)
Evil Dead 2 Revenge Of Evil Ed #1 (OF 2)
Extraordinary X-Men #19
Few #1 2nd Ptg
Few #2
Fix #8
Flash #17
Frostbite #6 (OF 6)
Future Quest #10
Ghost Rider #4
Great Lakes Avengers #5
Hal Jordan And The Green Lantern Corps #15
Harbinger Renegade #4
Hellblazer #7
Highlander American Dream #1
Hulk #3
Infamous Iron Man #5
IVX #5 (OF 6)
Jim Henson Power Of Dark Crystal #1 (OF 12)
Joyride #10
Jughead #13
Justice League Of America #1
Kamandi Challenge #2 (OF 12)
KISS Demon#2 (OF 4)
Letter 44 #30
Loose Ends #2 (OF 4)
Mayday #4 (OF 5)
Mighty Captain Marvel #2
Monstress #10
Moon Girl And Devil Dinosaur #16
Mosaic #5
Motro #4 (OF 10)
My Little Pony Friendship Is Magic #51
Occupy Avengers #4
Old Guard #1
Optimus Prime #4
Outcast By Kirkman & Azaceta #25
Over Garden Wall Ongoing #11
Pathfinder Worldscape #5 (OF 6)
Prowler #5
Quantum Teens Are Go #1
Revival #47
Revolutionaries #2
Rick & Morty #23
Rocket Raccoon #3
Scarlet Witch #15
Scooby Doo Team Up #23
Serenity No Power In The Verse #5 (OF 6)
Shutter #27
Skeptics #4
Slam #4
Solo #5
Spider-Gwen #17
Spider-Man Deadpool #14
Spider-Woman #16
Star Trek Green Lantern Vol 2 #3
Starstruck Old Proldiers Never Die #1 (OF 6)
Stray Bullets Sunshine & Roses #21
Street Fighter Vs Darkstalkers #0
Suicide Squad #12
Sun Bakery #1
Supergirl Being Super #2 (OF 4)
Surgeon X #6
Tank Girl Gold #4 (OF 4)
Teen Titans #5
Thanos #4
Thunderbolts #10
TMNT Universe #7
Transformers Lost Light #3
Uncanny Avengers #20
Visitor How And Why He Stayed #1 (OF 5)
Wonder Woman #17
TRADE PAPERBACKS, GRAPHIC NOVELS, HARDCOVERS AND MANGA
Adventure Time Comics Tp Vol 01
Autumnlands Tp Vol 02 Woodland Creatures
Batman Beyond Tp Vol 03 Wired For Death
Batman Night Of The Monster Men Hc
Britannia Tp
Daredevil Back In Black Tp Vol 03 Dark Art
Deadpool Back In Black Tp
Doctor Strange Prem Hc Vol 03 Blood In Aether
Injustice Gods Among Us Year Five Hc Vol 02
Injustice Gods Among Us Year Five Tp Vol 01
James Bond Hc Vol 02 Eidolon
Jay Disbrow Monster Invasion Hc
Lake Of Fire Tp
Legend Of Zelda Art & Artifacts Hc
Outcast By Kirkman & Azaceta Tp Vol 04
Rick & Morty Lil Poopy Superstar Tp Vol 01
Shaft Imitation Of Life Tp
Snotgirl Tp Vol 01 Green Hair Dont Care
Tokyo Ghoul Gn Vol 11
Wolverine Vs Deadpool Tp
Wonder Woman Tp Vol 01 The Lies (REBIRTH)
TOYS
DCTV The Flash Zoom Af
Legends Of Tomorrow Firestorm Af
Spider-Man 6in Legends Af Asst