Holy smokes, guys & gals! We've got some sweet new 50% OFF MARVEL OMNIBUS-es-es-es coming at ya this week! Check this stuff out because you don't want to miss out on this goodness!

SERIOUSLY! CHECK THIS STUFF OUT!
All these books should appear on/in/around our HALF OFF SECTIONS next week. By this we mean think Wednesday March 1st when you come in for your new comics! Here's what we've got coming in!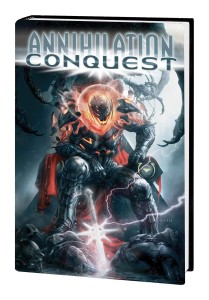 ANNIHILATION CONQUEST OMNIBUS HC
MARVEL COMICS
(W/A) Various (CA) Aleksi Briclot
In the aftermath of the Annihilation War, a devastated galaxy struggles to rebuild. The Nova Corps is destroyed, leaving only Richard Rider. Who will rise to guard the galaxy from the threat of Ultron? When the Kree homeworld is invaded by the techno-organic Phalanx, Star-Lord must lead a ragtag team into battle behind enemy lines with a lineup that includes Mantis, Bug, Groot and Rocket Raccoon! Meanwhile, the new Quasar seeks a mysterious savior – and Nova and Gamora are taken over by the Phalanx! Who is the haunted loner called Wraith? Can the New Mutants' Warlock free Nova? And what are Ultron and the Phalanx really after? Collecting NOVA (2007) #1-12 and ANNUAL #1, ANNIHILATION: CONQUEST PROLOGUE #1, ANNIHILATION: CONQUEST – STAR-LORD #1-4, ANNIHILATION: CONQUEST – QUASAR #1-4, ANNIHILATION: CONQUEST – WRAITH #1-4, ANNIHILATION: CONQUEST #1-6 and ANNIHILATION SAGA.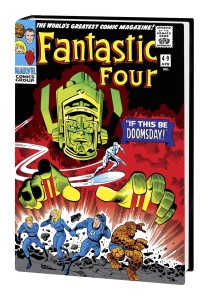 FANTASTIC FOUR OMNIBUS HC VOL 02
MARVEL COMICS
(W) Stan Lee (A/CA) Jack Kirby
Stan Lee and Jack Kirby's first 30 issues of Fantastic Four were just the warm-up – here's where they really turn up the heat! Experience the boundless energy of two creators at the top of their game: the origin of Dr. Doom; the Frightful Four; the wedding of Reed Richards and Sue Storm; the Inhumans; the Silver Surfer; the Galactus Saga; the debut of the world's first black super hero, the Black Panther; the cosmic clash between the FF, Surfer and Dr. Doom; and of course, "This Man, This Monster!" – widely regarded as the greatest FF tale of all! This massive collector's edition, painstakingly restored from the sharpest material in the Marvel Archives, and packed with critical essays and bonus features aplenty, is nothing short of a cornerstone to the Marvel Universe! Collecting FANTASTIC FOUR (1961) #31-60 and ANNUAL #2-4.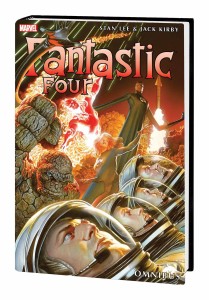 FANTASTIC FOUR OMNIBUS HC VOL 03
MARVEL COMICS
(W) Stan Lee (A) Jack Kirby (CA) Alex Ross
Under Stan Lee and Jack Kirby, FANTASTIC FOUR earned the tagline "The World's Greatest Comic Magazine." And there's no doubting it when you read the adventures they have in store for you in their third Omnibus collection! It's one history-making hit after another – the first appearances of the Kree, Annihilus and "Him" (a.k.a. Adam Warlock); team-ups with the Inhumans and Silver Surfer; and the birth of Franklin Richards! Add in classic enemies Dr. Doom, the Mole Man and Galactus – and Crystal's first outing as a member of the FF – and you know what? "The World's Greatest Comic Magazine" is an understatement. These are some of the greatest adventures of all time! Collecting FANTASTIC FOUR (1961) #61-93 and ANNUAL #5-7, and material from NOT BRAND ECHH #5-7.
GOLDEN AGE CAPTAIN AMERICA OMNI HC VOL 01

MARVEL COMICS
(W/A) Various (CA) Lee Weeks
Steve Rogers might have been the prototypical 98-pound weakling, but that wasn't going to stop him from serving his country. Transformed by the Super-Soldier Serum into America's No. 1 fighting man, he became a symbol of patriotism, hope and perseverance on the eve of the nation's entrance into World War II. Never before and never since has comics seen a hero as timely as – Captain America! Now at long last, you can experience the original Golden Age adventures of the Sentinel of Liberty from his 1941 inaugural appearance in one deluxe, oversized and remastered package! You'll meet Bucky Barnes and the Red Skull for the first time, behold Simon and Kirby's trend-setting brand of storytelling – and even read Stan Lee's very first comic-book tale! So salute, soldier – Captain America has arrived! Collecting CAPTAIN AMERICA COMICS #1-12.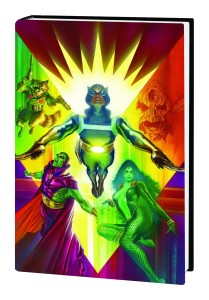 GUARDIANS OF GALAXY SOLO CLASSIC OMNIBUS HC
MARVEL COMICS
(W/A) Various (CA) Alex Ross
They're the galaxy's greatest heroes – but who were they before they met? Find out in this complete collection of their earliest appearances! Drax's sole mission is to destroy Thanos. But when Thanos launches an all-out war with Gamora as his uneasy ally, can Drax succeed even with the Avengers' help? Plus: Witness the space-faring adventures of the legendary Star-Lord and Rocket Raccoon's quest in the Keystone Quadrant! And gasp as Groot tries to…conquer Earth?! Collecting INCREDIBLE HULK (1968) #271 and ANNUAL #5; IRON MAN (1968) #55; CAPTAIN MARVEL (1968) #27-33, #43-44 and #58-62; STRANGE TALES (1951) #180-181; WARLOCK (1972) #9-11 and #15; AVENGERS (1963) #219-220 and ANNUAL #7; MARVEL TWO-IN-ONE ANNUAL #2; MARVEL PREVIEW #11; MARVEL SPOTLIGHT (1979) #1-2 and #6-7; MARVEL PREMIERE #61; ROCKET RACCOON (1985) #1-4; and STAR-LORD SPECIAL EDITION – plus material from TALES TO ASTONISH (1959) #13; LOGAN'S RUN #6; MARVEL PREVIEW #4, #7, #14-15.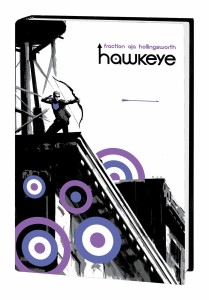 HAWKEYE BY MATT FRACTION AND DAVID AJA OMNIBUS HC
MARVEL COMICS
(W) Matt Fraction (A) Various (CA) David Aja
Marvel's most critically acclaimed comic in recent memory! Clint Barton, breakout star of a little Marvel movie you might have seen a while back, continues his fight for justice – and good rooftop BBQs! With Young Avenger Kate Bishop by his side, he's out to get some downtime from being one of Earth's Mightiest Heroes – but when the apartment building he's moved into, and the neighbors he's befriended, are threatened by a tracksuit-wearing, dog-abusing gang of Eastern European mobsters who say "bro" an awful lot, Clint must stand up and defend his new adopted family…any way he can. It's Hawkguy, Kate, Pizza Dog et al. against the Clown, Madame Masque, the tracksuits and more in a fantastic, Eisner Award-nominated reinvention of the arrowed Avenger! Bro, you read this book. Okay, bro? Collecting HAWKEYE (2012) #1-22 and ANNUAL #1, and YOUNG AVENGERS PRESENTS #6.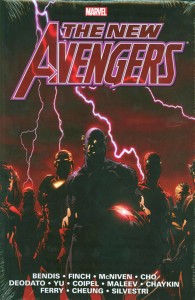 NEW AVENGERS OMNIBUS HC VOL 01
MARVEL COMICS
(W/A) Various (CA) TBD
The first half of Brian Michael Bendis' radical Avengers revamp is collected in one massive volume! When the Avengers are disassembled by an insane Scarlet Witch, a new and decidedly different team rises to take their place – including Spider-Man, Wolverine and Luke Cage! These New Avengers face down a prison break, the secrets of the Sentry, the menace of the multi-powered Collective and more – and even find time to celebrate the marriage of one of their own. But when a terrible tragedy kicks off a superhuman Civil War, will the newly created team be irrevocably shattered? Collecting AVENGERS (1963) #500-503, AVENGERS FINALE, NEW AVENGERS (2005) #1-31 and ANNUAL #1, NEW AVENGERS AND THE FANTASTIC FOUR #1, GIANT-SIZE SPIDER-WOMAN #1, NEW AVENGERS: ILLUMINATI (2006) #1, CIVIL WAR: THE CONFESSION #1, CIVIL WAR: THE INITIATIVE #1 and NEW AVENGERS MOST WANTED FILES #1.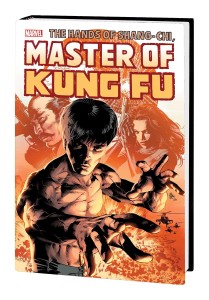 SHANG-CHI MASTER OF KUNG FU OMNIBUS HC VOL 03

MARVEL COMICS
(W) Doug Moench (A) Mike Zeck & Various (CA) Mike Deodato
    Shang-Chi continues to have his deadly hands full with foes like Shockwave, the sinister Agent Syn and the weapons master Zaran! But will his mastery of kung fu be enough to overcome monstrous menaces and the mindless minions of Mordillo? He thought he'd seen the last of his most bitter enemy – but an unholy resurrection will bring Shang-Chi face-to-face once again with his fearsome father Fu Manchu! And the family reunion will get even more bitter when Shang's sister, Fah Lo Suee, renews their sibling rivalry. There'll be gang wars, death cults and mind-blowing martial-arts mayhem on land and on sea! Plus: What if the Master of Kung Fu fought on the side of Fu Manchu? Collecting MASTER OF KUNG FU (1974) #71-101 and WHAT IF? (1977) #16.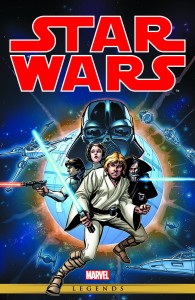 STAR WARS MARVEL YRS OMNIBUS HC VOL 01
MARVEL COMICS
(W/A) Various (CA) Howard Chaykin
As the phenomenon dawned in 1977, Marvel Comics published the very first STAR WARS comic-book series. Now, the House of Ideas is re-presenting those original adventures in its wampa-sized Omnibus format! It's the return of the Jedi to Marvel in an opening volume that begins with A NEW HOPE and ends with THE EMPIRE STRIKES BACK. In between, the rebels face a wealth of new perils – from space pirate Crimson Jack to the bounty hunter Beilert Valance, as well as a surprisingly svelte Jabba the Hut (one "t"). Luke goes back to Tatooine, Leia battles alone, Han and Chewie play the deadly Big Game, and Darth Vader hunts for answers! With all your old favorites and plenty of new faces – hello, Jaxxon! – there's no doubt, the Force is strong with this one! Collecting STAR WARS (1977) #1-44 and ANNUAL #1.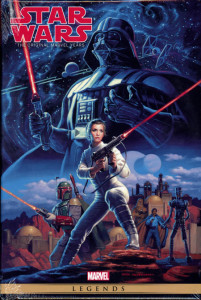 STAR WARS MARVEL YRS OMNIBUS HC VOL 02

MARVEL COMICS
(W/A) Various (CA) Greg Hildebrandt
The very first STAR WARS comic-book series continues! After the events of THE EMPIRE STRIKES BACK, loveable rogue Han Solo is lost, frozen in carbonite. But as the search for Solo begins, Imperial Forces and other troubles keep getting in the way. Princess Leia clashes with Darth Vader! Luke Skywalker goes on trial for treason! C-3PO and R2-D2 face danger on a droid moon! Lando Calrissian finds Cloud City deserted! If the Crimson Forever doesn't get the rebels, maybe the new Imperial super-weapon will! And a new member joins the gang, with a crush on a certain handsome Jedi! Meanwhile, the discovery of a gold statue of Han reveals a hidden story from his and Chewbacca's past. And who are the Hoojibs? It's Star Wars in the Mighty Marvel Manner! Collecting STAR WARS (1977) #45-78 and ANNUAL #2.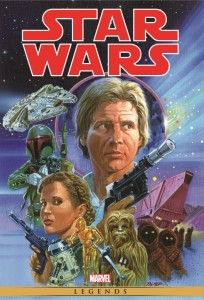 STAR WARS MARVEL YRS OMNIBUS HC VOL 03
MARVEL COMICS
(W/A) Various (CA) Tom Palmer
The original Star Wars comic-book saga concludes! Savor an all-action adaptation of Star Wars: Episode VI – The Return of the Jedi, and find out what happens after the Battle of Endor! Luke, Leia and their allies seek to establish a new galactic government – but Imperial Forces still stand in the way. When Darth Vader falls, a Dark Lady will rise! Meanwhile, Han Solo and Chewbacca head to Wookiee World! The Ewoks go to war! And tragedy strikes close to C-3PO – could it be that even a droid can cry? Plus: a cornucopia of Star Wars rarities – including exclusive stories only published in the UK! Collecting STAR WARS (1977) #79-107 and ANNUAL #3, and RETURN OF THE JEDI #1-4 – plus material from PIZZAZZ #1-16; STAR WARS WEEKLY (UK) #60, #94-99 and #104-115; EMPIRE STRIKES BACK MONTHLY (UK) #149, #151 and #153-157; and STAR WARS MONTHLY (UK) #159.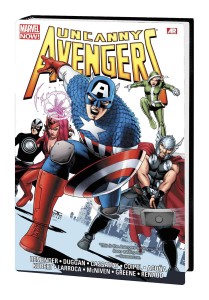 UNCANNY AVENGERS OMNIBUS HC
(W) Rick Remender (A) Various (CA) John Cassiday
MARVEL COMICS
In the wake of Professor X's death, Captain America creates a new Avengers unit comprised of Avengers and X-Men – humans and mutants working together. But the Red Skull has plans to destroy all mutants – and when he exhumes Xavier's telepathic brain, he just might be able to do it! Can the new squad triumph over the Skull's bizarre S-Men? Meanwhile, the Apocalypse Twins arrive with shocking plans for the future! The new Four Horsemen of Death are unleashed, and Avengers begin to die. But with the fate of the world literally in the balance, what happens if the heroes fail? Years in the future, Kang the Conqueror's Chronos Corps arrive on Planet X – but can the shattered remains of the team salvage the past? Rick Remender's epic saga is collected in one volume! Collecting UNCANNY AVENGERS #1-25, #8AU and ANNUAL #1.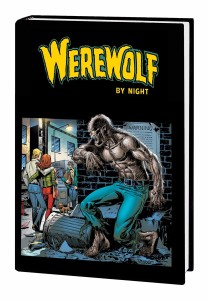 WEREWOLF BY NIGHT OMNIBUS HC
MARVEL COMICS
(W/A) Various (CA) Mike Ploog
He's Jack Russell by day, but he's the Werewolf By Night! On his 18th birthday, Jack discovers that he has inherited his father's curse – and that's when things really get hairy! Can he save his sister from sharing his fate? Discover how Jack became one of Marvel's supernatural stars of the seventies in these classic adventures, serving up everything from witches to aliens to Dracula himself! But which horrifying heroes will join Jack in the Legion of Monsters? Whether he's teaming up with Spider-Man, eclipsing Moon Knight, or fighting like cats and dogs with Tigra, Jack is one lycanthrope you're guaranteed to like! Collecting MARVEL SPOTLIGHT (1971) #2-4, WEREWOLF BY NIGHT (1972) #1-43, MARVEL TEAM-UP (1972) #12, TOMB OF DRACULA (1972) #18, GIANT-SIZE CREATURES #1, GIANT-SIZE WEREWOLF #2-5, MARVEL PREMIERE #28 and material from MONSTERS UNLEASHED #6-7.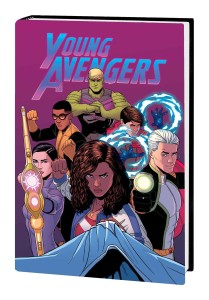 YOUNG AVENGERS BY GILLEN AND MCKELVIE OMNIBUS HC
MARVEL COMICS
(W) Kieron Gillen (A) Various (CA) Jamie McKelvie
Kieron Gillen and Jamie McKelvie's groundbreaking, critically acclaimed epic is collected in one oversized volume! The Young Avengers are reinvented for the 21st century as Wiccan, Hulkling and Kate "Hawkeye" Bishop unite with Kid Loki, Marvel Boy, Prodigy and Ms. America. Someone has to save the entire multiverse. They're someone. No pressure, right? As a cosmic horror emerges from the shadows of the past, the Young Avengers race desperately across dimensions – but once they take on the gig to save reality, they may never be able to go home again! Meanwhile, Kid Loki is up to something. Surprise, I know. Fight scenes! Kissing! Fake IDs! Kissing! Drama! Conflict! Plentiful feels! (a.k.a. "meaningful emotional character beats" for people who aren't on tumblr.) And oh yeah, nightclubs! Read it! Collecting YOUNG AVENGERS (2013) #1-15 and material from MARVEL NOW! POINT ONE #1.