Once again I'm bringing you whats coming out this week and what's happening at Brave New Worlds!
Welcome back to you're weekly installment of all things Brave New Worlds!
Do You Get Our EMail Newsletter Every Monday?

Sing up over HERE and get updates every Monday afternoon and help break up those early in the week doldrums!
OLD CITY BOOK SIGNING COMING UP!

You may have seen me "drop" a hint last week about a book signing coming soon! Well we'll be hosting our friend Falynn Koch on Saturday March 11th from 6-8pm! Her all ages book about BATS will be a crowd pleaser for sure!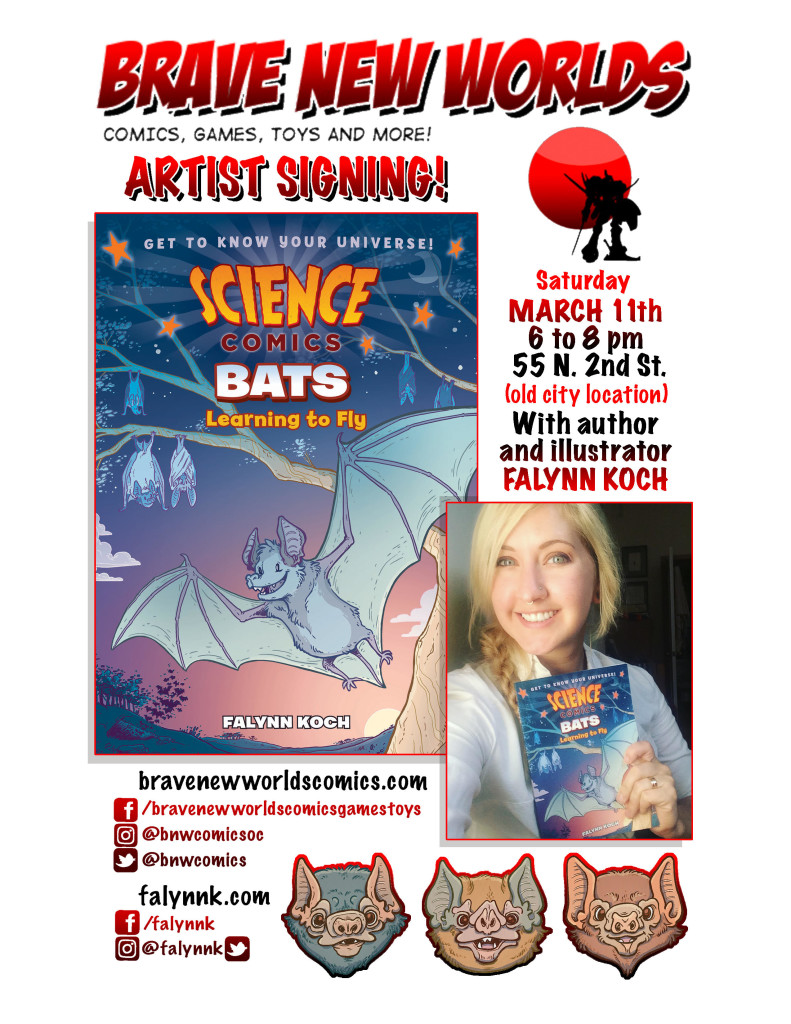 We've got a Facebook event up over HERE for all the updates!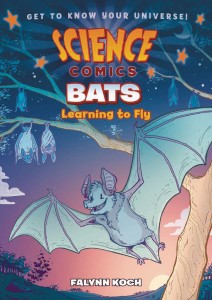 :01 FIRST SECOND
(W/A/CA) Falynn Koch
NEW 50% OFF MARVEL OMNIS COMING THIS WEEK!
NEW EXCLUSIVE POPS!
FUNKO
NIGHTMARE ON TOY STREET!
NECA
MARVEL COMICS
(W) Gabby Rivera (A) Joe Quinones
ALSO! BATMAN vs RORSCHACH!? JAY GARRICK IS BACK?!
Tom King tweeted this image along with:
"None of you understand. I'm not locked up in here with you. You're locked up in here with me." Coming in Batman 21. Art by Jason Fabok.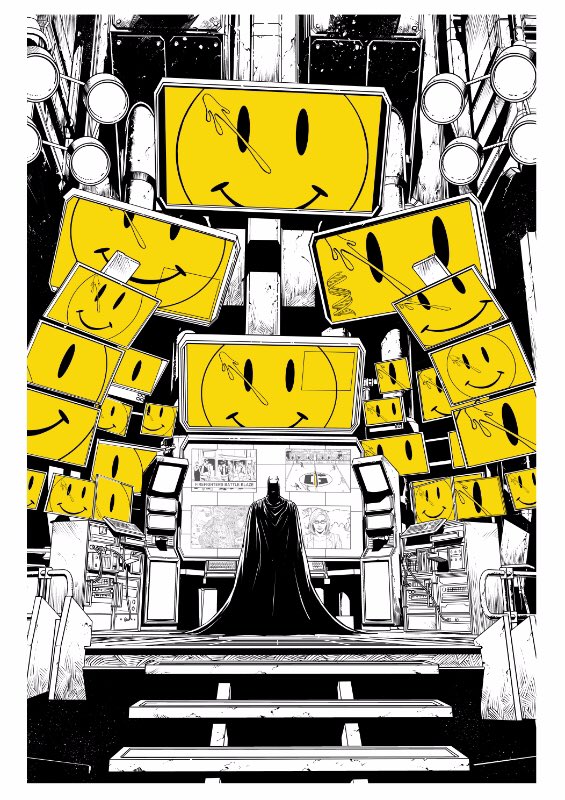 Then DC unveiled the cover to Flash #22 featuring a LONG LOST Flash! Lookit Jay Garrick!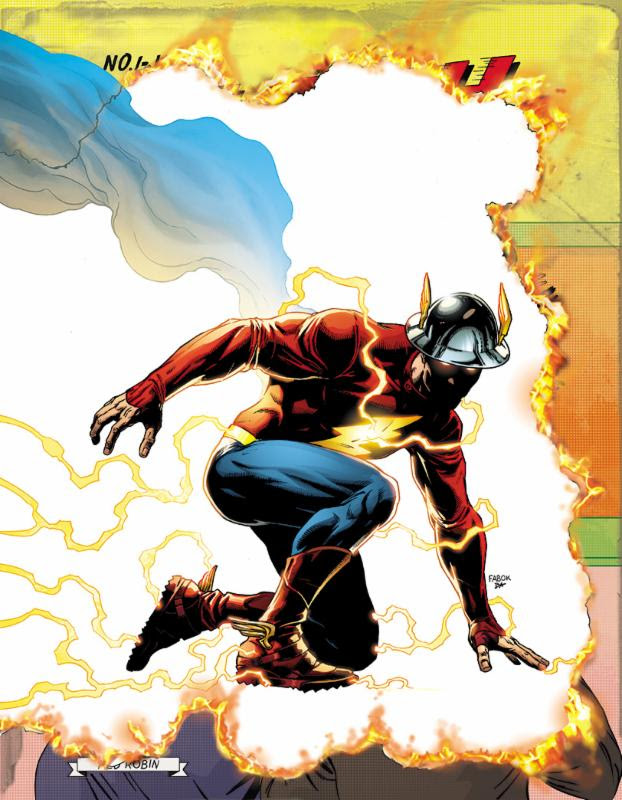 COMICS AND MAGAZINES
Adventure Time #62
All Time Comics Crime Destroyer #1
America #1
Aquaman #18
Assignment #3 (OF 3)
Atoll #2
Avengers #5
B & V Friends Comics Annual Digest #253
Baltimore The Red Kingdom #2
Batman #18
Big Trouble Little China Escape New York #6
Bullseye #2 (OF 5)
Call Of Duty Zombies #3
Cerebus In Hell #2
Champions #6
Cinema Purgatorio #8
Clone Conspiracy Omega
Cyborg #10
DC Comics Bombshells #23
Deadpool #28
Death Of Hawkman #6 (OF 6)
Doctor Strange #18
Doctor Who 11th Year Three #3
Doctor Who 9th #10
Dregs #2
Everafter From The Pages Of Fables #7
Extremity #1
Faith (ONGOING) #9
Fall And Rise Of Captain Atom #3 (OF 6)
Flash Gordon Kings Cross #5 (OF 5)
Flintstones #9
GFT Red Agent Human Order #4
Giant Days #24
Goldie Vance #10
Green Arrow #18
Green Hornet Reign Of Demon #4 (OF 4)
Green Lanterns #18
Grimm Fairy Tales #3
Harley Quinn #15
Hawkeye #4
Hobby Japan Feb 2017
Image Plus #11 (WALKING Dead Heres Negan Pt 11)
Injustice Ground Zero #7
Invisible Republic #15
IVX #2 (OF 6) 2nd Ptg
James Bond #1
Judge Dredd Annual #1
Justice League #16
Kingsway West #4
MASK Mobile Armored Strike Kommand #3
Midnighter And Apollo #6 (OF 6)
Monsters Unleashed #4 (OF 5)
Moon Knight #12
Motor Girl #4
My Little Pony Annual 2017 #1
Nailbiter #30
Nightwing #16
Paper Girls #12
Previews #342 March 2017
Marvel Previews #20 March 2017 Extras
Rat Queens #1
Riverdale One Shot
Rockstars #3
Royal City #1
Savage Dragon #221
Savage Things #1 (OF 8)
Shade The Changing Girl #6
Silk #18
Slapstick #4
Spider-Man Homecoming Prelude #1 (OF 2)
Star Wars #29
Superman #18
Think Tank Vol 5 #1
Totally Awesome Hulk #1.MU
Unstoppable Wasp #3
Walking Dead #165
Woods #30
X-Files (2016) #11
X-Files Deviations 2017
TRADE PAPERBACKS, GRAPHIC NOVELS, HARDCOVERS AND MANGA
Animosity Tp Vol 01
Aquaman Tp Vol 08 Out Of Darkness
Batman 66 Meets Steed & Mrs Peel Hc
Carnage USA Tp New Ptg
Corto Maltese Gn In Siberia
Death Of X Tp
Glitterbomb Tp Vol 01 Red Carpet
Karnak Tp Flaw In All Things
Lucifer Tp Vol 02 Father Lucifer
Lumberjanes Gotham Academy Tp
Suicide Squad Tp Vol 01 The Black Vault (REBIRTH)
Tales From The Darkside Hc
Titans Tp Vol 01 The Return Of Wally West (REBIRTH)
Walking Dead Tp Vol 27 Whisperer War
TOYS
Avengers Titan Hero 12in Hulkbuster Af
Pop Marvel Black Bolt Px Black Vinyl Figure
Pop Marvel Black Bolt Px Blue Vinyl Figure
Pop Marvel Classic Luke Cage Px Vinyl Figure
Pop Marvel Iron Fist Px Vin Fig
Nightmare On Elm St Ultimate Dream Warriors Freddy 7in Af
ODDS AND ENDS
Batman 1966 Batphone Bank