This week there's a return of a much awaited Warren Ellis' book, the Marvel dot MU books keep going, DC's still pumping out Rebirth collections and everyone's fave non Jar Jar Binks Phantom Menace character gets a #1…
Do You Get Our EMail Newsletter Every Monday?

Sing up over HERE and get updates every Monday afternoon and help break up those early in the week doldrums!
GOT ANOTHER HOT TOY!
This Death Trooper Specialist from Rogue One is awesome!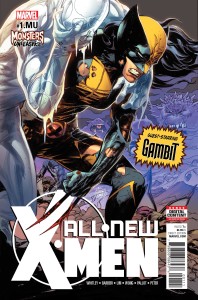 ALL NEW X-MEN #1.MU
MARVEL COMICS
(W) Jeremy Whitley (A) Carlo Barberi (CA) Adam Kubert
A MONSTERS UNLEASHED TIE-IN!
•  As monsters fall from the sky, the ALL-NEW X-MEN find themselves in NEW ORLEANS – but this trip is going to involve more than beignets and gumbo! While the rest of her team enjoys Mardi Gras in the city, WOLVERINE travels deep into the bayou with an old friend to investigate several mysterious disappearances.
•  What will they end up finding? And what do the mysterious giant monsters wreaking havoc around the world have to do with it? Pick up this blockbuster tie-in to the epic MONSTERS UNLEASHED event and find out!!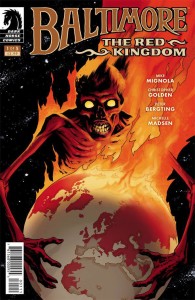 BALTIMORE THE RED KINGDOM #1
DARK HORSE COMICS
(W) Mike Mignola, Christopher Golden (A) Peter Bergting (CA) Ben Stenbeck
Lord Baltimore is missing. The Red King – evil incarnate – is taking over the world. Baltimore's team has been driven apart, with some of them dying on the frontlines while others are in hiding.
Since the day he set out for revenge on the vampire who killed his family, Baltimore's fight has gotten bigger than he'd ever imagined, but what role will he take as evil finally threatens to consume the world?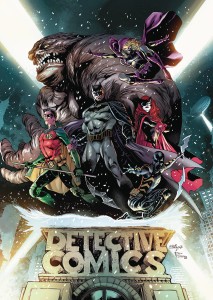 BATMAN DETECTIVE TP VOL 01 RISE OT BATMEN (REBIRTH)
DC COMICS
(W) James TynionIV (A) Eddy Barrows & Various (CA) Eddy Barrows, Eber Ferreira
The Dark Knight teams up with Batwoman to take on new protégés Red Robin, Spoiler and the former villain known as Clayface! The only problem is, neither of these instructors knows what they're in for as a mysterious army takes Gotham City! This new DC Rebirth collection features DETECTIVE COMICS #934-940!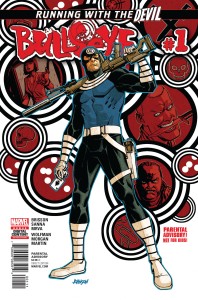 BULLSEYE #1 (OF 5)
MARVEL COMICS
(W) Ed Brisson, Marv Wolfman (A) Guillermo Sanna, Alec Morgan (CA) Dave Johnson
SHOOT FIRST!
Daredevil, Elektra, Punisher… You name 'em, Bullseye beat 'em. But that was just business… This?
This is pleasure. What does the world's greatest assassin do for fun? Find out what Bullseye gets involved in for laughs in this deadly first issue, way down in South America!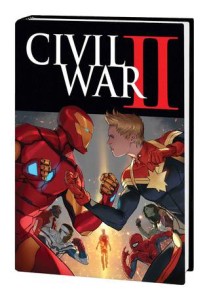 CIVIL WAR II HC
MARVEL COMICS
(W) Brian Michael Bendis (A) David Marquez & Various (CA) Marko Djurdjevic
When a new Inhuman emerges with the ability to profile the future, the Marvel Universe will be rocked to its core! While Captain Marvel harnesses Ulysses' powers to prevent crime, Iron Man is violently opposed to the implications. As Tony Stark takes matters (and the law) into his own hands and declares war on the Inhumans, others are willing to fight – and even die – to stop him. And when one of the biggest heroes of all falls, the resulting trial of the century stokes the fire. Friendships crumble, teams are torn apart and the conflict goes galactic – but when the truth about Ulysses' visions is revealed, all bets are off in one of the biggest battles in Marvel history! Collecting CIVIL WAR II #0-8 and material from FREE COMIC BOOK DAY 2016 (CIVIL WAR II) #1.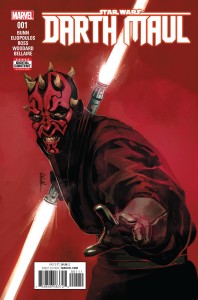 STAR WARS DARTH MAUL #1 (OF 5)
MARVEL COMICS
(W) Cullen Bunn (A) Luke Ross (CA) Rod Reis
Bred on hate, fear, and anger…steeped in the ways of darkness…and trained to kill. Darth Maul's time as apprentice to Darth Sidious has long been cloaked in shadows, but at last we will reveal his tale of revenge. From writer Cullen Bunn (DEADPOOL KILLS THE MARVEL UNIVERSE, WOLVERINE) and artist Luke Ross (STAR WARS: THE FORCE AWAKENS, HERCULES) comes a tale of rage unleashed as Darth Maul prepares for his first encounter with the Jedi.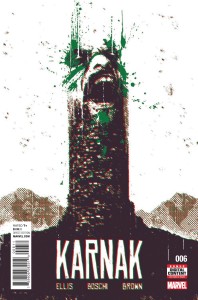 KARNAK #6
MARVEL COMICS
(W) Warren Ellis (A) Gerardo Zaffino (CA) David Aja
• The end of "The Flaw In All Things."
•  Karnak has it in his lethal hands to save humanity – or end it. And nobody knows what he's going to do.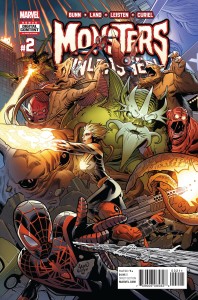 MONSTERS UNLEASHED #2 (OF 5)
MARVEL COMICS
(W) Cullen Bunn (A/CA) Greg Land
THE BIGGEST EVENT IN MARVEL HISTORY CONTINUES!
•  The heroes of the Marvel Universe repel wave after wave of Leviathon monsters as more and more fall to Earth…CAPTAIN MARVEL rallies her ALPHA FLIGHT against these hordes from space while CAPTAIN AMERICA and the AVENGERS hold the line around the world.
•  Amidst this chaos' a puzzle is appearing and ELSA BLOODSTONE is just the person to pick up the pieces and find the answer to what might save Earth from this apocalypse…
•  …or might hasten us to a devastating end!
PLANET OF APES GREEN LANTERN #1
BOOM! STUDIOS
(W) Robbie Thompson, Justin Jordan (A) Barnaby Bagenda (CA) Ethan Van
BOOM! Studios and DC Comics are proud to bring together two classic properties in a historic crossover event.
When Taylor goes missing, Cornelius investigates and discovers an ancient ring, unlike anything the universe has ever seen.
As its power echoes through the stars, the Guardians of the Universe must reveal to their Lanterns a secret they had hoped would remain buried.
With the Green Lantern Corps, led by Hal Jordan, racing to get to the source of this power before Sinestro can get his hands on it, they will discover a truth that will change them forever on…THE PLANET OF THE APES.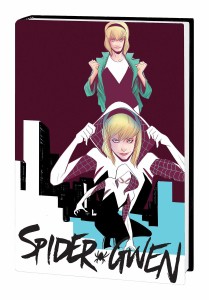 SPIDER-GWEN HC #1
MARVEL COMICS
(W) Jason Latour (A) Robbi Rodriguez, Chris Visions (CA) Robbi Rodriguez
Gwen Stacy is the Spider-Woman of her world, but you knew that already. What you don't know is what's waiting for her on the other side of the SPIDER-VERSE! On the most tragic day of her life, Gwen was convinced that the Lizard died in her arms along with Peter Parker. But a new reptilian rampage leaves her in doubt – not only about Peter's life, but also his death. And Gwen's troubles pile up as the Osborns of her world make their debut, and she finds herself on S.H.I.E.L.D.'s most wanted list! Perhaps another Spider-Woman, Jessica Drew, could share some lessons about power and responsibility! Collecting EDGE OF SPIDER-VERSE #2, SPIDER-GWEN (2015A) #1-5 and SPIDER-GWEN (2015B) #1-6.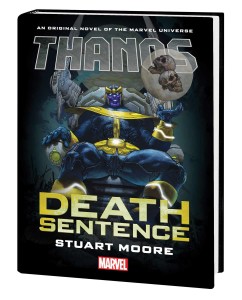 THANOS DEATH SENTENCE PROSE NOVEL HC
MARVEL COMICS
(W) Stuart Moore (A) Various (CA) Simone Bianchi
A new life for the Mad Titan! Thanos' pursuit of the Infinity Gems has always defined him. But when the Marvel heroes defeat him once again, Thanos' beloved Mistress Death grants him one final chance. Stripped of his powers and his old skin, Thanos embarks on a cosmic walkabout to reassert his power over himself and the Multiverse. This all-new, original tale explores the inner life of one of the most powerful beings in the Marvel Universe. Haunted by family – or the semblances of it – the Mad Titan may become something else entirely. Will he maintain his illusions of grandeur, or is this a new path for a lost god?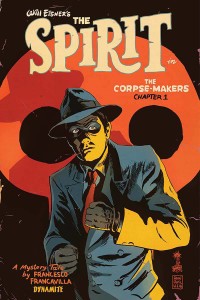 WILL EISNER SPIRIT CORPSE MAKERS #1 (OF 5)

D. E.
(W/A/CA) Francesco Francavilla
A series of unexpected disappearances and deaths hit Central City. Initially these cases seem purely unrelated: no apparent connection between the victims makes it easy for the police to just file them as runaways or natural deaths. But when someone close to Ebony White disappears, The Spirit is on the case! From the mind of writer/artist & Eisner winner Francesco Francavilla, comes a thrilling tale of The Spirit that promises to tingle your spines.
NOW HERE'S THE FULL LIST!
If you want a full visual list of everything click this link whydonthca (tho this might not update til Monday or something)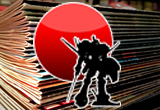 (the following list of comics reflects all the comics coming into both locations. If there's something on this list that's not in stock at your favorite BNW location do not hesitate to ask for us to order it for you!)
COMICS AND MAGAZINES
A&A #12
Adventure Time #61
All New X-Men #1.MU
All New X-Men #18
Aquaman #16
Assassins Creed Uprising #1
Avengers #4
Back To The Future #16
Baltimore The Red Kingdom #1
Batman #16
Big Trouble Little China Escape New York #5
Blood Blister #1
Bullseye #1 (OF 5)
Champions #5
Cyborg #9
DC Comics Bombshells #22
Deadly Class #26
Deadpool #26
Deadpool And Mercs For Money #8
Death Of Hawkman #5 (OF 6)
Disney Frozen #5
Doctor Who 12th Year Two #14
Everafter From The Pages Of Fables #6
Faith (ONGOING) #8
Fall And Rise Of Captain Atom #2 (OF 6)
Flash Gordon Kings Cross #4 (OF 5)
Flintstones #8
GFT Day Of The Dead #1 (OF 6)
GFT Red Agent Human Order #3
GFT Van Helsing Vs Frankenstein #5 (OF 5)
Ghostbusters Annual 2017
Giant Days #23
Goldie Vance #9
Green Arrow #16
Green Hornet Reign Of Demon #3 (OF 4)
Green Lanterns #16
Gwenpool #11
Harley Quinn #13
Haunted Horror #26
Hawkeye #3
Image Plus #10 (WALKING Dead Heres Negan Pt 10)
Invincible #132
Jem & The Holograms Annual 2017
Jem Misfits #2
Josie & The Pussycats #4
Justice League #14
Karnak #6
Marvel Guardians Of Galaxy Vol 2 Prelude #2 (OF 2)
Marvel Universe Avengers Ultron Revolution #8
Midnighter And Apollo #5 (OF 6)
Monsters Unleashed #2 (OF 5)
Moon Knight #11
My Little Pony Friendship Is Magic #50
Nailbiter #29
Nightwing #14
Nova #3
Old Man Logan #17
Paper Girls #11
Planet Of Apes Green Lantern #1
Planetoid Praxis #1 (OF 6)
Popeye Classics Ongoing #55
Previews #341 February 2017
Marvel Previews #19 February 2017 Extras
Shade The Changing Girl #5
Slapstick #3
Spider-Man 2099 #20
Spirit Hunters #4 (OF 12)
Star Wars #28
Star Wars Darth Maul #1 (OF 5)
Super Powers #4 (OF 6)
Superman #16
Transformers Lost Light #2
Unstoppable Wasp #2
Walking Dead #163
Will Eisner Spirit Corpse Makers #1 (OF 5)
Woods #29
TRADE PAPERBACKS, GRAPHIC NOVELS, HARDCOVERS AND MANGA
Batman Detective Tp Vol 01 Rise OT Batmen (REBIRTH)
Captain Marvel Tp Vol 02 Civil War II
Civil War II Hc
Junji Itos Dissolving Classroom Gn
Robin Son Of Batman Tp Vol 02 Dawn Of The Demons
Scooby Apocalypse Tp Vol 01
Sheriff Of Babylon Tp Vol 02 Pow Pow Pow
Spider-Gwen Hc Vol 01
Teen Titans Tp Vol 04 When Titans Fall
Thanos Death Sentence Prose Novel Hc
Wind In The Willows Hc Illus David Petersen Dm Exc
Wonder Woman Tp Vol 09 Resurrection
TOYS
Rick And Morty Mini Figures
WHILE YOU AND I ALL WAIT FOR SEASON 3
 
RICK AND MORTY MINI FIGURES

JINX INC
These popular blind bag mini figures are coming to Rick and Morty! These custom designed miniature figures feature popular characters, creatures and items from the ever-expanding universe of Rick and Morty. Perfect for casual and serious fans alike! Each figure comes packaged in a blind bag which makes each figure a fun surprise!