Another week has gone by and we're facing some actual cold weather this weekend! Stay warm and also check out what's coming out this week!
It may be snowing but we're all open!
Do You Get Our EMail Newsletter Every Monday?

Sing up over HERE and get updates every Monday afternoon and help break up those early in the week doldrums!
NEXT WEEK! AETHER REVOLT PRE-RELEASE!
Come get your Magic nerd on at our Willow Grove location will be running 3 Prerelease events for the next Magic set, Aether Revolt.  Your $30 entry will get you an Aether Revolt Prerelease pack which includes a playable foil promo card.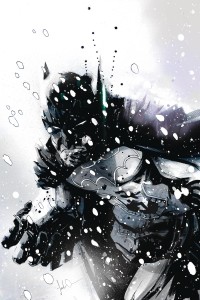 ALL STAR BATMAN #6
DC COMICS
(W) Scott Snyder (A/CA) Jock
"Cold to the Core"! Batman travels to Alaska to confront Mr. Freeze as he attempts to extract the world's oldest ice core and bring humanity to a new Ice Age! Powerhouse artist Jock joins Scott Snyder to bring you another of the Dark Knight's rogues like you've never seen him before.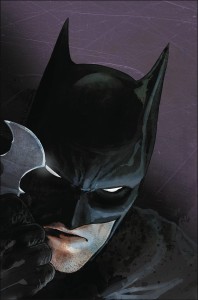 BATMAN TP VOL 01 I AM GOTHAM (REBIRTH)
DC COMICS
(W) Tom King, Scott Snyder (A) David Finch & Various (CA) David Finch
The Caped Crusader has never been stopped. Not by the Joker. Not by Two-Face. Not even by the Justice League. But now, in the wake of DC UNIVERSE: REBIRTH, Batman faces his most challenging foe ever-the idealistic hero known as Gotham, who wants to save the city from Batman himself! Collects the pages of BATMAN: REBIRTH #1 and issues #1-6 of the new, hit BATMAN series! This collection features a new cover by superstar artist David Finch!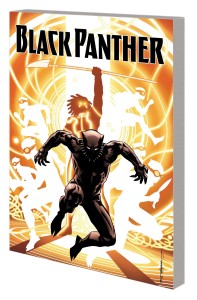 BLACK PANTHER TP BOOK 02 NATION UNDER OUR FEET
MARVEL COMICS
(W) Ta-Nehisi Coates (A) Chris Sprouse (CA) Brian Stelfreeze
Counting down the final days of the kingdom of Wakanda! As Zenzi and The People poison Wakanda's citizens against the Black Panther, a cabal of nation-breakers is assembled. And Ayo and Aneka, the Midnight Angels, are courted to raise their land to new glory! His allies dwindling, T'Challa must rely on his elite secret police, the Hatut Zeraze, and fellow Avenger Eden Fesi, a.k.a. Manifold! And with T'Challa's back truly against the wall, some old friends lend a hand: Luke Cage, Misty Knight and Storm! But Wakanda may be too far gone for this all-new, all-different crew – and there's one job the Panther must handle alone. Only he can voyage into the Djalia! Getting there is hard enough, but can he even find his sister Shuri inside Wakanda's collective memory? Collecting BLACK PANTHER (2016) #5-8, plus JUNGLE ACTION #6-7 and bonus content.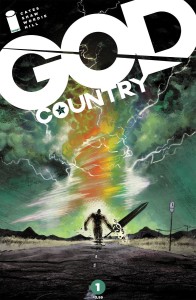 GOD COUNTRY #1

IMAGE COMICS
(W) Donny Cates (A) Geoff Shaw (CA) Geoff Shaw, Dave Stewart
SERIES PREMIERE
Emmet Quinlan, an old widower rattled by dementia, isn't just a problem for his children-his violent outbursts are more than the local cops can handle. When a tornado levels his home-as well as the surrounding West Texas town-a restored Quinlan rises from the wreckage. The enchanted sword at the eye of the storm gives him more than a sound mind and body, however.
He's now the only man who can face the otherworldly creatures the sword has drawn down to the Lone Star State…
"So much fun to watch creators find that next level. Go, Cates, go!" -Brian Michael Bendis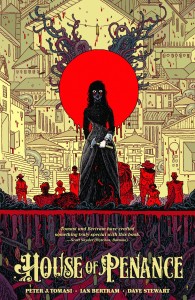 HOUSE OF PENANCE TP

DARK HORSE COMICS
(W) Peter J. Tomasi (A/CA) Ian Bertram
A horrific take on the true story of the Winchester haunted house and one woman's mission to wash away the blood curse of the Winchester rifle from claiming her own life and soul.
This is a tale of guilt, ghosts, and guns . . . of how fortune brings misfortune as a grim and determined woman oversees the construction of a house twenty-four hours a day for twenty years, with the simple motto of keep busy building or get busy dying. Collects the six-issue miniseries.
"Highly expressionistic and dripping with atmosphere, House of Penance will haunt you long after you close the issue."-The Fandom Post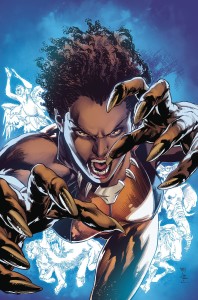 JUSTICE LEAGUE OF AMERICA VIXEN REBIRTH #1
DC COMICS
(W) Steve Orlando, Jody Houser (A) Jamal Campbell (CA) Ivan Reis, Joe Prado
SPINNING OUT OF THE PAGES OF JUSTICE LEAGUE VS. SUICIDE SQUAD! She's one of the country's most successful businesswomen, an iconic fashion pioneer, a crusader for social justice and an incredibly powerful member of the Justice League of America. But Mari McCabe's life wasn't always this way. Follow her path to becoming the heroic Vixen in this crucial special!
One shot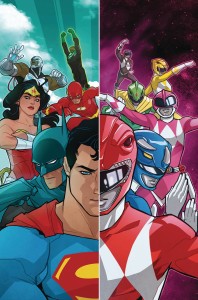 JUSTICE LEAGUE POWER RANGERS #1 (OF 6)
DC COMICS
(W) Tom Taylor (A) Stephen Byrne (CA) Karl Kerschl
Two of comics greatest teams team up for the very first time! Something terrible has happened in Angel Grove! When the Command Center is breached and the teleporters are damaged, Zack is flung into another universe, where he's mistaken for a villain by a mysterious masked vigilante. Can the other Power Rangers get to their friend in time to save him from Batman? Co-published with BOOM! Studios.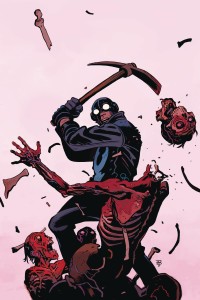 LOBSTER JOHNSON GARDEN OF BONES ONE SHOT
DARK HORSE COMICS
(W) Mike Mignola, John Arcudi (A) Stephen Green (CA) Tonci Zonjic
When an undead hit man goes after the NYPD, the Lobster steps in to figure out if it's a zombie-or something worse.
"In a world currently obsessed with Capes and Cowls, it's refreshing to have a pulp sci-fi book where the hero isn't perfect, and doesn't always win."-Big Comic Page
RENATO JONES ONE PERCENT TP SEASON 01

IMAGE COMICS
(W/A/CA) Kaare Kyle Andrews
The One% own more than half the world's wealth. They've crashed economies, bought governments, and have amassed more power than any other group in history. And they still don't have enough. With this kind of power, how can anyone make them pay? WHO will make them pay? Enter Renato Jones, a mysterious vigilante, out to even the score. And when he enters the fray THE SUPER-RICH ARE SUPER F***ED.
From acclaimed creator KAARE KYLE ANDREWS (Iron Fist: The Living Weapon, Spider-Man: Reign) comes the first season of the critically acclaimed, supercharged capitalistic action revenge thriller for a post-Great Recession world.
Collects SEASON 1 of RENATO JONES: THE ONE% #1-5
NOW HERE'S THE FULL LIST!
If you want a full visual list of everything click this link whydonthca (tho this might not update til Monday or something)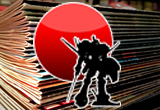 (the following list of comics reflects all the comics coming into both locations. If there's something on this list that's not in stock at your favorite BNW location do not hesitate to ask for us to order it for you!)
COMICS AND MAGAZINES
Action Comics #971
Action Lab Dog Of Wonder #5
All New Wolverine #16
All Star Batman #6
Amazing Spider-Man Renew Your Vows #3
AoD Xena Forever And A Day #4 (OF 6)
Assassins Creed Awakening #3 (OF 6)
Batgirl And The Birds Of Prey #6
Birthright #21
Call Of Duty Zombies #2
Captain America Steve Rogers #9
Captain Kid #4
Daredevil #15
Dark Knight III Master Race #7 (OF 8) Collectors Ed Hc
Dark Tower Drawing Of Three Sailor #4 (OF 5)
Deadpool #24
Deathstroke #10
Detective Comics #948
Disney Frozen #4
Doctor Strange Punisher Magic Bullets #2 (OF 4)
Doctor Strange Sorcerers Supreme #4
Doctor Who 10th Year Three #1
Doctor Who 11th Year Three #1
Doctor Who 12th Year Two #13
Doctor Who 3rd #4 (OF 5)
Dungeons & Dragons Frost Giants Fury #1
Earth 2 Society #20
Evil Heroes #4 (OF 6)
Flash #14
Flash Gordon Kings Cross #3 (OF 5)
Foolkiller #3
God Country #1
Gotham Academy Second Semester #5
Great Lakes Avengers #4
Green Hornet Reign Of Demon #2 (OF 4)
Green Valley #4 (OF 9)
Groo Fray Of The Gods #4
Guardians Galaxy #16
Hal Jordan And The Green Lantern Corps #12
Heavy Metal #284
Hobby Japan Dec 2016
Invisible Republic #14
IvX #2 (OF 6)
Jade Street Protection Services #4
James Bond Felix Leiter #1 (OF 6)
Jessica Jones #4
Jim Henson Storyteller Giants #2
Jughead #12
Justice League Of America Vixen Rebirth #1
Justice League Power Rangers #1 (OF 6)
Justice League Suicide Squad #4 (OF 6)
Knights Of The Dinner Table #239
Lobster Johnson Garden Of Bones One Shot
Lost Boys #4 (OF 6)
Marvel Universe Guardians Of Galaxy #16
Max Ride Final Flight #5 (OF 5)
Mighty Thor #15
Moonshine #4
Motor Crush #2
Motro #3 (OF 10)
Ms Marvel #14
Namesake #3
New Super Man #7
Ninjak #23
Occupy Avengers #3
Outcast By Kirkman & Azaceta #24
Power Man And Iron Fist #12
Red Dog #2 (OF 6)
Red Hood And The Outlaws #6
Red Sonja #1
Rocket Raccoon #2
Savage Dragon #219
Scooby Apocalypse #9
Shadows On The Grave #2
Sherlock Blind Banker #1 (OF 6)
Shipwreck #3
Silk #16
Sonic Universe #94
Sons Of Anarchy Redwood Original #6
Southern Bastards #16
Spawn #269
Spider-Man #12
Spider-Man Deadpool #13
Spongebob Comics #64
Spread #18
Star Wars Poe Dameron #10
Strain Mr Quinlan Vampire Hunter #5 (OF 5)
Stray Bullets Sunshine & Roses #20
Suicide Squad #9
Supergirl #5
Superwoman #6
The Skeptics #3
Titans #7
Totally Awesome Hulk #14
Unbeatable Squirrel Girl #16
Uncanny Avengers #19
Uncanny X-Men #17
Vikings Uprising #4 (OF 4)
Violent Love #3
Wonder Woman #14
TRADE PAPERBACKS, GRAPHIC NOVELS, HARDCOVERS AND MANGA
Amazing Spider-Man Worldwide Tp Vol 04
Aquaman Tp Vol 01 The Drowning (REBIRTH)
Batman Tp Vol 01 I Am Gotham (REBIRTH)
Beowulf Hc
Black Panther Tp Book 02 Nation Under Our Feet
Conan Tp Vol 20 Witch Shall Be Born
Hellblazer Tp Vol 15 Highwater
House Of Penance Tp
Injustice Gods Among Us Year Two Complete Coll Tp
Legend Of Zelda Legendary Ed Gn Vol 02
Libbys Dad Gn
Prometheus Life And Death Tp Vol 01
Prophet Tp Vol 05 Earth War
Renato Jones One Percent Tp Season 01
Road To Riverdale Tp
Shadow Glass Tp
TOYS
POP DC Heroes DKR Superman Px Vinyl Fig
ODDS AND ENDS
Marvel Chess Fig Coll Mag #95 Anti-Venom
Our pal Adam over at Indy Hall in Old City turned 30 today…so I made a fake fight poster for him (He like Man-Thing and our other pal Adam likes Deadpool)