It finally got cold. Warm up with some comics news!
Do You Get Our EMail Newsletter Every Monday?

Sing up over HERE and get updates every Monday afternoon and help break up those early in the week doldrums!
SPIDER-MAN COMES HOME!

GIFT GUIDE TWO K ONE SIX!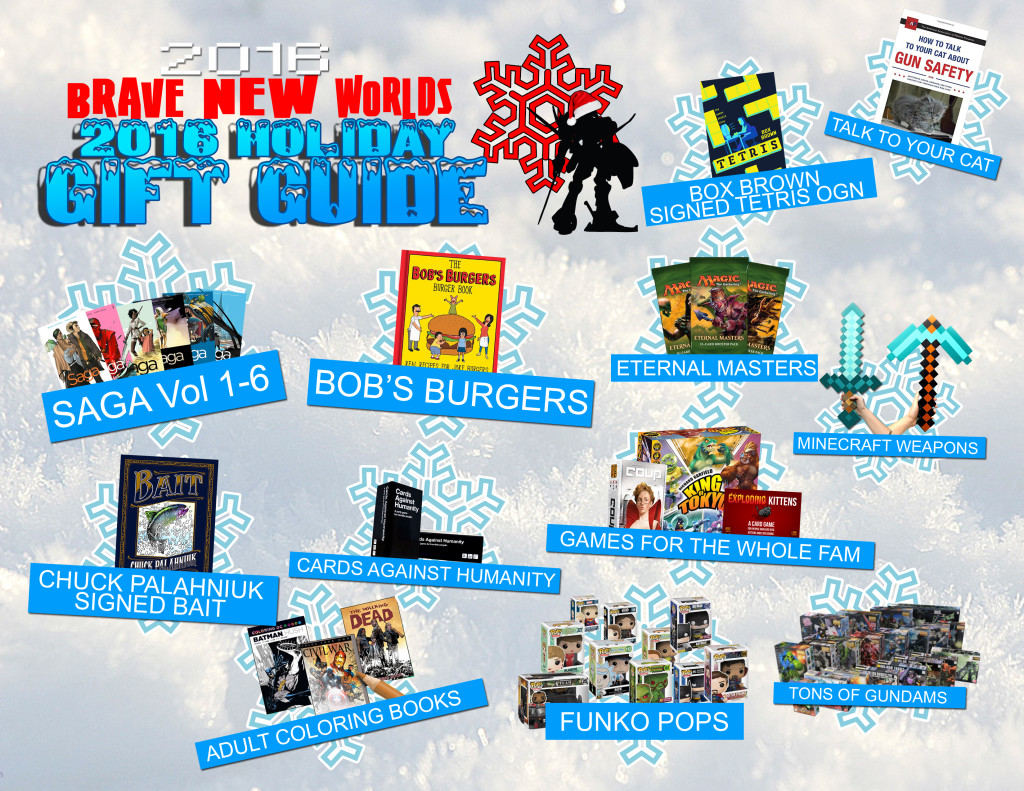 I just sorta realized that the holiday shopping season is upon us. (Like on Thursday realized it as I flipped my calendar to December)…so good thing we've generated a little list of gift ideas that both shops are usually stocked with at all times. There's more information over HERE for ya to check out!
STANDARD SHOWDOWNS GOINGS ON-INGS!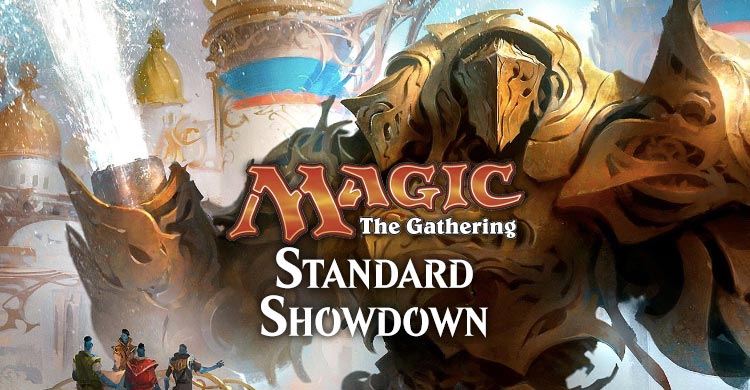 From November 26 through December 17, Brave New Worlds will host Standard Showdown tournaments on Saturdays with special promotional prize boosters earned through undefeated play and through other accomplishments. The tournaments will be 3-round Swiss events meant to showcase the Standard format.  They begin starting this week on Saturday at noon and are free to enter!
 50% OFF STUFF MAKE GREAT GIFTS!
'Cause people think you paid 100% of the price!

There's a big list of stuff over HERE that's worth checking out!
FIGURES IN THE STYLE OF THAT CAPULLO GUY!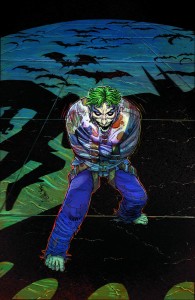 DARK KNIGHT RETURNS THE LAST CRUSADE DLX ED HC
DC COMICS
(W) Frank Miller, Brian Azzarello (A) John Romita, Peter Steigerwald (CA) John Romita, Danny Miki
The epic story that serves as a prelude to THE DARK KNIGHT RETURNS is back in a new, oversized hardcover edition that includes the plot breakdown and John Romita, Jr.'s pencil artwork!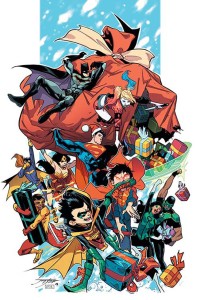 DC REBIRTH HOLIDAY SPECIAL #1
DC COMICS
(W) Paul Dini & Various (A) Robbi Rodriguez, Gustavo Duarte (CA) Jorge Jimenez
DC's biggest and brightest heroes celebrate the holidays in this new special! Don't miss a Chanukah crisis for Huntress, a Flash family Christmas, Wonder Woman interrupting John Constantine's hellblazing pagan party and more-including the return of Detective Chimp! Today's top talents bring you a very special holiday gift that'll keep on giving through the New Year! And writer Paul Dini crafts a Harley holiday tale featuring DCU guests that bridges all the stories in the weirdest, wildest way.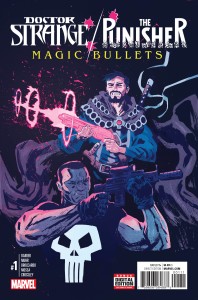 DOCTOR STRANGE PUNISHER MAGIC BULLETS #1 (OF 4)
MARVEL COMICS
(W) John Barber (A) Andrea Broccardo, Jason Muhr (CA) Michael Walsh
The team-up to end all team-ups is here, as two of the most different Marvel characters worlds' collide! What new mafia threat is so great that the Punisher needs Doctor Strange's help? Find out as the Sorcerer Supreme teams with the One Man War on Crime!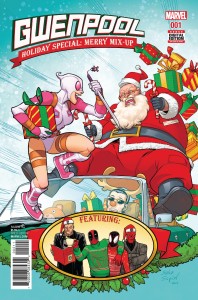 GWENPOOL HOLIDAY SPECIAL MERRY MIX UP
MARVEL COMICS
(W/A) Various (CA) Salva Espin
It's the holidays yet again, and that means it's time to join EVERYONE'S FAVORITE GWEN (take that, Stacy!) and celebrate good times, come on! Only problem is…somehow this year's festive traditions seem to be a little…off…and Gwen's the only one who notices. FEATURING: Gwenpool (duh), Spider-Man, Red Skull, Punisher and even Deadpool! This is one present you know you gotta buy yourself!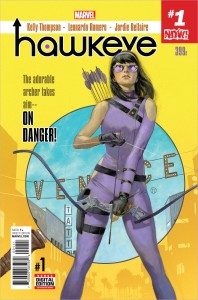 HAWKEYE #1

MARVEL COMICS
(W) Kelly Thompson (A) Leonardo Romero (CA) Julian Totino Tedesco
Remember Hawkeye? No not that Hawkeye, our favorite Hawkeye, the chick who puts the hawk in Hawkeye, the butt-kicking hero who had to save the other Hawkeye's butt all the time.  Yup, you know her, it's the dazzling Kate Bishop making her solo comics debut!  Kate is heading west and returning to Los Angeles, with her bow and arrow and P.I. badge in tow. There are crimes to solve and she's the best archer to handle 'em! The City of Angels has a new guardian angel.
The talented duo of Kelly Thompson (A-Force, Jem) and Leonardo Romero (Squadron Supreme, Doctor Strange) bring you a Kate Bishop like you've never seen her before, in a brand-new ongoing series that really hits the mark!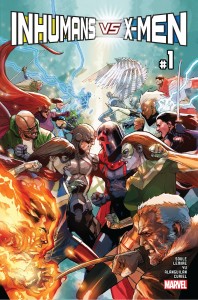 IVX #1 (OF 6)
MARVEL COMICS
(W) Charles Soule, Jeff Lemire (A/CA) Yu Leinil
THIS IS IT!
The X-Men and Inhumans have been on a collision course since the link was proven between the Inhumans' precious Terrigen Mist and the sickness and death of many mutants. When Beast discovers that the mutants have only two weeks before the planet is uninhabitable for them, an Inhuman/mutant war is unavoidable. Co-written by Charles Soule (Uncanny Inhumans, Daredevil) and Jeff Lemire (Extraordinary X-Men, Moon Knight), IVX delivers sensational set pieces, gargantuan grudge matches, all drawn by the sensational Leinil Francis Yu! Whether you're for the X-MEN or the INHUMANS, IVX promises to shatter the Marvel Universe as you know it!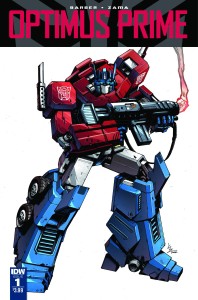 OPTIMUS PRIME #1
IDW PUBLISHING
(W) John Barber (A/CA) Kei Zama
REVOLUTION is over-but the danger to Earth is just beginning. As OPTIMUS PRIME pulls Earth into the larger universe, he's painted a target on Earth… and a new alien incursion begins when a corkscrew shaped craft drills into our world!
•   The next evolution of TRANSFORMERS is here!
•   OPTIMUS PRIME's past on CYBERTRON haunts his present on Earth!
•   Amazing artist Kei Zama (Scarlett Witch) makes her debut with veteran writer John Barber (Transformers)!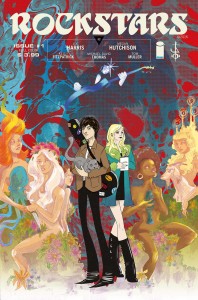 ROCKSTARS #1

IMAGE COMICS
(W) Joe Harris (A/CA) Megan Hutchison
    SERIES PREMIERE
Fan-favorite JOE HARRIS (GREAT PACIFIC, The X-Files) and mega-talented newcomer MEGAN HUTCHISON deliver a new ongoing series exploring rock 'n' roll's untold mysteries and secrets!"NATIVITY IN BLACKLIGHT," Part One
When a pattern of unsolved 'groupie' murders from the 1970s resumes in present-day Los Angeles, nobody makes the connection except Jackie Mayer, a rock nerd with a strange connection to music's urban legends and lost history. Together with muckraking music writer Dorothy Buell, they soon uncover a vast conspiracy involving a legendary band, demonic possession, and sacrifices to the dark gods of rock.
DON'T FORGET!
We've got gift cards!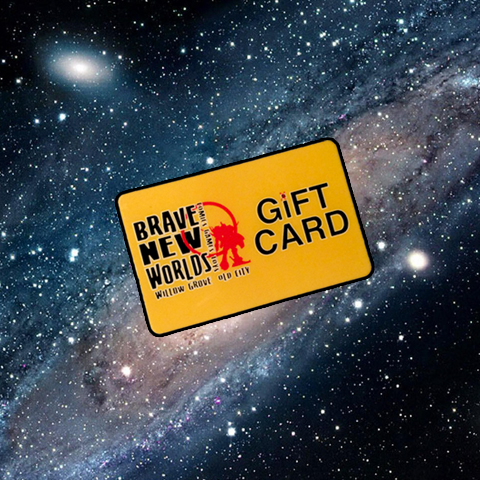 Any amount $10 and up!
NOW HERE'S THE FULL LIST!
If you want a full visual list of everything click this link whydonthca (tho this might not update til Monday or something)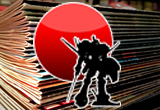 (the following list of comics reflects all the comics coming into both locations. If there's something on this list that's not in stock at your favorite BNW location do not hesitate to ask for us to order it for you!)
COMICS AND MAGAZINES
3 Floyds Alpha King #3 (OF 5)
Action Comics #969
All New X-Men #16
Amazing Spider-Man Renew Your Vows #2
AoD Xena Forever And A Day #3 (OF 6)
B & V Friends Jumbo Comics Digest #252
Batgirl And The Birds Of Prey #5
Batman Tmnt Adventures #2 (OF 6)
Betty & Veronica Comics Double Digest #249
Black #3
Britannia #4 (OF 4)
Captain Kid #3
Chimichanga Sorrow Of Worlds Worst Face #3 (OF 4)
Cinderella Serial Killer Princess #1
Clean Room #14
Daredevil #14
Dark Knight Returns The Last Crusade Dlx Ed Hc
Dark Tower Drawing Of Three Sailor #3 (OF 5)
DC Rebirth Holiday Special #1
Deadpool Back In Black #5 (OF 5)
Deathstroke #8
Descender #17
Detective Comics #946
Doctor Strange Punisher Magic Bullets #1 (OF 4)
Drifter #15
Earth 2 Society #19
Flash #12
Foolkiller #2
Fuse #24
Gotham Academy Second Semester #4
Green Valley #3 (OF 9)
Guardians Of Galaxy #15
Gwenpool Holiday Special Merry Mix Up
Hadrians Wall #4 (OF 8)
Hal Jordan And The Green Lantern Corps #10
Hawkeye #1
Hillbilly #4
Irwin Allen Lost In Space #6
IvX #1 (OF 6)
James Bond Hammerhead #3 (OF 6)
Jessica Jones #3
Knights Of The Dinner Table #238
Lost Boys #3 (OF 6)
Marvel Universe Avengers Ultron Revolution #6
Mayday #2 (OF 5)
Moonshine #3
Mosaic #3
Motro #2 (OF 10)
My Little Pony Friends Forever #35
Namesake #2
New Super Man #6
No Mercy #12
Old Man Logan #15
Optimus Prime #1
Power Man And Iron Fist #11
Power Rangers Pink #5
Raven #2 (OF 6) 2nd Ptg
Reborn #1 3rd Ptg
Reborn #3
Red Hood And The Outlaws #5
Red Sonja #0
Red Thorn #13
Resident Alien #4 (OF 4)
Rockstars #1
Scooby Apocalypse #8
Shadows On The Grave #1
Silk #15
Simpsons Comics Explosion #3
Sonic Universe #93
Sons Of Anarchy Redwood Original #5
Spawn #268
Spider-Man #10
Spongebob Comics #63
Star Trek Boldly Go #3
Star Wars Poe Dameron #9
Steven Universe 2016 Special #1
Strain Mr Quinlan Vampire Hunter #4 (OF 5)
Street Fighter Unlimited Annual #1
Suicide Squad #8
Sun Bakery #4
Supergirl #4
Superman #10 2nd Ptg
Superwoman #5
TMNT Ongoing #65
Totally Awesome Hulk #13
Unbeatable Squirrel Girl #15
Uncanny Avengers #17
War Stories #21
Wonder Woman #12
Wrath Of The Eternal Warrior #14
TRADE PAPERBACKS, GRAPHIC NOVELS, HARDCOVERS AND MANGA
Art Ops Tp Vol 02 Popism
Batman And Robin Adventures Tp Vol 01
Batman Hc Vol 10 Epilogue
Batman Tp Vol 09 Bloom
Bee And Puppycat Tp Vol 03
Birthright Tp Vol 04 Family History
Blue Monday Tp Vol 02 Absolute Beginners
Deathstroke Tp Vol 04 Family Business
Descender Tp Vol 03 Singularities
Guardians Of Galaxy New Guard Tp Vol 01 Emperor Quill
Micronauts Tp Vol 01 Entropy
Ms Marvel Tp Vol 06 Civil War II
New Lone Wolf And Cub Tp Vol 11
Rumble Tp Vol 03 Immortal Coil
Simpsons Comics Knockout Gn
Sonic Boom Tp Vol 02 Boom Shaka Laka
TMNT New Animated Adv Omnibus Tp Vol 02
Uncanny Inhumans Tp Vol 03 Civil War Ii
TOYS
Darkseid And Grail Action Figure 2 Pack
DBZ Super Saiyan Vegeta S.H.Figuarts Af
DC Comics Designer Ser Capullo Green Lantern Af
DC Comics Designer Ser Capullo Superman Af
DC Designer Ser Aquaman By Capullo Af
DC Designer Ser Batman By Capullo Af 2 Pack
Marvel Select Deadpool (RESTOCK!!!)
ODDS AND ENDS
DC Designer Series Harley By Bruce Timm Statue
Marvel Chess Fig Coll Mag #92 Mysterio