Wow holy crap it's December 2016…2017 is right around the corner. No need to stress tho because this is post is full of cool stuff we've got coming your way this week AND includes our helpful 2016 Holiday Gift Guide!
Do You Get Our EMail Newsletter Every Monday?

Sing up over HERE and get updates every Monday afternoon and help break up those early in the week doldrums!
HOLIDAY GIFT GUIDE 2016!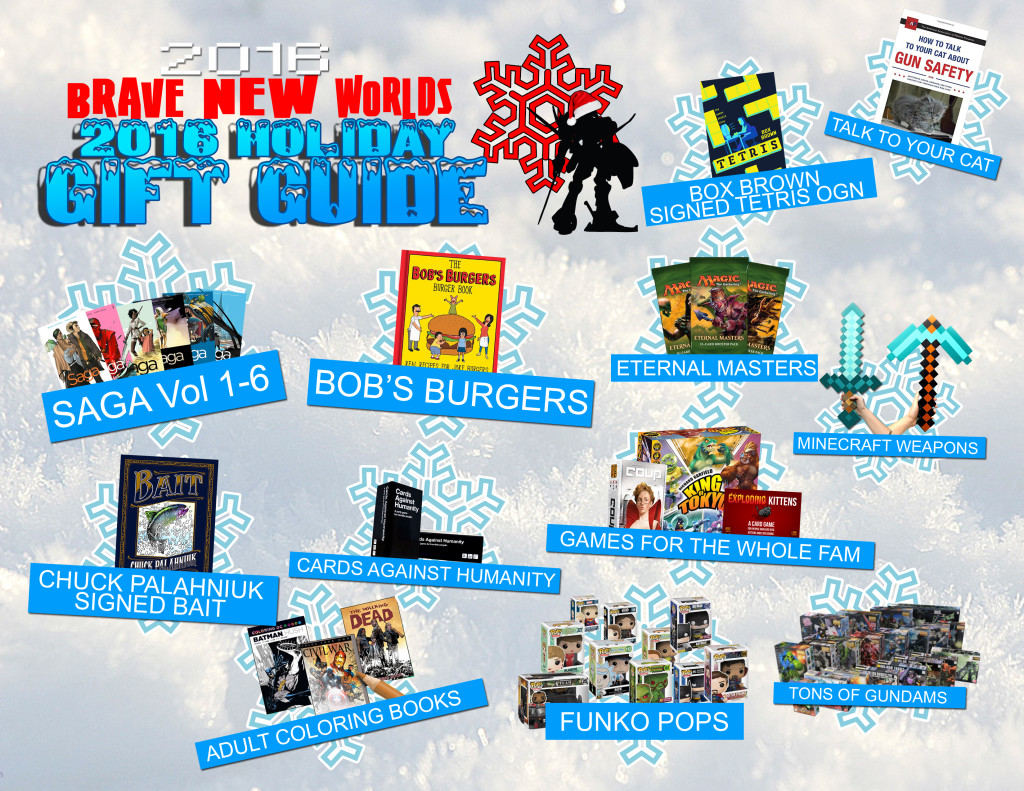 I just sorta realized that the holiday shopping season is upon us. (Like on Thursday realized it as I flipped my calendar to December)…so good thing we've generated a little list of gift ideas that both shops are usually stocked with at all times. There's more information over HERE for ya to check out!
WG IS STILL DOING STANDARD SHOWDOWNS!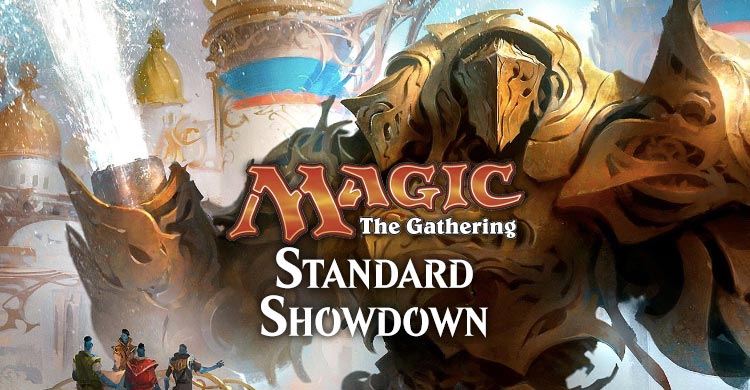 From November 26 through December 17, Brave New Worlds will host Standard Showdown tournaments on Saturdays with special promotional prize boosters earned through undefeated play and through other accomplishments. The tournaments will be 3-round Swiss events meant to showcase the Standard format.  They begin starting this week on Saturday at noon and are free to enter!
BLACK WIDOW HOT TOY WITH A TINY ANT-MAN!
NEW 50% OFF STUFF!

There's a big list of stuff over HERE that's worth checking out!
ANIMATED CLAYFACE ACTION FIGURE!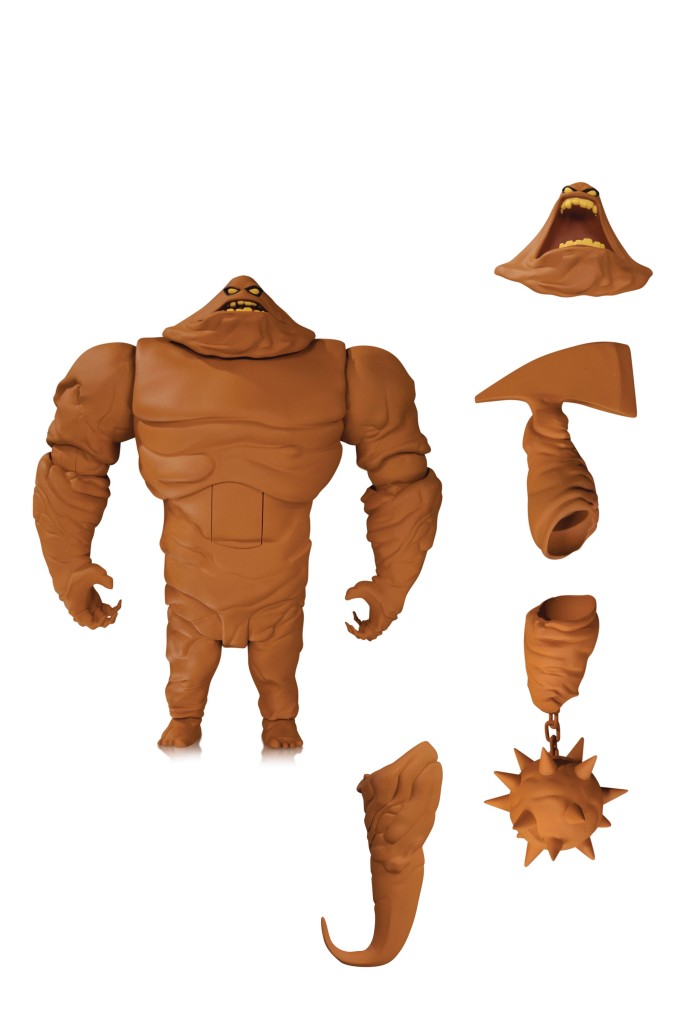 BATMAN ANIMATED SERIES NBA CLAYFACE DLX AF
DC COMICS
From BATMAN: THE ANIMATED SERIES and THE NEW BATMAN ADVENTURES come seven awesome new action figures,
including a deluxe Clayface! Each figure comes with character-specific accessories.
SWEET ACTION FIGURE ACCESSORY PACK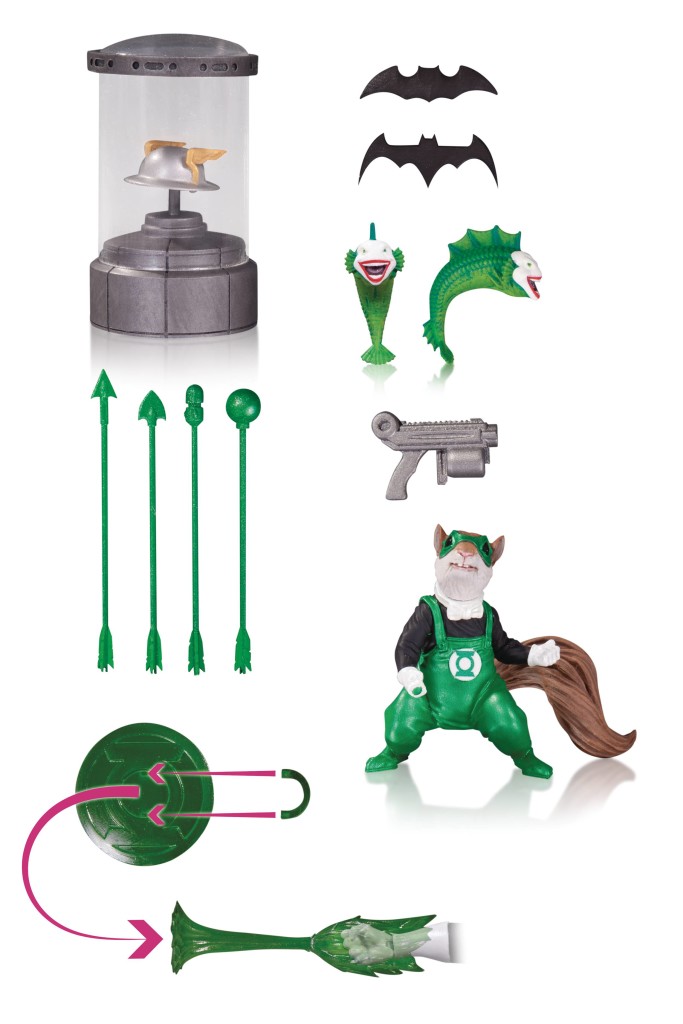 DC ICONS AF ACCESSORY PACK SET 1
DC COMICS
For the first time ever, DC Collectibles offers a special accessory pack for its popular Icons line of action figures!
This accessory pack includes:
•  GREEN LANTERN CH'P MINI FIGURE
•  2 BATARANGS
•  2 JOKER FISH
•  4 TRICK ARROWS
•  GREEN LANTERN CONSTRUCT BLAST AND SHIELD
•  GOLDEN AGE FLASH HELMET
•  TROPHY CASE
•  BAT ZIPLINE WITH SUCTION CUPS
DO OR DO NOT. THERE IS NO TRY.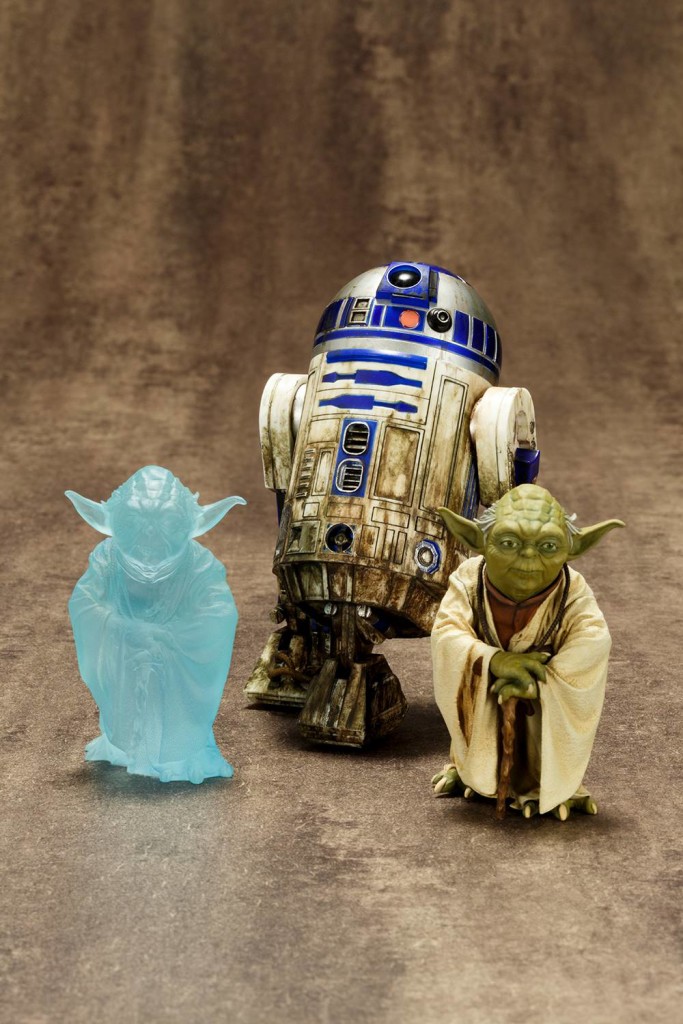 SW YODA & R2-D2 DAGOBAH ARTFX+ STATUE 2PK
KOTO INC.
  A KOTOBUKIYA Japanese import! Next up in Kotobukiya's amazing line of Star Wars ARTFX+ Statues, bringing the heroes and villains of the Star Wars universe to life in dynamic 1/10th scale statues, is a fun 2 Pack capturing a pair of the most popular (and diminutive) characters in sci-fi. Coming to you directly from Star Wars Episode V: The Empire Strikes Back is the YODA & R2-D2 DAGOBAH 2 PACK! Having exiled himself to hide from the evil Empire, the former head of the Jedi Order waits on the swampy planet of Dagobah where one day a young Jedi hero will find him. And when Luke does arrive he's accompanied by R2-D2, his trusty blue and white astromech droid. This 2 Pack brings together these very different characters so you can recreate scenes from the film, and they look like they stepped right out of the movie. R2's paint and deco reflects his dirt and mud-covered appearance from his time spent on Dagobah, while the wrinkled and hunched Yoda wears his ragged robes and leans on his sturdy gimer stick cane. This pack includes multiple interchangeable parts for both figures so you can display R2-D2 standing on two legs or three, and Yoda with arms crossed and eyes open or reaching out with the Force with his eyes closed in concentration! Lastly, there's even a special bonus, a translucent spirit version of Yoda.
Yoda stands 2 ½ inches tall and R2-D2 over 3 ½ inches tall in the ARTFX+ 1/10th scale. This 2 Pack is a must-have for Empire Strikes Back fans, and will give you great new options for your ARTFX+ Star Wars display!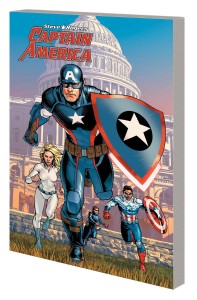 CAPTAIN AMERICA STEVE ROGERS TP VOL 01 HAIL HYDRA
MARVEL COMICS
(W) Nick Spencer (A) Jesus Saiz, Javier Pina (CA) Jesus Saiz
    He's back! Steve Rogers – the original Sentinel of Liberty – is reinvigorated, with a new shield, a new team, a new mission…and a new secret! Because Steve isn't the only one who's returned. Cut off one limb, and two more will take its place – Hail Hydra! And never in Captain America's history have those two words been so dramatic! But as a resurgent Hydra once more worms its insidious way into Steve's life, he's caught in the crossfire when the Red Skull takes on Baron Zemo! And when Iron Man and Captain Marvel lead the Marvel Universe into CIVIL WAR II, Cap finds himself stuck in the middle again! Can Steve keep the peace as heroes choose sides, tragedy strikes and the trial of Maria Hill begins? Collecting CAPTAIN AMERICA: STEVE ROGERS #1-6; and material from FREE COMIC BOOK DAY 2016 (CAPTAIN AMERICA) #1.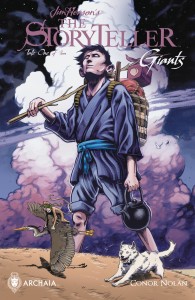 JIM HENSON STORYTELLER GIANTS #1
BOOM! STUDIOS
(W/A/CA) Conor Nolan
* A collection of mythic tales of when giants roamed the Earth, inspired by folklore from around the world and told in the spirit of Jim Henson's beloved television series.
* In this first issue, rising newcomer Conor Nolan reimagines the"The Peach's Son," a Japanese tale of a giant who was raised by humans but never accepted by them.
* When a nearby village is overrun with evil beings, the giant will take a chance to be a hero and prove himself to be part of the community he calls home.
* Upcoming issues will include stories by Brandon Dayton, Feifei Ruan, and more!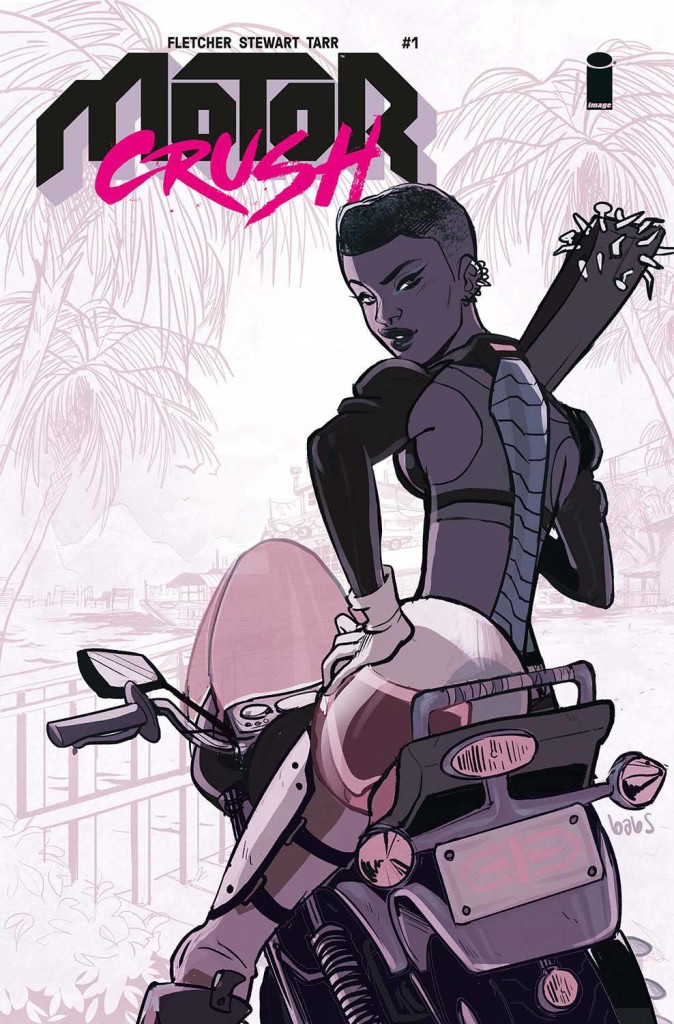 MOTOR CRUSH #1

IMAGE COMICS
(W) Brenden Fletcher & Various (A) Babs Tarr, Cameron Stewart (CA) Babs Tarr
The team behind the critically acclaimed revamp of Batgirl returns with an exciting sci-fi action-adventure series! By day, Domino Swift competes for fame and fortune in a worldwide motorcycle racing league. By night, she cracks heads of rival gangs in brutal bike wars to gain possession of a rare, valuable contraband: an engine-boosting "machine narcotic" known as Crush.
Featuring Part One of ISOLA: PROLOGUE by BRENDEN FLETCHER and KARL KERSCHL!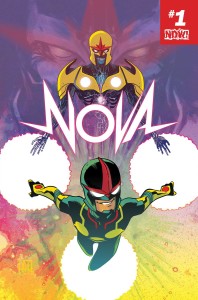 NOVA #1

MARVEL COMICS
(W) Jeff Loveness, Ramon K. Perez (A/CA) Ramon K. Perez
CLASSIFIED IS BACK!
CLASSIFIED makes his roaring return to the Marvel Universe! How will Sam Alexander cope with this unfathomable homecoming? It's the return you've all been waiting for. Or is something…else? Strap in True Believer, you've never seen a NOVA book like this before!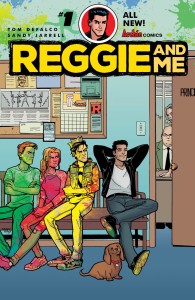 REGGIE AND ME #1 (OF 5)
ARCHIE COMIC PUBLICATIONS
(W) Tom DeFalco (A/CA) Sandy Jarrell
There is no one more loved, revered, admired and adored in Riverdale than… Reggie Mantle? Well, at least Reggie doesn't think there's anyone as loved and admired as himself. And his best friend can back that idea up-his best friend, of course, being his dog, Vader. The unstoppable duo is known around town for pulling the funniest pranks, getting the hottest dates and throwing the best parties. And if anyone even dares to compete with them, there is going to be hell to pay. Come take a look at the life of your hero, the handsome, hilarious Reggie Mantle.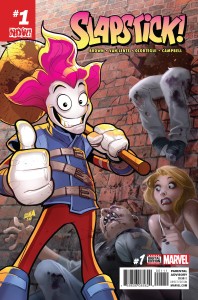 SLAPSTICK #1

MARVEL COMICS
(W) Reilly Brown, Fred Van (A) Diego Olortegui (CA) David Nakayama
Steve Harmon was an average teenager who had an average job as your average clown, living in average New Jersey. But after being zapped by weird and mysterious extradimensional energy, Steve became Slapstick, a living, breathing cartoon! Now, after joining, and then quitting, Deadpool's Mercs for Money, Slapstick is striking it out on his own terms! Sure he's gotta move back in with his parents, but these new business ventures take time. And anyways, he gets to team-up with the Amazing Spider-Man in his first issue. That seems like he's doing pretty well to me!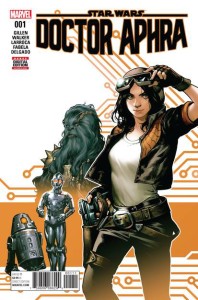 STAR WARS DOCTOR APHRA #1
MARVEL COMICS
(W) Kieron Gillen (A) Kev Walker, Salvador Larroca (CA) Karmome Shirahama
BECAUSE YOU DEMANDED IT!
Following the blockbuster finale of Darth Vader #25, the fan-favorite character begins a new journey in STAR WARS: DOCTOR APHRA #1 – the new ongoing series coming this December! From superstar writer Kieron Gillen (Darth Vader) and fan-favorite artist Kev Walker (Marvel Zombies) comes Marvel's first ongoing series starring an original character created in the comics!
Following her time in the clutches of Darth Vader, Doctor Aphra has barely escaped with her life. If he ever learns of her survival, he'll hunt her to the ends of the galaxy. But for now, it's time for a return to what she does best. With the droids 0-0-0 and BT-1 in tow, she's off in search of rare artifacts from the galactic center to the Outer Rim and everywhere in between. Aphra's got debts to pay after all. Just as long as she can stay one step ahead of the Empire, some Bounty Hunters and just about everyone else in the galaxy!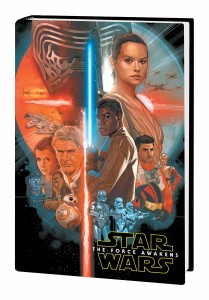 STAR WARS FORCE AWAKENS ADAPTATION HC
MARVEL COMICS
(W) Chuck Wendig (A) Luke Ross (CA) Phil Noto
It's true – all of it! The blockbuster movie jumps from the big screen to the comic-book page! It's been three decades since the Rebel Alliance destroyed the Death Star and toppled the Galactic Empire – but now, on the remote planet Jakku, there is a stirring in the Force. A young scavenger named Rey…a deserting Stormtrooper named Finn…an ace pilot named Poe…and a dark apprentice named Kylo Ren… Their lives are about to collide as the awakening begins. Writer Chuck Wendig (Star Wars: The Aftermath Trilogy) and artist Luke Ross (HERCULES) take us back into the saga of a lifetime! Collecting STAR WARS: THE FORCE AWAKENS ADAPTATION #1-6.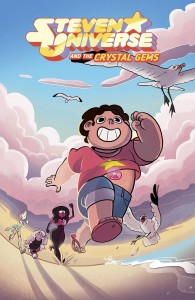 STEVEN UNIVERSE & CRYSTAL GEMS TP VOL 01

BOOM! STUDIOS
(W) Josceline Fenton (A) Chrystin Garland (CA) Kat Leyh
An all-new Steven Universe adventure! The Gems tell Steven a spooky story about a monster who turns bad Gems into glass and shatters them. Pearl assures a terrified Steven that it's just a story, but suddenly people around Beach City start turning up frozen in glass…
"…captures the spirit of the show while still finding enough humor and excitement to be its own thing." – Multiversity Comics
Collects the complete four-issue limited series.
WONDER WOMAN 77 BIONIC WOMAN #1 (OF 6)

D. E.
(W) Andy Mangels (A) Judit Tondora (CA) Alex Ross
Party like it's 1977 in this cross-over event fans have wanted for decades – but never thought possible! Now, Diana Prince meets Jaime Sommers… or should we say, Wonder Woman meets The Bionic Woman? In this action-packed mini-series, the two television titans team up to fight a rogue cabal bent on wreaking havoc and stealing deadly weapons. Can CASTRA be stopped before their real targets are revealed and lives are lost? With super powers, bionic enhancements, surprise villains, and an invisible plane, just about anything is possible!
NOW HERE'S THE FULL LIST!
If you want a full visual list of everything click this link whydonthca (tho this might not update til Monday or something)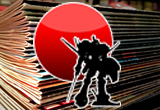 (the following list of comics reflects all the comics coming into both locations. If there's something on this list that's not in stock at your favorite BNW location do not hesitate to ask for us to order it for you!)
COMICS AND MAGAZINES
A&A #10
Adventure Time #59
Aliens Defiance #7
All New Wolverine #15
Angry Birds Comics (2016) #12
Animosity #1 5th Ptg
Aquaman #12
Arclight #3
Assassins Creed Templars #8
Atomic Robo And The Temple Of Od #5 (OF 5)
Avengers #2
Batman #12
Batman 66 Meets Steed And Mrs Peel #6 (OF 6)
Big Trouble Little China Escape New York #3
Black Science #26
Bounty #5 (OF 10)
Cannibal #3
Champions #2 2nd Ptg
Champions #3
Clone Conspiracy #3 (OF 5)
Cyborg #6
DC Comics Bombshells #20
Deadman Dark Mansion Of Forbidden Love #2 (OF 3)
Deadpool #23
Death Of Hawkman #3 (OF 6)
Dirk Gently Salmon Of Doubt #3
Doctor Who 12th Year Two #12
Eclipse #4
Everafter From The Pages Of Fables #4
Evil Dead 2 Merry Deadite Xmas One Shot
Faith (ONGOING) #6
Flintstones #6
Giant Days #21
Glitterbomb #4
Goldie Vance #8
Grant Morrisons 18 Days #18
Green Arrow #12
Green Lanterns #12
Harley Quinn #9
Haunted Horror #25
Injustice Gods Among Us Ground Zero #1
Invisible Republic #13
Island #13
Jim Henson Storyteller Giants #1
Josie & The Pussycats #3
Justice League #10
Looney Tunes #234
Micronauts #8
Midnighter And Apollo #3 (OF 6)
Moon Knight #9
Motor Crush #1
Nailbiter #27
Nightwing #10
Ninjak #22
Nova #1
Popeye Classics Ongoing #53
Powerpuff Girls (2016) #5
Predator Vs Judge Dredd Vs Aliens #3
Providence #11 (OF 12)
Raven #1 (OF 6) 2nd Ptg
Reggie And Me #1 (OF 5)
Revival #45
Ringside #8
Rise Of The Black Flame #4 (OF 5)
Savage Dragon #218
Scarlet Witch #13
Shade The Changing Girl #3
Slapstick #1
Spider-Man 2099 #18
Star Wars Doctor Aphra #1
Superman #12
Transformers More Than Meets The Eye Revolution #1
Uber Invasion #1
Unfollow #14
Unworthy Thor #2 (OF 5)
Violent Love #2
Walking Dead #161
Wicked & Divine #24
Wonder Woman 77 Bionic Woman #1 (OF 6)
Woods #28
World Of Tanks #3
X-Files Origins #4 (OF 4)
TRADE PAPERBACKS, GRAPHIC NOVELS, HARDCOVERS AND MANGA
Archie Tp Vol 02
Baltimore Hc Vol 07 Empty Graves
Barbarella Hc
Beauty Tp Vol 02
Black Science Tp Vol 05 True Atonement
Captain America Steve Rogers Tp Vol 01 Hail Hydra
Doctor Strange Tp Vol 01 Way Of Weird
I Hate Fairyland Tp Vol 02 Fluff My Life
Justice League Tp Vol 08 Darkseid War Part 2
Legend Of Wonder Woman Hc
Lumberjanes Tp Vol 05
Our Mother Gn
Spread Tp Vol 03 No Safe Place
Star Wars Force Awakens Adaptation Hc
Star Wars Kanan Omnibus Hc
Star Wars Poe Dameron Tp Vol 01 Black Squadron
Steven Universe & Crystal Gems Tp Vol 01
TOYS
Batman Animated Series NBA Clayface Dlx Af
Batman Arkham Knight Batgirl Oracle Af 2 Pack
DC Icons Af Accessory Pack Set 1
ODDS AND ENDS
Star Wars Kylo Ren Mini Bust
SW Yoda & R2-D2 Dagobah Artfx+ Statue 2pk