The End of 2016 that is! Hope you all have a safe and enjoyable time tonight as we count down to 2017! Here's the first list of comics for the new year!
It's Yet Another New Years Eve!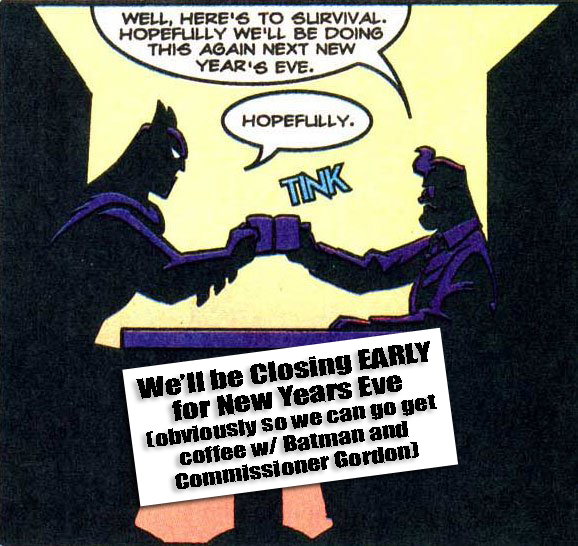 We'll be closing early tonight (think 6pm) at both locations for the end of the year! See you again bright and shiny and early on Sunday when we re-open at 11am! (Bring Coffee)
Do You Get Our EMail Newsletter Every Monday?

Sing up over HERE and get updates every Monday afternoon and help break up those early in the week doldrums!
The Galaxy Lost A Princess This Week…
But at least someone hung art worth looking at on our block in Old City
AETHER REVOLT PRE-RELEASE EVENTS!
Come get your Magic nerd on at our Willow Grove location will be running 3 Prerelease events for the next Magic set, Aether Revolt.  Your $30 entry will get you an Aether Revolt Prerelease pack which includes a playable foil promo card.
We've Got Max Rebo!
FINALLY! THIS GAME IS BACK IN STOCK!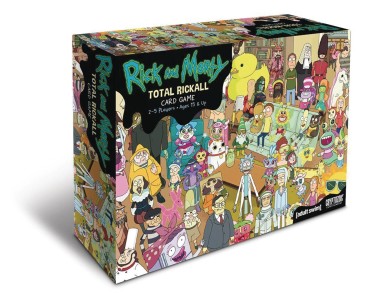 RICK AND MORTY TOTAL RICKALL CARD GAME (C: 0-1-2)
CRYPTOZOIC ENTERTAINMENT
Rick has locked the family inside their house. Why? Because the family has grown. Parasites masquerading as family and close friends have infiltrated and inserted pleasant memories into everyone`s minds to make them think they`re real. And more keep coming! You must figure out which of these new, zany characters are real and which ones are parasites that need to be exterminated. Think you`ve got what it takes to save the world? The Total Rickall Cooperative Card Game is based on the Rick and Morty episode of the same name.
HE SLIMED ME RAY!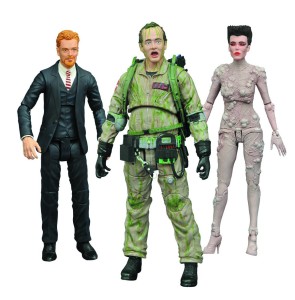 GHOSTBUSTERS SELECT AF SERIES 4

DIAMOND SELECT TOYS LLC
Ghostbusters Select Action Figures Series 4 Asst.
A Diamond Select Toys release! The Traveler has come! After three series of the Ghostbusters and their friends, now it's time for a wave of their foes! This new assortment of fully poseable 7-inch scale action figures features Gozer the Gozerian, who was big in Sumeria, alongside EPA stiff Walter Peck and a slimed version of Peter Venkman featuring a new sculpt! Each figure features 16 points of articulation, and each figure comes with another piece of the rooftop diorama – collect all 15 figures to build the rooftop temple from the end of the film! Sculpted by Gentle Giant Studios!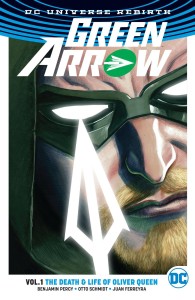 GREEN ARROW TP VOL 01 LIFE & DEATH OF OLIVER QUEEN (REBIRTH)
DC COMICS
(W) Ben Percy (A) Otto Schmidt, Juan Ferreyra (CA) Juan Ferreyra
Green Arrow's life will be forever changed as he is betrayed by those closest to him! A budding relationship with Black Canary forces Ollie to confront the fact that he can't fight "the man" if he is "the man." And one by one, his friends desert him-and all the money in the world won't bring them back when he needs them most. Collects GREEN ARROW: REBIRTH #1 and GREEN ARROW #1-5.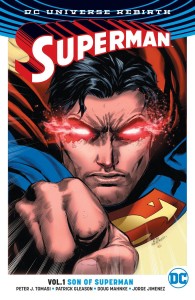 SUPERMAN TP VOL 01 SON OF SUPERMAN (REBIRTH)
DC COMICS
(W) Peter J. Tomasi, Patrick Gleason (A) Doug Mahnke & Various (CA) Doug Mahnke, Jaime Mendoza
After the stunning events of DC REBIRTH, the world is left without Superman! Luckily, there is another Man of Steel to fill his shoes: the pre-Flashpoint Kal-El! However, can this new Superman protect the world while raising a super-son with his wife, Lois Lane? And should they help their boy use his new and rapidly increasing abilities, or hide them from the world? Don't miss these stories from SUPERMAN: REBIRTH #1 and SUPERMAN #1-6!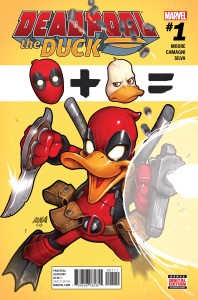 DEADPOOL THE DUCK #1 (OF 5)
MARVEL COMICS
(W) Stuart Moore (A) Jacopo Camagni (CA) David Nakayama
What do you get when you take one cynical anthropomorphic duck (named Howard) and cross it with the smelliest (and most annoying) mercenary in the Marvel Universe? DEADPOOL THE DUCK! When Deadpool is sent on a mission from S.H.I.E.L.D. to capture a high-profile E.T. that is rampaging across the high plains, the snatch-and-grab turns out to be much more complicated than the Merc with a Mouth anticipated. One unfortunate wrong-place-at-the-wrong-time accident later leaves Deadpool and Howard fighting for control of the cutest mercenary the Marvel Universe has ever seen! Brought to you with words by Stuart Moore (CLOAK & DAGGER, THANOS: DEATH SENTENCE Novel) and art by Jacopo Camagni (DEADPOOL'S SECRET SECRET WARS).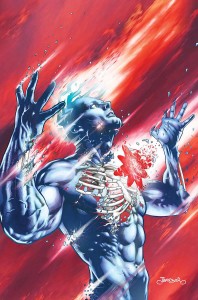 THE FALL AND RISE OF CAPTAIN ATOM #1 (OF 6)
DC COMICS
(W) Cary Bates, Greg Weisman (A) Will Conrad (CA) Jason Badower
"Blowback" part one! Captain Atom hasn't been seen or heard from in years-and even if you think you know what happened to him…you're  wrong! But you're not alone. To this day, no one on Earth-not even the other superheroes-has an inkling of the missing Captain Atom's true fate. At last, the truth is about to be revealed in a saga that transcends not only the meaning of life and death, but the limits of time and space.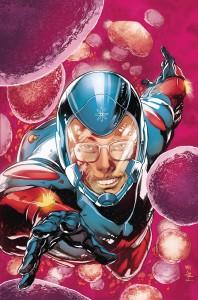 JUSTICE LEAGUE OF AMERICA THE ATOM REBIRTH #1
DC COMICS
(W) Steve Orlando (A) Andy MacDonald (CA) Ivan Reis, Joe Prado
SPINNING OUT OF THE PAGES OF JUSTICE LEAGUE VS. SUICIDE SQUAD! Meet Ryan Choi, prodigious theoretical physics student with severe allergies and crippling social anxiety. But little does young Ryan know, his first day at Ivy University marks the start of an epic journey into the very heart of the DC Universe! One shot RATED T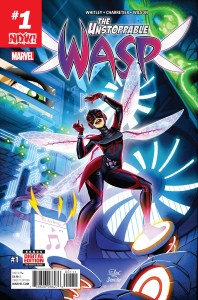 UNSTOPPABLE WASP #1
MARVEL COMICS
(W) Jeremy Whitley (A/CA) Elsa Charretier
Girl. Genius. Hero. Unstoppable.
Nadia spent the entire first half of her life a captive of The Red Room, but now this teenage super-scientist is on her own for the first time, and she's ready to spread her wings!  Hank Pym's daughter has a lot of time to make up for and she's determined to change the world.  You know, if she can get her U.S. citizenship first. Guest-starring Ms. Marvel and Mockingbird!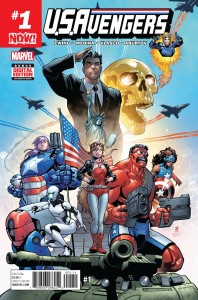 US AVENGERS #1

MARVEL COMICS
(W) Al Ewing (A/CA) Paco Medina
In a world beset by danger, the United States of America needs a team of heroes they can rely on. Welcome to… American Intelligence Mechanics! A.I.M. will dare any danger – no matter how awesome that danger might be – to save their nation from the wildest, weirdest threats of all! The most patriotic super-group ever is here to save the day. And they'll do it all looking tried and true in the red, white & blue! Can you live without… the U.S.Avengers?
NOW HERE'S THE FULL LIST!
If you want a full visual list of everything click this link whydonthca (tho this might not update til Monday or something)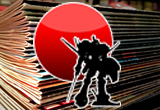 (the following list of comics reflects all the comics coming into both locations. If there's something on this list that's not in stock at your favorite BNW location do not hesitate to ask for us to order it for you!)
COMICS AND MAGAZINES
A&A #11
Adventure Time #60
Aquaman #14
Autumnlands Tooth & Claw #14
Avengers #3
Batman #14
Big Trouble Little China Escape New York #4
Black Science #27
Captain America Sam Wilson #17
Champions #4
Cyborg #8
DC Comics Bombshells #21
Deadpool The Duck #1 (OF 5)
Deadpool Too Soon #4 (OF 4)
Death Of Hawkman #4 (OF 6)
Disney Princess #8
Everafter From The Pages Of Fables #5
Faith (ONGOING) #7
Fall And Rise Of Captain Atom #1 (OF 6)
GI Joe A Real American Hero #235
Giant Days #22
Grant Morrisons 18 Days #19
Green Arrow #14
Green Lanterns #14
Harley Quinn #11
Hawkeye #2
Hi Fructose Magazine Quarterly #42
Injustice Ground Zero #3
Jem & The Holograms #22
Justice League #12
Justice League Of America The Atom Rebirth #1
Justice League Suicide Squad #3 (OF 6)
Marvel Guardians Of Galaxy Vol 2 Prelude #1 (OF 2)
Marvel Universe Avengers Ultron Revolution #7
Midnighter And Apollo #4 (OF 6)
Moon Knight #10
Nailbiter #28
Nightwing #12
Nova #2
Old Man Logan #16
Optimus Prime #2
Ragnarok #11
Rise Of The Black Flame #5 (OF 5)
Scarlet Witch #14
Shade The Changing Girl #4
Slapstick #2
Spider-Man 2099 #19
Star Trek Boldly Go #4
Superman #14
Unfollow #15
Unstoppable Wasp #1
Unworthy Thor #3 (OF 5)
US Avengers #1
Walking Dead #162
Wicked & Divine #25
World Of Tanks #4
Wynonna Earp Legends Doc Holliday #2
TRADE PAPERBACKS, GRAPHIC NOVELS, HARDCOVERS AND MANGA
Chris Samnee Daredevil Artist Ed Hc
Grayson Tp Vol 05 Spyrals End
Green Arrow Tp Vol 01 Life & Death Of Oliver Queen
One Punch Man Gn Vol 10
Star Wars Han Solo Tp
Superman Tp Vol 01 Son Of Superman (REBIRTH)
TOYS
Spawn Rebirth Af Cs
Ghostbusters Select Af Series 4 Asst
Marvel Select Cable Af (RESTOCK!)
Mighty Meeples DC Comics 24pc Bmb Gravity Feed
ODDS AND ENDS
Rick And Morty Total Rickall Card Game (RESTOCK!)