We're quickly approaching the start of Hannukah and Christmas so here's to hoping today's slushy rainy snowy mess isn't messing up any shopping plans you'd waited til now to start! On to new comics news!
HEY! YOU GUYS SEE ROGUE ONE YET?!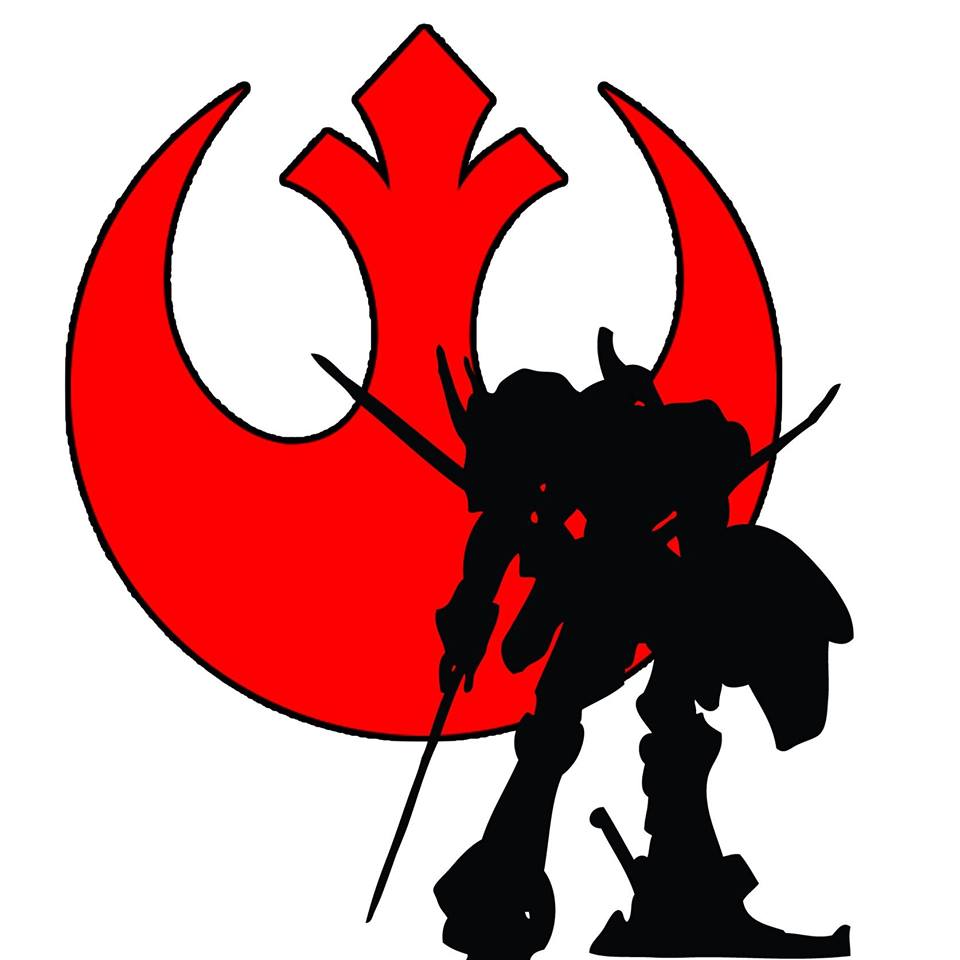 Oh! Man!
Do You Get Our EMail Newsletter Every Monday?

Sing up over HERE and get updates every Monday afternoon and help break up those early in the week doldrums!
LAST MIN HELP!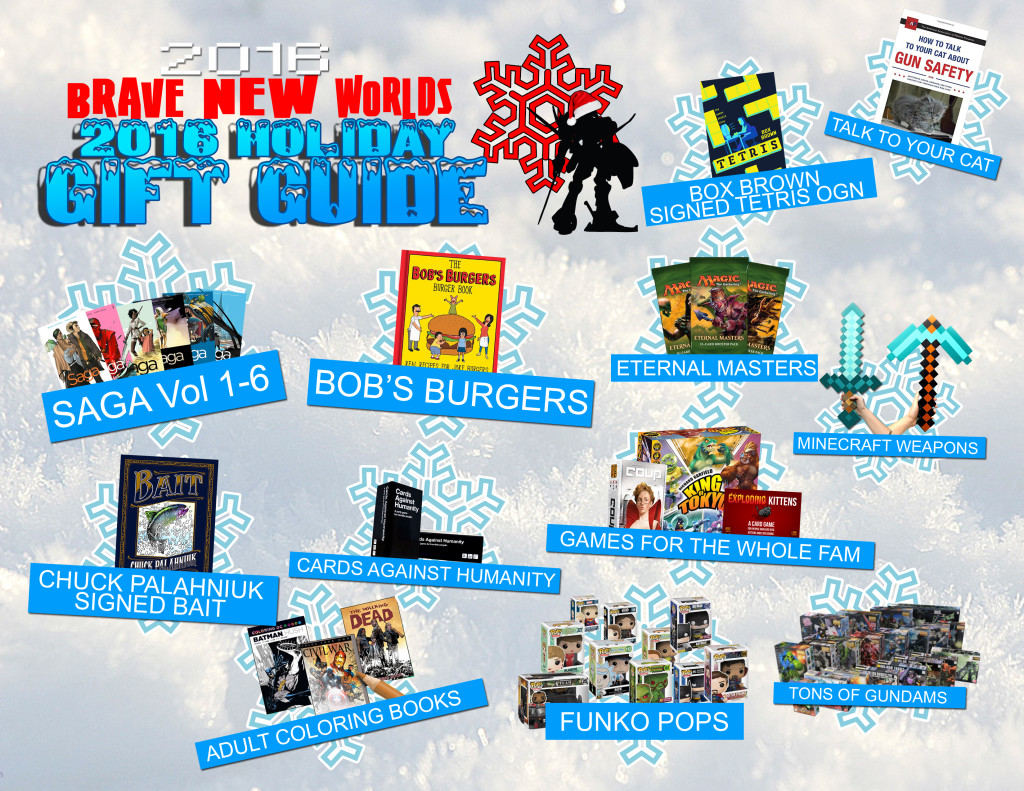 I just sorta realized that the holiday shopping season is upon us. (Like on Thursday realized it as I flipped my calendar to December)…so good thing we've generated a little list of gift ideas that both shops are usually stocked with at all times. There's more information over HERE for ya to check out!
LAST WEEKEND OF STANDARD SHOWDOWN!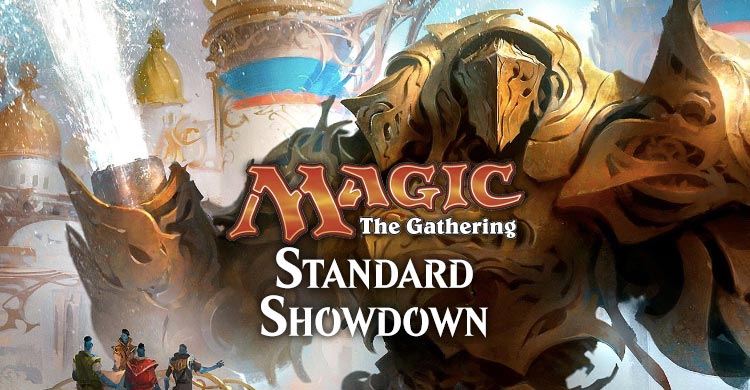 From November 26 through December 17, Brave New Worlds will host Standard Showdown tournaments on Saturdays with special promotional prize boosters earned through undefeated play and through other accomplishments. The tournaments will be 3-round Swiss events meant to showcase the Standard format.  They begin starting this week on Saturday at noon and are free to enter!
50% OFF STUFF MAKE GREAT GIFTS!
'Cause people think you paid 100% of the price!

TOYS!
DC COMICS
Lee Bermejo, the acclaimed artist behind the bestselling JOKER and LEX LUTHOR: MAN OF STEEL, lends his design skills to a new line of action figures, starting with four of DC's most popular characters!
DC COMICS
Fresh from their hit TV series on the CW, Arrow and The Flash are back in a new action figure 2-pack. Arrow comes with a bow, three arrows and spare hands.
BLACK MASK COMICS
(W) Matthew Rosenberg (A/CA) Tyler Boss
The epic third installment of this tale of children with bad ideas brings us chemistry classes, remote control cars, and poorly planned capers. And there's a dog.
MARVEL COMICS
(W) Nicole Perlman (A) Marco Checchetto (CA) Esad Ribic
DC COMICS
(W) Joshua Williamson (A/CA) Jason Fabok
The first major event storyline of DC's Rebirth era begins with a day Amanda Waller always knew would come: the Justice League discovers the existence of the Suicide Squad! This government-sponsored black-ops team of super-villains with bombs implanted in their brains is obviously a deal-breaker for Earth's paragons of truth and justice! But you can bet that the Wall and her Task Force X won't go down without the fight to end all fights as this weekly series gets underway!
Any amount $10 and up!
COMICS AND MAGAZINES
4 Kids Walk Into A Bank #3
Adventure Time Comics #6
Aliens Life And Death #4 (OF 4)
All Star Batman #1 Directors Cut
Alters #3
Amazing Spider-Man #22
Animosity #4
Aquaman #13
Archie #15
Assassins Creed Awakening #2 (OF 6)
Assassins Creed Locus #4 (OF 4)
Avengers #2.1
Back To The Future #15
Backstagers #5 (OF 8)
Batman #13
Black Hammer #6
Black Hood Season 2 #2
Black Panther World Of Wakanda #2
Bloodshot Usa #3 (OF 4)
Briggs Land #5
BTVS Season 11 #2
Cage #3 (OF 4)
Captain America Sam Wilson #16
Cave Carson Has A Cybernetic Eye #3
Cyborg #7
Dads Weekend One Shot
Dark Horse Presents #29
Dark Souls Winters Spite #2 (OF 4)
Dead Inside #1
Deadpool And Mercs For Money #6
Demonic #5 (OF 6)
Dept H #9
Divinity III Stalinverse #1
Doctor Strange #15
Doctor Who 10th Year Two #17
Doctor Who 11th Year Two #15
Doctor Who 9th #8
Ether #2
Fix #7
Gamora #1
Garth Ennis Red Team Double Tap #6 (OF 9)
Green Arrow #13
Green Lanterns #13
Gwenpool #9
Harbinger Renegade #2
Harley Quinn #10
He Man Thundercats #3 (OF 6)
Hookjaw #1 (OF 5)
Horizon #6
Hunt #5
Injustice Ground Zero #2
Invader Zim #16
Invincible Iron Man #2
Jem Misfits #1
Justice League #11
Justice League Suicide Squad #1 (OF 6)
KISS #3
Klaus & Witch Of Winter One Shot
Kong Of Skull Island #6 (OF 6)
Lady Mechanika La Dama De La Muerte #3 (OF 3)
Lake Of Fire #5
Locke & Key Small World
Lucifer #13
Mad Magazine #543
Marvel Universe Guardians Of Galaxy #15
Mighty Captain Marvel #0
Motor Girl #1 2nd Ptg
My Little Pony Friendship Is Magic #49
Mycroft #4 (OF 5)
Nightwing #11
Occupy Avengers #2
Pathfinder Worldscape #3 (OF 6)
Patsy Walker Aka Hellcat #13
Power Man And Iron Fist Sweet Christmas Annual #1
Punisher #7
Raven #4 (OF 6)
Silver Surfer #8
Simpsons Comics #235
Slam #2
Solo #3
Southern Cross #10
Spell On Wheels #3 (OF 5)
Spider-Gwen #15
Squadron Supreme #14
Star Trek Green Lantern Vol 2 #1
Star Wars Doctor Aphra #2
Star-Lord #1
Street Fighter Unlimited #12
Super F*Ckers Forever #5 (OF 5)
Superman #13
Tank Girl Gold #3 (OF 4)
Teen Titans Go #19
Thanos #2
TMNT Universe #5
Torchwood #4
Trinity #4
Ultimates 2 #2
Uncanny X-Men #16
Usagi Yojimbo #160
Venom #2
Warhammer 40000 Will Of Iron #3 (OF 4)
WWE Then Now Forever #1 (2ND Ptg)
X-Files X-Mas Special 2016
TRADE PAPERBACKS, GRAPHIC NOVELS, HARDCOVERS AND MANGA
Deadpool Worlds Greatest Tp Vol 05 Civil War II
Giant Size Little Marvel Tp Avx
Goodnight Punpun Gn Vol 04
Invader Zim Tp Vol 03
Manifest Destiny Tp Vol 04 Sasquatch
Punisher Tp Vol 01 On Road
Silk Tp Vol 02 Negative
Sp4rx Gn
Spider-Gwen Tp Vol 02 Weapon Of Choice
Star Wars Rogue One Ultimate Visual Guide Hc
Superman Wonder Woman Tp Vol 04 Dark Truth
Sword Art Online Novel Vol 09 Alicization Beginning
TMNT Meeting Of The Mutanimals Hc
Tokyo Ghoul Gn Vol 10
Tomie Complete Dlx Ed Hc
Ultimates: Omniversal Tp Vol 02 Civil War II
TOYS
DC Comics Designer Ser Lee Bermejo Batman Af
DC Comics Designer Ser Lee Bermejo Superman Af
DC Films Armored Batman Premium Af
DC Films Superman Premium Af
DC Tv Arrow Flash 2 Pack Af
Pop Conan The Barbarian Conan Warpaint Px Vinyl Fig
ODDS AND ENDS
Hellraiser Lament Configuration Puzzle Cube
Marvel Deadpool Deluxe Mask & Speech Bubble Px Box
One-12 Collective Universal Monsters Frankenstein