Now that you've stuffed yourself full of turkey, had your fill of family and friends and spent your weekend shopping til you drop we've got a whole new list of 50% OFF hardcovers and graphic novels!
Coming to our shelves this week is a LARGE SELECTION (largest we've received in quite some time actually) of  50% OFF (perfect Holiday Gift) Marvel books! Seriously check out this list!

-All New X-Men Tp Vol 01 Yesterdays X-Men
-All New X-Men Tp Vol 02 Here To Stay
-All New X-Men Tp Vol 04 All Different
-Alias Ultimate Collection Tp Book 02
-Alpha Flight Classic Tp Vol 02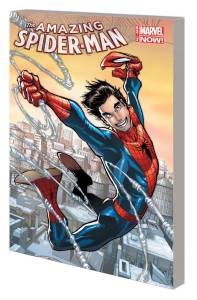 AMAZING SPIDER-MAN TP VOL 01 PARKER LUCK
MARVEL COMICS
(W) Dan Slott (A) Humberto Ramos (CA) TBD
The greatest super hero of all time returns! The world may have changed since Spidey's been gone, but so has Peter Parker. This is a man with a second chance at life, and he's not wasting a moment of it. But his old foes are back, as well! Re-energized, out of control and madder than ever, Electro and the Black Cat demand revenge! And as if dealing with them isn't enough, a new revelation rocks Spider-Man's world to its core: the radioactive spider that granted Peter his powers bit someone else, too! Who is Silk, and where has she been all these years? Find out as Peter Parker retakes his life, putting the "friendly" back in the neighborhood, the "hero" back in "super hero" – and the "amazing" back in "Spider-Man!" Collecting AMAZING SPIDER-MAN (2014) #1-6.
-Amazing Spider-Man By JMS Ultimate Coll Tp Book 01
-Amazing Spider-Man By JMS Ultimate Coll Tp Book 02
-Amazing Spider-Man By JMS Ultimate Coll Tp Book 03
-Amazing Spider-Man By JMS Ultimate Coll Tp Book 04
-Astonishing X-Men Whedon Cassaday Ult Coll Tp Book 01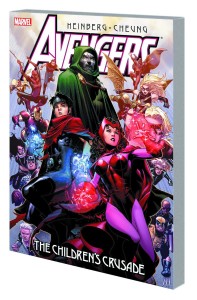 AVENGERS CHILDRENS CRUSADE TP
MARVEL COMICS
(W) Allan Heinberg (A) Jim Cheung & Various (CA) Jim Cheung
Twin brothers Wiccan and Speed of the Young Avengers are boys without a past. When Wiccan's powers spiral out of control, the team sets out to find the one person who might help: the Scarlet Witch, who may be the twins' mother, and whose own uncontrollable powers once almost destroyed the Avengers and nearly wiped out the mutant race. The Young Avengers' search will take them across the world and through time, reunite them with friends thought lost and pit them against deadly enemies; it will find them on the run from the Avengers and aligned with the former mutant terrorist Magneto, the Scarlet Witch's father. And once they find the Scarlet Witch, nothing will ever be the same! Collecting AVENGERS: THE CHILDREN'S CRUSADE #1-9, AVENGERS: THE CHILDREN'S CRUSADE – YOUNG AVENGERS, and material from UNCANNY X-MEN (1963) #526.
-Avengers Forever Tp
-Avengers Korvac Saga Tp
-Avengers Vs X-Men Tp Vs AvX
-Avengers X-Men Utopia Tp
-Cable Classic Tp Vol 02
-Cable Classic Tp Vol 03
-Captain America Bloodstone Hunt Tp New Ptg
-Captain America Red Menace Ultimate Collection Tp
-Captain America Scourge Of Underworld Tp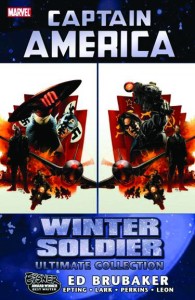 CAPTAIN AMERICA WINTER SOLDIER ULTIMATE COLLECTION TP
MARVEL COMICS
(W) Ed Brubaker (A) Steve Epting & Various (CA) Steve Epting
Written by ED BRUBAKER
Penciled by STEVE EPTING, MIKE PERKINS & MICHAEL LARK
Cover by STEVE EPTING
A midnight call to duty brings Captain America aboard the S.H.I.E.L.D Heli-carrier to identify the corpse of his most feared adversary: the Red Skull! The shocking murder of Cap's oldest enemy may not be the end of the Skull's plans, however, because whoever shot the Skull has stolen his final project: an unfinished Cosmic Cube with the potential power to alter reality itself. Adding to the imminent danger, a cadre of the Skull's followers has already set in motion a plan to ignite bombs in the hearts of Paris, London and Manhattan – causing untold death and destruction. Racing against these bombs' rapidly ticking clocks, the Star-Spangled Avenger must not only solve the mystery of his nemesis' murder, but find the Cube before it can be used in the Red Skull's malevolent plot against the United States! Then, the questions plaguing Captain America's dreams and memories have been answered in the most brutal way possible. And in the wake of this brutality, General Lukin makes his first all-out assault – tearing open old wounds and threatening to make new scars that will never heal! Collecting CAPTAIN AMERICA #1-9 & #11-14.
-Carnage Minimum Carnage Tp
-Civil War Wolverine Tp
-Daredevil Yellow Tp
-Deadpool & Cable Ultimate Collection Tp Book 01
-Deadpool & Cable Ultimate Collection Tp Book 03
-Eternals By Neil Gaiman Tp
MARVEL COMICS
(W) Mark Waid (A) Mark Buckingham, Mike Wieringo (CA) Mike Wieringo
Written by MARK WAID
Penciled by MIKE WIERINGO & MARK BUCKINGHAM
Cover by MIKE WIERINGO
Mark Waid and Mike Wieringo take the reins of FANTASTIC FOUR, and deliver some of the most daring and humorous adventures Marvel's First Family has ever seen! Giant bugs! Living equations! Johnny Storm, CEO! Exploding unstable molecules! The secret behind the Yancy Street Gang! And watch as the antics between the Thing and the Human Torch heat up like never before! Prepare to laugh and cheer at once! Collecting Fantastic Four #60-66, plus Waid and 'Ringo's first Mighty Marvel collaboration: 1996's AVENGERS #400.
-Fantastic Four By Waid & Wieringo Ult Coll Tp Book 02
-Fantastic Four By Waid & Wieringo Ult Coll Tp Book 03
-Fear Itself Tp
-Fury Max Tp Vol 01 My War Gone By
-Fury Max Tp Vol 02 My War Gone By
-Gambit Classic Tp Vol 01
MARVEL COMICS
(W) Greg Pak (A) John Romita (CA) David Finch
Written by GREG PAK
Penciled by JOHN ROMITA JR.
Cover by DAVID FINCH
An epic story of anger unbound! Exiled by a group of Marvel "heroes" to the savage alien planet of Sakaar, the Hulk raged, bled and conquered through the pages of last year's "Planet Hulk" epic, rising from slave to gladiator to king. Now the Hulk returns to Earth to wreak his terrible vengeance on Iron Man, Reed Richards, Dr. Strange and Black Bolt ? and anyone else who gets in the way. Stronger than ever, accompanied by his monstrous Warbound gladiator allies, and possessed by the fiercest and purest rage imaginable, the Hulk may just tear this stupid planet in half. Collecting WORLD WAR HULK #1-5.
-Hulk Tp Vol 01 Red Hulk
-Iron Man Armor Wars Tp
-Iron Man Demon In A Bottle Tp
-Iron Man War Machine Tp
MARVEL COMICS
(W) Neil Gaiman (A) Andy Kubert (CA) Scott McKowen
Written by NEIL GAIMAN
Penciled by ANDY KUBERT
Cover by SCOTT MCKOWEN
The year is 1602, and strange things are stirring in England. In the service of Queen Elizabeth, court magician Dr. Stephen Strange senses that the bizarre weather plaguing the skies above is not of natural origin. Her majesty's premier spy, Sir Nicholas Fury, fends off an assassination attempt on the Queen by winged warriors rumored to be in service to a mad despot named Doom. News is spreading of "witchbreed" sightings – young men bearing fantastic superhuman powers and abilities. And in the center of the rising chaos is Virginia Dare, a young girl newly arrived from the New World, guarded by a towering Indian warrior. Can Fury and his allies find a connection to these unusual happenings before the whole world ends? In MARVEL 1602, award-winning writer Neil Gaiman presents a unique vision of the Marvel Universe set four hundred years in the past. Classic Marvel icons such as the X-Men, Spider-Man, the Fantastic Four and Daredevil appear in this intriguing world of 17th- century science and sorcery, instantly familiar to readers, yet subtly different in this new time. MARVEL 1602 combines classic Marvel action and adventure with the historically accurate setting of Queen Elizabeth's reign to create a unique series unlike any other published by Marvel Comics. Collecting MARVEL 1602 #1-8.
-Marvel Super Heroes Secret Wars Tp
-Marvel Universe End Tp
-MMW Avengers Tp Vol 01
-MMW Captain America Tp Vol 01
-MMW Captain America Tp Vol 02
-MMW Incredible Hulk Tp Vol 02 Dm Var Ed 39
-MMW Invincible Iron Man Tp Vol 02
-MMW Mighty Thor Tp Vol 02
-MMW Mighty Thor Tp Vol 03
-MMW Uncanny X-Men Tp Vol 04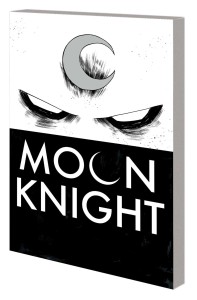 MOON KNIGHT TP VOL 01 FROM DEAD
MARVEL COMICS
(W) Warren Ellis (A) Declan Shalvey (CA) TBD
Marc Spector is Moon Knight! Or is he? It's hard to tell these days, especially when New York's wildest vigilante protects the street with two-fisted justice and three – that's right, count 'em – three different personalities! But even with the mystical force of Egyptian moon-god Khonshu fueling his crusade, how does the night's greatest detective save a city that's as twisted as he is? The road to victory is going to hurt. A lot. Be there as Moon Knight punches ghosts(!), investigates a sleep experiment that's driving its patients insane, travels to the mushroom graveyard planet(!!), faces the Black Spectre and takes on twenty mob enforcers to save an abductee…alone. Marvel's most mind-bending adventure begins as Moon Knight sleuths his way to the rotten core of New York's most bizarre mysteries! Collecting MOON KNIGHT (2014) #1-6.
-Punishermax Kingpin Tp
-Secret War Tp
-Secret Wars 2 Tp
-Spider-Man Death Of Stacys Tp
-Spider-Man Hobgoblin Lives Tp
-Spider-Man Complete Ben Reilly Epic Tp Book 01
-Spider-Man Complete Ben Reilly Epic Tp Book 02
-Spider-Man Complete Ben Reilly Epic Tp Book 03
-Spider-Man Complete Ben Reilly Epic Tp Book 04
-Spider-Man Complete Clone Saga Epic Tp Book 01
MARVEL COMICS
(W) David Michelinie (A) Various (CA) Erik Larsen
Written by DAVID MICHELINIE
Penciled by ERIK LARSEN, MARK BAGLEY, TOD SMITH, LARRY ALEXANDER, PARIS CULLINS & AARON LOPRESTI
Cover by ERIK LARSEN
When the web-slinger donned a sleek black costume of alien origin, he had no idea it would one day become his deadliest foe: Venom! See the misguided Eddie Brock in some of his earliest adventures as he tries time and again to take down the hated Spider-Man! Featuring the first appearance of Carnage! Plus: the Black Cat, Silver Sable and the Human Torch! Collecting AMAZING SPIDER-MAN (1963) #332-333, #346-347, #361-363 and #374-375; SPIDER-MAN: THE TRIAL OF VENOM – and material from AMAZING SPIDER-MAN (1963) #373, #388 and ANNUAL #25-26; PETER PARKER, THE SPECTACULAR SPIDER-MAN ANNUAL #12; and WEB OF SPIDER-MAN ANNUAL #8.
-Superior Spider-Man Tp Vol 01 My Own Worst Enemy Now
WOLVERINE BY GREG RUCKA ULTIMATE COLLECTION TP
MARVEL COMICS
(W) Greg Rucka (A) Darick Robertson, Leandro Fernandez (CA) Leandro Fernandez
Waitresses, arms dealers, human traffickers, pregnant crime lords, bad dreams and feral female fighters can't stop Wolverine from carving his way to victory in this razor-sharp series reboot by acclaimed novelist and comics scribe Greg Rucka (Whiteout, Queen & Country). And see Logan do what he does best against his archenemy, Sabretooth! Plus: the unsettling threats of Cry and Vapor! Guest-starring Nightcrawler! Collecting WOLVERINE (2003) #1-19.
MARVEL COMICS
(W) Duane Swierczynski & Various (A) Clayton Crain & Various (CA) Ariel Olivetti
Written by DUANE SWIERCZYNSKI, CRAIG KYLE & CHRISTOPHER YOST
Penciled by JAMIE MCKELVIE, ARIEL OLIVETTI, LARRY STROMAN, MIKE CHOI & SONIA OBACK
Cover by ARIEL OLIVETTI
It's the exciting sequel to the X-Men event of the decade, 2007's Messiah CompleX! The birth of a single mutant child forever changed the landscape of the X-Universe. The X-Men see the baby as the last hope for mutantkind's survival, but Bishop believes she'll doom them all. And he'll go to any length to see the baby dead … including teaming up with Cable's archenemy, Stryfe! Months ago, Cyclops handed the newborn over to Cable, believing his son could protect the child. But Cable never came back. Now, Cyclops has found his son marooned in the future – and with Bishop and Stryfe hot on his tail, Cyclops sends in the one team that will do what needs to be done in order to ensure the survival of their species: X-Force! The past, present and future converge – and break into total war! Plus: Get the inside scoop on Bishop's childhood, and see firsthand the horrific future he was raised in! And peer deep into Cable's files on friend and foe alike, and eyeball his arsenal as he prepares for war! Collecting X-MEN: THE TIMES AND LIFE OF LUCAS BISHOP #1-3, CABLE #11-15, X-FORCE #14-16, X-FORCE/CABLE: MESSIAH WAR and X-MEN: FUTURE HISTORY – MESSIAH WAR SOURCEBOOK.
-X-Men Complete Age Of Apocalypse Epic Tp Book 01
-X-Men Complete Age Of Apocalypse Epic Tp Book 02
-X-Men Complete Age Of Apocalypse Epic Tp Book 04
MARVEL COMICS
(W) Scott Lobdell & Various (A) Andy Kubert & Various (CA) George Perez
Written by MARK WAID, SCOTT LOBDELL, TERRY KAVANAGH,
JEPH LOEB & PETER DAVID
Penciled by ANDY KUBERT, PASQUAL FERRY, JOE MADUREIRA,
MIKE WIERINGO, MIKE DEODATO JR., ADAM KUBERT, STEVE SKROCE, ANTHONY CASTRILLO, IAN CHURCHILL & ANGEL MEDINA
Cover by ADAM KUBERT
It begins here! The saga that literally re-made the Marvel Universe of the 1990s is collected in chronological order across four volumes! The psionic force of nature known only as Onslaught sprang forth from the fractured psyche of mutant mentor Charles Xavier and the genetic terrorist called Magneto. Powered by his progenitors' rage, Onslaught laid siege to humanity — touching off a cataclysmic conflict destined to deprive a world of its most revered icons! Collecting X-MEN #53-54, UNCANNY X-MEN #334-335, AVENGERS #400-401, ONSLAUGHT: X-MEN, X-MAN #18, X-FORCE #57, CABLE #34 and INCREDIBLE HULK #444.
PRODUCT UPDATE (120507): Originally solicited at 272 pages, X-Men: The Complete Onslaught Epic will now run 256 pages and contain X-Men #53-54, Uncanny X-Men #334-335, Fantastic Four #414-415, Avengers #400-401, Onslaught: X-Men, Cable #34, and Incredible Hulk #444.
-X-Men Tp Bk 02 Complete Onslaught Epic