Hellos ghouls and goblins! It's that time again! When we look into our scrying pool to see what comics are coming out this week (11.2.16)!
Do You Get Our EMail Newsletter Every Monday?

Sing up over HERE and get updates every Monday afternoon and help break up those early in the week doldrums!
TICKETS STILL AVAILABLE FOR THIS WEEK!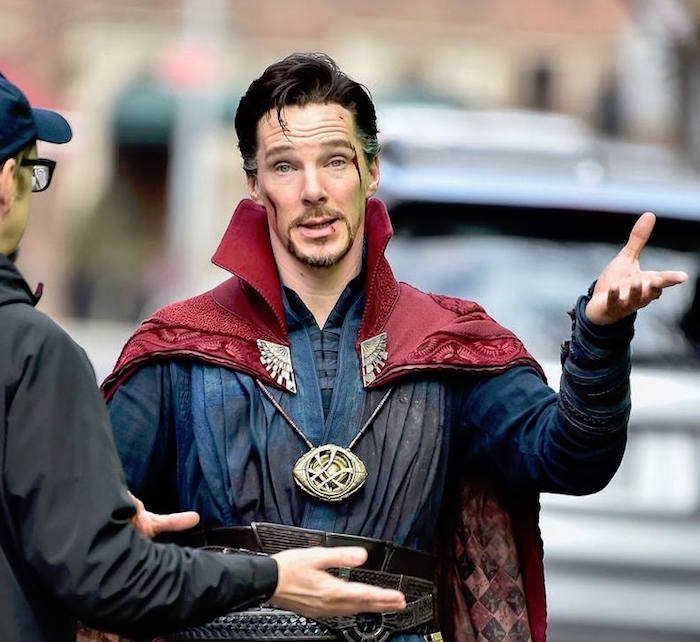 There's still tickets for our private screening at the Regal Cinema in Warrington Pa on November 3rd at 8pm!
Inquire about tickets next time you stop in or call Willow Grove 215.657.8838

LOCAL COMIC SHOP DAY IS COMING!!

Exclusive Local Comic Shop Day® comics and graphic novels only available at both BNW LOCATIONS on Saturday, November  19, 2016! As a way to say thank you for your continued support of our business, we have partnered with ComicsPRO to bring you the second annual Local Comic Shop Day®! These #LCSD exclusive comics will only be available in store, at participating local comic shops around the world! You will not find them as digital content, online or at the big box retailers. Long Live the Local Comic Shop!
 MONSTER MASH!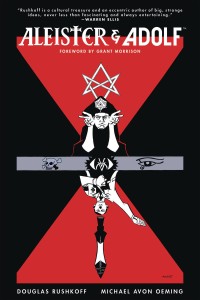 ALEISTER & ADOLF HC

DARK HORSE COMICS
(W) Douglas Rushkoff (A/CA) Michael Avon Oeming
Media theorist Douglas Rushkoff weaves a mind-bending tale of iconography and mysticism. During the Second World War, the legendary occultist Aleister Crowley develops a powerful and dangerous new weapon in the conflict against the Axis powers. But this unconventional new form of warfare could cast the world into Armageddon!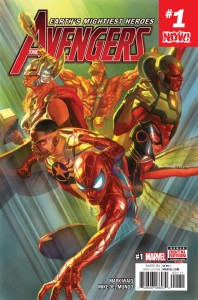 AVENGERS #1

MARVEL COMICS
(W) Mark Waid (A) Mike Del Mundo (CA) Alex Ross
    The time has come! Their ranks shattered by Civil War, their spirits weighted down by
a toll both personal and spiritual, Earth's Mightiest Heroes must find the resolve to stand united one final time against their greatest foe! Captain America! Thor! The Vision! The Wasp! Spider-Man! Hercules! When the dust settles, not a one of these valiant heroes will make it to the final page alive! This is KANG WAR ONE!
CATWOMAN ELECTION NIGHT #1
DC COMICS
(W) Meredith Finch, Mark Russell (A) Shane Davis, Ben Caldwell (CA) Shane Davis
It's mayoral election time in Gotham City, and while the city is up in arms, Catwoman couldn't care less! But when the candidates get personal, the Feline Fatale decides to get involved-much to the detriment of…well, everyone! This issue contains a special bonus story featuring the return of President Beth Ross from the critically acclaimed PREZ miniseries.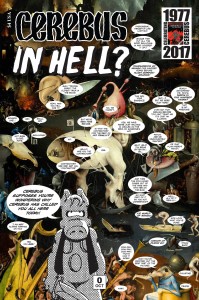 CEREBUS IN HELL #0
AARDVARK VANAHEIM
(W) Dave Sim (A) Dave Sim & Various (CA) Dave Sim, Hieronymus Bosch
The first new Cerebus comic since 2004! Where has Cerebus been since he died twelve years ago? Is he in hell? Purgatory? Limbo? Some strange 1980 disco with links to Close Encounters of the Third Kind and Henry Kissinger? Some ancient Greek disco with links to Plato, Socrates, Aristotle? Some 1990s disco with links to The Stone Roses, the Happy Mondays, and Oasis? Is he stuck inside his own Cerebus Online Disco Twitter-feed? Well, wherever he is, he deserves it, so feel free to laugh at his misfortune! This one shot leads into the Cerebus In Hell? 4-issue mini-series in 2017 celebrating Cerebus' 40th-anniversary!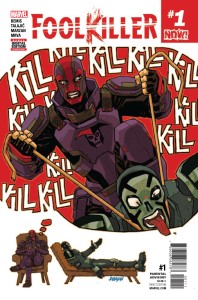 FOOLKILLER #1

MARVEL COMICS
(W) Max Bemis (A) Dalibor Talajic (CA) Dave Johnson
    Greg Salinger was just your typical merc for hire – FOOLKILLER – killing those that he deemed to be "foolish." And for money. But that life is behind him now. Today, he's a psychiatrist, trying to help others. But now S.H.I.E.L.D. wants him to try to rehabilitate super villains. The catch? If these "patients" don't make enough progress, they're dead!
MOTOR GIRL #1
ABSTRACT STUDIOS
(W/A/CA) Terry Moore
First Issue! When Samantha's junkyard is visited by a UFO looking for spare parts, she is only too happy to oblige. But when word gets out she is a reliable source, Sam's booming alien business catches the attention of an Area 51 investigator determined to shut her down! Don't miss the premier issue of Terry Moore's fantastic new series!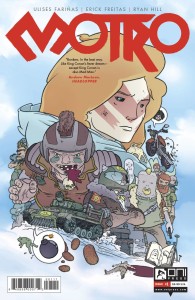 MOTRO #1 (OF 10)

ONI PRESS INC.
(W/A/CA) Ulises Farinas
A reclusive young boy with superhuman strength follows a prophecy from his dead father on a mission to save people, but when he finds the area villagers are less than thrilled by his noble intentions and he faces adversaries both human and magical-mechanical, what will it take to fulfill his destiny? Can his miniature talking motorcycle help? From illustrator and intricate world-builder Ulises Fariñas (IDW's Judge Dredd), comes the first story in the life and legend of a fantasy hero for the ages.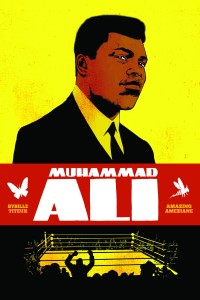 MUHAMMAD ALI HC

DARK HORSE COMICS
(W) Sybille Titeux (A/CA) Amazing Ameziane
An original graphic novel celebrating the life of the glorious athlete who metamorphosed from Cassius Clay to become a three-time heavyweight boxing legend, activist, and provocateur: Muhammad Ali. Not only a titan in the world of sports but in the world itself, he dared to be different and to challenge and defy through his refusal to be drafted to fight in Vietnam, his rejection of his "slave" name, and ultimately his final fight with his body itself through a thirty-year battle with Parkinson's disease. Witness what made Ali different, what made him cool, what made him the Greatest.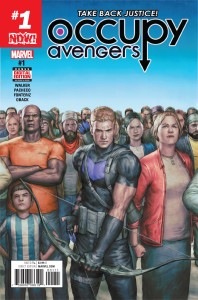 OCCUPY AVENGERS #1

MARVEL COMICS
(W) David Walker (A) Carlos Pacheco (CA) Agustin Alessio
    Super heroes – they're a privileged class. Doing what they want, when they want and suffering no consequences. They have no regard for the ordinary people who are left behind to suffer in their wake. Who will stand up for the little guy? There is a man. If you can find him, and if he believes in your story, he and his friends will put things right. Some call them outlaws, rebels, Robin Hoods. To others, they are heroes. No powers to speak of – just skills, smarts and a burning drive to do the right thing. His name is Hawkeye. Occupy Avengers: It's time to "Take Back Justice"!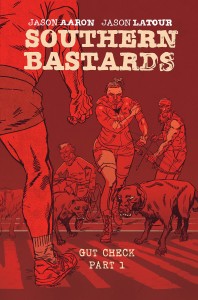 SOUTHERN BASTARDS #15

IMAGE COMICS
(W) Jason Aaron (A/CA) Jason Latour
NEW STORY ARC! "GUT CHECK": Part One-Coach Boss holds sway over Craw County for one reason: he wins football games. But after the biggest, ugliest loss of his career, the coach must become more of a criminal than ever before, if he's gonna keep ahead of his enemies. Enemies like Roberta Tubb, who's come to town with a machine gun and some serious questions about how her daddy died. The 2015 Harvey Award-winning (Best New Series) and 2016 Eisner Award-winning (Best Continuing Series) southern-fried crime comic by JASON AARON & JASON LATOUR is back for another round of football, BBQ, and bloodshed!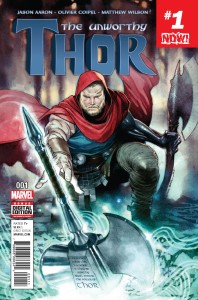 UNWORTHY THOR #1 (OF 5)

MARVEL COMICS
(W) Jason Aaron (A/CA) Olivier Coipel
    Odinson's desperate search to regain his worthiness has taken him out into the cosmos, where he's learned of the existence of a mysterious other Mjolnir. This weapon of unimaginable power, a relic from a dead universe, is the key to Odinson's redemption – but some of the greatest villains of the Marvel Universe are now anxious to get their hands on it as well. Can The Odinson reclaim his honor, or will the power of thunder be wielded for evil? The quest for the hammer begins here.
NOW HERE'S THE FULL LIST!
If you want a full visual list of everything click this link whydonthca (tho this might not update til Monday or something)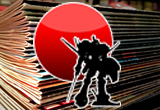 (the following list of comics reflects all the comics coming into both locations. If there's something on this list that's not in stock at your favorite BNW location do not hesitate to ask for us to order it for you!)
COMICS AND MAGAZINES
Action Lab Dog Of Wonder #4
Animosity #3
AoD Xena Forever And A Day #2 (OF 6)
Aquaman #10
Avengers #1
Batman #10
Batman 66 Meets Steed And Mrs Peel #5 (OF 6)
Betty & Veronica Holiday Annual Digest #248
Big Trouble Little China Escape New York #2
Bitch Planet #9
Catwoman Election Night #1
Cerebus In Hell #0
Champions #2
Cryptocracy #5
Cyborg #4
Dark Knight Iii Master Race #6 (OF 8) Collectors Edition
DC Comics Bombshells #19
Deadly Class #23
Deadpool And Mercs For Money #5
Death Of Hawkman #2 (OF 6)
Death Of X #3 (OF 4)
Disney Frozen #2
Eclipse #3
Edens Fall #3
Faith (ONGOING) #5
Flintstones #5
Foolkiller #1
Giant Days #20
Goldie Vance #7 (OF 7)
Green Arrow #10
Green Lanterns #10
Harley Quinn #7
Jade Street Protection Services #2
Josie & The Pussycats #2
Justice League #8
Lady Mechanika La Dama De La Muerte #2 (OF 3)
Marvel Universe Avengers Ultron Revolution #5
Mayday #1 (OF 5)
Midnighter And Apollo #2 (OF 6)
Moon Knight #8
Motor Girl #1
Motro #1 (OF 10)
Nailbiter #26
Nightwing #8
Occupy Avengers #1
Prophet Earth War #6 (OF 6)
Red Thorn #12
Revival #44
Revolution #4 (OF 5)
Rise Of The Black Flame #3 (OF 5)
Rom #4
Scarlet Witch #12
Shade The Changing Girl #2
Sheriff Of Babylon #12 (OF 12)
Sonic Mega Drive Next Level One Shot
Southern Bastards #15
Spider-Man 2099 #17
Spider-Woman #13
Strange Fruit #4
Superman #10
Transformers Till All Are One Revolution #1
Unfollow #13
Unworthy Thor #1 (OF 5)
Walking Dead #160
Wicked & Divine #23
Woods #27
World Of Tanks #2
TRADE PAPERBACKS, GRAPHIC NOVELS, HARDCOVERS AND MANGA
Adventure Time Tp Vol 10
Aleister & Adolf Hc
Civil War Ii Amazing Spider-Man Tp
DC Super Hero Girls Tp Vol 02 Hits And Myths
Gotham Academy Tp Vol 03 Yearbook
Kabuki Library Hc Vol 04
Legend Of Zelda Legendary Ed Gn Vol 01 Ocarina Time
Muhammad Ali Hc
Nailbiter Tp Vol 05 Bound By Blood
Northlanders Tp Book 02 The Icelandic Saga
One Punch Man Gn Vol 09
Outcast By Kirkman & Azaceta Hc Book 01
Rendez-Vous In Phoenix H
Strawberry Shortcake Hc Vol 01
Unbeatable Squirrel Girl Hc Vol 01
TOYS
Walking Dead Tv Dixon W/New Bike Af Box Set
ODDS AND ENDS
Marvel Now Deadpool Artfx+ Statue