Get to clicking to see what we've got in store for you this week's new comic book day (10.26.16)!
2016 Claims Another Great
We start this weekend off with some very sad news. The world of comics got a little less great today with the passing of Steve Dillon.  Here he is at our Old City shop drawing, singing, drinking and hanging out, all to benefit the Hero Initiative, a few years back. He was a pretty awesome guy and a giant in the industry. He will be sorely missed by everyone at Brave New Worlds.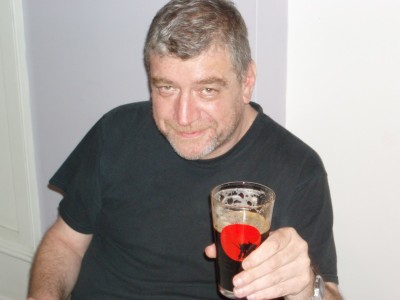 Do You Get Our EMail Newsletter Every Monday?

Sing up over HERE and get updates every Monday afternoon and help break up those early in the week doldrums!
Why Not See Doctor Strange With Us?!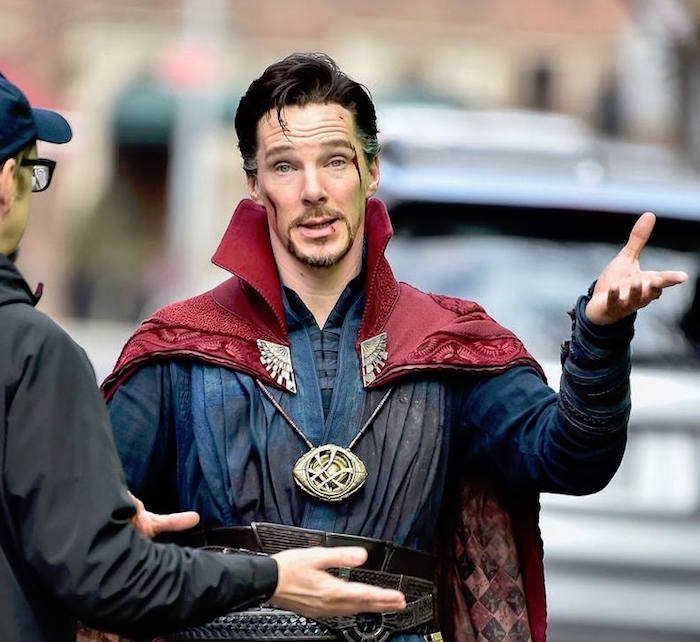 We're gonna be having another private screening at the Regal Cinema in Warrington Pa on November 3rd at 8pm!
Inquire about tickets next time you stop in! More details to come!

LCSD IS COMING!!

Exclusive Local Comic Shop Day® comics and graphic novels only available at both BNW LOCATIONS on Saturday, November  19, 2016! As a way to say thank you for your continued support of our business, we have partnered with ComicsPRO to bring you the first annual Local Comic Shop Day®! These #LCSD exclusive comics will only be available in store, at participating local comic shops around the world! You will not find them as digital content, online or at the big box retailers. Long Live the Local Comic Shop!
CHUCK PALAHNIUK'S BAIT W/ SIGNED BOOKPLATE!
We've got limited edition signed Chuky P bookplates to go with your order of his new book/coloring book, Bait, this week!
BAIT HC OFF COLOR STORIES FOR YOU TO COLOR

DARK HORSE COMICS
(W) Chuck Palahniuk (A) Duncan Fegredo & Various (CA) Duncan Fegredo
New York Times bestselling novelist Chuck Palahniuk presents Bait: Off-Color Stories for You to Color, his first ever coloring book for adults. Bait is both the coloring book debut and the second short story collection for Palahniuk, author of Lullaby and Fight Club.
Palahniuk invites readers to collaborate on this unprecedented hardcover edition: "Maybe between your colors, the artists' designs, and my stories we can create something that endures. Something worth keeping. Let's create a well-bound book that can sit on any shelf and be available for a new generation to discover and enjoy."
GRUMPY OLD BATMAN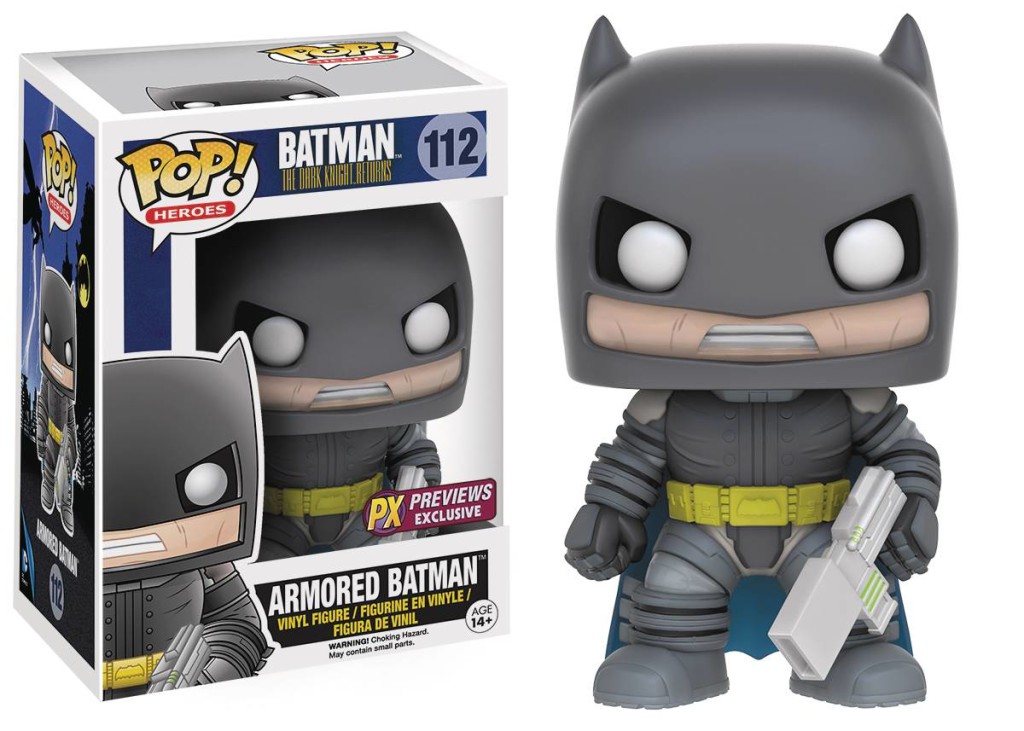 POP DC HEROES DKR ARMORED BATMAN PX VINYL FIG

FUNKO
A PREVIEWS Exclusive! Funko celebrates the 30th-anniversary of Frank Miller's seminal graphic novel, The Dark Knight Returns, with a special series of POP! Vinyl Figures available only through PREVIEWS and your local comic shop! From the crime-ridden Gotham City of the near future comes these figures, rendering the characters of Miller's graphic novel in the fan-favorite POP! vinyl style! Choose from Batman (Blue), Batman (Black), Batman (Armored), Batman (Armored Unmasked), Carrie Kelly Robin, The Joker, or Superman! Each figure stands 3 1/2″ tall and features limited articulation. Build your collection of POP! vinyl figures based on The Dark Knight Returns today! Window box packaging.
DEADPOOL STATUE!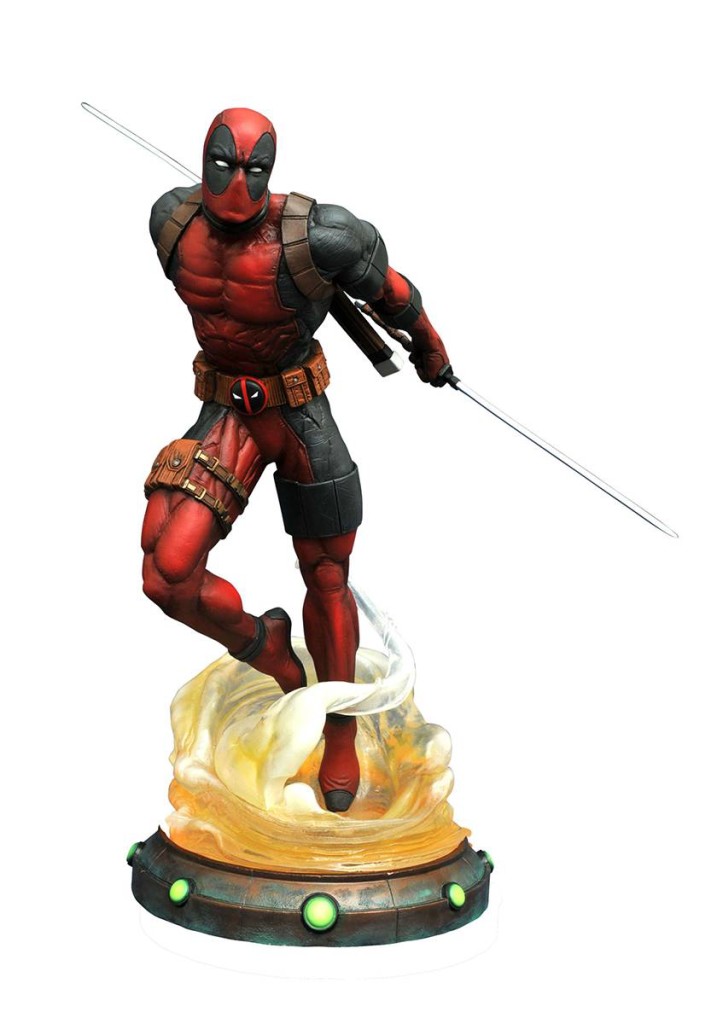 MARVEL GALLERY DEADPOOL PVC FIG

DIAMOND SELECT TOYS LLC
  A Diamond Select Toys release! The Merc With a Mouth is now a Merc of Art! Joining the Marvel Gallery line of figures, Deadpool leaps from an explosion, wielding twin katanas, to become the latest affordable artwork to spring out of the Gallery series. Cast in PVC plastic with high-quality paint applications, Deadpool joins Lady Deadpool, Captain Marvel, Thor, and Ant-Man in the 9-inch scale figure line, and is in scale to all Gallery and Femme Fatales figures. Packaged in a full-color window box. Sculpted by Jean St. Jean!

BATMAN BEYOND #1
DC COMICS
(W) Dan Jurgens (A) Bernard Chang (CA) Ryan Sook
"THE RETURN" part one! Terry McGinnis is back as Batman, much to the delight of his family and friends. But is the original Joker really back as well? Inspired by the possible return of their role model, the Jokerz have taken over an entire section of Gotham City and are determined to wreak havoc in the still-rebuilding city. While Batman battles chaos on the streets, his friend Dana is at the mercy of the new leader of the now-unified gang.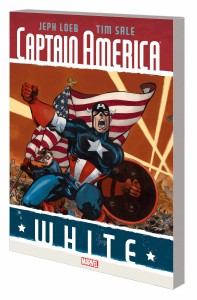 CAPTAIN AMERICA TP WHITE
MARVEL COMICS
(W) Jeph Loeb (A) Tim Sale (CA) Sale
For Steve Rogers, the hardest thing about being a man out of time is being a man without a best friend. As Captain America comes to terms with his loss, he longs for the black and white moral simplicity of World War II: Bucky Barnes charging fearlessly into battle at his side. The Howling Commandos right behind. Odds against them, lives on the line, taking the fight to the greatest evil of all. The Eisner Award-winning team of Jeph Loeb and Tim Sale (DAREDEVIL: YELLOW, SPIDER-MAN: BLUE and HULK: GRAY) revisit the glory days of Captain America and Bucky in a classic tale of a friendship forged in war. Collecting CAPTAIN AMERICA: WHITE #0-5.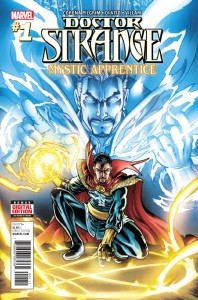 DOCTOR STRANGE MYSTIC APPRENTICE #1
MARVEL COMICS
(W) Will Pilgrim (A) Andrea Di Vito (CA) Michael Ryan
BEFORE HE WAS THE SORCERER SUPREME…STRANGE MASTERED THE MYSTIC ARTS!
•  A master of delicate surgery, DR. STEPHEN STRANGE had no equal…until a freak accident shattered his hands!
•  Now a student of the MYSTIC ARTS, Strange must find a way to master his magical assignment…or throw in his cape and robes for good!
•  Don't miss this all-new story, as Strange finds that the road to Sorcerer Supreme can be a real pain in the…astral form!
•  ALSO: reprinting the original first appearance and origin stories of Doctor Strange from STRANGE TALES #110 and #115!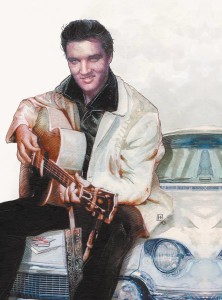 ELVIS HC

NBM
(W/A) Philippe Chanoinat, Fabrice Le
Stepping into Sun Studios in 1954 Elvis Aaron Presley recorded his first single "That's All Right." Little did he know he would soon revolutionize music and culture worldwide. This graphic novel biography starts with the story of "The King's" humble beginnings in Mississippi, detailing, every step of the way, his meteoric rise to the stratosphere of stardom.  It includes his service in the military, his extensive record as a Hollywood film star, his complicated family life, finally ending on the last days of the Hound Dog. Le Henanff's striking photo-quality painting reconstructs Elvis's life in a presentation that practically dances off the page!
GOODNIGHT BATCAVE HC
DC COMICS
(W) Dave Croatto (A/CA) Tom Richmond
  A 100% UNauthorized parody of Goodnight, Moon-as only the world-(in)famous MAD Magazine can do it!
Batman may be ready for bed-but crime never sleeps! And before the Caped Crusader can turn in for the night, he'll have to deal with villains like The Joker, Bane, Mr. Freeze, Catwoman, and the Penguin! If the Dark Knight hopes to ever catch some Zs, he'll have to catch Gotham City's most dangerous criminals first!
In this all-new story from The Usual Gang of Idiots at MAD Magazine, the bestselling children's book Goodnight, Moon is parodied with the heroes and villains from the world of Batman!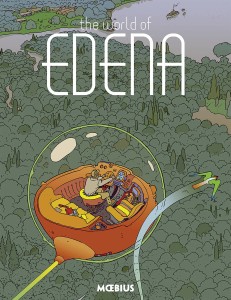 MOEBIUS LIBRARY WORLD OF EDENA HC

DARK HORSE COMICS
(W/A/CA) Moebius
Working closely with Moebius Production in France, Dark Horse puts the work of a master storyteller back in print-with some material in English for the first time! Stel and Atan are interstellar repairmen trying to find a lost space station and its crew. What they discover about the universe and themselves on the mythical paradise planet Edena, though, changes their lives forever. Moebius's long-out-of-print World of Edena story arc gets a deluxe hardcover treatment, with its five main chapters-Upon a Star, Gardens of Edena, The Goddess, Stel, and Sra-collected here!
DOCTOR STRANGE SORCERERS SUPREME #1
MARVEL COMICS
(W) Robbie Thompson (A) Javier Rodriguez (CA) Rafael Albuquerque
An ancient evil threatens to unravel the fabric of reality, and one Sorcerer Supreme may not be enough. Doctor Strange must unite past, present and future Sorcerers Supremes to stem the coming darkness – Merlin, the Ancient One, Wiccan, and more! But Strange should watch his back, not all of these Sorcerers have his best interests in mind…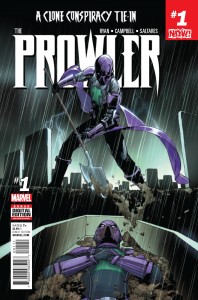 PROWLER #1

MARVEL COMICS
(W) Sean Ryan (A) Jamal Campbell, TBD (CA) Travel Foreman
"CLONE CONSPIRACY" TIE-IN!
Even a super hero's life can get boring. Double-check your gear. Patrol the city. Save the innocent. Report back to your boss, The Jackal. Wait, what? Why is Prowler working for The Jackal? What does the resurrected Madame Web have to do with him? And what has Prowler already done that may have compromised him?!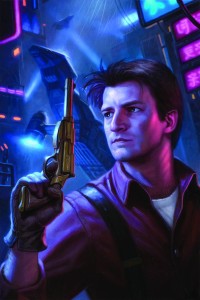 SERENITY NO POWER IN THE VERSE #1 (OF 6)

DARK HORSE COMICS
(W) Chris Roberson (A) Georges Jeanty, Karl Story (CA) Daniel Dos Santos
The 'verse is a complicated and dangerous place, and Malcolm Reynolds and his outlaw crew aboard the Serenity are ever experiencing tough times. When tensions rise among the crew, a call for help becomes a welcome interruption: they must track down a missing friend and the answers to the mystery surrounding her disappearance.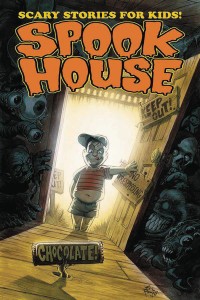 SPOOKHOUSE #1
ALBATROSS FUNNYBOOKS
(W/A/CA) Eric Powell
Eric Powell presents the first issue of an all new anthology series of scary camp fire tales for kids!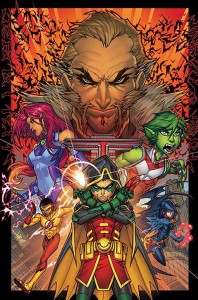 TEEN TITANS #1
DC COMICS
(W) Ben Percy (A/CA) Jonboy Meyers
"Damian Knows Best" part one! Now that Damian has "summoned" the Teen Titans, the tyrannical teen reveals his master plan! But a great evil from Damian's past is lurking around the corner, ready to strike at the team's newest leader and destroy the new Teen Titans before they even begin!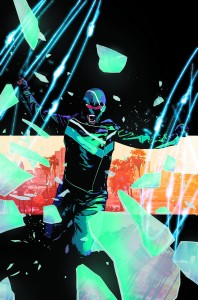 VIGILANTE SOUTHLAND #1 (OF 6)
DC COMICS
(W) Gary Phillips (A) Elena Casagrande (CA) Mitch Gerads
Donny was feeling pretty settled in his cushy life. Even though his girlfriend was politically active, he never gave social justice or racial issues any time. So, when Dorrie discovers something she shouldn't have and ends up dead, no one expects Donny to be the guy to carry on her work-but that's exactly what he does, putting on a mask and taking to the streets. He soon finds himself tangled in family history, political conspiracy, and a plot that goes far deeper than he ever imagined.
Set in the heart of Los Angeles, this new VIGILANTE series raises an old question while making it relevant to our times: when you witness bad things being done, how far would you go to set them right? Written by Gary Phillips, noted writer of the Ivan Monk series of novels, and drawn by Elena Casagrande (Suicide Risk), this hard-hitting tale of revenge and redemption takes the Vigilante into a whole new danger zone.
NOW HERE'S THE FULL LIST!
If you want a full visual list of everything click this link whydonthca (tho this might not update til Monday or something)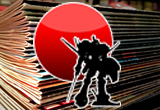 (the following list of comics reflects all the comics coming into both locations. If there's something on this list that's not in stock at your favorite BNW location do not hesitate to ask for us to order it for you!)
COMICS AND MAGAZINES
Action Comics #966
Action Man Revolution #1
Agents Of Shield #10
Aliens Defiance #6
All New All Different Avengers #15
American Monster #5
Batgirl #4
Batman Beyond #1
Birthright #20
Bloodshot Usa #1 (OF 4)
Blue Beetle #2
Captain America Steve Rogers #6
Chew #59
Civil War II #6 (OF 8)
Conan The Slayer #4
Deadpool #21
Deathstroke #5
Descender #16
Detective Comics #943
Doctor Fate #17
Doctor Strange Mystic Apprentice #1
Doctor Who 10th Year Two #15
Doctor Who 11th Year Two #14
Doctor Who The Long Con (ONE Shot)
Doctor Strange Sorcerers Supreme #1
Elephantmen #73
Exodus Life After #8
Extraordinary X-Men #15
Flash #9
Frostbite #2 (OF 6)
Future Quest #6
Generation Zero #3
GI Joe A Real American Hero #233
Giant Days 2016 Holiday Special #1
Guardians Of Galaxy #13
Hal Jordan And The Green Lantern Corps #7
Hangman #4
Hellblazer #3
Image Plus #7
Invisible Republic #12
Judge Dredd (ONGOING) #11
Jughead #10
Justice League #1 Directors Cut
Kim And Kim #4
Lake Of Fire #3
Lucas Stand #5
Lumberjanes #31
Mad Magazine #542
Mae #6
Marvel Tsum Tsum #3 (OF 4)
Marvel Universe Ult Spider-Man Vs Sinister Six #4
Mighty Morphin Power Rangers #8
Moon Girl And Devil Dinosaur #12
Ms Marvel #12
My Little Pony Friends Forever #33
Mycroft #3 (OF 5)
New Avengers #17
Nighthawk #6
Odyc #12
Outcast By Kirkman & Azaceta #22
Over Garden Wall Ongoing #7
Postal #16
Previews #338 November 2016
Marvel Previews #16 November 2016 Extras
Prowler #1
Punisher Annual #1
Renato Jones One Percent #5
Rick & Morty #19
Saga #39
Savage Dragon #217
Scooby Doo Team Up #19
Serenity No Power In The Verse #1 (OF 6)
Seven To Eternity #1 2nd Ptg
Seven To Eternity #2
Silver Surfer #7
Sixpack & Dogwelder Hard-Travelin Heroz #3 (OF 6)
Skybourne #2
Sonic Universe #91
Spider-Man Deadpool #10
Spookhouse #1
Star Wars #24
Star Wars Poe Dameron #7
Stray Bullets Sunshine & Roses #19
Street Fighter Legends Cammy #4 (OF 4)
Street Fighter Unlimited #11
Suicide Squad #5
Surgeon X #2
Tarzan On The Planet Of The Apes #2 (OF 5)
Teen Titans #1
The Skeptics #1
Thief Of Thieves #36
Three Stooges Curse Of Frankenstooge
Titans #4
TMNT Universe #3
Totally Awesome Hulk #11
Transformers Revolution #1
Ultimates #12
Venom Space Knight #13
Vigilante Southland #1 (OF 6)
Vikings Uprising #2 (OF 4)
Vision #12
Wayward #17
Witchfinder City Of The Dead #3
Wonder Woman #9
Wonder Woman 75th Anniversary Special #1
X-Files Origins #3 (OF 4)
TRADE PAPERBACKS, GRAPHIC NOVELS, HARDCOVERS AND MANGA
A Walk In Eden Gn
Asterix Tp Vol 36 Asterix & Missing Scroll
Bait Hc Off Color Stories For You To Color
Black Widow Tp Vol 01 Shields Most Wanted
Broms Lost Gods Hc
Captain America Tp White
Carnage Tp Vol 02 World Tour
DC Comics Encyclopedia Hc Updated Ed
Deadpool Worlds Greatest Tp Vol 04 Temporary Insanity
Die Hard Auth Coloring & Activity Book Sc
Doctor Strange Tp What Is It That Disturbs You Ste
East Of West Tp Vol 06
Elvis Hc
Flash By Geoff Johns Tp Book 03
Get Jiro Blood And Sushi Tp
Goodnight Batcave Hc
Indeh Story Of The Apache Wars Gn Sgn Ed
Man Thing By Steve Gerber Complete Coll Tp Vol 02
Marvel Avengers Mad Libs
Moebius Library World Of Edena Hc
Nightwing Tp Vol 05 The Hunt For Oracle
Prince Of Cats Hc
Sixth Gun Tp Vol 09 Boot Hill
Star Wars Legends Epic Coll Original Marvel Years
Superman The Final Days Of Superman Hc
Wrath Of The Eternal Warrior Tp Vol 02 Labyrinth
X-Men 92 Tp Vol 01 World Is A Vampire
TOYS
Batman Animated Series NBA Anti Firesuit Batman Af
Batman Animated Series NBA Firefly Af
Marvel Gallery Deadpool Pvc Fig
Pop Dc Heroes Dkr Armored Batman Px Vinyl Fig