New Jessica Jones, Archie meets the Ramones and much more coming your way this week! Hope you're all enjoying Luke Cage this weekend!
Do You Get Our EMail Newsletter Every Monday?

Sing up over HERE and get updates every Monday afternoon and help break up those early in the week doldrums!
BOX BROWN IS COMING TO SIGN YOUR COMICS!

Tetris: the games people play!
BOX will be doing a SIGNING in support of his latest book's release (fresh off the heels of his NYCC appearance) on TUESDAY OCTOBER 11th from 6-8pm at our OLD CITY location!
Don't miss this!
WHO: BOX BROWN!
WHAT: In Store Signing Event!
WHEN: Tues Oct 11!
WHERE: Old City BNW!
WHY: Because who doesn't love Tetris and Comics!?HOW: By any means necessary you should get yourself there!
KALADESH IS HERE!
DARK KNIGHT MASK AND BOOK!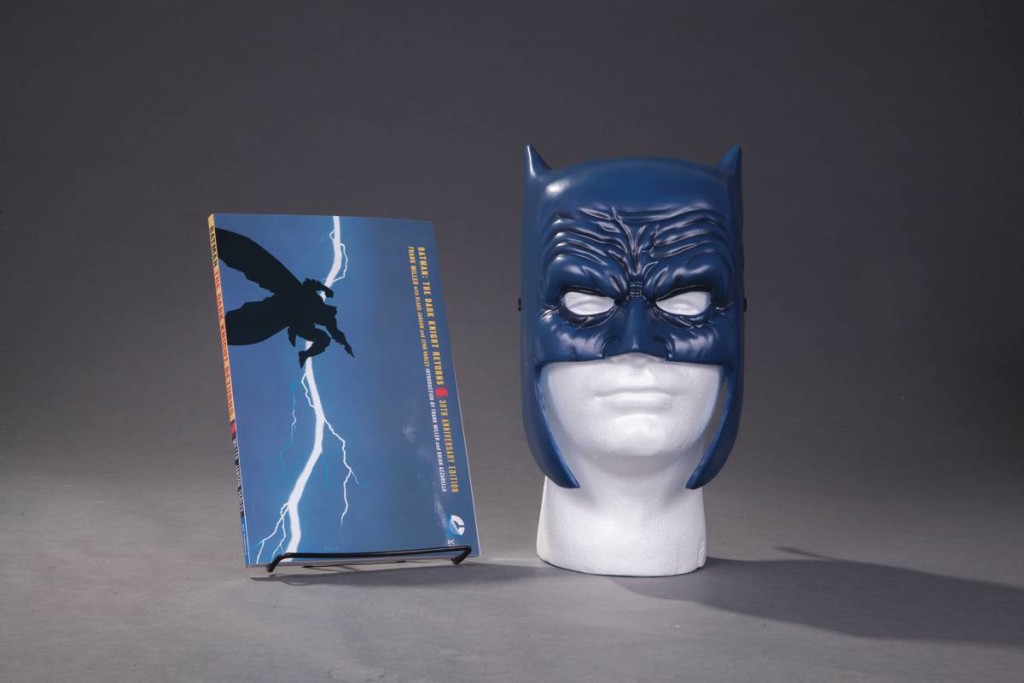 DC COMICS
(W) Frank Miller (A) Frank Miller, Klaus Janson (CA) Frank Miller
DC Entertainment presents a new book and mask set featuring Frank Miller's vision of the Dark Knight, including a highly detailed PVC mask plus THE DARK KNIGHT RETURNS 30TH ANNIVERSARY EDITION TP, collecting the original, groundbreaking 4-issue miniseries.
ARMORED BATMAN IS HERE TO KICK SOME SUPER BUTT!
BRiAN's Spotlight: HEAD LOPPER Vol 1!
This book was a huge surprise for me this past year and I cannot recommend it enough! If you like vikings, Conan, sword and sorcery and Hellboy with a side of humor and great art then this book is for you! Strap on some headphones, cue up some metal and enjoy!
IMAGE COMICS
(W/A/CA) Andrew MacLean

ARCHIE COMIC PUBLICATIONS
(W) Alex Segura, Matthew Rosenberg (A/CA) Gisele Lagace
COMICS AND MAGAZINES
A&A #8
All New Wolverine #13
Amazing Spider-Man #19
Angry Birds Comics (2016) #10
Angry Birds Comics (2016) #10
Aquaman #8
Archangel #3 (OF 5)
Archie Meets Ramones One Shot
Art Ops #12
Assassins Creed #12
Autumnlands Tooth & Claw #13
B & V Friends Halloween Annual Digest #251
Batman #8
Batman 66 Meets Steed And Mrs Peel #4 (OF 6)
Betty & Veronica Jumbo Comics Digest #247
Big Trouble Little China Escape New York #1
Black #1
Bloodshot Reborn #18
Bounty #4 (OF 10)
Cage #1 (OF 4)
Cannibal #1
Champions #1
Clean Room #12
Cyborg #2
DC Comics Bombshells #18
Deadman Dark Mansion Of Forbidden Love #1 (OF 3)
Deadpool Back In Black #1 (OF 5)
Deadpool And Mercs For Money #4
Death Of Hawkman #1 (OF 6)
Death Of X #1 (OF 4)
Doctor Strange #12
Doctor Who 9th #6
Dungeons & Dragons (2016) #5
Eclipse #2
Enchanted Tiki Room #1 (OF 5)
Everafter From The Pages Of Fables #2
Flintstones #4
Future Quest #5
GFT Genesis Heroes Reborn
GFT Grimm Tales Of Terror Vol 2 #13
GFT Inferno Resurrection #5 (OF 5)
Ghostbusters International #9
Giant Days #19
Godzilla Rage Across Time #2 (OF 5)
Goldie Vance #6 (OF 5)
Grant Morrisons 18 Days #16
Green Arrow #8
Green Lanterns #8
Green Valley #1 (OF 9)
Harley Quinn #5
He Man Thundercats #1 (OF 6)
Hi Fructose Magazine Quarterly #41
Hillbilly #1 2nd Ptg
Hillbilly #2 2nd Ptg
Injustice Gods Among Us Year Five #19
Insexts #8
Invincible Iron Man #14
James Bond #10
Jessica Jones #1
Justice League #6
Looney Tunes #233
Marvel Universe Avengers Ultron Revolution #4
Midnight Of The Soul #5 (OF 5)
Midnighter And Apollo #1 (OF 6)
Moonshine #1
Nightwing #6
No Mercy #10
Paper Girls #10
Ragnarok #10
Red One #4
Regular Show #40
Revival #43
Revolution #2 (OF 5)
Rise Of The Black Flame #2 (OF 5)
Romulus #1
Rough Riders #6
Scarlet Witch #11
Shade The Changing Girl #1
Shadow Death Of Margo Lane #5 (OF 5)
Shipwreck #1
Spawn #266
Spider-Man 2099 #16
Spidey #11
Squadron Supreme #12
Strange Attractors #5
Suiciders Kings Of Hella #6 (OF 6)
Super F*Ckers Forever #3 (OF 5)
Superman #8
Tmnt Universe #2
Uncanny X-Men #14
Voltron Legendary Defender #3 (OF 4)
Walking Dead #159
Woods #26
Wynonna Earp #8
TRADE PAPERBACKS, GRAPHIC NOVELS, HARDCOVERS AND MANGA
Aquaman Tp Vol 07 Exiled
Batman Dark Knight Returns Book & Mask Set
Black Dog Dreams Of Paul Nash Tp
Black Road Tp Vol 01
Charles Burns Last Look Gn
Color Your Own Doctor Strange Tp
DC Comics Covergirls Chartwell Hc Ed
Discipline Tp Vol 01
Doctor Strange Fate Of Dreams Prose Novel Hc
Doctor Strange Prem Hc Vol 02 Last Days Of Magic
Elseworlds Batman Tp Vol 02
Fight Club 2 Library Hc Ed
Flash An Adult Coloring Book Tp
GI Joe A Real American Hero Tp Vol 16
Giant Days Tp Vol 03
Green Lantern The Silver Age Tp Vol 01
Hawkeye Hc Vol 03
Head Lopper Tp Vol 01 Island Or A Plague Of Beasts
Jack Kirby Kamandi Artist Ed Hc Vol 02
Jason Shiga Demon Hc Gn
KoDT Bundle Of Trouble Tp Vol 55
KoDT Cattlepunk Chronicles Vol 01 Outlaw Trail
Low Tp Vol 03 Shore Of The Dying Light
Marvels Doctor Strange Prelude Tp
My Little Pony Tp Vol 05 Crystal Empire
Oh Joy Sex Toy Vol 01
Secret Loves Of Geek Girls Tp
Superman Savage Dawn Hc
Transformers Tp Vol 10
Trees Tp Vol 02
Unbeatable Squirrel Girl Beats Up Marvel Universe Ogn Hc
Vote Loki Tp
Walking Dead Hc Vol 13
Wicked & Divine Tp Vol 04 Rising Action
Wolf Tp Vol 02 Apocalypse Soon
TOYS
BvS Superman Px MAF Ex
ODDS AND ENDS
Marvel Fact Files Special #20 Black Panther