Do You Get Our EMail Newsletter Every Monday?

Sing up over HERE and get updates every Monday afternoon and help break up those early in the week doldrums!
FIT This Tetris Signing Into Your Schedule!
Box Brown's got a new comic coming out and this time is about the dude who created TETRIS! Our Old City shop will be doing a signing with Box on Tuesday October 11th! Keep your eyes peeled for more info on that!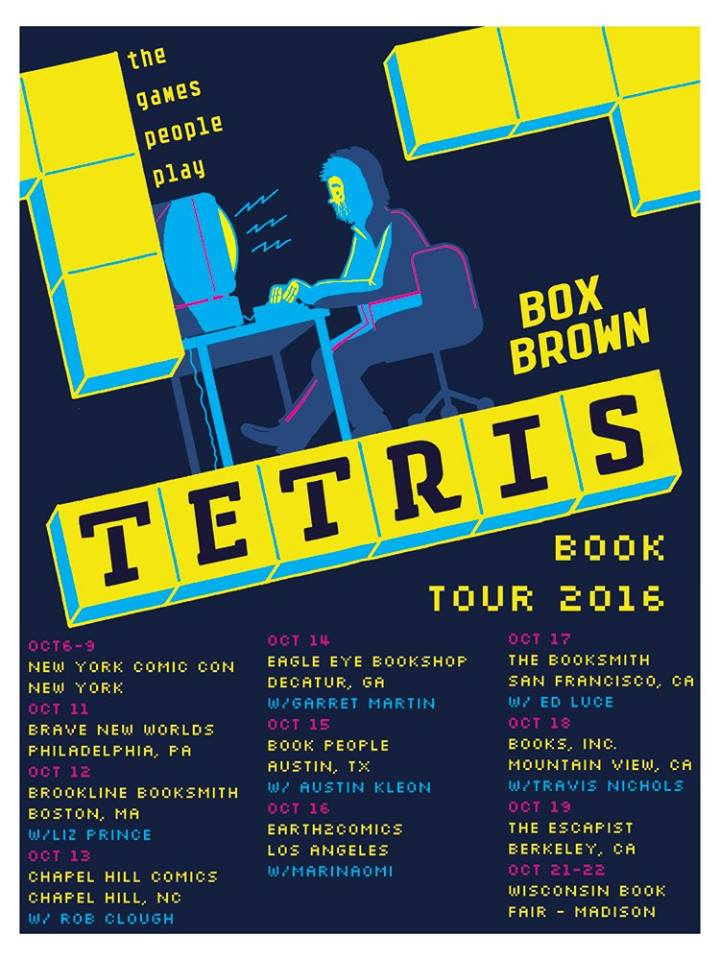 Read more about this book over here!  Yea it's getting a bunch of good press already!
What's Up On Them Instagrams?!
New store magnets and some Kotobukiya ArtFx+ statues is what!
PREACHER POPS!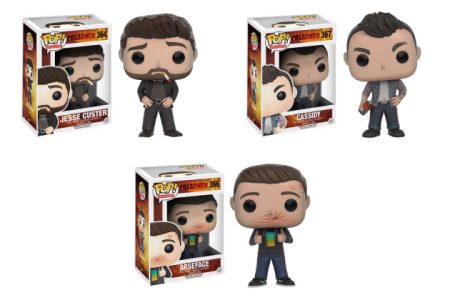 These little hell raisers are available at both shops as of now!
I Ain't Afraid Of No Ghost!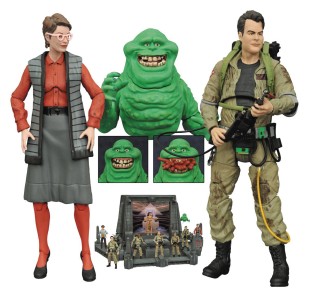 GHOSTBUSTERS SELECT AF SERIES 3

DIAMOND SELECT TOYS LLC
A Diamond Select Toys release! The hugely popular Ghostbusters Select action figure series continues with three new figures, and three more pieces of the colossal rooftop diorama! Slimer, Janine and Quittin' Time Ray make up Series 3, and each comes with bonus accessories in addition to their diorama piece: Janine includes a phone, alarm button and take-out containers; Slimer comes with two alternate faces and a support stand that can plug into the rooftop; and Quittin' Time Ray includes a variety of interchangeable gloved and ungloved hands, as well as all-new sculpting and paint details to reflect his appearance at the end of a long shift. Each 7-inch scale action figure features up to 16 points of articulation, and comes packaged in display-ready Select figure packaging. Collecting all 15 figures in the series allows you to build the full rooftop temple scene from Ghostbusters!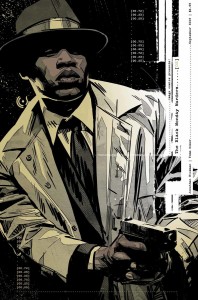 BLACK MONDAY MURDERS #2
IMAGE COMICS
(W) Jonathan Hickman (A/CA) Tomm Coker
"A SPIRIT OF COOPERATION"
In the world of high finance, solving one murder leads the police to the location where all the bodies have been buried. The time is nigh to invest in the coolest new comic of the year!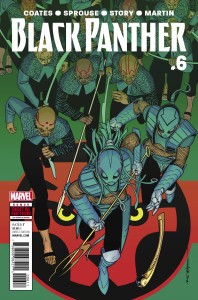 BLACK PANTHER #6
MARVEL COMICS
(W) Ta-Nehisi Coates (A) Chris Sprouse (CA) Brian Stelfreeze
RISE OF THE DORA MILAJE!
•  T'Challa's failures as king are revealed to the UNITED NATIONS!
•  Ayo and Aneka, the Midnight Angels, are courted by Tetu and The People to raise Wakanda to glory, but at what price?
•  The storyline that has critics raving and retailers selling out continues!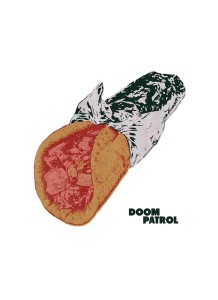 DOOM PATROL #1
DC COMICS
(W) Gerard Way (A/CA) Nick Derington
  The atoms are buzzing. The daydreams crowd sentient streets, and the creative team has been warned, "Turn back now or suffer the mighty consequence of sheer, psycho-maniacal mayhem." Generation-arsonists unite-this is DOOM PATROL, and the God of the Super Heroes is bleeding on the floor.
A blenderized reimagining of the ultimate series of the strange, DOOM PATROL combines elements from classic runs, new directions, and things that could not be. Our entry point is Casey Brinke, a young EMT on the graveyard shift to abstract enlightenment, with a past so odd that she's not entirely sure what is real and what is not. Along with her partner, Sam Reynolds, the pair blaze a path through the city and its denizens, finding the only quiet that exists at 3am is the chaos of the brain. When the pair answer a hit-and-run call, they find themselves face to face with a familiar figure: Cliff Steele, AKA Robotman.
"It gets weirder from here," writer Gerard Way had to say about the book, with artist Nick Derington gripping tightly on the wheel of the ambulance. The pair's only communication? Shouting out of the open windows while at high velocity. Who needs a new roommate? Who names a cat "Lotion"? And when do we get to see all those muscles?
Find your answers inside the pages of this comic book, as we set the stage for new beginnings, as well as the re-introduction of some classic DOOM PATROL characters, including Niles Caulder, Negative Man, Flex Mentallo, and Crazy Jane.
The debut title of DC's Young Animal line kicks off with a removable sticker on its cover: Pull back the gyro to reveal its secrets, but be warned-there is no turning back.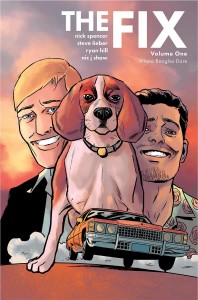 FIX TP VOL 01

IMAGE COMICS
(W) Nick Spencer (A/CA) Steve Lieber
ADVANCE SOLICIT
THE FIX is a story of the crooked cops, scheming mobsters, and corrupt politicians that run Los Angeles-and the sex toy that can bring them all down. Oh, and the hero is a drug-sniffing beagle named Pretzels.Collects THE FIX #1-4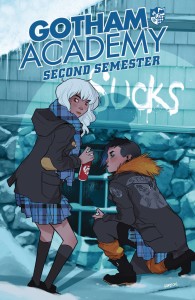 GOTHAM ACADEMY SECOND SEMESTER #1
DC COMICS
(W) Brendan Fletcher & Various (A) Adam Archer, Sandra Hope (CA) Karl Kerschl
GOTHAM ACADEMY is back with an all-new storyline for its second semester! When you're Olive Silverlock, winter holidays can be a drag. Luckily, when a new student shows up at Gotham Academy to keep her company while the other students are away, Olive finds what could be a brand new friend…or a whole lot of trouble!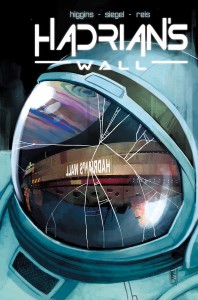 HADRIANS WALL #1 (OF 8)

IMAGE COMICS
(W) Kyle Higgins, Alec Siegel (A/CA) Rod Reis
When an astronaut on HADRIAN'S WALL is murdered, pill-popping detective Simon Moore is dispatched to investigate the ship's crew… including his own ex-wife. But if Simon's not careful, what he finds could make the interstellar Cold War go red hot. From the creative team behind the critically-acclaimed series C.O.W.L. comes a gripping, locked room murder mystery where the secrets of everyone involved are as dark as the space that surrounds them.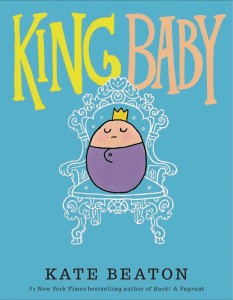 KING BABY YR HC

ARTHUR A. LEVINE BOOKS
(W/A/CA) Kate Beaton
A laugh-out-loud new picture book from Kate Beaton, author of The Princess and the Pony and the #1 New York Times-bestsellers Hark! A Vagrant and Step Aside, Pops! All hail King Baby! He greets his adoring public with giggles and wiggles and coos, posing for photos and allowing hugs and kisses. But this royal ruler also has many demands, and when his subjects can't quite keep up, King Baby takes matters into his own tiny hands. A modern, funny, and (let's be honest) realistic take on life with a new baby, and the perfect gift for anyone with an adorable little ruler in their life.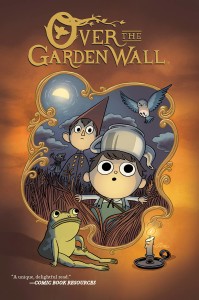 OVER THE GARDEN WALL TP MINISERIES

BOOM! STUDIOS
(W) Pat McHale (A/CA) Jim Campbell
What's to Love: Pat McHale's Over the Garden Wall was Cartoon Network's first-ever original animated miniseries. Countless fans loved the eerily sweet story of two half-brothers trying to find their way home. We loved it so much, too that we published a companion one-shot that was quickly snapped up, and then we expanded the world of Over the Garden Wall with stories set between the episodes!
What It Is: Pat McHale and artist Jim Campbell return with more original stories that take place along with the animated show. Follow the additional adventures of Wirt and Greg as they try to find their way out of the Unknown forest. Collects the one shot and the limited series!"…a perfect encapsulation of the joys of the series. 2015's best comic for kids." – Comics Alliance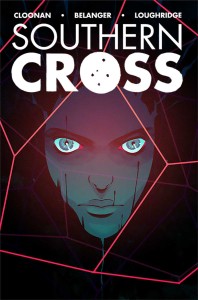 SOUTHERN CROSS #7

IMAGE COMICS
(W) Becky Cloonan (A) Andy Belanger (CA) Becky Cloonan
How do you lose a ship?! The search for the Southern Cross starts on Titan, and ends in murder! Season 2 of Southern Cross starts here.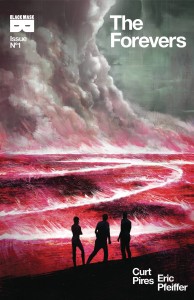 THE FOREVERS #1
BLACK MASK COMICS
(W) Curt Pires (A) Eric Pfeiffer (CA) Eric Pfeiffer, Ramon Villalobos
Live fast. Live forever. Five friends struggling on the brink of stardom sacrifice everything in a black magic pact that brings them all the wealth and glamour they ever wanted. Years later though, the "glow" is fading. But when one of them dies, and they feel a surge of magic rise amongst them, they soon realize that they all share in the power of the glow. And when a member of the group decides to kill the rest and claim the glow for their own, they suddenly find themselves fighting for their lives. As they search for the killer's identity, each of The Forevers must face the macabre reality of the lengths to which some people will go to be adored, and to make certain that the spotlight never fades…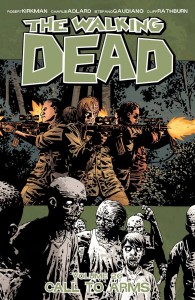 WALKING DEAD TP VOL 26 CALL TO ARMS

IMAGE COMICS
(W) Robert Kirkman (A) Charlie Adlard & Various (CA) Charlie Adlard, Dave Stewart
ADVANCE SOLICIT
After being betrayed by members of his own community, Rick Grimes charts a new course and marshals his forces against the Whisperers.
Collects THE WALKING DEAD #151-156
NOW HERE'S THE FULL LIST!
If you want a full visual list of everything click this link whydonthca (tho this might not update til Monday or something)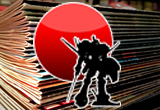 (the following list of comics reflects all the comics coming into both locations. If there's something on this list that's not in stock at your favorite BNW location do not hesitate to ask for us to order it for you!)
COMICS AND MAGAZINES
A-Force #9
Action Comics #963
Adventure Time #56
All New Inhumans #11
All New X-Men #13
All Star Batman #2
Animosity #2
Astro City #38
Batgirl And The Birds Of Prey #2
Batman 66 Meets Steed And Mrs Peel #3 (OF 6)
Birthright #19
Black Monday Murders #2
Black Panther #6
Black Science #24
Bobs Burgers Ongoing #15
Briggs Land #2
Charmed Season 10 #20
Cinema Purgatorio #5
Civil War II Amazing Spider-Man #4 (OF 4)
Civil War II Gods Of War #4 (OF 4)
Civil War II Ulysses #2 (OF 3)
Dark Knight III The Master Race #1 Directors Cut
DC Comics Bombshells #17
Deadpool #18
Deathstroke #2
Detective Comics #940
Disney Pixar Finding Dory #3
Doctor Who 10th Year Two #14
Doctor Who 3rd #1 (OF 5)
Doctor Who Supremacy Of The Cybermen #3 (OF 5)
Doom Patrol #1
Earth 2 Society #16
Faith (ONGOING) #3
Fix #5
Flash #6
G Fan #113
Gotham Academy Second Semester #1
Green Lanterns #6
Gwenpool #6
Hadrians Wall #1 (OF 8)
Hal Jordan And The Green Lantern Corps #4
Harrow County #16
House Of Penance #6 (OF 6)
Injustice Gods Among Us Year Five #17
Jeff Steinberg Champion Of Earth #2
Jonesy #6
Kaijumax Season 2 #4
Lady Killer 2 #2
Letter 44 #27
Lumberjanes Gotham Academy #4
Marvel Universe Guardians Of Galaxy #12
Merry Men #3 (OF 5)
Mockingbird #7
Mycroft #2 (OF 5)
New Super Man #3
Old Man Logan #11
Power Rangers Pink #3
Prometheus Life And Death #4
Red Hood And The Outlaws #2
Rocket Raccoon And Groot #9
Scarlet Witch #10
Scooby Apocalypse #5
Sherlock Study In Pink #4 (OF 6)
Six Million Dollar Man Fall #3 (OF 5)
Sonic The Hedgehog #286
Sons Of Anarchy Redwood Original #2
Southern Cross #7
Spider-Man #8
Spider-Man 2099 #15
Spidey #10
Spread #16
Star Wars Force Awakens Adaptation #4 (OF 6)
Strain Mr Quinlan Vampire Hunter #1 (OF 5)
Stray Bullets Sunshine & Roses #18
Suicide Squad #2
Superwoman #2
Symmetry #7
Teen Titans #24
The Forevers #1
Throwaways #3
Uncanny Avengers #14
Uncanny Inhumans #13
Weavers #5
Wonder Woman #6
Wrath Of The Eternal Warrior #11
TRADE PAPERBACKS, GRAPHIC NOVELS, HARDCOVERS AND MANGA
Adventure Time Original Gn Vol 08 President Bubble
Avatar Last Airbender Tp Vol 13 North South Part 1
Daredevil Back In Black Tp Vol 02 Supersonic
Fix Tp Vol 01
Harrow County Tp Vol 03 Snake Doctor
King Baby Yr Hc
Late Bloomer Gn
Lone Wolf 2100 Chase The Setting Sun Tp
Mighty Morphin Power Rangers Tp Vol 01
Mirror The Mountain Tp
Ninjak Tp Vol 04 Siege Of Kings Castle
Over The Garden Wall Tp Miniseries
Raina Telgemeier Ghosts Gn
Scalped Hc Book 05 Deluxe Edition
Titans Hunt Tp
Uncanny Avengers Unity Tp Vol 02 Man Who Fell To Earth
Violent Tp Vol 01 Blood Like Tar
Walking Dead Tp Vol 26 Call To Arms
X-Men Origins Tp Gambit
TOYS
Ghostbusters Select Af Series 3 Asst
ODDS AND ENDS
DC Designer Series Batman By Andy Kubert Statue
Marvel Chess Fig Coll Mag #82 Hobgoblin
Vintage DC Comics 2017 12 Month Wall Calendar
Vintage Marvel Comics 2017 12 Month Wall Calendar
Vintage Sci Fi 2017 12 Month Wall Calendar