The weekend is here again! Hope you're enjoying this little respite from the stupid extreme heat. Now enjoy a look at what's out this coming week (8/24/16)!
Do You Get Our EMail Newsletter Every Monday?

Sing up over HERE and get updates every Monday afternoon and help break up those early in the week doldrums!
MAGIC NEXT WEEK!
Willow Grove just loves MTG!
Join us the weekend of August 26th – 27th at our Willow Grove location to play Magic booster drafts with Conspiracy 2: Take the Crown, the newest multi-player booster draft set.
FROM THE VAULT TO YOUR HOME!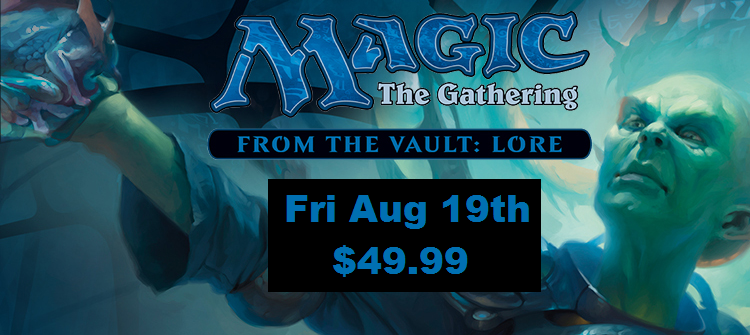 Both of our locations will have the newest Magic: the Gathering From the Vault set in stock for sale this Friday, August 19th.  It is called From the Vault: Lore and features reprints of Umezawa's Jitte and Dark Depths!  The price will be $49.99
Reserve yours now by calling either shop! (215.657.8838 willow grove 215.925.6525 old city)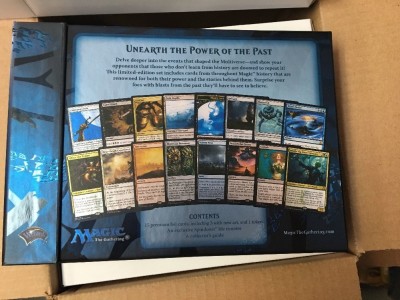 SAD ANIMALS!
DC COMICS
(W) Keith Giffen (A/CA) Scott Kolins
Lost in the desert with no memory of the past few years, teenager Jaime Reyes must find his way home again-but when he reaches his town, he's shocked to find it abandoned and in the hands of government officials…officials who are very interested in the Blue Beetle and the scarab that gives him his power! How can Jaime find his family and uncover the secret behind the town's seizure-and why Kord Industries is helping keep the world from learning the truth?
VALIANT ENTERTAINMENT LLC
(W) Fred Van Lente (A) Francis Portela (CA) Stephen Mooney
COMICS AND MAGAZINES
Action Comics #962
Adventure Time Comics #2
Aloha Hawaiian Dick #5 (OF 5)
Archie #11
Assassins Creed #11
Atomic Robo And The Temple Of Od #1 (OF 5)
Back To The Future Citizen Brown #4 (OF 5)
Batgirl #2
Betty & Veronica Comics Double Digest #246
Blue Beetle Rebirth #1
BTVS Season 10 #30
Captain America Steve Rogers #4
Captain Marvel #8
Chew #57
Civil War II Ulysses #1 (OF 3)
Clean Room #11
Conan The Slayer #2
Dark Souls #4
Deadpool #17
Death Force #4 (OF 6)
Deathstroke #1
Dept H #5
Detective Comics #939
Disney Darkwing Duck #4
Dungeons & Dragons (2016) #4
Exodus Life After #7
Extraordinary X-Men #13
Faith (ONGOING) #2
Flash #5
Futurama Comics #80
Generation Zero #1
GFT Grimm Tales Of Terror Vol 2 #11
Ghostbusters International #8
GI Joe A Real American Hero #231
Godzilla Rage Across Time #1 (OF 5)
Hal Jordan And The Green Lantern Corps #3
Harleys Little Black Book #4
Hellblazer #1
International Iron Man #6
Invincible #130
Island #10
Joyride #1 (OF 5) (3RD Ptg)
Judge Dredd (ONGOING) #9
Kingsway West #1
Lake Of Fire #1
Lucifer #9
Marvel Universe Ult Spider-Man Vs Sinister Six #2
Marvels Doctor Strange Prelude #2 (OF 2)
Mechanism #2
Mighty Morphin Power Rangers 2016 Annual #1
Moon Girl And Devil Dinosaur #10
New Avengers #15
Nighthawk #4
Outcast By Kirkman & Azaceta #20
Over Garden Wall Ongoing #5
Patsy Walker Aka Hellcat #9
Rai #16
Red Thorn #10
Renato Jones One Percent #4
Rick & Morty Lil Poopy Superstar #2 (OF 5)
Rom #2
She Wolf #3
Six Pack & Dog Welder Hard Travelin Heroez #1
Snotgirl #2
Star Wars #22
Star Wars Force Awakens Adaptation #3 (OF 6)
Tank Girl 2 Girls 1 Tank #4 (OF 4)
Teen Titans #23
Thief Of Thieves #34
Titans #2
TMNT Ongoing #61
Unbeatable Squirrel Girl #11
Uncanny Inhumans Annual #1
Usagi Yojimbo #157
Valiant Universe Handbook 2016 #1
Venom Space Knight #11
Wacky Raceland #3
Weird Detective #3 (OF 5)
Wonder Woman #5
Wynonna Earp #7
X-Files (2016) #5
TRADE PAPERBACKS, GRAPHIC NOVELS, HARDCOVERS AND MANGA
50 Year Mission Oral Hist Star Trek Hc Vol 02
Amazing Spider-Man Tp Amazing Grace
Batgirl Tp Vol 03 Mindfields
Deadpool Worlds Greatest Tp Vol 03
Doctor Who 2015 Four Doctors Tp
Earth 2 Society Tp Vol 02 Indivisible
Omega Men The End Is Here Tp
Pretty Deadly Tp Vol 02 The Bear
X-Men Tp Worst X-Man Ever
TOYS
Batman Arkham Knight Joker Af
ODDS AND ENDS
Halo 5 UNSC Prowler Ship Replica
Halo UNSC Pillar Of Autumn Ship Replica
Marvel Chess Fig Coll Mag #65 Ultimate Spider-Man
Walking Dead AMC 2017 16 Month Wall Cal