There's magic today in willow grove and Kirby's bday is tomorrow! Here's your comics update!
Do You Get Our EMail Newsletter Every Monday?

Sing up over HERE and get updates every Monday afternoon and help break up those early in the week doldrums!
MAGIC!!
Willow Grove just loves MTG!
Join us the weekend of August 26th – 27th at our Willow Grove location to play Magic booster drafts with Conspiracy 2: Take the Crown, the newest multi-player booster draft set.
WILLOW GROVE HAS AN INSTAGRAM NOW!
Don't just follow the BNWCOMICSOC account on Instagram! Now You can get updates on what's going on in Willow Grove on there too! Took us long enough, right?!
CAP 3 CIVIL WAR GAG REEL PREVIEW!
It may be just a commercial for the "home video" version of Civil War but it makes for a good bit of internet!
HAPPY BDAY JACK!

Don't forget to celebrate the Birthday of the King of Comics Jack Kirby! The man who changed the game would have been 99 tomorrow, August 28th!, so be sure to read your fave Kirby books in celebration!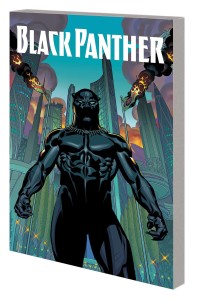 BLACK PANTHER TP BOOK 01 NATION UNDER OUR FEET
MARVEL COMICS
(W) Ta-Nehisi Coates (A/CA) Brian Stelfreeze
A new era begins for the Black Panther! MacArthur Genius and National Book Award-winning writer Ta-Nehisi Coates (Between the World and Me) takes the helm, confronting T'Challa with a dramatic upheaval in Wakanda that will make leading the African nation tougher than ever before. When a superhuman terrorist group calling itself The People sparks a violent uprising, the land famed for its incredible technology and proud warrior traditions will be thrown into turmoil. As suicide bombers terrorize the population, T'Challa struggles to unite his citizens, and a familiar villain steps out of the shadows. If Wakanda is to survive, it must adapt – but can its monarch, one in a long line of Black Panthers, survive the necessary change? Heavy lies the head that wears the cowl! Collecting BLACK PANTHER (2016) #1-4 and FANTASTIC FOUR (1961) #52, plus more than 25 pages of bonus content!
SAGA #37

IMAGE COMICS
(W) Brian K. Vaughan (A/CA) Fiona Staples
NEW STORY ARC
"THE WAR FOR PHANG," PART ONE
SAGA is back with its most epic storyline yet, and to celebrate, FIONA STAPLES graces this issue with a gorgeous wraparound cover! Finally reunited with her ever-expanding family, Hazel travels to a war-torn comet that Wreath and Landfall have been battling over for ages. This arc is a self-contained "event" we've been building to since our very first issue, so now is the perfect time for readers who love SAGA's bestselling collections to join our monthly adventures!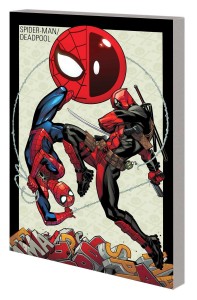 SPIDER-MAN DEADPOOL TP VOL 01 ISN'T IT BROMANTIC

MARVEL COMICS
(W) Joe Kelly, Scott Aukerman (A) Ed McGuinness, Reilly Brown (CA) Ed McGuinness
Now THIS is what you call a dynamic duo! When the Webbed Wonder and the Merc with a Mouth find themselves in a tight spot, hijinks and hilarity ensue! Spidey isn't looking for new friends in his neighborhood, but Deadpool's going all out in the name of bromance. Will this turn out to be a buddy book, or will the identity of Deadpool's next target – he's just a guy named Peter Parker – ruin everything?! With another Spider-Man (Miles Morales) and a few more Mercs (for Money) along for the ride, this is the ultimate Marvel Team-Up. But when our two stars go on a double date, who calls dibs on Thor? Plus: Mysteries deepen at Parker Industries, and Wade Wilson goes Hollywood! But will Spidey steal the show on the set of Deadpool: The Movie? Collecting SPIDER-MAN/DEADPOOL #1-6.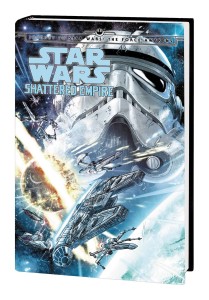 STAR WARS JOURNEY TO STAR WARS HC Force Awakens Shattered Empire

MARVEL COMICS
(W) Greg Rucka, James Robinson (A) Marco Checchetto, Tony Harris (CA) Marco Checchetto
For the first time in the new Star Wars canon, journey with us into the time after the end of Star Wars Episode VI Return of the Jedi! Writer Greg Rucka (PUNISHER, WOLVERINE, Gotham Central) and artist Marco Checchetto (AVENGERS WORLD, PUNISHER) take us past the destruction of the second Death Star – and into the chaos of a Shattered Empire. It's the explosive lead-in to this winter's blockbuster big-screen Star Wars revival, and everything you need to know is right here! Plus, follow everyone's favorite protocol droid as he Journeys to Star Wars: The Force Awakens.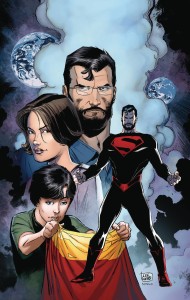 SUPERMAN LOIS AND CLARK TP

DC COMICS
(W) Dan Jurgens (A) Lee Weeks & Various (CA) Lee Weeks
The last sons and daughter of Krypton and Earth star in these stories from the 8-issue series. But can they keep this world from suffering the same fate as their own? Can this Superman stop the foes he fought on his own world before they are created on our world? Plus: What is Intergang, and why does Lois' discovery of it place everyone she loves in jeopardy? And what will happen when their nine-year-old son learns the true identities of his parents?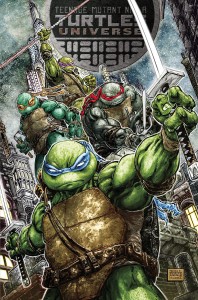 TMNT UNIVERSE #1
IDW PUBLISHING
(W) Paul Allor & Various (A) Damian Couceiro & Various (CA) Freddie Williams
Introducing a new era in TMNT! This series will explore characters and story-lines that are pivotal to the IDW TMNT universe! When a mysterious new mutant targets Baxter Stockman, it will be up to the TMNT to reluctantly save him. Little does everyone know that a larger trap is being laid by a new arch-foe! Plus a back-up story from TMNT co-creator Kevin Eastman and comics legend Bill Sienkiewicz!
•   Because YOU demanded it! An ALL-NEW ONGOING series set in the IDW TMNT universe!
•   Incredible talent, bringing their unique style to the Turtles!
•   A must read for any TMNT fan!
NOW HERE'S THE FULL LIST!
If you want a full visual list of everything click this link whydonthca (tho this might not update til Monday or something)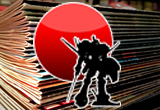 (the following list of comics reflects all the comics coming into both locations. If there's something on this list that's not in stock at your favorite BNW location do not hesitate to ask for us to order it for you!)
COMICS AND MAGAZINES
4001 AD #4 (OF 4)
Abe Sapien #36
Accelerators Relativity #4 (OF 5)
Afterlife With Archie #10
Aliens Defiance #4
All New Wolverine Annual #1
Amazing Spider-Man #17
Army Of Darkness Ash For President One Shot
Art Ops #11
Astonishing Ant-Man #11
Bloodshot Reborn #16
Blubber #3
Carnage #11
Civil War II Choosing Sides #5 (OF 6)
Cryptocracy #3
Dark Tower Drawing Of Three Bitter Medicine #5
DC Comics Bombshells Annual #1
Deadpool Vs Gambit #4 (OF 5)
Doctor Who 11th Year Two #12
Dream Police #11
Earth 2 Society Annual #1
East Of West #29
Edens Fall #1
Future Quest #4
GFT Grimm Fairy Tales #125
GFT Presents Apocalypse #1
Gotham Academy Annual #1
Grant Morrisons Avatarex #2
Groo Fray Of The Gods #2
Guardians Of Galaxy #11
Harley Quinn And Her Gang Of Harleys #5 (OF 6)
Howard The Duck #10
Hyperion #6
Image Plus #5
James Bond #9
Jem & The Holograms #18
Jupiters Legacy Vol 2 #3 (OF 5)
Justice League Of America #9
Lazarus #24
Legend Of Wonder Woman #9 (OF 9)
Mae #4
Marvel Universe Guardians Of Galaxy #11
Micronauts #5
Mighty Morphin Power Rangers #6
Ms Marvel #10
My Little Pony Friendship Is Magic #45
Nova #10
Postal #14
Predator Vs Judge Dredd Vs Aliens #2
Previews #336 September 2016
Marvel Previews #14 September 2016 Extras
Rick & Morty #17
Rocket Raccoon And Groot #8
Saga #37
Silver Surfer #6
Sonic Universe #89
Spawn #265
Spider-Gwen #11
Spider-Man #7
Spider-Man 2099 #14
Star Wars Han Solo #3 (OF 5)
Street Fighter Legends Cammy #2 (OF 4)
Street Fighter Unlimited #9
Suicide Squad War Crimes Special #1
Thunderbolts #4
TMNT Universe #1
Tokyo Ghost #10
Uncanny Avengers #13
Witchfinder City Of The Dead #1
World Of Tanks #1
X-Men 92 #6
X-O Manowar #49
TRADE PAPERBACKS, GRAPHIC NOVELS, HARDCOVERS AND MANGA
Arrow The Dark Archer Tp
Black Panther Tp Book 01 Nation Under Our Feet
Deadpool Minibus 2 Hc
Doctor Strange Tp Strange Origin
Jessica Jones Tp Avenger
KODT Bundle Of Trouble Tp Vol 54
Marvel Univ Ult Spider-Man Contest Champions Digest
Marvel Universe Avengers Assemble Civil War Digest
Spider-Man Deadpool Tp Vol 01 Isn't It Bromantic
Star Wars Jedi Academy Yr Hc Vol 04 New Class
Star Wars Journey To Star Wars Hc Force Awakens Shattered Empire
Superman & The Justice League Of America Tp Vol 02
Superman Batman Tp Vol 04
Superman Lois And Clark Tp
TOYS
Batman Arkham Knight Harley Quinn AF II
DC Comics Designer Ser Capullo Joker AF
DC Icons Joker Death In The Family AF
ODDS AND ENDS
Batman Black & White Statue By Rafael Albuquerque
Marvel Chess Fig Coll Mag #81 Spider-Woman
Marvel Fact Files Special #12 The Vision
Marvel Fact Files Special #14 Red Hulk
Star Trek Starships Fig Mag #76 Neelixs Ship Baxia
Star Trek Starships Fig Mag #77 Romulan Shuttle