Hey! Check out what'll be out this week (8.10.16)!
Do You Get Our EMail Newsletter Every Monday?

Sing up over HERE and get updates every Monday afternoon and help break up those early in the week doldrums!
MAGIC GAME DAY FOR ELDRITCH MOON!
Our Willow Grove location will be hosting a Magic: the Gathering Eldritch Moon Game Day event on Saturday, August 13th @ 12 noon. DETAILS!
HARLEY QUINN CASH IN!
Get your Harley fix in a 2017 Calendar and Darwyn Cooke action figure out this week!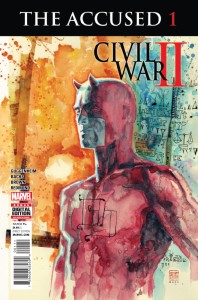 ACCUSED #1
MARVEL COMICS
(W) Marc Guggenheim (A) Ramon Bachs, Garry Brown (CA) David Mack
It's the trial of the century!  As a beloved Avenger falls, another takes the stand to answer for his death. As Hawkeye stands trial amid a case full of super heroes and politics – who will prosecute? None other than Matt Murdock – Daredevil! But when Matt digs into the case and secrets come to light…he may not like what he finds. Has Daredevil bitten off more than he can chew? Amid a growing conspiracy, can the Marvel Universe's most stalwart defender of justice promise a fair trial? The answers won't come easy.
ALL STAR BATMAN #1
DC COMICS
(W) Scott Snyder (A) John Romita & Various (CA) John Romita, Danny Miki
"My Own Worst Enemy" part one! Superstar writer Scott Snyder explodes into an all-new Batman series alongside legendary artist John Romita Jr., reimagining some of the Dark Knight's greatest villains. First up: Two-Face! Batman must take Two-Face to a destination out of Gotham City, but the duplicitous villain has a two of spades up his sleeve. Every assassin, bounty hunter and ordinary citizen with something to hide is on their tails with one goal: kill Batman! Handcuffed together on the road to hell, this is Batman and Two-Face as you've never seen them before!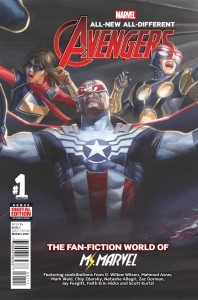 ALL NEW ALL DIFFERENT AVENGERS ANNUAL #1
MARVEL COMICS
(W/A) Various (CA) Alex Ross
You've dreamed of it, you've asked for it, you've longed for it – and now, you're going to GET it! No Avenger is safe from – the fan fiction of Kamala Khan! Featuring a bevy of special guest creators!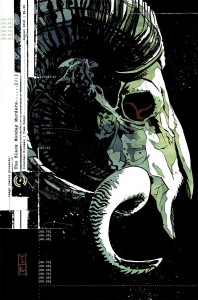 BLACK MONDAY MURDERS #1

IMAGE COMICS
(W) Jonathan Hickman (A/CA) Tomm Coker
"MAMMON"
ALL HAIL GOD MONEY! From JONATHAN HICKMAN (EAST OF WEST, Secret Wars, Avengers) and TOMM COKER (UNDYING LOVE) comes a new crypto-noir series about the power of dirty, filthy money… and exactly what kind of people you can buy with it. THE BLACK MONDAY MURDERS is classic occultism where the various schools of magic are actually clandestine banking cartels who control all of society: a secret world where vampire Russian oligarchs, Black popes, enchanted American aristocrats, and hitmen from the International Monetary Fund work together to keep ALL OF US in our proper place.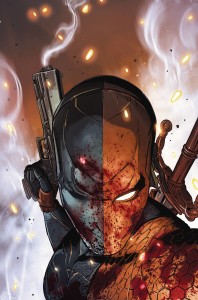 DEATHSTROKE REBIRTH #1
DC COMICS
(W) Christopher Priest (A) Carlo Pagulayan, Jason Paz (CA) Aco
A thousand enemies, a thousand kills-Deathstroke is the world's greatest assassin. Stalked by an unseen foe, Slade Wilson is confronted by his own troubled past and challenged to reinvent himself before he loses everything and everyone in his life. Can Deathstroke be redeemed? Or will his addiction to violence destroy him?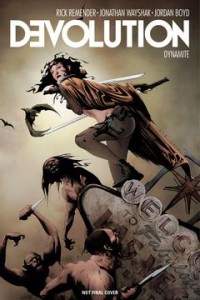 EVOLUTION TP

D. E.
(W) Rick Remender (A) Jonathan Wayshak (CA) Jae Lee
Every living creature on Earth has been devolved – the evolutionary clock turned back, reverting all life to odd mutations and prehistoric incarnations. The cities of man are little more than bloody territories ruthlessly dominated by tribal Neanderthals ruling from the backs of mammoths, packs of saber-toothed tigers, and giant man-eating insects. Raja, one of the few remaining "Still Sapien" humans, heads to San Francisco to find the antidote for the world-changing DVO-8 viral agent. But to cross the wasteland, she'll have to convince the last pocket of humanity to join her quest… and survive the Nazi hillbillies that rule them through fear!
Rick Remender, the acclaimed writer of Black Science, Low, and Deadly Class, unleashes a high-octane dystopian masterpiece on the world, featuring the brilliant artistry of Jonathan Wayshak!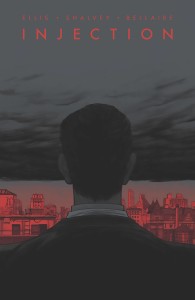 INJECTION TP VOL 02

IMAGE COMICS
(W) Warren Ellis (A/CA) Declan Shalvey
Consulting detective Vivek Headland tackles a case involving a stolen ghost, but when human deli meat causes him to call for help the details of his investigation reveal a new battleground between humanity and The Injection.
Collects INJECTION #6-10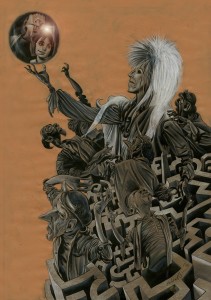 JIM HENSON LABYRINTH 30TH ANNIV SPECIAL #1
BOOM! STUDIOS
(W) Jonathan Case & Various (A) Cory Godbey & Various (CA) Dave McKean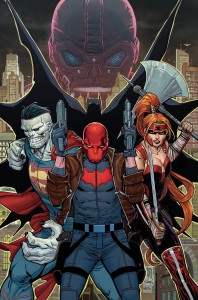 RED HOOD AND THE OUTLAWS #1
DC COMICS
(W) Scott Lobdell (A) Dexter Soy (CA) Giuseppe Camuncoli, Cam Smith
"Dark Trinity" part one! When a turf war puts Black Mask in Red Hood's crosshairs, Jason discovers that the False Face Society is not what it seems, and that the organization is about to auction off a powerful weapon. As criminals from all over the globe descend on Gotham City, Jason must prove that he belongs amongst the city's worst in order to gain access to this Dark Summit!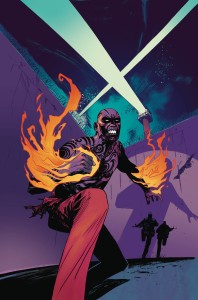 SUICIDE SQUAD MOST WANTED EL DIABLO & BOOMERANG #1 (OF 6)
DC COMICS
(W) Jai Nitz
From the pages of SUICIDE SQUAD comes an all-new series featuring two of the team's most infamous heroes, El Diablo and Boomerang! First, a sudden pardon frees the fiery El Diablo from Belle Reve prison, much to the shock (and irritation) of team leader Amanda Waller. Chato returns to his old neighborhood to reunite with his family, but when he's attacked by a heavily armed local gang and their leader, the deadly, super-powered Bloodletter, will his freedom and his life get cut dramatically short?
Meanwhile, in the first chapter of two-part tale written by Michael Moreci (from DC's Writers Workshop program) with art by Oscar Bazaldua, Boomerang and the Squad embark on a mission to take down a ruthless dictator within a small, unstable Central American nation, but when the mission goes awry, the Squad must jump in a helicopter and flee as all hell breaks loose. But amid the chaos, the team realizes one of them was accidentally left behind: Boomerang! How can he stay alive long enough to be rescued when a whole army wants him dead?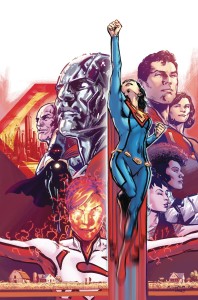 SUPERWOMAN #1
DC COMICS
(W/A/CA) Phil Jimenez
"Who Is Superwoman?" part one! Lois Lane takes flight! Now powered up with the abilities of Superman, Lois pledges to carry on the super-legacy as Superwoman! There's only one problem: Lois' new powers are killing her, and neither she nor her friend and confidant Lana Lang know what to do about it. Will Lois even survive long enough to learn the deadly secret of Ultra Woman?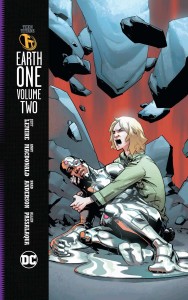 TEEN TITANS EARTH ONE HC VOL 02
DC COMICS
(W) Jeff Lemire (A/CA) Andy MacDonald
After months on the run from the twisted project that created them, Cyborg, Terra, Beast Boy and Garth are near their breaking point, barely surviving on what they can steal, squatting in the ruins of an abandoned subdivision. But as they reach their lowest ebb, their creator, Dr. Niles Caulder, is ready to make his move…and they're about to learn that they weren't the only kids to go through Caulder's twisted process! There are more children with powers out there, and unlike our heroes, they were raised for only one purpose-to be the living weapons Caulder wants ALL his Titans to be!
Writer Jeff Lemire (GREEN ARROW, ANIMAL MAN) teams up with artist Andy MacDonald (THE NEW 52: FUTURES' END) to deliver the next chapter in the Earth One series!
NOW HERE'S THE FULL LIST!
If you want a full visual list of everything click this link whydonthca (tho this might not update til Monday or something)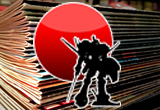 (the following list of comics reflects all the comics coming into both locations. If there's something on this list that's not in stock at your favorite BNW location do not hesitate to ask for us to order it for you!)
COMICS AND MAGAZINES
A&A #6
A-Force #8
Accused #1
Action Comics #961
Adventure Time #55
Agents Of Shield #8
All New All Different Avengers #13
All New All Different Avengers Annual #1
All New X-Men #12
All Star Batman #1
Amazing Spider-Man #15 2nd Ptg
Amazing Spider-Man #16
Another Castle #4 (OF 5)
Army Of Darkness Furious Road #6 (OF 6)
Birthright #18
Black Monday Murders #1
Black Panther #5
Daredevil #10
Darth Vader #24
Deadpool And Mercs For Money #2
Deathstroke Rebirth #1
Detective Comics #938
Disney Pixar Finding Dory #2
Disney Princess #5
Doctor Who 10th Year Two #13
Doctor Who 12th Year Two #8
Doctor Who 9th #4
Earth 2 Society #15
Elephantmen #72
Empress #5 (OF 7)
Fear & Loathing In Las Vegas #4
Fix #1 5th Ptg
Flash #4
Flintstones #2
GFT Van Helsing Vs Frankenstein #1 (OF 5)
GFT Wonderland #50
Hal Jordan And The Green Lantern Corps #2
Harrow County #15
Haunted Mansion #1 (OF 5) 3rd Ptg
House Of Penance #5 (OF 6)
Invader Zim #12
Invincible Iron Man #7 Deodato 3rd Ptg
Invincible Iron Man #9 Deodato 2nd Ptg
Jim Henson Labyrinth 30th Anniv Special #1
Johnny Red #8 (OF 8)
Kings Quest #4 (OF 5)
Lone Ranger Green Hornet #2 (OF 6)
Lumberjanes Gotham Academy #3
Mad Magazine #541
New Super Man #2
Ninjak #18
Old Man Logan #10
Prometheus Life And Death #3
Providence #10 (OF 12)
Red Hood And The Outlaws #1
Ringside #6
Scarlet Witch #9
Sherlock A Study In Pink #3 (OF 6)
Six Million Dollar Man Fall #2 (OF 5)
Sonic Universe #88
Spider-Man 2099 #13
Spider-Man Deadpool #1 7th Ptg
Spider-Man Deadpool #2 6th Ptg
Spider-Man Deadpool #3 5th Ptg
Spider-Man Deadpool #4 4th Ptg
Spider-Man Deadpool #5 3rd Ptg
Spider-Man Deadpool #8
Spongebob Comics #59
Spread #15
Suicide Squad Most Wanted El Diablo & Boomerang #1
Superwoman #1
Symmetry #6
Vampirella Vol 3 #6 (OF 6)
Vision #10
War Stories #19
Weavers #4
Wonder Woman #4
TRADE PAPERBACKS, GRAPHIC NOVELS, HARDCOVERS AND MANGA
Astro City Honor Guard Hc
Batman Superman Tp Vol 04 Siege
Batman The Golden Age Tp Vol 01
Devolution Tp
Guardians Of Galaxy Tp Guardians Of Infinity
Guardians Of Galaxy Tp Tales Of Cosmos
Hellbound Lifestyle Gn
Hellboy And The Bprd 1953 Tp
Injection Tp Vol 02
Invisible Republic Tp Vol 02
Keep Watching Skies American Sci Fi Movies 50s Sc
Spidey Tp Vol 01 First Day
Star Wars Darth Vader Tp Vol 03 Shu Torun War
Starve Tp Vol 02
Supergirl Tp Vol 02 Breaking The Chain
Teen Titans Earth One Hc Vol 02
Y The Last Man Tp Book 05
TOYS
Arrow Tv Black Canary Af
Arrow Tv Season 3 Arrow Af
DC Designer Ser Darwyn Cooke Harley Quinn Af
ODDS AND ENDS
DC Superhero Girls 2017 Wall Calendar
Harley Quinn 2017 Wall Calendar
Marvel Chess Fig Coll Mag #67 Spider-Gwen
Marvel Chess Fig Coll Mag #68 Sandman
Marvel Chess Fig Coll Mag #69 Ms Marvel
Marvel Chess Fig Coll Mag #70 Morlun
Marvel Fact Files Special #18 Punisher