Hey! Cool off w/a glimpse into the future! Also we've got that Star Wars Rogue One sizzle reel in here!
Do You Get Our EMail Newsletter Every Monday?

Sing up over HERE and get updates every Monday afternoon and help break up those early in the week doldrums!
ELDRITCH MOON PRERELEASE WEEKEND!
Join us at our Willow Grove location this weekend when we will be running 3 Prerelease events for the next Magic set, Eldritch Moon!
Friday, July 16th @ midnight (into Saturday)
Saturday, July 16th @ noon
Sunday, July 17th @ noon
Other details are over here!
STAR WARS ROGUE ONE SIZZLE REEL! LET IT SIZZLE!
SQUAD!

Keep your eyes and ears open for details about how you can see the Suicide Squad movie with us!
ALIENS' ALIEN WARRIOR HOT TOY!

WHAT'S NEW IN REBIRTH!?!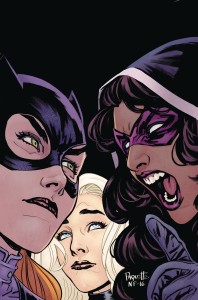 BATGIRL AND THE BIRDS OF PREY REBIRTH #1
DC COMICS
(W) Shawna Benson, Julie Benson (A) Claire Roe (CA) Yanick Paquette
"WHO IS ORACLE" Chapter One: Batgirl and Black Canary are together again, working a case that strikes right at the heart of their partnership! Someone's uncovered the greatest secret Barbara Gordon ever kept: her time as Oracle, the most powerful hacker on the planet. And not only do they know her secret, they're using her name to sell dangerous information to criminals! Now one of those deals has brought some major heat to Gotham City…Helena Bertinelli is out of Spyral, wearing the hood of the Huntress, and making mafia blood run in the streets! Everything you thought was hidden will be revealed if the Oracle has their way…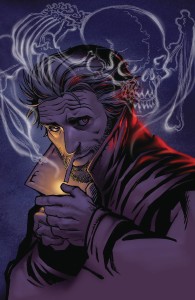 HELLBLAZER REBIRTH #1
DC COMICS
(W) Simon Oliver (A/CA) Moritat
John Constantine's lost weekend in New York City was fun, but London's where his heart is-only a pissed-off demon and a curse on his soul stand in his way. Even Constantine's questionable ethics are pushed to the limit when he puts eight million souls on the line to get what he wants….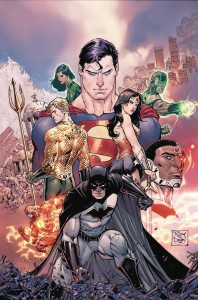 JUSTICE LEAGUE #1
DC COMICS
(W) Bryan Hitch (A) Tony S. Daniel, Sandu Florea (CA) Tony S. Daniel
"THE EXTINCTION MACHINE" Chapter One
The oceans rise. The earth quakes. And an ancient power rises to reclaim not just the world, but the universe itself-and not even the combined might of the Justice League can stop it. An all-new era begins with this epic by comic book legend Bryan Hitch (JLA, The Ultimates) and master storyteller Tony S. Daniel (BATMAN: R.I.P., DEATHSTROKE).
THE REST OF THE NEW STUFF!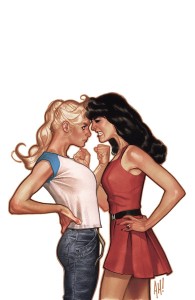 BETTY & VERONICA #1
ARCHIE COMIC PUBLICATIONS
(W/A/CA) Adam Hughes
It's Betty vs. Veronica! The most highly-anticipated debut in comics history is here! Betty and Veronica are America's sweethearts – until they turn on each other! Pops' Chocklit Shoppe is being taken over by a huge coffee company. When Betty and Veronica go head-to-head over the issue, all bets are off! Friendships will shatter. Cities will burn. Nails will be broken. Betty and Veronica are back in this all-new #1 from comics legend Adam Hughes (Wonder Woman, Catwoman, Before Watchmen: Dr. Manhattan)!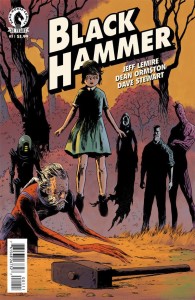 BLACK HAMMER #1
DARK HORSE COMICS
(W) Jeff Lemire (A/CA) Dean Ormston
  A new story from the prodigious brain of Jeff Lemire (Descender), amazingly realized by Dean Ormston (The Sandman) and Dave Stewart (Hellboy)!
Once they were heroes, but that age has long since passed. Banished from existence by a multiversal crisis, the old champions of Spiral City-Abraham Slam, Golden Gail, Colonel Weird, Madame Dragonfly, and Barbalien-now lead simple lives in a timeless farming town. Even as they try to find their way home, trouble has a unique way of finding heroes wherever they are!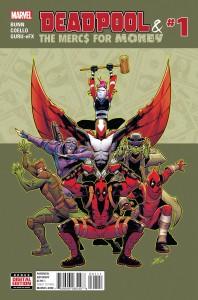 DEADPOOL AND MERCS FOR MONEY #1
MARVEL COMICS
(W) Cullen Bunn (A/CA) Iban Coello
Deadpool is one of the best mercenaries on the planet. He may even be a passable Avenger-jury's still out. But one thing's for sure-Deadpool is a terrible team leader. Think we're lying? Ask the Mercs for Money! Deadpool's taken on a new high-paying mission to take out radioactive super villains…and his Mercs aren't nearly as immune to radiation as his healing-factored heinie is. Deadpool veteran Cullen Bunn brings us mo' mercs, mo' money and naturally, mo' problems.
Parental Advisory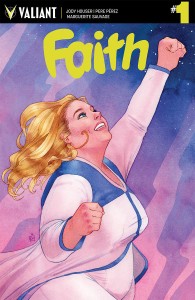 FAITH (ONGOING) #1
VALIANT ENTERTAINMENT LLC
(W) Jody Houser (A) Pere Perez & Various (CA) Kevin Wada
AN ALL-NEW ONGOING SERIES! Because you demanded it… the high-flying hero that captured the imagination of the world is back with a colossal new comics milestone!
In a city under siege by robots, aliens, monsters and even worse… celebrities, there is only one woman the people of Los Angeles can count on: the stratospheric superhero called Faith! Aspiring reporter by day and dedicated crime-fighter by night, Faith has tackled every obstacle in her path with confidence – like those crushing deadlines at work, the long-distance boyfriend half a world away, and the missing back issues that plague her comics collection! But, unbeknownst to her, Faith is about to collide with the one force she never saw coming: an up-and-coming super-villain bent on snuffing her out once and for all! But who is lurking behind the mask of her new foe…and could they just be the one person capable of rendering Faith powerless?
Jump on board now to find out why Valiant's one-of-a-kind hero is inspiring a whole new generation! Be here as FAITH moves from her sold-out mini-series…and into the history-making debut of her first-ever ongoing series!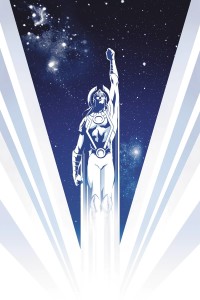 GRANT MORRISONS AVATAREX #1
GRAPHIC INDIA PTE. LTD
(W) Grant Morrison (A/CA) Jeevan Kang
Created and written by legendary icon, Grant Morrison, comes his newest hero Avatarex. In Avatarex, the epic world of living myth collides with the mundane realities and cultural upheavals of contemporary India. What happens when an all-powerful super-being awakens to fight the Last War of the Age – only to discover he's been sent too early for the End Days and must somehow learn to exist in a world that's too small and too frail to survive his presence? How does humanity react to the challenges of such a paragon in our midst? Will Avatarex raise us to his level – or will we drag him down to ours? Can the embodiment of our highest aspirations exist side-by-side with our all-too human failings or will the gulf between what we wish we could be and what we are destroy us?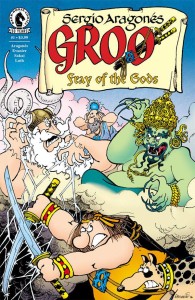 GROO FRAY OF THE GODS #1
DARK HORSE COMICS
(W) Sergio Aragones, Mark Evanier (A/CA) Sergio Aragones
The gods did not bless Groo with brains, only with the ability to battle. Now, they themselves are in conflict over the spirit and future of mankind . . . and it is Groo who becomes the pawn (unwitting, of course) in their war. If the future of humanity depends on the wanderer-we're all in a lot of trouble.
It's the basis for the new twelve-issue Groo limited series, Groo: Fray of the Gods, featuring a fable told by the same old guys as always: Sergio Aragonés and Mark Evanier, with Tom Luth coloring, and Stan Sakai on the lettering pen.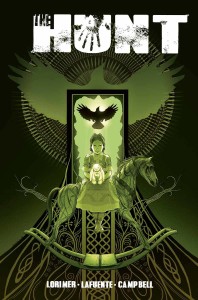 HUNT #1
IMAGE COMICS
(W/A/CA) Colin Lorimer
Dream or reality? For a long time, teenager Orla Roche couldn't tell them apart, and now THE HUNT is coming with its nightmare world of the restless dead. An intense story of survival, THE HUNT is a supernatural horror tale that will give Irish mythology a distinctly modern twist.
SNOTGIRL #1
IMAGE COMICS
(W) Bryan Lee O'Malley (A/CA) Leslie Hung
WHO IS LOTTIE PERSON? Is she a gorgeous, fun-loving social media star with a perfect life or a gross, allergy-ridden mess? Enter a world of snot, blood, and tears in this new ongoing series from New York Times Best Seller BRYAN LEE O'MALLEY (Scott Pilgrim) and dazzling newcomer LESLIE HUNG!
NOW HERE'S THE FULL LIST!
If you want a full visual list of everything click this link whydonthca (tho this might not update til Monday or something)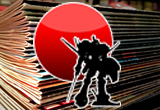 (the following list of comics reflects all the comics coming into both locations. If there's something on this list that's not in stock at your favorite BNW location do not hesitate to ask for us to order it for you!)
COMICS AND MAGAZINES
A&A #5
A-Force #7
Action Comics #958 2nd Ptg
Adventures Of Supergirl #6
All New Inhumans #9
All New Wolverine #10
Aquaman #1 2nd Ptg
Aquaman #3
Assassins Creed #10
Astonishing Ant-Man #10
Astro City #37
Axcend #5
Back To The Future Citizen Brown #3 (OF 5)
Batgirl And The Birds Of Prey Rebirth #1
Batman #3
Betty & Veronica #
Betty & Veronica Comics Double Digest #245
Black Hammer #1
Black Panther #1 3rd Ptg
Black Road #4
Black Widow #1 3rd Ptg
Black Widow #2 2nd Ptg
Black Widow #3 2nd Ptg
Black Widow #5
BPRD Hell On Earth #143
BTVS Season 10 #29
Casanova Acedia #6
Chew #56
Clean Room #10
Contest Of Champions #10
Dark Horse Presents 2014 #24
Darth Vader #23
Deadpool And Mercs For Money #1
Dept H #4
Detective Comics #935 2nd Ptg
Exodus Life After #6
Faith (ONGOING) #1
Flash #1 2nd Ptg
Garth Ennis Red Team Double Tap #1 (OF 9)
GFT Escape From Monster Island #6 (OF 6)
GFT Hellchild #5 (OF 5)
GFT Robyn Hood I Love Ny #2 (OF 12)
Goldie Vance #2 (OF 5) (2ND Ptg)
Grant Morrisons Avatarex #1
Green Arrow #3
Green Lanterns #3
Groo Fray Of The Gods #1
Guardians Of Infinity #8
Heartthrob #4
Hellblazer Rebirth #1
Hi Fructose Magazine Quarterly #40
Hunt #1
I Hate Fairyland #7
Injustice Gods Among Us Year Five #14
Island #9
Jim Butcher Dresden Files Wild Card #4 (OF 6)
Joyride #4 (OF 4)
Justice League #1
Lazarus #23
Legends Of Tomorrow #5
Letter 44 #26
Lords Of The Jungle #5 (OF 6)
Lucifer #8
Lumberjanes #28
Manifest Destiny #21
Merry Men #2 (OF 5)
Mighty Morphin Power Rangers #5
Moon Knight #1 3rd Ptg
Moon Knight #2 3rd Ptg
Moon Knight #3 2nd Ptg
New Suicide Squad #22
Nighthawk #3
Nova #9
Over Garden Wall Ongoing #2 (2ND Ptg)
Patsy Walker Aka Hellcat #8
Prophet Earth War #5 (OF 6)
Rai #15
Rumble #12
Scooby Apocalypse #3
She Wolf #2
Simpsons Comics #231
Snotgirl #1
Spider-Man #6
Spider-Man Deadpool #7
Squadron Supreme #9
Star Wars #21
Street Fighter Legends Cammy #1 (OF 4)
Street Fighter Unlimited #8
Superman #3
Tales From The Darkside #2
Think Tank Creative Destruction #4
Thunderbolts #3
Ultimates #9
Uncanny X-Men #10
Usagi Yojimbo #156
Velvet #15
Weird Detective #2 (OF 5)
Wolf #9
Wonder Woman #1 2nd Ptg
Xena Warrior Princess #4
TRADE PAPERBACKS, GRAPHIC NOVELS, HARDCOVERS AND MANGA
Agents Of Shield Tp Vol 01 Coulson Protocols
American Vampire Tp Vol 08
Batgirl Tp Vol 02 To The Death
Experts Gn
Huck Tp
Joe Golem Occult Detective Hc Vol 01
Luke Cage Avenger Tp
Overstreet Comic Bk Pg Sc Vol 46 Harley Quinn
Overstreet Comic Bk Pg Sc Vol 46 Harley Quinn
Plutona Tp
Star Wars Obi-Wan And Anakin Tp
Superman Action Comics Tp Vol 07 Under The Skin
Unbeatable Squirrel Girl And Great Lakes Avengers
United States Of Murder Inc Tp Vol 01 Truth
TOYS
Marvel Select Ghost Rider Af
Marvel Select Lizard Af
ODDS AND ENDS
Avengers Assemble 16 Month 2017 Wall Cal
Batman Black & White Statue Batman By Infantino
Batman Black & White Statue Robin By Infantino
Deadpool 16 Month 2017 Wall Calendar
Simpsons 2017 Wall Cal
Women Of Marvel Poster Ed 2017 Wall Calendar