It's the weekend again. The DNC is finally outta town and the highways are back to normal. Let's see what's going on this week in comics!
Do You Get Our EMail Newsletter Every Monday?

Sing up over HERE and get updates every Monday afternoon and help break up those early in the week doldrums!
JOIN US FOR THE SUICIDE SQUAD! TIX AVAILABLE IN WILLOW GROVE!

Join our Willow Grove crew for a private screening of Suicide Squad! It will be premiering at the Regal Warrington Theater on Thursday, August 4th at 7:00 pm. You can purchase tickets at our Willow Grove location.
And hurry! Tickets are selling out fast! (215.657.8838 FOR ANY QUESTIONS)
MAGIC GAME DAY FOR ELDRITCH MOON!
Our Willow Grove location will be hosting a Magic: the Gathering Eldritch Moon Game Day event on Saturday, August 13th @ 12 noon. DETAILS!
NEW TOYS!
It's a mixed bag of DC action figures this week! From CW's Reverse Flash to the late Darwyn Cooke's Batman with a buncha Batman animated series figs in the middle! It's a good week to be a toy fan!
COLLECTIONS!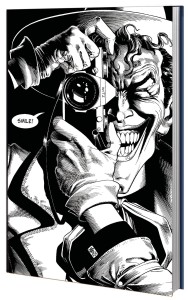 BATMAN NOIR THE KILLING JOKE HC
DC COMICS
(W) Alan Moore & Various (A/CA) Brian Bolland
This groundbreaking work is a twisted tale of insanity and human perseverance. Looking to prove that any man can be pushed past his breaking point to madness, the Joker attempts to drive Commissioner Gordon insane. Refusing to give up, Gordon struggles to maintain his sanity with the help of Batman in a desperate effort to best the madman.
This new edition presents the exquisite artwork of Brian Bolland in black and white for the first time. Collects BATMAN: THE KILLING JOKE, a story from BATMAN BLACK AND WHITE written by Bolland, plus covers by Bolland and more.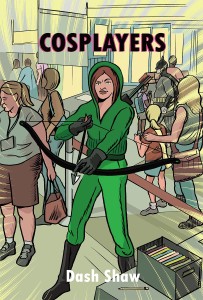 COSPLAYERS HC DASH SHAW

FANTAGRAPHICS BOOKS
(W/A/CA) Dash Shaw
Dash Shaw's ode to that defining element of fandom, the "costume play", artfully celebrates both the culture's theatricality and uniquely D.I.Y. beauty via a series of interconnected short stories surrounding two young women. Cosplayers depicts their stories in an affectionately funny way and features plenty of easter eggs for the cognoscenti as well as being the perfect entry point for those befuddled by the phenomenon. To be released around the same time as Shaw's feature film directorial debut, My Entire High School Sinking into the Sea.
IMAGE COMICS
(W) Rick Remender (A/CA) Wesley Craig
It's 1988 and Marcus Lopez's first year at Kings Dominion, the elite academy where damaged teenagers are forged into the world's deadliest assassins, is coming to a close, and the final exam. Pass or Fail, no one survives the Freshman Finals without getting blood on their hands.
Collects DEADLY CLASS #17-21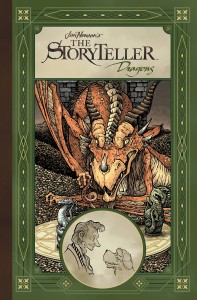 JIM HENSONS STORYTELLER DRAGONS HC

BOOM! STUDIOS
(W) Shane-Michael Vidaurri & Various (A) Daniel Bayliss & Various (CA) David Peterson
Following Witches, this is our second in a themed series of Jim Henson's The Storyteller tales, this time centered around dragons.
Includes four tales of dragons, inspired by folklore from around the world and told in the spirit of Jim Henson's beloved television series.
Collects the complete limited series and also includes an exclusive behind-the-scenes look at the process and care taken in adapting each of these timeless legends.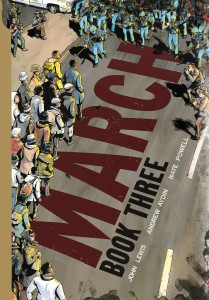 MARCH GN BOOK 03
IDW – TOP SHELF
(W) Andrew Aydin, John Lewis (A/CA) Nate Powell
Top Shelf is honored to present the stunning conclusion to the award-winning and best-selling MARCH trilogy.
By Fall 1963, the Civil Rights Movement is an undeniable keystone of the national conversation, and as chair of the Student Nonviolent Coordinating Committee, John Lewis is right in the thick of it. With the stakes continuing to rise, white supremacists intensify their opposition through government obstruction and civilian terrorist attacks, a supportive president is assassinated, and African-Americans across the South are still blatantly prohibited from voting.
To carry out their nonviolent revolution, Lewis and an army of young activists launch a series of innovative projects, including the Freedom Vote, Mississippi Freedom Summer, and a pitched battle for the soul of the Democratic Party waged live on national television. But strategic disputes are deepening within the movement, even as 25-year-old John Lewis heads to Alabama to risk everything in a historic showdown that will shock the world.
WHAT'S UP REBIRTH?!
DC COMICS
(W) Amanda Conner, Jimmy Palmiotti (A) Chad Hardin (CA) Amanda Conner
"Die Laughing" part one! Welcome back to Harley Quinn's crazy world on Coney Island…now get ready to wave goodbye, because everyone there just might get eaten alive! Harley's gotta protect her neighborhood against an all-out zombie apocalypse! Break out the chainsaws, everybody!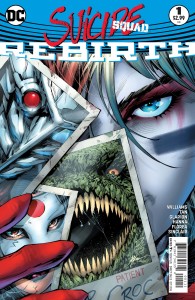 SUICIDE SQUAD REBIRTH #1
DC COMICS
(W) Rob Williams (A/CA) Philip Tan, Jonathan Glapion
Soldier. War hero. Traitor. Captain Rick Flag was one of America's greatest military commanders before he was banished to a secret military prison. But after years of isolation, Flag's life changes forever when a woman called Amanda Waller offers him redemption in exchange for taking on the single most dangerous job in the entire DC Universe: keeping the Suicide Squad alive!
COMICS!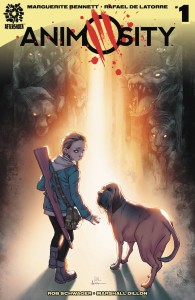 ANIMOSITY #1
AFTERSHOCK COMICS
(W) Marguerite Bennett (A/CA) Rafael de Latorre
One day, the Animals woke up.
They started thinking. They started talking.
They started taking revenge.
Now, a dog and his girl are trying to get away–out of New York City, and all the way to San Francisco, to the only person who might be able to protect and save her.
From the writer of INSEXTS  A-FORCE, and BOMBSHELLS and the artist of SUPERZERO, comes a new kind of road trip, a new kind of black comedy, and a new kind of coming-of-age.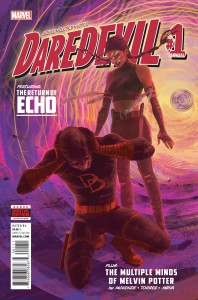 DAREDEVIL ANNUAL #1
MARVEL COMICS
(W) Charles Soule, Roger McKenzie (A/CA) Vanesa R. Del
• Do you hear that? It sounds like an Echo…
KILL OR BE KILLED #1

IMAGE COMICS
(W) Ed Brubaker (A/CA) Sean Phillips
The bestselling team of ED BRUBAKER and SEAN PHILLIPS (THE FADE OUT, CRIMINAL, FATALE) launch their new monthly series: KILL OR BE KILLED, the twisted story of a young man who is forced to kill bad people, and how he struggles to keep his secret as it slowly ruins his life and the lives of his friends and loved ones. Both a thriller and a deconstruction of vigilantism, KILL OR BE KILLED is unlike anything BRUBAKER & PHILLIPS have ever done.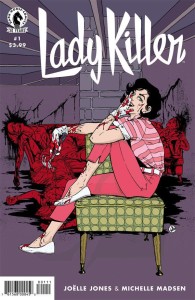 LADY KILLER 2 #1
DARK HORSE COMICS
(W/A/CA) Joëlle Jones
The killer housewife is back! The Schuller family has moved to Cocoa Beach, Florida, where life carries on as usual. Josie continues to juggle Tupperware parties, her kids, and a few human heads. However, when someone from her past tails her on a hit, she may be in for more than she bargained for.
"Lady Killer is worth its weight in gold for the art alone, but the enigmatic Josie Schuller is the real appeal."-Newsarama
"A level of violence that can only be described as Mad Men's Betty Draper meets Dexter."-Comic Book Resources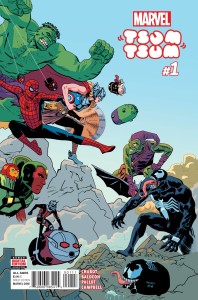 MARVEL TSUM TSUM #1 (OF 4)
MARVEL COMICS
(W) Jacob Chabot (A) David Baldeon (CA) Chris Samnee
In case you've been living under a rock, Tsum Tsums are HUGE! Well, not LITERALLY (they're actually pretty tiny) but these seemingly cute and cuddly creatures are sweeping the globe! So what happens when these pint-sized piles of fur find their way into the Marvel Universe? After a crate of them falls to Earth en route to THE COLLECTOR, one small group of Brooklyn teenagers will find out! Featuring all of your favorite Marvel heroes and villains, this is sure to be TSUM-thing you won't want to miss!
All Ages
NOW HERE'S THE FULL LIST!
If you want a full visual list of everything click this link whydonthca (tho this might not update til Monday or something)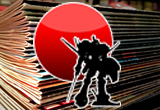 (the following list of comics reflects all the comics coming into both locations. If there's something on this list that's not in stock at your favorite BNW location do not hesitate to ask for us to order it for you!)
COMICS AND MAGAZINES
4001 Ad Bloodshot #1 2nd Ptg
4001 Ad War Mother #1
A Year Of Marvels Unstoppable #1
Alter Ego #142
Angry Birds Comics (2016) #8
Animosity #1
Aquaman #4
Art Ops #10
Baltimore Empty Graves #5
Batman #4
Batman 66 Meets Steed And Mrs Peel #2 (OF 6)
Batman Beyond #15
Black Science #23
Bounty #2 (OF 10)
But Like Maybe #1
Cinema Purgatorio #4
Civil War II Kingpin #2 (OF 4)
Control #3 (OF 6)
Daredevil Annual #1
DC Comics Bombshells #16
DC Universe Rebirth #1 4th Ptg
Deadpool Vs Gambit #3 (OF 5)
Discipline #6
Doctor Who 4th #4 (OF 5)
Doctor Strange #10
Draw #32
Faster Than Light #9
Fuse #20
Ghostbusters International #7
Giant Days #17
Godzilla Oblivion #5 (OF 5)
Grant Morrisons 18 Days #14
Green Arrow #4
Green Lanterns #4
Harley Quinn #1
Harley Quinn And Her Gang Of Harleys #4 (OF 6)
Hillbilly #2
Hot Damn #4 (OF 5)
Injustice Gods Among Us Year Five #15
Invincible Iron Man #12
Jack Kirby Collector #68
James Bond #8
Jeff Steinberg Champion Of Earth #1
Jonesy #5
Jughead #8
Justice League #2
Kill Or Be Killed #1
Lady Killer 2 #1
Low #15
Lucas Stand #1 (2ND Ptg)
Marvel Tsum Tsum #1 (OF 4)
Marvel Universe Avengers Ultron Revolution #2
Midnight Of The Soul #3 (OF 5)
Moon Knight #5
Mycroft #1
Nailbiter #24
Nightwing #2
Paper Girls #8
Penny Dreadful #3 (OF 5)
Punisher #4
Regular Show #38
Sex #30
Shadow Death Of Margo Lane #3 (OF 5)
Sheriff Of Babylon #9 (OF 12)
Silk #11
Simpsons Comics #228
Spidey #9
Squadron Supreme #10
Strange Attractors #3
Stray Bullets Sunshine & Roses #17
Street Fighter X Gi Joe #6 (OF 6)
Suicide Squad Rebirth #1
Superman #4
Tank Girl 2 Girls 1 Tank #3 (OF 4)
TMNT Amazing Adventures #13
TMNT Ongoing #59 2nd Ptg
Tokyo Ghost #9
Torchwood #1
Transformers #55
Trees #14
Uncanny Inhumans #11 2nd Ptg
Uncanny Inhumans #12
Uncanny X-Men #11
Unfollow #10
Vikings #3
Vote Loki #3
Walking Dead #157
Wynonna Earp #6 (OF 6)
TRADE PAPERBACKS, GRAPHIC NOVELS, HARDCOVERS AND MANGA
Batman Noir The Killing Joke Hc
Burroughs Tarzan Complete Kubert Omnibus Tp
Citizen Jack Tp
Conan Tp Vol 19 Xuthal Of The Dusk
Cosplayers Hc Dash Shaw
Dark Horse Comics Dc Superman Complete Tp
Deadly Class Tp Vol 04 Die For Me
Flash Hc Vol 08 Zoom
Flash Tp Vol 07 Savage World
Harley Quinn & Suicide Squad An Adult Coloring Book
Jim Hensons Storyteller Dragons Hc
Kevin Smith Yoga Hosers Sundance Super Special
March Gn Book 03
Monsters In The Movies Sc
New Avengers Aim Tp Vol 02 Standoff
Suicide Squad Most Wanted Deadshot Tp
Shutter Tp Vol 04
Slash & Burn Tp
Superzero Tp Vol 01
Transformers Vs Gi Joe Tp Vol 03
Uncanny Inhumans Tp Vol 02 Quiet Room
TOYS
Batman Animated Series Commissioner Gordon Af
Batman Animated Series Etrigan W Klarion Af
Batman Animated Series Ras Al Ghul Af
Batman Animated Series Zatanna Af
DC Designer Ser Darwyn Cooke Batman Af
Flash Tv Reverse Flash Af
Marvel Select Cap Amer 3 Iron Man Mk45 Af
Spider-Man 6in Legends Af Asst 201602
Texas Chainsaw Massacre 2 8in Clothed Af
Weird Al Yankovic 8in Clothed Af
ODDS AND ENDS
Darth Vader & Family 2017 Wall Calendar
Harley Quinn Book And Mask Set
Marvel Chess Fig Coll Mag #77 Silk
Marvel Chess Fig Coll Mag #79 Superior Spider-Man
Marvel Chess Fig Coll Mag #80 Kraven The Hunter