Fourth of July Weekend! It's here! We've got savings on Back Issues and a list of what's coming out next week! Get clickin'!
Do You Get Our EMail Newsletter Every Monday?

Sing up over HERE and get updates every Monday afternoon and help break up those early in the week doldrums!
HOLY CRAP! DON'T MISS OUT ON OUR BACK ISSUE SALE THIS WEEKEND!!!

Starting TODAY (Friday July 1st), all the way through the 4th of July (Monday) all back issues in the store priced less than $25 will be HALF OFF! Oh yea you read that right, 50% off tons and tons of back issue comics at both of our locations. Silver Age, Bronze Age, Modern stuff, if it's in our back issue boxes and it's under 25 dollars then it is half off!
ULTRON HOT TOY!
CIVIL WAR II #3 MIDNIGHT RELEASE! SOMEONE'S GONNA DIE!

Join us on Tuesday night July 11th at 11:30pm when we'll be reopening our doors to in preparation for the Midnight Release of Civil War II #3 in which Marvel is promising the death of a MAJOR character! It'll be all over the news in the morning so you may as well get a jump on it before your Twitter and Facebook feeds ruin it for you (heck maybe even Al Roker will spoil it…ya never know!)  There'll be more updates over on the Facebook Event Page
GET GOOFY WITH STAR WARS!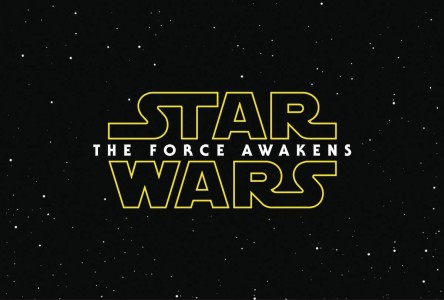 STAR WARS FORCE AWAKENS MAD LIBS

PRICE STERN SLOAN
(W) Eric Luper
A Mad Libs with 21 original stories based on Star Wars: The Force Awakens. Are you a longtime Star Wars fan, or did you fall in love with the franchise after seeing The Phantom Menace? Either way, you're likely just as excited as we are about the release of The Force Awakens. Our Mad Libs features 21 all-new stories based on the seventh film in the perenially popular Star Wars franchise.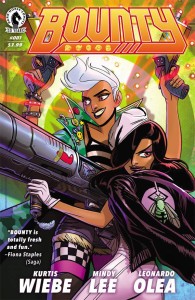 BOUNTY #1 (OF 10)
DARK HORSE COMICS
(W) Kurtis J. Wiebe (A/CA) Mindy Lee
The Gadflies were the most wanted criminals in the galaxy-robbing corporations to redistribute wealth to the destitute. Now, with a bounty to match their reputation, the Gadflies are forced to abandon banditry for a career as bounty hunters . . . 'cause if you can't beat 'em, join 'em-then rob 'em blind!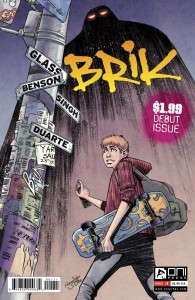 BRIK #1 (OF 6)
ONI PRESS INC.
(W) Adam Glass, Mike Benson (A/CA) Harwinder Singh
Drew is a bullied kid in the Yonkers neighborhood of New York City whose family faces encroaching violence from Russian gangsters. Before his beloved grandfather is killed in an attempt to muscle the family out of the neighborhood, he's able to pass down to Drew the story of a mysterious but dangerous protector who helped their people during other troubled times. When Drew finds his grandfather kept the secret to creating a golem, is it worth the risk to summon this supernatural avenger to take on the all-too-human darkness swallowing his world? An urban fantasy tale of power and morality from writers Adam Glass (Suicide Squad, TV's Supernatural) & Mike Benson (Deadpool, Moon Knight), amazing new illustrator Harwinder Singh, and colorist Gonzalo Duarte (The Bunker, Big Trouble in Little China)!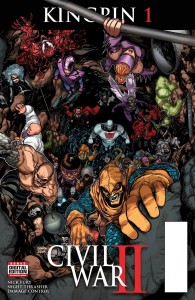 CIVIL WAR II KINGPIN #1 (OF 4)
MARVEL COMICS
(W) Matthew Rosenberg (A) Dalibor Talajic, Ricardo Lopez-Ortiz (CA) Aaron Kuder
An Inhuman with the ability to predict the future has helped the heroes of the Marvel Universe clamp down on crime before it can even happen. While this thwarts most criminals, one man has found a way to keep doing what he does best. Wilson Fisk has managed to stay one step ahead of the good guys and his crime enterprise is BOOMING. But what's his secret?! Rising stars Matthew Rosenberg (We Can Never Go Home) and Ricardo Lopez Ortiz (Wolf) present a gritty, street-level view of CIVIL WAR II starring the Kingpin in a world without crime!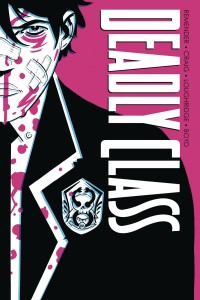 DEADLY CLASS DLX HC

IMAGE COMICS
(W) Rick Remender (A/CA) Wesley Craig
    Collecting the first three arcs of REMENDER and CRAIG's twistedly humorous story of a group of damaged teens enrolled in a secret high school, training to become the world's greatest assassins.
Presented in oversized hardcover format!
Collects DEADLY CLASS #1-16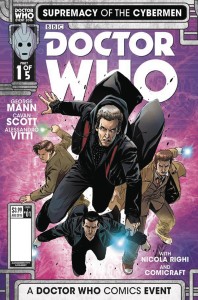 DOCTOR WHO SUPREMACY OF THE CYBERMEN #1 (OF 5)
TITAN COMICS
(W) George Mann, Cavan Scott (A) Alessandro Vitti & Various (CA) Alessandro Vitti
For the Cybermen's 50th-anniversary… YOU WILL BE DELETED! Exiled from Gallifrey at the very end of Time, Rassilon, fallen leader of the Time Lords, has been captured by the last of the Cybermen. Now the Cybermen have access to time travel. With it, every defeat is now a victory. Every foe is now dead – or Cyberized. Titan Comics' 2016 Doctor Who event – and the biggest Doctor Who story of the year – begins here!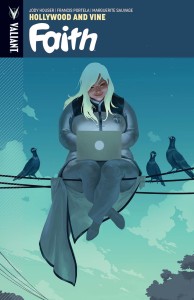 FAITH TP VOL 01 HOLLYWOOD & VINE
VALIANT ENTERTAINMENT LLC
(W) Jody Houser (A) Francis Portela, Marguerite Sauvage (CA) Jelena Kevic-Djurdjevic
VALIANT'S MOST DEMANDED HERO STEPS OUT OF HARBINGER…AND INTO AN ALL-NEW ADVENTURE!
Orphaned at a young age, Faith Herbert – a psionically gifted "psiot" discovered by the Harbinger Foundation – has always aspired to greatness. But now this once ordinary teenager is taking control of her destiny and becoming the hard-hitting hero she's always known she can be – complete with a mild mannered secret identity, unsuspecting colleagues, and a day job as a reporter that routinely throws into her harms way!
Well, at least she thought it would… When she's not typing up listicles about cat videos, Faith makes a secret transformation to patrol the night as the City of Angels' own leading superhero – the skysoaring Zephyr!
But flying solo is going to be tougher than she ever thought when Zephyr uncovers a deep-rooted alien conspiracy. Two-bit burglars and car thieves are one thing, but when the world needs a hero to stave off a full-blown extraterrestrial invasion, will Faith find herself in over her head…or ready for her biggest challenge yet?
Rising star Jody Houser (Orphan Black) and explosive artists Francis Portela (Green Lantern) and Marguerite Sauvage (DC Comics Bombshells) pilot a new chapter for the high-flying hero that People Magazine calls "a superhero we can all admire."
Collecting FAITH (LIMITED SERIES) #1-4.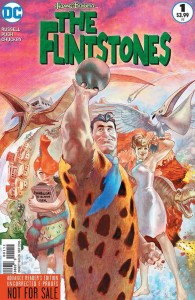 FLINTSTONES #1
DC COMICS
(W) Mark Russell (A/CA) Steve Pugh
Welcome to Bedrock, where Paleolithic humans head to dinner for a taste of artisanal mammoth after shopping at Neandertall & Big Men's Clothing, where Wilma shows her modern art, and where, if you take a plane, you could literally end up sitting ON the tail section. Join Fred and Barney as Mister Slate sends them on a mission to show some Neanderthals a night on the town in hopes of luring them into this new system called "working for a living." In Slate's Quarry, of course. Is Fred's ship about to come in? Find out when the gang finishes out the evening at the employee hot tub party, where they learn how the one percent lives here in Bedrock, home to the world's first civilization and the modern stone-age family-The Flintstones. Don't miss this extra-sized debut issue!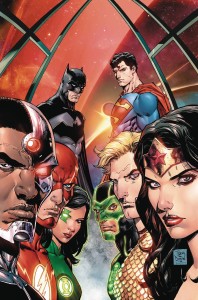 JUSTICE LEAGUE REBIRTH #1
DC COMICS
(W) Bryan Hitch
Spinning out of the events of DC UNIVERSE: REBIRTH #1, a new day dawns for Earth's greatest heroes as they welcome three new members to the team, including…Superman? Who is this strange visitor from a dead world-and can he be trusted? Batman and Wonder Woman aren't so sure.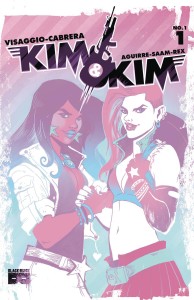 KIM AND KIM #1

BLACK MASK COMICS
(W) Magdalene Visaggio (A) Eva Cabrera (CA) Tess Fowler & Various
Kim & Kim are twentysomething besties out to make a name for themselves in the wild world of interdimensional cowboy law enforcement. In a massive "screw you" to their parents and the authorities, they decide to hijack some high stakes bounty – and end up in way over their heads. Kim & Kim is a day-glo action adventure that's bursting with energy and enthusiasm. It puts queer women and trans women front and center, with a story that embraces the absurd alongside realistic pathos. It's a mature book that focuses on the power and meaning of female friendships as engines of validation.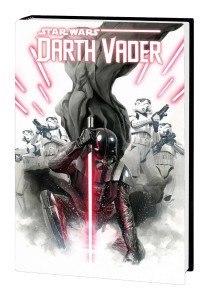 STAR WARS DARTH VADER HC VOL 01

MARVEL COMICS
One of the greatest antagonists in all of fiction stars in his first volume of villainy! Fresh from a stinging defeat at the hands of the Rebel Alliance, Darth Vader must rise again to reassert the Empire's iron grip on the galaxy. But will his personal desire for vengeance against the young Jedi who destroyed the Death Star distract from Vader's duty to the Emperor? As a fateful quest begins, the Dark Lord of the Sith will face a fresh threat to his power. And as other villains old and new play their parts – from Boba Fett and Jabba the Hutt to diabolical debutant Aphra, as well as the killer droids Triple Zero and BeeTee – how long until Vader's dangerous alliances blow up in his face? Join Darth Vader and feel the power of the dark side! Collecting DARTH VADER #1-12.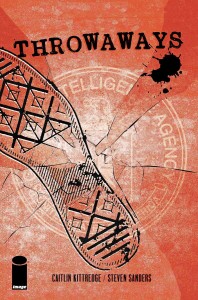 THROWAWAYS #1 (MR)
IMAGE COMICS
(W) Caitlin Kittredge (A) Steven Sanders (CA) Maiko Kuzunishi
THROWAWAY (n.)
1. A disposable asset, used for a single mission; 2. A disavowed assassin, meant to die alongside their target.
Abby Palmer and Dean Logan are two broken people-Abby a vet with severe PTSD and Dean a burnout trying to escape the shadow of his infamous father-when they are thrust into a modern-day MK-ULTRA conspiracy… and discover they are both ULTRA's human experiments.
NOW HERE'S THE FULL LIST!
If you want a full visual list of everything click this link whydonthca (tho this might not update til Monday or something)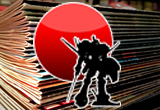 (the following list of comics reflects all the comics coming into both locations. If there's something on this list that's not in stock at your favorite BNW location do not hesitate to ask for us to order it for you!)
COMICS AND MAGAZINES
3 Floyds Alpha King #2 (OF 5)
4001 Ad Shadowman #1
Action Comics #957 2nd Ptg
Adventures Of Supergirl #5
Amazing Spider-Man #15
Angry Birds Comics (2016) #7
Aquaman #2
Aquaman Rebirth #1 2nd Ptg
Baltimore Empty Graves #4
Batman #2
Batman 66 Meets Steed And Mrs Peel #1 (OF 6)
Batman Beyond #14
Black Science #22
Bobs Burgers Ongoing #13
Bounty #1 (OF 10)
Brik #1 (OF 6)
Captain America Sam Wilson #11
Captain America Steve Rogers #1 2nd Ptg
Cinema Purgatorio #3
Civil War II Kingpin #1 (OF 4)
Civil War II X-Men #2 (OF 4)
Control #2 (OF 6)
Daredevil Punisher #3 (OF 4)
Deadpool Vs Gambit #2 (OF 5)
Detective Comics #934 2nd Ptg
Discipline #5
Doctor Who Supremacy Of The Cybermen #1 (OF 5)
Dreaming Eagles #6 (OF 6)
Empress #4 (OF 7)
Faster Than Light #8
Fix #1 4th Ptg
Fix #3 2nd Ptg
Fix #4
Flash Rebirth #1 2nd Ptg
Flintstones #1
Fuse #19
Future Quest #2
GFT Grimm Fairy Tales #124
GFT Robyn Hood I Love NY #1 (OF 12)
Giant Days #16
Grant Morrisons 18 Days #13
Green Arrow #2
Green Lanterns #2
Gwenpool #2 2nd Ptg
Injustice Gods Among Us Year Five #13
Invader Zim #11
Invincible Iron Man #11
Justice League Rebirth #1
Kaijumax Season 2 #3
Kim And Kim #1
Kings Quest #3 (OF 5)
Knights Of The Dinner Table #233
Lone Ranger Green Hornet #1 (OF 6)
Marvel Universe Avengers Ultron Revolution #1
Marvels Doctor Strange Prelude #1 (OF 2)
Midnight Of The Soul #2 (OF 5)
Moon Knight #4
Nailbiter #23
Paper Girls #7
Peanuts Friends Forever 2016 Special #1
Popeye Classics Ongoing #48
Punisher #2 2d Ptg
Punisher #3
Regular Show #37
Renato Jones One Percent #1 3rd Ptg
Renato Jones One Percent #3
Revival #41
Roche Limit Monadic #4 (OF 4)
Scarlet Witch #8
Sheriff Of Babylon #8 (OF 12)
Silver Surfer #5
Sonic Mega Drive One Shot
Spawn #264
Spider-Man 2099 #12
Spider-Woman #9
Spidey #8
Spread #14
SSB II Polybagged Ed
Star Wars Han Solo #2 (OF 5)
Star Wars Poe Dameron #4
Strange Attractors #2
Stray Bullets Sunshine & Roses #16
Superman #2
Superman The Coming Of The Supermen #6 (OF 6)
Symmetry #5
Throwaways #1
Tokyo Ghost #8
Totally Awesome Hulk #8
Transformers Till All Are One #2
Unfollow #9
Vote Loki #2
Walking Dead #156
Weird Love #13
Wonder Woman Rebirth #1 2nd Ptg
Woods #24
TRADE PAPERBACKS, GRAPHIC NOVELS, HARDCOVERS AND MANGA
7th Garden Gn Vol 01
A-Force Tp Vol 01 Hypertime
Adventure Time Tp Vol 09
Aliens Vampirella Hc
Amazing Spider-Man Worldwide Tp Vol 02
Batman Arkham Knight Hc Vol 03
Bobs Burgers Ongoing Tp Vol 03 Pan Fried
Carnage Classic Tp
Deadly Class Dlx Hc
Deadpool Minibus Hc New Ptg
Faith Tp Vol 01 Hollywood & Vine
Image Giant Sized Artist Proof Ed Outcast Kirkman
Jack Kirby Mighty Thor Artist Ed Hc
Legacy Of Luther Strode Tp Vol 03
Lumberjanes Tp Vol 04
One Punch Man Gn Vol 07
Pacific Rim Tales From The Drift Tp
Scarlet Witch Tp Vol 01 Witches Road
Star Wars Darth Vader Hc Vol 01
TOYS
DBZ Super Saiyan 3 Son Goku Figuarts Zero
DBZ Super Saiyan Trunks S.H.Figuarts Af
Marvel 3-3/4in Legends Af Asst 201603
Marvel Select Venom Af
Rocky 40th Anniv Rocky 3 7in Series 1 Af Asst
ODDS AND ENDS
Batman Begins 1/4 Scale Af
Marvel Chess Fig Coll Mag #62 Nimrod
Marvel Chess Fig Coll Mag #74 Goblin
Marvel Chess Fig Coll Mag #76 Carnage
Metal Gear Solid Sniper Wolf Bishoujo Statue
Munsters Eddie Munster Maquette
Star Wars Force Awakens Mad Libs
And what I'm most excited for this week…shhhh it's NSFAR (NOT SAFE FOR ANYONE REALLY)