Do You Get Our EMail Newsletter Every Monday?

Sing up over HERE and get updates every Monday afternoon and help break up those early in the week doldrums!
WE'RE STILL FULLY STOCKED ON ALL THESE HOT BOOKS!
Just because the internet says the books are sold out doesn't mean that stores are out! We hate to sell out of big titles so we've still got plenty of copies of all these HOT BOOKS that no one else apparently does!
DC REBIRTH BOOKS!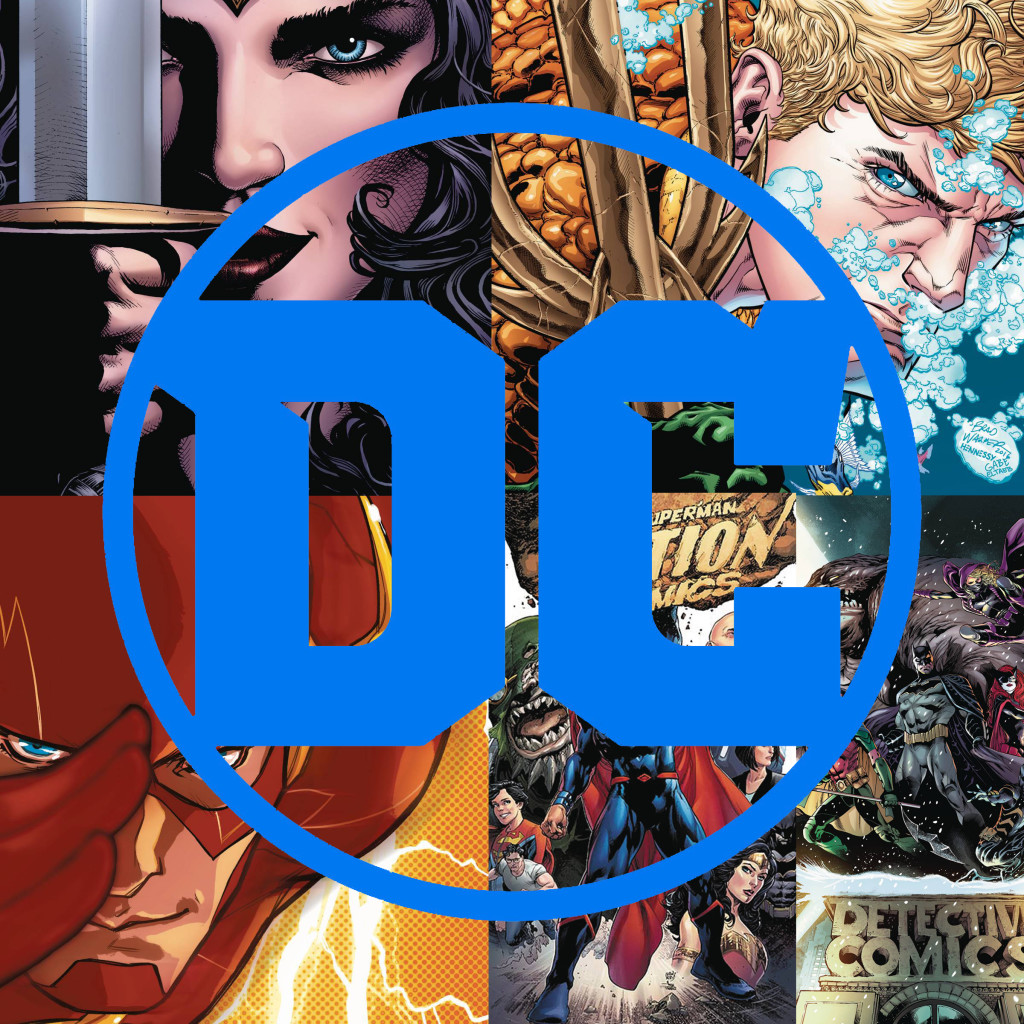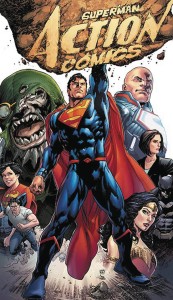 ACTION COMICS #957
DC COMICS
(W) Dan Jurgens (A) Patrick Zircher (CA) Mikel Janin
"PATH TO DOOM" chapter one
Superman returns to Metropolis just in time to meet the city of tomorrow's newest protector: Lex Luthor. But it's not long before these dueling titans meet someone unexpected – the new Clark Kent!
DON'T MISS: ACTION COMICS returns to its original numbering with this issue!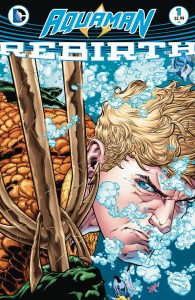 AQUAMAN REBIRTH #1
DC COMICS
(W) Dan Abnett (A) Oscar Jimenez (CA) Brad Walker, Andrew Hennessy
Born to both the surface and the sea, Arthur Curry walks in two worlds but can find a home in neither. The king of Atlantis looks to reconcile his split heritage as he embarks on a new mission that may finally make him choose between his two paths.
POLITICAL PLAYER: "As the leader of a world power," writer Dan Abnett says, "Arthur believes it's time Atlantis became part of the global community. Atlantis has been on the outside for too long: feared, mysterious and misunderstood. But that means getting the world used to Atlantis…and vice versa.
DETECTIVE COMICS #934
DC COMICS
(W) James TynionIV (A/CA) Eddy Barrows, Eber Ferreira
"RISE OF THE BATMEN" chapter one
An unknown predator begins outdoing Batman, taking down dangerous threats with military precision. It's up to the Dark Knight and series costar Batwoman to rally and train the young heroes of Gotham City to end this mysterious threat!
WHAT NOW: Batman and Batwoman begin training Spoiler, Red Robin and Cassandra Cain, but is the villainous Clayface ready for redemption?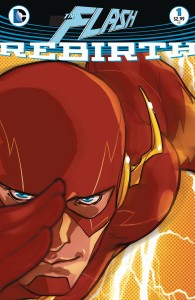 FLASH REBIRTH #1
DC COMICS
(W) Joshua Williamson (A) Carmine Di (CA) Karl Kerschl
Spinning directly out of the epic events of DC UNIVERSE: REBIRTH #1, the fastest man alive finds himself at the center of a DC Universe at a crossroads.
WARNING: Do NOT read this issue until after you read DC UNIVERSE: REBIRTH #1!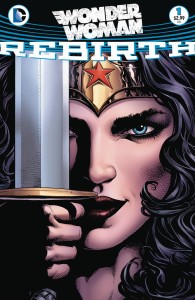 WONDER WOMAN REBIRTH #1
DC COMICS
(W) Greg Rucka (A) Matthew Clark, Liam Sharp (CA) Liam Sharp
After suffering an unimaginable loss, Wonder Woman must rebuild her mission as Earth's ultimate protector and champion.
DON'T MISS: New York Times best selling writer Greg Rucka returns to Wonder Woman with a tale that will forever alter the DC icon.

CIVIL WAR II AMAZING SPIDER-MAN #1 (OF 4)
MARVEL COMICS
(W) Christos N. Gage (A) Travel Foreman (CA) Khary Randolph
THE AMAZING SPIDER-MAN GETS CAUGHT UP IN CIVIL WAR II! There's a new Inhuman with the ability to seemingly predict the future, and as the heroes of the Marvel Universe continue to grapple with their feelings about his very existence one thing almost everyone can agree on is that he bears a tremendous responsibility to use his powers safely. Peter Parker, aka THE AMAZING SPIDER-MAN, knows a thing or two about that — too bad he's also got the ol' Parker luck working against him.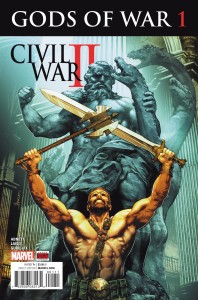 CIVIL WAR II GODS OF WAR #1 (OF 4)
MARVEL COMICS
(W) Dan Abnett (A) Emilio Laiso (CA) Jay Anacleto
The world is on the brink of chaos, with heroes on all sides of the war… but when only the best are called into action, where will the world's first super hero land? Join us for an all-new epic Civil War II series that takes Hercules right to the front lines! As a God, is he responsible for a larger roll in the potential destruction of the Marvel Universe? Or does he have the power to alter fate?!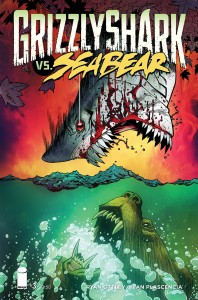 GRIZZLY SHARK #3 (OF 3) GRIZZLY SHARK VS SEA BEAR
IMAGE COMICS
(W/A/CA) Ryan Ottley
MINISERIES CONCLUSION
The grand finale of the three-part trilogy. You will now know who would win between a shark and a bear! Plus, the humans that survived the all-out WAR!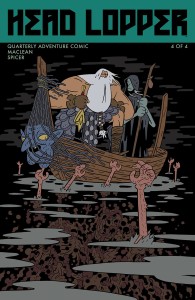 HEAD LOPPER #4

IMAGE COMICS
(W/A/CA) Andrew MacLean
At long last, Norgal and Agatha face off against the demigod-sorcerer Barra, who proves to be much more able than his frail frame implies. Meanwhile, Lulach approaches with an entire army at his back, but does he come in support or opposition of Barra's cause?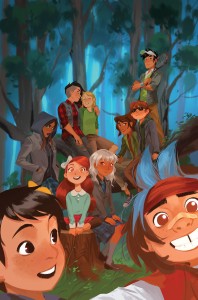 LUMBERJANES GOTHAM ACADEMY #1

BOOM! STUDIOS
(W) Chynna Clugston-Flores (A) Rosemary Valero-O'Connell (CA) Mingjue Helen Chen
What's to Love: We adore DC's Gotham Academy and it's been on our wish list to have them somehow meet the Lumberjanes. From the great characters to the fun stories, we saw a world in which these two groups could coexist. Fast forward and here we are-the crossover event we've dreamed about and can't wait to bring to you!
What It Is: Something sinister is happening at a mysterious building deep in the woods, drawing the Lumberjanes and the Gotham Academy kids separately to investigate. Is it a weird cabin? An abandoned asylum? The two groups band together to find out what exactly is going on. Featuring a connecting subscription cover by Brooke Allen!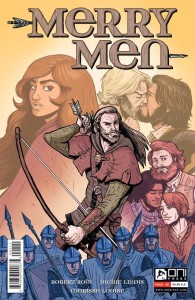 MERRY MEN #1 (OF 5)

ONI PRESS INC.
(W) Robert Rodi (A/CA) Jackie Lewis
13th century England. Robert Godwinson, former lover of King Richard, lives with his band of Merry Men in Sherwood Forest, away from the watchful eye of Prince John, who has outlawed homosexuality. Though isolated, the men live in peace-that is, until a stranger approaches their camp asking for aid to a nearby town under siege by the Sheriff of Nottingham. Robert-nicknamed Robin-is reluctant to help, but equally eager to get rid of this perplexing stranger… and to put his formidable bow-and-arrow to use. It's Robin Hood like you've never seen him before, based on scholarly speculation about what's really behind the outlaw's legend.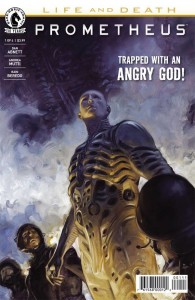 PROMETHEUS LIFE AND DEATH #1

DARK HORSE COMICS
(W) Dan Abnett (A) Andrea Mutti (CA) David Palumbo
Colonial Marines have commandeered a mysterious alien ship-wresting it from the savage Predators who also wanted it. But now the owner of the vessel has awakened, and the marines find themselves trapped in space with an angry god!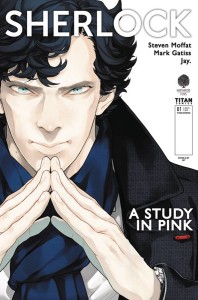 SHERLOCK A STUDY IN PINK #1 (OF 6)

TITAN COMICS
(W) Steven Moffat, Mark Gatiss (A/CA) Jay
The Japanese Sherlock manga comes to the USA and UK for the first time ever! Adapting the episodes of the smash-hit Hartswood Films/Masterpiece television series that sees Sherlock (Benedict Cumberbatch) and Watson (Martin Freeman) tackling brain-teasing crimes in modern-day London, this stunning manga is presented in its original right-to-left reading order, and in the full chapters as originally serialised. Each oversized issue comes with a selection of brand-new covers by some of the best Sherlock artists around! #1 kicks things off with a 52-page special. Meet Sherlock and Watson for the first time, all over again!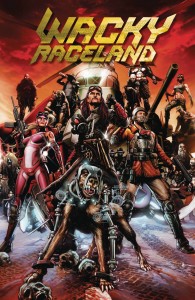 WACKY RACELAND #1
DC COMICS
(W) Ken Pontac (A/CA) Leonardo Manco
The world has ended, but the race has just begun! Penelope Pitstop, Peter Perfect and the rest of the Wacky Racers vie for the finish line in a contest where the winner takes all and second place is death. Today's trial: the shattered maze of freeways known as the Überpass, where they're beset by giant sand beasts, mutated insects, and worst of all, Dick Dastardly's murderously poor sportsmanship. The last thing they need after surviving the race is a brutal bar fight in a local dive, but that's just what they get!
NOW HERE'S THE FULL LIST!
If you want a full visual list of everything click this link whydonthca (tho this might not update til Monday or something)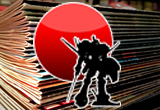 (the following list of comics reflects all the comics coming into both locations. If there's something on this list that's not in stock at your favorite BNW location do not hesitate to ask for us to order it for you!)
COMICS AND MAGAZINES
4001 AD Bloodshot #1
Abe Sapien #34
Action Comics #957
Adventure Time #53
Adventures Of Supergirl #3
Agents Of Shield #6
All New X-Men #10
Aquaman Rebirth #1
Big Trouble In Little China #25
Birthright #16
Black Canary #12
Civil War II Amazing Spider-Man #1 (OF 4)
Civil War II Gods Of War #1 (OF 4)
Constantine The Hellblazer #13
Daredevil #8
Dark And Bloody #5 (OF 6)
Dark Tower Drawing Of Three Bitter Medicine #3
Darth Vader #21
Deadpool #9 2nd Ptg
Detective Comics #934
Divinity II #1 (OF 4) 2nd Ptg
Doctor Who 11th Year Two #10
Earth 2 Society #13
Empress #3 (OF 7)
Famous Monsters Of Filmland #286
Faster Than Light #7
Fix #1 3rd Ptg
Fix #3
Flash Rebirth #1
GI Joe A Real American Hero #229
Godzilla Oblivion #3 (OF 5)
Goldie Vance #3 (OF 4)
Grant Morrisons 18 Days #12
Green Lantern Corps Edge Of Oblivion #6 (OF 6)
Grizzly Shark #3 (OF 3) Grizzly Shark Vs Sea Bear
Guardians Of Galaxy #9
Harley Quinn And Her Gang Of Harleys #3 (OF 6)
Harrow County #13
Head Lopper #4
House Of Penance #3 (OF 6)
Howard The Duck #8
Injection #10
Invader Zim #10
Invisible Republic #10
Island #8
Joyride #1 (OF 4) (2ND Ptg)
Kaijumax Season 2 #2
Kings Quest #2 (OF 5)
Legends Of Tomorrow #4
Lumberjanes Gotham Academy #1
Marvel Universe Guardians Of Galaxy #9
Merry Men #1 (OF 5)
Midnight Of The Soul #1 (OF 5)
Moon Knight #2 2nd Ptg
New Avengers #12
New Lone Wolf And Cub Tp Vol 09
Ninjak #16
Prometheus Life And Death #1
Red Hood Arsenal #13
Renato Jones One Percent #2
Revival #40
Roche Limit Monadic #3 (OF 4)
Secret Voice #1
Sheriff Of Babylon #7 (OF 12)
Sherlock A Study In Pink #1 (OF 6)
Shutter #22
Sonic The Hedgehog #282
Spongebob Comics #57
Star Wars Poe Dameron #3
Think Tank Creative Destruction #3
Thunderbolts #2
TMNT Bebop & Rocksteady Destroy Everything #2
Train Called Love #9 (OF 10)
Venom Space Knight #8
Vision #8
Wacky Raceland #1
Weavers #2
Wicked & Divine #20
Wolf #8
Wonder Woman Rebirth #1
Xena Warrior Princess #3
TRADE PAPERBACKS, GRAPHIC NOVELS, HARDCOVERS AND MANGA
Batman Shadow Of The Bat Tp Vol 01
Black Dahlia Hc
Captain Marvel Earths Mightiest Hero Tp Vol 01
Color Your Own Young Marvel By Skottie Young Tp
Deadbeat Gn
Deadpool Worlds Greatest Tp Vol 02 End Of Error
Nova Human Rocket Tp Vol 01 Burn Out
Poppy And The Lost Lagoon Hc
Rachel Rising Tp Vol 07 Dust To Dust
Superman Wonder Woman Tp Vol 03 Casualties Of War
TOYS
Lupin The Third Arsene Lupin S.H.Figuarts Af
ODDS AND ENDS
Futurama 2017 12 Month Calendar