Amidst today's sad news here's what's coming in this week!
 RIP DARWYN COOKE
Sadly, the comics world lost a giant this morning.
http://darwyncooke.blogspot.com.br/2016/05/we-regret-to-inform-you-that-darwyn.html?m=1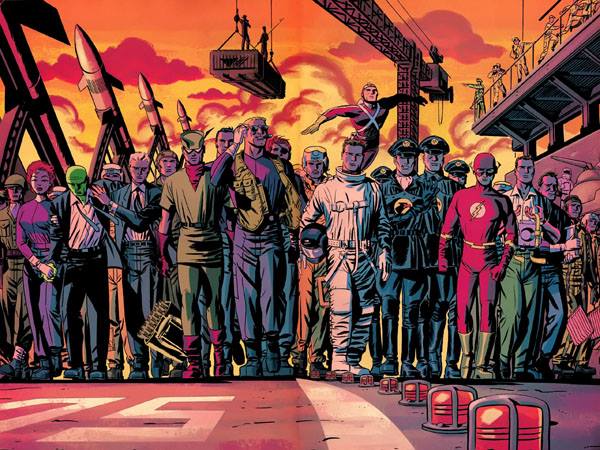 Do You Get Our EMail Newsletter Every Monday?

Sing up over HERE and get updates every Monday afternoon and help break up those early in the week doldrums!
MIDNIGHT RELEASE?! MIDNIGHT RELEASE!

In 2 weeks get yourself a copy of the DC UNIVERSE REBIRTH #1 early and save on some DC graphic novels all tat the same time when we host a 12am release! Details over HERE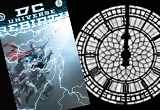 Hey look! It's a God is Disappointed in You Sequel!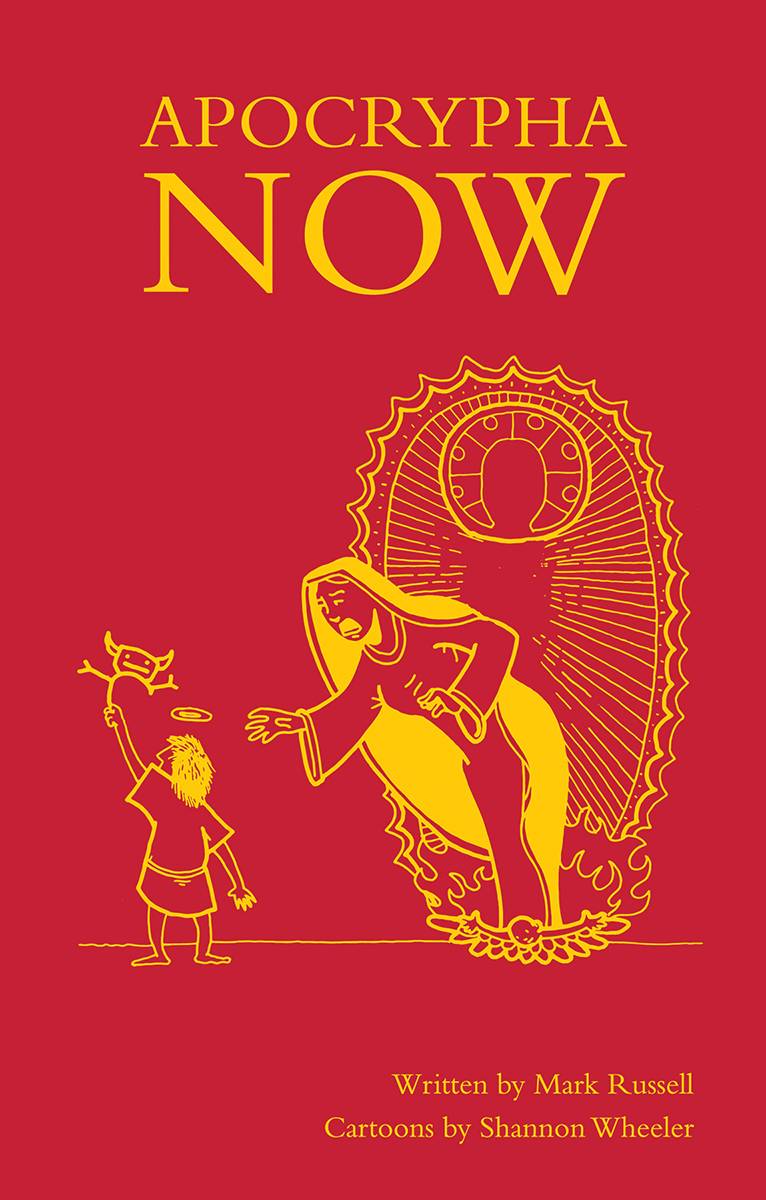 APOCRYPHA NOW HC
IDW – TOP SHELF
(W) Mark Russell (A/CA) Shannon Wheeler
Mark Russell & Shannon Wheeler's faithful-yet-irreverent approach to the Bible made their book GOD IS DISAPPOINTED IN YOU a modern cult classic. Now, by popular demand, they turn their attention to the best parts left out of the canonical Bible, including the Midrash, the Apocrypha, Gnostic Gospels, and more! And if you thought the BIBLE had some weird stuff in it…
NEW DC POPS!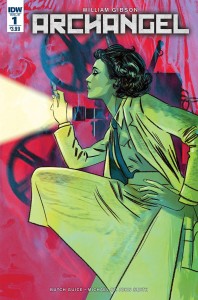 ARCHANGEL #1 (OF 5)
IDW PUBLISHING
(W) William Gibson (A) Butch Guice (CA) Tula Lotay
Science Fiction Superstar William Gibson comes to comics! The U.S. political leaders of 2016 abandon the radioactive planet they've destroyed and harness the power of humanity's last hope: The Splitter, a colossal machine designed to manufacture a bright new reality for them to infiltrate and corrupt.
•  William Gibson, author of Neuromancer and one of the most influential science fiction writers of the last 30 years, makes his comic book debut with this all-new, original story!
•  Joining Mr. Gibson for this comic book event are fan-favorite artists Butch Guice (interiors) and Tula Lotay (covers)!
•  If you try one new book this month…This. Is. It!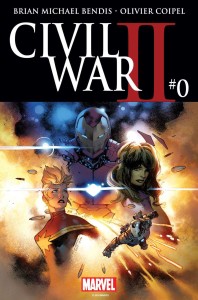 CIVIL WAR II #0 (OF 7)
MARVEL COMICS
(W) Brian Michael Bendis (A/CA) Olivier Coipel
From the creative team that brought you House of M and Siege comes a blistering first chapter in Marvel's new explosive event. Watch as the players are introduced and the table is set for a storyline that fans will be talking about for years.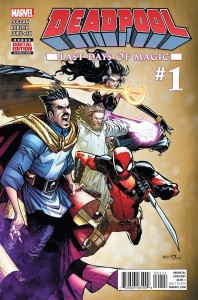 DEADPOOL LAST DAYS OF MAGIC #1
MARVEL COMICS
(W) Gerry Duggan (A) Scott Koblish (CA) Humberto Ramos
From the pages of Doctor Strange…the Empirikul are waging a war on magic with the goal of wiping the fantastical from the pages of existence. This concerns Deadpool, because some of his best friends are magic. As the Empirikul forces batter the defenses of the Monster Metropolis ruled by his demonic wife, Deadpool wades into battle alongside his most spell-casting-est friends. And you know the old saying "Nothing ever goes wrong in a war." That's a saying, right?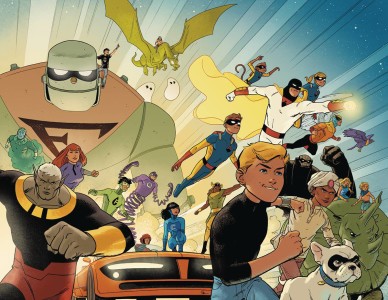 FUTURE QUEST #1
DC COMICS
(W) Jeff Parker (A/CA) Evan Shaner
When the adventurous and inquisitive Jonny Quest and his adoptive brother Hadji make a startling discovery in the swamplands of Florida, they are pulled into an epic struggle between the Space Rangers and a dangerous villain who threatens the galaxy. Now it's up to the combined forces of Team Quest, Inter-Nation Security, Space Ghost, and a host of Hanna-Barbera's greatest action heroes to stop him and save their universe!
Don't miss the start of this new, monthly series that features character designs by comics superstar Darwyn Cooke and kicks off with an extra-sized story and a wraparound cover!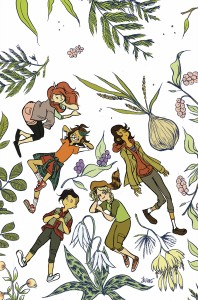 LUMBERJANES SPECIAL MAKIN GHOST 2016 #1

BOOM! STUDIOS
(W) Jen Wang, Kelly Thompson (A) Catherine Norrie, Savanna Ganucheau (CA) Jen Wang
What's to Love: Not only does this oversized one-shot feature a whopping 40 pages of brand-new, original, Lumberjanes stories, but we welcome two of our favorite creators to the campground: writers Jen Wang (In Real Life, 2017's The Prince and the Dressmaker) and Kelly Thompson (Jem and the Holograms), and artists Christine Norrie (Hopeless Savages) and Savanna Ganucheau (Fresh Romance)!
What It Is: Jen takes the girls on a nature walk to show them which plants are edible in case they need to survive in the wilderness. Along the way, she tells them the story about an axe murderer who took his friends out, one by one until no one was left, thoroughly scaring Mal. Terrified and unable to sleep, Mal thinks she sees something lurking outside. Is it…THE AXE MURDERER?!?!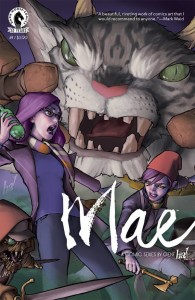 MAE #1

DARK HORSE COMICS
(W/A/CA) Gene Ha
When she was just a girl, Abbie discovered a portal to a fantasy world and for the last couple of years has been having great adventures there: defeating horrible monsters, power-mad scientists, and evil nobles. She was a celebrated action hero! But when she turned twenty-one it all came apart and she decided to return home. Her sister, Mae, has had no idea what happened to Abbie all this time. Her tales are too hard to believe; that is, until the monsters and other terrible creatures start to cross over to our world . . .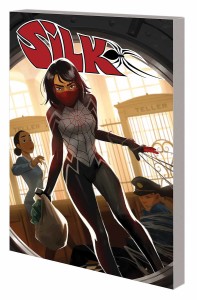 SILK TP VOL 01 SINISTER
MARVEL COMICS
(W) Robbie Thompson (A) Stacey Lee, Veronica Fish (CA) Helen Chen
Silk is back and badder than ever! Cindy Moon – the other victim of the radioactive spider that bit Peter Parker – has been working to find the missing members of her family since she escaped the bunker that was her home for so many years. But Silk's quest has taken her down a darker path than expected, and now she's in cahoots with the most ferocious feline in the Marvel Universe: the Black Cat! But not everyone in the Cat's criminal crew is happy about the arrangement. Nor is a certain friendly neighborhood CEO of Parker Industries, and that will bring Cindy into conflict with Spider-Man and the Goblin King! What could have led her to this? Who is Espectro? And will Cindy go so far there's no redeeming the Sinister Silk? Collecting SILK (2015B) #1-6 and material from AMAZING SPIDER-MAN (2015) #1.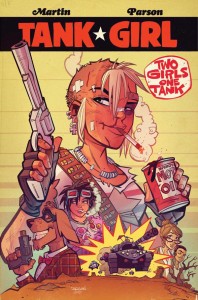 TANK GIRL 2 GIRLS 1 TANK #1 (OF 4)
TITAN COMICS
(W) Alan Martin (A/CA) Brett Parson
Fresh off the back of their latest calamitous chapter comes this shiny new Tank Girl tale from series creator, Alan Martin and artist extraordinaire, Brett Parson! Expect a healthy dose of delirium and plenty of ball-crunching action in this high-octane crosscountry skirmish that asks the question: is this world really big enough for two Tank Girls?! Strap yourself in, folks; It's gonna be one helluva ride!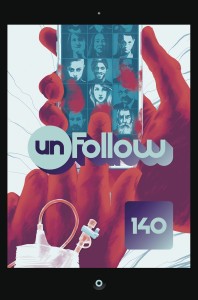 UNFOLLOW TP VOL 01

DC COMICS
(W) Rob Williams (A) Michael Dowling, R. M. Guera (CA) Matt Taylor
A dying social media mogul leaves his billions to be split between 140 random people-or however many are still alive at his death. In these stories from issues #1-6, a young black man trying to get by in St. Louis, an Iranian reporter in need of hope, a retired special forces soldier with a strange sense of purpose, and a thrill-seeking heiress all become involved in this thriller that shows we're all still part of the food chain.
WALLY WOOD GALAXY ART AND BEYOND HC
IDW PUBLISHING
(W) Roger Hill (A/CA) Wally Wood
Wally Wood's career is legendary among the annals of comic's history. He rocketed to fame working on Will Eisner's The Spirit newspaper strip and became one of the most talented artists working for EC Comics during the 1950s. Wood also became a star of EC's satire comic called Mad, which went on to even greater success as a magazine, allowing the artist to apply his amazing talents in a broader spectrum. When the comics industry fell on lean times during the mid 1950s, Wood segued into the field of science fiction pulp illustration, providing over 200 beautiful drawings and several color cover paintings for the digest magazines; particularly Galaxy. Wood left behind a legacy of great art, much of which has never been reprinted. This book will feature them all. Long time Wally Wood historian Roger Hill has spent the past twenty years pulling together the history of Wood's involvement with the pulp digests and tracking down original art for this project. Over half of the images have been pulled from the originals or from Wood's personal file copies, allowing Wood fans the finest possible reproduction!
HERE'S THE FULL LIST!
If you want a full visual list of everything click this link whydonthca (tho this might not update til Monday or something)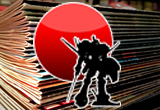 (the following list of comics reflects all the comics coming into both locations. If there's something on this list that's not in stock at your favorite BNW location do not hesitate to ask for us to order it for you!)
COMICS AND MAGAZINES
Adventure Time Ice King #5
All New Wolverine #8
Alter Ego #140
Aquaman #52
Archangel #1
Astonishing Ant-Man #8
Astro City #35
Beauty #7
Black Road #1 2nd Ptg
Black Road #2
Blacklist #9
BPRD Hell On Earth #141
BTVS Season 10 #27
Citizen Jack #6
Civil War II #0 (OF 7)
Clean Room #8
Crossed Badlands #98
Crossed Plus 100 #16
Dark Horse Presents 2014 #22
Dark Knight III Master Race #4 (OF 8) Collectors Ed Hc
Dark Souls #1 2nd Ptg
Deadpool Last Days Of Magic #1
Deadpool Mercs For Money #4 (OF 5)
Dept H #2
Disney Princess #3
Doctor Fate #12
Doctor Who 11th Year Two #9
Drifter #11
Futurama Comics #79
Future Quest #1
Goldie Vance #2 (OF 4)
Harley Quinn #28
Haunted Mansion #3 (OF 5)
Independence Day #3 (OF 5)
Injustice Gods Among Us Year Five #10
International Iron Man #3
Invincible #128
Judge Dredd (ONGOING) #5
Karnak #4
Legend Of Wonder Woman #6 (OF 9)
Lords Of The Jungle #3 (OF 6)
Lucifer #6
Lumberjanes #26
Lumberjanes Special Makin Ghost 2016 #1
Mae #1
Manifest Destiny #19
Mars Attacks Occupation #3 (OF 5)
Martian Manhunter #12
Micronauts #2
Mirror #4
October Faction #16
Old Man Logan #6
Plants Vs Zombies Ongoing #11
Poison Ivy Cycle Of Life And Death #5 (OF 6)
Power Man And Iron Fist #4
Rai #13(4001 A.D.)
Red Thorn #7
Robin Son Of Batman #12
Sabrina #5
Scarlet #9
Silver Surfer #4
Simpsons Comics #229
Sinestro #23
Sixth Gun #49
Snowfall #4
Spawn #263
Spider-Man #4
Spider-Woman #7
Squadron Supreme #7
Star-Lord #7
Star Trek Manifest Destiny #3 (OF 4)
Strawberry Shortcake #2
Street Fighter Unlimited #6
Superman American Alien #7 (OF 7)
Superman Wonder Woman #29
Tank Girl 2 Girls 1 Tank #1 (OF 4)
Titans Hunt #8 (OF 8)
Tomb Raider 2016 #4
Twilight Zone Shadow #2 (OF 4)
Uncanny Avengers #9
Usagi Yojimbo #154
Wonder Woman #52
Wrath Of The Eternal Warrior #7
Wynonna Earp #4 (OF 6)
X-O Manowar Annual 2016 #1
Xena Warrior Princess #2
TRADE PAPERBACKS, GRAPHIC NOVELS, HARDCOVERS AND MANGA
All New Inhumans Tp Vol 01 Global Outreach
Apocrypha Now Hc
BPRD Hell On Earth Tp Vol 13 End Of Days
Death Defying Doctor Mirage Tp Vol 02 Second Lives
Disquiet Gn
Doctor Who 8th Hc Vol 01 Matter Of Life And Death
Fables Deluxe Edition Hc Vol 12
Flash By Geoff Johns Tp Book 02
Futurama Comics #79
Howard The Duck Tp Vol 01 Duck Hunt
Lazarus Hc Vol 02
Joker Endgame Tp
Mighty Thor Prem Hc Thunder In Her Veins Vol 01
Odyc Tp Vol 02 Sons Of The Wolf
Silk Tp Vol 01 Sinister
Star Trek New Adventures Tp Vol 03
Star Wars Kanan Tp Vol 02 First Blood
Stray Bullets Tp Vol 05 Hi-Jinks & Derring-Do
Unfollow Tp Vol 01
Wally Wood Galaxy Art And Beyond Hc
Wonder Woman Tp Vol 07 War Torn
ODDS AND ENDS
Marvel Chess Fig Coll Mag #52 Iceman
Marvel Chess Fig Coll Mag #56 Cable