Do You Get Our EMail Newsletter Every Monday?

Sing up over HERE and get updates every Monday afternoon and help break up those early in the week doldrums!
We've got a facebook even set up for updating you on FCBD news! Get in on that! HERE
MAYBE THE FASTEST HOT TOY YET!
Just the other day the Quicksilver ran in! Don't miss adding this Avenger to your Hot Toys lineup!
Maybe also grab his sister too…
NEW SHIRTS!
MARVEL GAMES!
PICK A SIDE! SEE IT WITH US!

Like with other recent big genre event movies we'll be hosting a screening out in Warrington Pa! And from what the early buzz is for Civil War you don't want to miss seeing this one!
NEW FUNKO MYSTERY MINI FIGURES!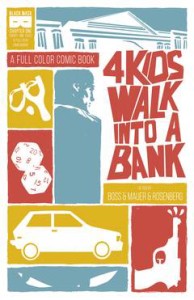 4 KIDS WALK INTO A BANK #1

BLACK MASK COMICS
(W) Matthew Rosenberg (A/CA) Tyler Boss
A fun(ish) crime caper about children! Eleven-year-old Paige and her weirdo friends have a problem: a gang of ex-cons need her dad's help on a heist… the problem is those ex-cons are morons. If Paige wants to keep her dad out of trouble, she's going to have to pull off the heist herself. Like Wes Anderson remaking Reservoir Dogs, 4KWIAB is a very dark & moderately humorous story about friendship, growing up, D & D, puking, skinheads, grand larceny, and family.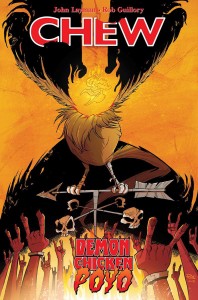 CHEW DEMON CHICKEN POYO #1

IMAGE COMICS
(W) John Layman (A/CA) Rob Guillory
The final episode of the groundbreaking and historic Poyo trilogy: DEMON CHICKEN POYO. Hell wants him. Heaven won't take him. Earth needs him. That was also the tagline for that godawful Constantine movie. But Poyo is so badass, he stole it from Keanu Reeves!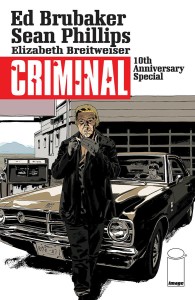 CRIMINAL 10TH ANNIVERSARY SPECIAL ED

IMAGE COMICS
(W) Ed Brubaker (A/CA) Sean Phillips
BRUBAKER and PHILLIPS return ten years later to the world of CRIMINAL for one of their darkest and strangest tales yet. Teeg and Tracy Lawless co-star in this one-shot, a twisted 70s noir about a father and son on the run. Also includes articles, illustrations, and behind-the-scenes extras.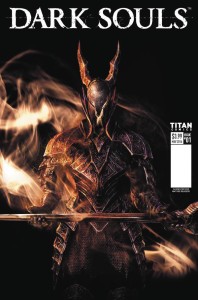 DARK SOULS #1

TITAN COMICS
(W) George Mann (A) Alan Quah
Welcome to the world of Dark Souls; a landscape bathed in arcane fantasy, where primordial forces govern the tides of time, bonfires flicker in the darkness, and the undead stalk the earth in search of impossible redemption. From Titan Comics and Doctor Who scribe George Mann comes this original tale of adventure and visceral horror that throws readers deep into the twisted myth of Namco-Bandai's award-winning video-game franchise.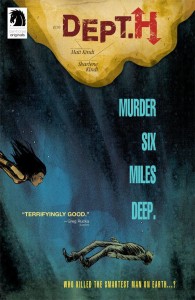 DEPT H #1
DARK HORSE COMICS
(W/A/CA) Matt Kindt
From New York Times best-selling MIND MGMT creator Matt Kindt comes an exciting new undersea sci-fi mystery.
Mia is a special investigator hired to uncover possible sabotage taking place at a deep-sea research station. What she finds is a mind-blowing crime scene filled with suspects with terrible secrets, strange deep-sea creatures, and an impending flood!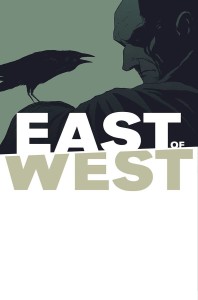 EAST OF WEST #25

IMAGE COMICS
(W) Jonathan Hickman (A/CA) Nick Dragotta
The smashing conclusion of EAST OF WEST: YEAR TWO begins here. Witness the eventful last gathering of the Chosen before the Apocalypse begins. No one gets out alive!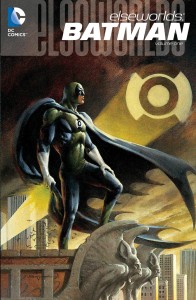 ELSEWORLDS BATMAN TP VOL 01
DC COMICS
(W) Doug Moench & Various (A) Norm Breyfogle & Various (CA) Jerry Bingham
Some of the best Elseworlds tales starring the Dark Knight are collected for the first time, including BATMAN: HOLY TERROR #1, BATMAN: DARK ALLEGIANCES #1, BATMAN: DARK JOKER – THE WILD #1, BATMAN: IN DARKEST KNIGHT #1, ROBIN 3000 #1-2 and more.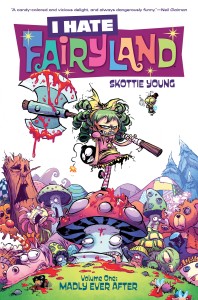 I HATE FAIRYLAND TP VOL 01 MADLY EVER AFTER

IMAGE COMICS
(W/A/CA) Skottie Young
SPECIAL LOW INTRODUCTORY PRICE OF $9.99
From superstar writer and artist SKOTTIE YOUNG (Rocket Raccoon, Wizard of Oz, Fortunately, The Milk), comes the first volume of an all-new series of adventure and mayhem.An Adventure Time/Alice in Wonderland-style epic that smashes its cute little face against grown-up Tank Girl/Deadpool-esque violent madness. Follow Gert, a forty-year-old woman in a six-year-old's body, who has been stuck in the magical world of Fairyland for nearly thirty years. Join her and her giant battle-axe on a delightfully blood-soaked journey to see who will survive the girl who HATES FAIRYLAND.Collects I HATE FAIRYLAND #1-5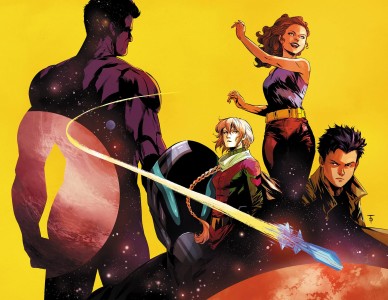 JOYRIDE #1 (OF 4)
BOOM! STUDIOS
(W) Jackson Lanzing, Collin Kelly (A/CA) Marcus To
What's to Love: After working together on Hacktivist and Maze Runner: The Scorch Trials original graphic novel, the writing duo of Jackson Lanzing and Collin Kelly (Batman and Robin Eternal) join forces once again with artist Marcus To (New Warriors, The Flash: Season Zero) for their first creator-owned series that takes readers to the stars in this space epic with a punk-rock attitude, perfect for fans of Young Avengers and Runaways.
What It Is: In the future, Earth sucks. The stars have been blocked out for so long that people have forgotten there was anything else besides the dumb World Government Alliance watching over them, training children to join the militarized Allied Youth and eliminating all resistance with a giant ray gun. Uma Akkolyte is a girl who shoots first and leaps before she looks, and when she gets a strange message from outside the barricades of SafeSky, she jacks a spaceship and punches through the stratosphere with an unlikely crew of teens who are totally not ready for what they're about to find.
IMAGE COMICS
(W) Greg Rucka & Various (A) Michael Lark, Owen Freeman (CA) Eric Trautmann, Owen Freeman
"Carlyle"
Following the revelations of "Poison" and leading into the bloody events of "Cull" with LAZARUS #22 in May, a new look at the world of LAZARUS: What's it like to live life under the Carlyle regime? This is where you find out!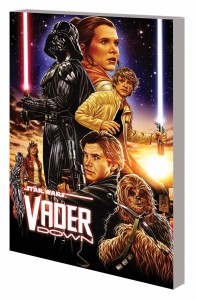 STAR WARS TP VADER DOWN
MARVEL COMICS
(W/A) Various (CA) TBD
Two of the biggest titles in comics collide in the first crossover of the new Marvel age of STAR WARS! When Darth Vader accidentally finds himself facing off against the rebel fleet on his own, he is sent crashing onto a nearby planet. Will the rebels seize this opportunity to put an end to one of their greatest enemies – or will they be made to feel the full power of the dark side? The Sith Lord may be down, but he isn't out! All your favorites are here, old and new, good and evil: Luke! Vader! Leia! Aphra! Han! Threepio, Artoo, Triple-Zero and BT-1! And in a hair-raising battle of the Wookiees, Chewbacca versus Black Krrsantan! ROOOARRGH UR ROO! Collecting STAR WARS: VADER DOWN, STAR WARS (2015) #13-14 and DARTH VADER #13-15.
HERE'S THE FULL LIST!
If you want a full visual list of everything click this link whydonthca (tho this might not update til Monday or something)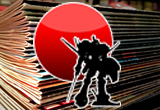 (the following list of comics reflects all the comics coming into both locations. If there's something on this list that's not in stock at your favorite BNW location do not hesitate to ask for us to order it for you!)
COMICS AND MAGAZINES
4 Kids Walk Into A Bank #1
Action Comics #51
Adventure Time Ice King #4
All New Hawkeye #6
Aquaman #51
Astonishing Ant-Man #7
Astro City #34
Back To The Future #7
Bee And Puppycat #1
Big Trouble In Little China #23
Bloodshot Reborn #12
Bprd Hell On Earth #140
Btvs Season 10 #26
Captain America Road To War #1
Captain America Sam Wilson #8
Captain Marvel #4
Chew Demon Chicken Poyo #1
Clean Room #7
Criminal 10th Anniversary Special Ed
Criminal 10th Anniversary Special Deadly Ed Magazine Size
Cry Havoc #4
Dark Horse Presents 2014 #21
Dark Souls #1
Dark Tower Drawing Of Three Bitter Medicine #1 (OF 5)
Deadpool #10
Deadpool Mercs For Money #3 (OF 5)
Dept H #1
Disney Princess #2
Dirk Gently A Spoon Too Short #3 (OF 5)
Divinity II #1 (OF 4)
Doctor Fate #11
Dragon Age Magekiller #5 (OF 5)
East Of West #25
Extraordinary X-Men #8 2nd Ptg
Extraordinary X-Men #9
Flash #50
From Under Mountains #6
Godzilla Oblivion #2 (OF 5)
Guardians Of Infinity #5
Harley's Little Black Book #3
Haunted Mansion #2 (OF 5)
Howard The Duck #6
Huck #6
Hyperion #2
Injustice Gods Among Us Year Five #8
Invincible #127
James Bond #6
Jem & The Holograms #14
Johnny Red #6 (OF 8)
Jonesy #3
Joyride #1 (OF 4)
Karnak #3
Lazarus Sourcebook #1
Legends Of Tomorrow #2
Lucifer #5
Lumberjanes #25
Mad Magazine #539
Martian Manhunter #11
Marvel Universe Guardians Of Galaxy #7
Mighty Thor #6
Mirror #3
New Avengers #10
Nova #6
Obi-Wan And Anakin #4 (OF 5)
Poison Ivy Cycle Of Life And Death #4 (OF 6)
Power Man And Iron Fist #1 2nd Ptg
Power Man And Iron Fist #3
Red Thorn #6
Robin Son Of Batman #11
Shaft Imitation Of Life #3 (OF 4)
Silk #7
Simpsons Comics #228
Sixth Gun #48
Snowfall #3
Spider-Man Deadpool #1 4th Ptg
Spider-Man Deadpool #2 3rd Ptg
Spider-Man Deadpool #4
Starbrand And Nightmask #5
Street Fighter Unlimited #5
Sun Bakery #1
Superman American Alien #6 (OF 7)
Superman Lois And Clark #7
Switch #3
Teen Titans Go #15
Titans Hunt #7 (OF 8)
Tokyo Ghost #6
Totally Awesome Hulk #5
Transformers Vs Gi Joe #12
Uncanny Inhumans #7
Uncanny X-Men #4 2nd Ptg
Welcome Back #7
Wonder Woman #51
X-O Manowar #46
TRADE PAPERBACKS, GRAPHIC NOVELS, HARDCOVERS AND MANGA
All New All Different Avengers Tp Vol 01 Magnifice
Aquaman Hc Vol 07 Exiled
Captain America Sam Wilson Tp Vol 01 Not My Cap America
Contest Of Champions Tp Vol 01 Battleworld
Deadpool And Cable Tp Split Second
Deadpool Worlds Greatest Tp Vol 01 Millionaire With Mouth
Dragon Ball Full Color Freeza Arc Tp Vol 01
Elseworlds Batman Tp Vol 01
Flash By Grant Morrison And Mark Millar Tp
Green Lantern Hc Vol 07 Renegade
Green Lantern Tp Vol 06 The Life Equation
I Hate Fairyland Tp Vol 01 Madly Ever After
Jem & The Holograms Tp Vol 02
Johnny Boo Hc Vol 07 Johnny Boo Goes Like This
Justice League Darskeid War Power Of The Gods Hc
Megg & Mogg In Amsterdam And Other Stories Hc
New Avengers Aim Tp Vol 01 Everything Is New
Providence Ltd Hc Act 01
Star Wars Character Encyclopedia Hc Updated Expanded
Star Wars Tp Vader Down
Ultraman Gn Vol 04
TOYS
Ghostbusters Select Af Series 2 Asst
MGS V Phantom Pain Venom Snake Af Sneaking Suit Ver