Free Comic Book Day is, as of this post going live, 1 week away! HOLY CRAP THAT'S SO CLOSE YOU CAN ALMOST TASTE THE FREE COMICS! But first here's what will be out this week 5.5.16!
Do You Get Our EMail Newsletter Every Monday?

Sing up over HERE and get updates every Monday afternoon and help break up those early in the week doldrums!
If you read this before n
FREE COMIC BOOK DAY 2k16!

We've got a facebook even set up for updating you on FCBD news! Get in on that! HERE
(or you could click over to our post on the site HERE)
PICK A SIDE! SEE IT WITH US!

Like with other recent big genre event movies we'll be hosting a screening out in Warrington Pa! And from what the early buzz is for Civil War you don't want to miss seeing this one! More info HERE
COLORING DEAD!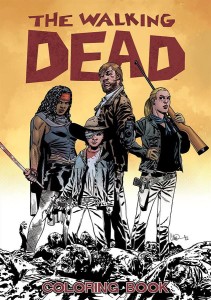 Now you can stop coloring in your issues to see how everyone looks in color!
WALKING DEAD ADULT COLORING BOOK

IMAGE COMICS
(W) Robert Kirkman (A/CA) Charlie Adlard
This oversized adult coloring book features art from throughout the long-running series. Sure, THE WALKING DEAD has never had color, but don't let that stop you from coloring in all your favorite survivors and zombies! Just make sure to stock up on plenty of red…
 SOME NEW STUFF OVER ON THE OLD CITY INSTAGRAM!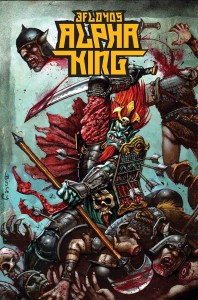 3 FLOYDS ALPHA KING #1 (OF 5)
IMAGE COMICS
(W) Nick Floyd, Brian Azzarello (A/CA) Simon Bisley
Set a long time ago in a suburb far, far away (Munster, Indiana), Brewer and CiCi are producing a home-brew so distinct that it attracts a monstrous king and his horrid minions from another dimension. Swords are unsheathed, lines are crossed, and sieges are laid for the rise of the Alpha King!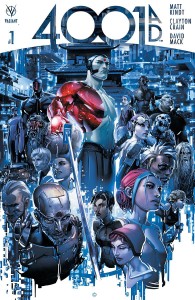 4001 AD #1 (OF 4)

VALIANT ENTERTAINMENT LLC
(W) Matt Kindt (A) Clayton Crain, David Mack (CA) Clayton Crain
In the tradition of BOOK OF DEATH, ARMOR HUNTERS, and HARBINGER WARS, Valiant's most ambitious crossover event yet starts here! At the dawn of the 41st century, the future of Earth will be decided in the stars. This May…the rebellion begins in 4001 A.D.!
One hundred years from today, Father – the benevolent artifi cial intelligence that governs the island nation of Japan – will gain sentience. To defend its borders, Father will take drastic action by launching Japan into space…where its people will thrive in isolation, away from the overpopulated and resource-deprived planet below. Over the centuries, as New Japan orbits our increasingly unstable world, it will become a model society – one built on peace, prosperity… and Father's control.
A thousand years from today, Father will create the first Rai, founding a lineage of technologically enhanced heroes engineered to defend New Japan and sworn to protect it from all enemies. For hundreds of years into the future, the Rai will single-handedly enforce New Japan's justice well…and serve Father without question. Now, at the dawn of 4001 A.D., the latest Rai is about to inherit the dark truth behind the origin of his kind…and discover the sinister
secret at the heart of Father's existence. For New Japan to live, Earth must die…and as Rai challenges his former master for the first time in more than a millennium, the lone guardian of New Japan will be cast out of his own Father's kingdom…
Exiled from the only realm he's ever known, Rai now walks the ravaged world of 4001 A.D. in search of forgotten heroes like himself… on a mission to collect the last surviving legends of a broken planet…and to forge a rebellion with the power to bring the most advanced civilization in history crashing back down to Earth.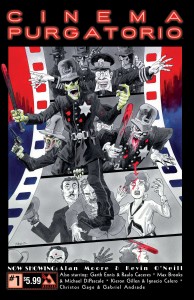 CINEMA PURGATORIO #1

AVATAR PRESS INC
(W) Alan Moore & Various (A) Kevin O'Neil & Various (CA) Michael DiPascale
Alan Moore and Kevin O'Neill invite you, and some of the finest creators in comics, in to join them in a different kind of dark: Cinema Purgatorio!  This ongoing monthly series will feature Alan and Kevin in every issue and is their first major new project together since League of Extraordinary Gentlemen!  Anthology has become a dirty word, so far be it from us to clean it up.  Instead we'll shine our light onto the cutting edge of sequential art, with black and white artwork to allow illustrator's pure visions, and the greatest assembly of writing talent ever gathered on one series.  Every issue is perfect-bound, with no ads, and all of the works are very long-form, there are no collections planned before 2018.  Jump in now and embrace the new future of comics.  The one of which Alan Moore has always dreamed.  It's here, now. Hiding in the dark corner.  Welcome to Cinema Purgatorio.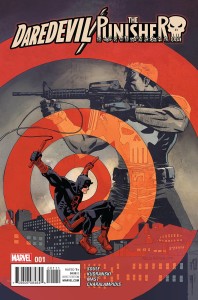 DAREDEVIL PUNISHER #1 (OF 4)
MARVEL COMICS
(W) Charles Soule (A) Szymon Kudranski (CA) Reilly Brown
A simple change of venues for one of Matt Murdock's cases becomes more complicated when THE PUNISHER attempts to send the defendant away…permanently! If DAREDEVIL and BLINDSPOT want to get this mobster his day in court, it will take every ounce of wit and wile they have. All Frank needs to get what he wants is a bullet. The race is on!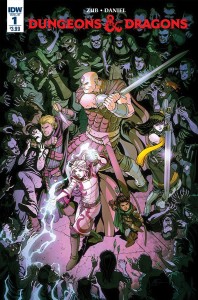 DUNGEONS & DRAGONS (2016) #1
IDW PUBLISHING
(W) Jim Zub (A) Nelson Daniel (CA) Max Dunbar
MINSC AND BOO ARE BACK! And things have never looked more dire, as mysterious forces draw the legendary ranger and his crew of adventurers to RAVENLOFT, the Realm of Terror… where they find themselves face to face with undead horrors in the land od eternal night!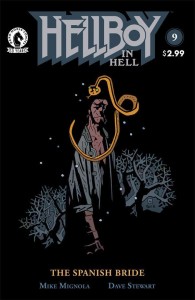 HELLBOY IN HELL #9
DARK HORSE COMICS
(W/A/CA) Mike Mignola
Hellboy faces demons furious about the fall of Hell and his role in it, and another family member makes an appearance.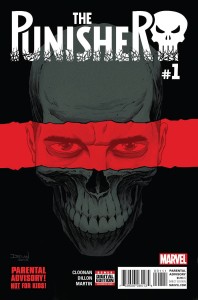 PUNISHER #1
MARVEL COMICS
(W) Becky Cloonan (A) Steve Dillon (CA) Declan Shalvey
FRANK CASTLE LOSES CONTROL!
A by-the-numbers drug bust is about to take Frank Castle by surprise…and he HATES surprises. The horrible fallout threatens to send The Punisher into the heart of darkness, but Castle won't make that journey alone: A DEA agent is on his trail and attempting to get into his head…but what horrors will she find there, and will she survive the experience? First-time Punisher writer Becky Cloonan and quintessential Punisher artist Steve Dillon are forcing Frank Castle out of his comfort zone and taking him to the edge of the world he thought he knew!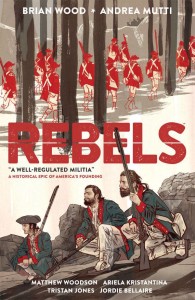 REBELS TP VOL 01 WELL REGULATED MILITIA
DARK HORSE COMICS
(W) Brian Wood (A) Andrea Mutti & Various (CA) Tula Lotay
This is 1775. With the War for Independence playing out across the colonies, Seth and Mercy Abbott find their new marriage tested at every turn as the demands of the frontlines and the home front collide. Rebels details the epic story of the colonists who, in a few short, turbulent years, created the nation of America. Collects Rebels #1-#10.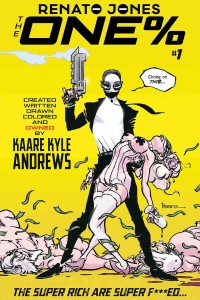 RENATO JONES ONE PERCENT #1

IMAGE COMICS
(W/A/CA) Kaare Andrews
Special double-sized first issue!
The One% own more than half the world's wealth. They've crashed economies, bought governments, and have amassed more power than any other group in history. And they still don't have enough. With this kind of power how can anyone make them pay? WHO will make them pay? Enter Renato Jones, a mysterious vigilante, out to even the score. And when he enters the fray THE SUPER-RICH ARE SUPER F***ED.From acclaimed creator KAARE KYLE ANDREWS (Iron Fist: The Living Weapon, Spider-Man: Reign) comes a supercharged capitalist action thriller for a post-Great Recession world.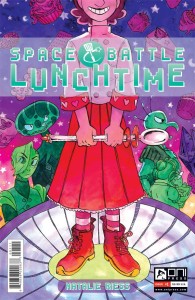 SPACE BATTLE LUNCHTIME #1 (OF 8)
ONI PRESS INC.
(W/A/CA) Natalie Riess
Space Battle Lunchtime is a hit show broadcast all over the universe, and the new season is about to start! When one of the competing chefs drops out at the last minute, an aspiring baker from earth, Peony, gets the opportunity of a lifetime (and a chance at a 20,000 Solarbuck prize!). But is she ready for the cutthroat world of intergalactic cooking?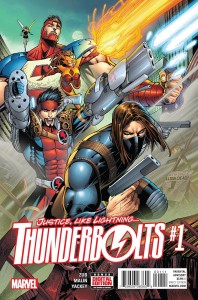 THUNDERBOLTS #1
MARVEL COMICS
(W) Jim Zub (A/CA) Jon Malin
FROM THE ASHES OF AVENGERS: STANDOFF!
They're a renegade team rampaging across the Marvel Universe under the direction of the Winter Soldier! But are the Thunderbolts heroes or villains-and do even they know for sure?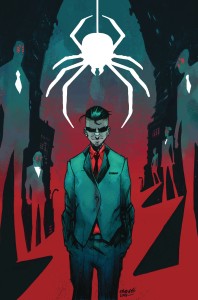 WEAVERS #1

BOOM! STUDIOS
(W) Simon Spurrier (A/CA) Dylan Burnett
What's to Love: From The Godfather to The Sopranos, organized crime stories have always fascinated us. Weavers is a macabre story with a twist on the familiar drama of dons, capos, and made men, mixing in supernatural elements that only writer Simon Spurrier (The Spire, Cry Havoc) can think up.  It's perfect for fans of Day Men or Scalped!
What It Is: Sid, a young man with nothing going for himself, becomes an unlikely new addition to The Weavers, a brutal, East Coast crime family whose members are bound to loyalty thanks to the supernatural spider inside each one of them, granting them powerful-and often grotesque-abilities. Once he realizes what he's capable of, Sid sets out to pursue his own secret agenda, counter to the group's objectives. But he doesn't have much time-the longer the spider is inside him, the more loyal he becomes to The Weavers…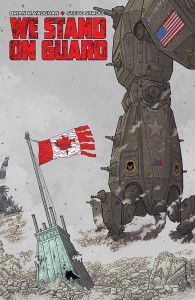 WE STAND ON GUARD DLX HC

IMAGE COMICS
(W) Brian K. Vaughan (A/CA) Steve Skroce
    Set one hundred years in our future, WE STAND ON GUARD follows a heroic band of Canadian civilians turned freedom fighters who must defend their homeland from invasion by a technologically superior opponent… the United States of America.
Collects WE STAND ON GUARD #1-6
HERE'S THE FULL LIST!
If you want a full visual list of everything click this link whydonthca (tho this might not update til Monday or something)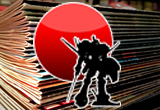 (the following list of comics reflects all the comics coming into both locations. If there's something on this list that's not in stock at your favorite BNW location do not hesitate to ask for us to order it for you!)
COMICS AND MAGAZINES
3 Floyds Alpha King #1 (OF 5)
4001 AD #1 (OF 4)
A-Force #5
All New Inhumans #7
Amazing Spider-Man #12
Amazing Spider-Man And Silk Spiderfly Effect #3
Angry Birds Comics (2016) #5
Army Of Darkness Furious Road #3 (OF 6)
Baltimore Empty Graves #2
Batman Beyond #12
Batman Superman #32
Beasts Of Burden What Cat Dragged In One Shot
Black Hood #10
Black Widow #3
Bobs Burgers Ongoing #11
Bunker #17
Captain America Sam Wilson #9
Cinema Purgatorio #1
Contest Of Champions #8
Crossed Badlands #96
Daredevil Punisher #1 (OF 4)
Deadpool Masacre #1
Detective Comics #52
Devolution #4 (OF 5)
Discipline #3
Doctor Who 10th Year Two #9
Dungeons & Dragons (2016) #1
Elephantmen #70
Empress #2 (OF 7)
Flash #51
Ghostbusters International #4 (OF 4)
GI Joe A Real American Hero #228
Giant Days #14
Gold Key Alliance #2 (OF 5)
Grant Morrisons 18 Days #11
Green Arrow #52
Green Lantern #52
Gwenpool #0
Hellboy In Hell #9
Hip Hop Family Tree #9
Hot Damn #2 (OF 5)
Howard The Duck #7
Independence Day #2 (OF 5)
Injustice Gods Among Us Year Five #9
Invader Zim #9
Invincible Iron Man #9
Kings Quest #1 (OF 5)
Klaus #5
Lady Mechanika Lost Boys Of West Abbey #1 (OF 2)
Legend Of Wonder Woman #5 (OF 9)
Mars Attacks Occupation #2 (OF 5)
Marvel Universe Avengers Assemble Civil War #3
Midnighter #12
Moon Knight #2
My Little Pony Friends Forever #28
Nailbiter #21
New Avengers #11
New Suicide Squad #20
Nova #7
Phantom #6 (OF 6)
Predator Life And Death #3 (OF 4)
Punisher #1
Rat Queens #16
Regular Show #35
Renato Jones One Percent #1
Revival #39
Rocket Raccoon And Groot #5
Saints #8 (OF 10)
Scarlet #8
Scarlet Witch #6
Scooby Doo Team Up #16
Sheriff Of Babylon #6 (OF 12)
Sons Of The Devil #7
Space Battle Lunchtime #1 (OF 8)
Spider-Gwen #8
Spider-Man 2099 #10
Star Trek Manifest Destiny #2 (OF 4)
Star Wars Poe Dameron #2
Steven Universe & Crystal Gems #2
Stray Bullets Sunshine & Roses #14
Street Fighter X GI Joe #3 (OF 6)
Superman The Coming Of The Supermen #4 (OF 6)
Survivors Club #8
Thunderbolts #1
TMNT Ongoing #57
Uncanny X-Men #7
Unfollow #7
Vampirella Vol 3 #3
Vikings #1
Violent #4
Walking Dead #154
War Stories #18
Weavers #1
Weird Love #12
Wicked & Divine #19
Will Eisner Spirit #10
Wolf #7
Woods #22
Wynonna Earp #3 (OF 6)
X-Men 92 #3
TRADE PAPERBACKS, GRAPHIC NOVELS, HARDCOVERS AND MANGA
Adventure Time Fionna Cake Card Wars Tp
Adventure Time Original Gn Vol 07 Four Castles
All New X-Men Inevitable Tp Vol 01 Ghosts Of Cyclops
Art Of Charlie Chan Hock Chye Px Sgn Bookplate Ed
Batman & Robin Tp Vol 07 Robin Rises
Colder Tp Vol 03 Toss The Bones
Daredevil By Mark Waid And Chris Samnee Hc Vol 05
Descender Tp Vol 02
DMZ Tp Book 01
Green Arrow Tp Vol 05 Black Arrow
Night Air Gn
Rebels Tp Vol 01 Well Regulated Militia
Rules For Dating My Daughter Gn
Something New Tales From Makeshift Bride Gn
Supergirl Cosmic Adventures In The 8th Grade Tp
Star Trek New Visions Of Woman Born
Transformers More Than Meets The Eye Tp Vol 09
Walking Dead Adult Coloring Book
We Stand On Guard Dlx Hc