We can barely believe that we're quickly approaching the last new comic book day of April 2016! BUT that also means we are quickly approaching the best day of the year: FREE COMIC BOOK DAY!
Do You Get Our EMail Newsletter Every Monday?

Sing up over HERE and get updates every Monday afternoon and help break up those early in the week doldrums!
FREE COMIC BOOK DAY 2k16!

We've got a facebook even set up for updating you on FCBD news! Get in on that! HERE
PICK A SIDE! SEE IT WITH US!

Like with other recent big genre event movies we'll be hosting a screening out in Warrington Pa! And from what the early buzz is for Civil War you don't want to miss seeing this one! More info HERE
MORE NEW HOT TOYS!

AIRBOY DLX ED HC

IMAGE COMICS
(W) James Robinson (A/CA) Greg Hinkle
Airboy himself appears to set author JAMES ROBINSON (Starman, Fantastic Four)and artist GREG HINKLE on the straight and narrow. But no one in this story has their life go according to plan. Read the entire series in one hardcover collected volume, which features a brand new story dealing with the reaction to the comic's initial publication that doesn't turn out the way anyone expects…least of all Robinson and Hinkle.
Collects AIRBOY #1-4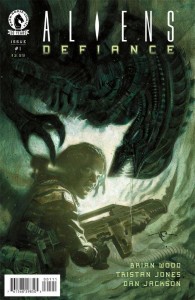 ALIENS DEFIANCE #1
DARK HORSE COMICS
(W) Brian Wood (A) Tristan Jones (CA) Massimo Carnevale
Battling demons from her past while fighting for her life, Colonial Marine Private First Class Zula Hendricks, in the company of Weyland-Yutani synthetics, is forced to question her strength and loyalty when the discovery of an insidious alien species on a derelict hauler sends her on a dangerous journey across the stars.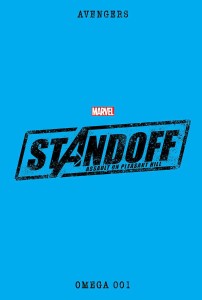 AVENGERS STANDOFF ASSAULT ON PLEASANT HILL OMEGA #1
MARVEL COMICS
(W) Nick Spencer (A) Daniel Acuña, Angel Unzueta (CA) Daniel Acuña
A STANDOFF tie-in!
•  This is it! The explosive finale to the spring's blockbuster Avengers event!
•  Lost heroes return, new threats emerge, and the stage is set for major upheavals all throughout the Marvel Universe!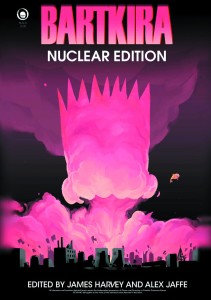 BARTKIRA NUCLEAR ED HC
ALTERNATIVE COMICS
(A) Various (CA) Mike O'Brien
A benefit edition of Bartkira that collects a narrative sequence of massive destruction from Akira re-interpreted through the bug-eyed lens of The Simpsons. Proceeds from this book are being split between two charities, OISCA Coastal Forest Restoration Project in Miyagi Prefecture and Save the Children. A Floating World production.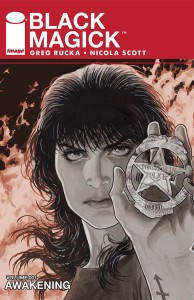 BLACK MAGICK TP VOL 01 AWAKENING PART ONE
IMAGE COMICS
(W) Greg Rucka (A/CA) Nicola Scott
SPECIAL LOW INTRODUCTORY PRICE OF $9.99
Rowan Black is a detective with the Portsmouth PD… and a witch, two aspects of her life she has struggled to keep separate. Now someone is targeting Rowan, someone who knows her secrets and means to expose her… or worse.Collects BLACK MAGICK #1-5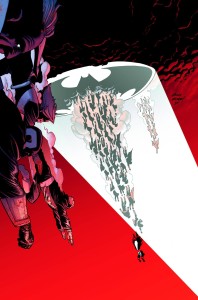 DARK KNIGHT III MASTER RACE #4 (OF 8)
DC COMICS
(W) Frank Miller, Brian Azzarello (A) Andy Kubert & Various (CA) Andy Kubert, Klaus Janson
The Master Race will rise. Cities will fall. Bruce Wayne is dead. What will the heroes of the world do to save it?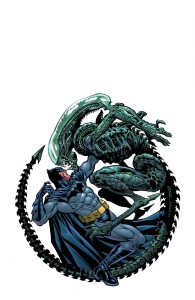 DC COMICS DARK HORSE ALIENS TP
DC COMICS
(W) Ron Marz & Various (A) Bernie Wrightson & Various (CA) Staz Johnson, James A. Hodgkins
The stories that brought the dread Aliens into the DC Universe are collected in this new title! First, Batman follows the trail from his home turf to the Amazon jungle to discover the horror of the Aliens-but how can even the Dark Knight stop them? Then, an Alien is discovered in a Gotham City construction site-and it's going to wreak havoc on Arkham Asylum! Plus, the 1998 tale that pitted the WildC.A.T.s against the might of the Aliens is back. Can even the WildC.A.T.s survive a battle with the Aliens-when StormWatch has already fallen?
DOCTOR STRANGE LAST DAYS OF MAGIC #1
MARVEL COMICS
(W) Jason Aaron & Various (A) Leonardo Romero (CA) Mike Perkins
This companion to the "LAST DAYS OF MAGIC" epic! THE EMPIRIKUL, led by The Imperator, are destroying all magic and magic users in the Marvel Universe. Jason Aaron brings you Doctor Strange and Wong's secret history and the ultimate sacrifice that Wong makes! Gerry Duggan shows Brother Voodoo's stand against the evil magic-eaters. James Robinson introduces a new magic figure in the Marvel U just in time for her last stand!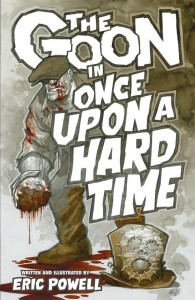 GOON TP VOL 15 ONCE UPON A HARD TIME

DARK HORSE COMICS
(W/A/CA) Eric Powell
After the tragic events of Occasion of Revenge, the witch coven believes that control of the unnamed town will soon be in their grasp and the Goon's tragic soul will contribute to the curse that increases their power. But has their plot destroyed the Goon or created a monster too savage for them to withstand?
Once upon a Hard Time is a climactic miniseries that has major consequences for the Goon and his supporting cast. If you're a Goon fan, you can't miss this. Collects issues #1-#4.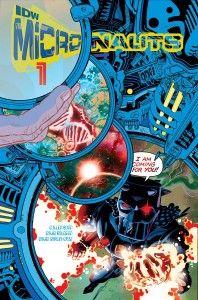 MICRONAUTS #1
IDW PUBLISHING
(W) Cullen Bunn (A) David Baldeon (CA) J. H. Williams
THEY CAME FROM A DYING UNIVERSE! ACROYEAR, SPACE GLIDER, BIOTRON and their allies are back, on the run from the evil BARON KARZA, and blasting through a universe where magic and science vie for control! With resources dwindling, the long-lost TIME TRAVELERS may hold the key to salvation… but will it mean armageddon for our world?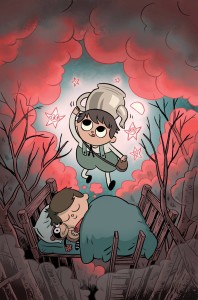 OVER GARDEN WALL ONGOING #1
BOOM! STUDIOS
(W) Jim Campbell, Amalia Levari (A) Jim Campbell, Cara McGee (CA) Jim Campbell
Pat McHale's Over the Garden Wall aired as Cartoon Network's first-ever original animated miniseries and has continued gathering fans ever since. The great response to our one-shot and follow-up limited series prompted us to return to the eerie Unknown for more stories in this new, ongoing series! We're thrilled to have Jim Campbell returning to join forces with fellow show writer Amalia Levari and artist Cara McGee for two original stories in each issue.
What It Is: Over the Garden Wall is now an ongoing series! In this kickoff issue, Wirt and Greg might have escaped the Beast's grasp and made it out of the Unknown, but some things can't be forgotten. Greg returns to Dreamland at night, where the silly creatures who live there help him on his adventures. Then, dive back into the early days in the Unknown where young Anna, the daughter of the Woodsman, must learn to survive in the woods on her own.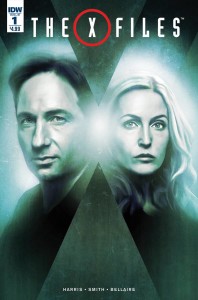 X-FILES (2016) #1
IDW PUBLISHING
(W) Joe Harris (A) Matthew Dow Smith (CA) Menton3
Thirteen years after the original series run, THE X-FILES has enjoyed a momentous return to television in a thrilling event series from creator/executive producer Chris Carter. Now, with the participation of Carter, IDW Publishing is proud to bring to comics the continuing adventures of iconic FBI Agents FOX MULDER and DANA SCULLY!
HERE'S THE FULL LIST!
If you want a full visual list of everything click this link whydonthca (tho this might not update til Monday or something)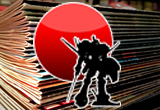 (the following list of comics reflects all the comics coming into both locations. If there's something on this list that's not in stock at your favorite BNW location do not hesitate to ask for us to order it for you!)
COMICS AND MAGAZINES
A Year Of Marvels Amazing
Aliens Defiance #1
All New Wolverine #7
Amazing Figure Modeler #61
Amazing Spider-Man #11
Angela Queen Of Hel #7
Art Ops #7
Avengers Standoff Assault On Pleasant Hill Omega
Batgirl #51
Batman #51
Batman 66 Meets The Man From Uncle #5 (OF 6)
Bill & Ted Go To Hell #3
Black Canary #11
Carnage #7
Circuit Breaker #2 (OF 5)
Conan The Avenger #25
Creepy Comics #23
Cyborg #10
Daredevil #6
Dark Knight III Master Race #4 (OF 8)
Deathstroke #17
Disney Darkwing Duck #1
Doctor Strange #7
Doctor Strange Last Days Of Magic #1
Doctor Who 4th #2 (OF 5)
Drax #6
Dream Police #9
Faith #4 (OF 4)
Grayson #19
Harley Quinn #27
Hellboy & BPRD 1953 Beyond The Fences #3
Imperium #15
Injection #9
Insexts #5
International Iron Man #2
Irwin Allen Lost In Space #2
Jacked #6 (OF 6)
Justice League #49
Justice League 3001 #11
Last Gang In Town #5 (OF 6)
Low #13
Micronauts #1
Moon Girl And Devil Dinosaur #6
Ms Marvel #6
Mythic #8
Old Man Logan #5
Omega Men #11
Outcast By Kirkman & Azaceta #18
Over Garden Wall Ongoing #1
Pathfinder Hollow Mountain #6 (OF 6)
Patsy Walker Aka Hellcat #5
Peanuts Vol 2 #32
Postal #12
Power Lines #2 (OF 6)
Previews #332 May 2016
Marvel Previews #10 May 2016
Rick & Morty #13
Roche Limit Monadic #2 (OF 4)
Saga #36
Secret Six #13
Sex #27
Sex Criminals #15
Sinestro #22
Sonic Universe #84
Spider-Woman #6
Squadron Supreme #6
Star Wars #18
Star-Lord #6
Strange Fruit #3
Strawberry Shortcake #1
Suicide Squad Most Wanted Deadshot Katana #4 (OF 6)
Suiciders King Of Hella #2 (OF 6)
Superman Wonder Woman #28
Superzero #5
Teen Titans #19
TMNT Ongoing #56 2nd Ptg
Transformers More Than Meets Eye #52
Transformers Sins Of Wreckers #4 (OF 5)
Ultimates #6
Unbeatable Squirrel Girl #7
Velvet #14
Venom Space Knight #6
We Are Robin #11
X-Files (2016) #1
X-Men Worst X-Man Ever #3 (OF 5)
TRADE PAPERBACKS, GRAPHIC NOVELS, HARDCOVERS AND MANGA
Airboy Dlx Ed Hc
Alien Next Door Hc
Astonishing Ant-Man Tp Vol 01 Everybody Loves Team-Ups
Bartkira Nuclear Ed Hc
Black Magick Tp Vol 01 Awakening Part One
Camp Midnight Gn
Carnage Tp Vol 01 One That Got Away
Dc Comics Dark Horse Aliens Tp
Doctor Strange Prem Hc Vol 01 Way Of Weird
Extraordinary X-Men Tp Vol 01 X-Haven
Goon Tp Vol 15 Once Upon A Hard Time
Injustice Gods Among Us Year Four Hc Vol 01
Injustice Gods Among Us Year Three Tp Vol 02
Punisher Born Tp New Ptg
Spider-Man 2099 Tp Vol 03 Smack To Future
X-Men Age Of Apocalypse Tp Twilight
TOYS
FFXII Play Arts Kai Fran Af