It's the weekend! Here's what's coming out this week: 3.9.16!
Do You Get Our EMail Newsletter Every Monday?

Sing up over HERE and get updates every Monday afternoon and help break up those early in the week doldrums!
GET YOUR MODERN CONSTRUCTED ON IN WILLOW GROVE!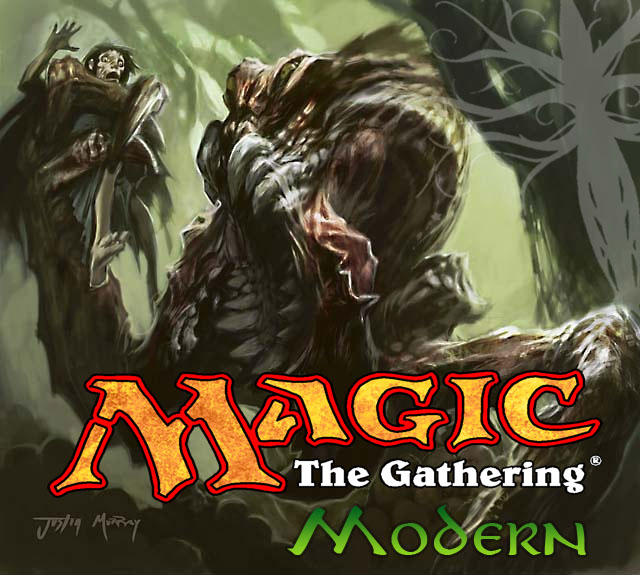 Come out to Willow Grove to play some Modern consturcted tournaments starting Saturday February 6th! DETAILS!
JOIN US FOR BATMAN V SUPERMAN!

Looking forward to this new Batman punching Superman movie!? Join us for a private screening, once again, out at the Regal Cinema in Warrington, Pa! DETAILS!
ANOTHER WILD PODCAST APPEARS?!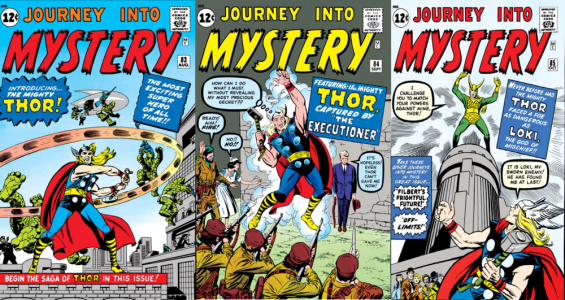 Last week I told you to check out a new podcast started by some customer friends of ours…well it looks like another set of people we really like have started to talk about comics via podcast too! Check out Ed and Jen's JOURNEY INTO IT in which they talk about ALL of Thor. I know for a fact that Ed just finished reading every single Thor comic (in order) that Marvel has published…

COMICS!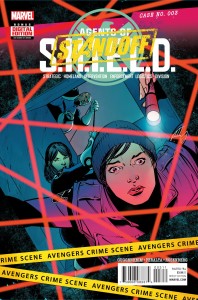 AGENTS OF SHIELD #3

MARVEL COMICS
(W) Marc Guggenheim (A) German Peralta (CA) Mike Norton
AN AVENGERS STANDOFF tie-in!
•  STANDOFF comes to AGENTS OF S.H.I.E.L.D.!
•  What is the secret of CLASSIFIED and how will it change the Marvel Universe as we know it?  Find out in this tie-in to Standoff.
•  Plus:  Fitz falls out of a plane without a parachute and the world's most unexpected Wolverine cameo!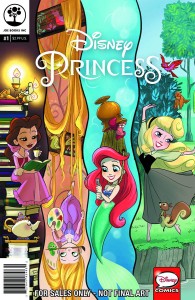 DISNEY PRINCESS #1
JOE BOOKS INC.
(W/A/CA) Amy Mebberson
Disney's beloved heroines have returned in this hilarious collection of Disney Princess comic strips! Featuring laugh-out-loud stories from the worlds of Ariel, Belle, Rapunzel, Tiana, Cinderella, Aurora, and more, this charming new ongoing series will make all your royal dreams come true!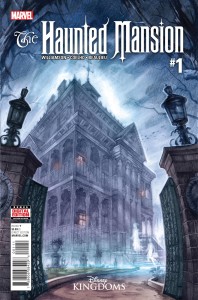 HAUNTED MANSION #1 (OF 5)
MARVEL COMICS
(W) Joshua Williamson (A) Jorge Coehlo (CA) E.M. Gist
WELCOME, FOOLISH MORTALS, TO THE HAUNTED MANSION!
It seems that no one lives in the elegant mansion on the hill…but then where's that creepy organ music coming from? Are the iron gates meant to keep people out…or some things in? Get ready to meet the 999 ghosts of the Haunted Mansion…but be warned, they're looking for the 1000th! The delightfully chilling Disney attraction comes to (after)life in an all-new story, penned by JOSHUA WILLAMSON with art by JORGE COELHO! Don't miss the next great Disney Kingdoms adventure, and the most spine-tingling experience you'll find this side of a Doom Buggy!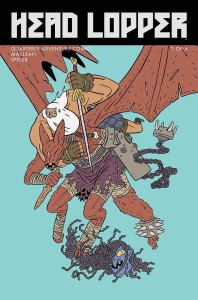 HEAD LOPPER #3
IMAGE COMICS
(W/A/CA) Andrew MacLean
STORY / ART / COVER A: ANDREW MacLEAN
Norgal and Agatha meet fellow adventurer Zhaania while battling a mega-arachnid from Hell.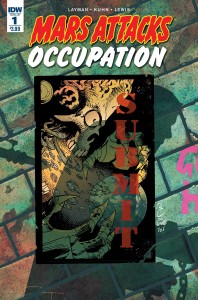 MARS ATTACKS OCCUPATION #1 (OF 5)
IDW PUBLISHING
(W) John Layman (A) Andy Kuhn (CA) John McCrea
The Martians came. The Martians saw. The Martians conquered. Now the space invaders cruelly rule over humanity, which has no hope for liberation… until Ruby Johnson decides that she has had enough.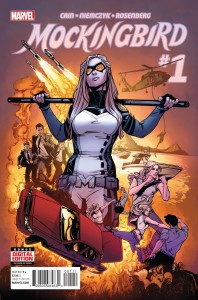 MOCKINGBIRD #1
MARVEL COMICS
(W) Chelsea Cain (A) Kate Niemczyk (CA) Joëlle Jones
BECAUSE YOU DEMANDED IT! Now in her own ongoing series!
Bobbi Morse is Mockingbird, S.H.I.E.L.D.'s most versatile, most in-demand agent!
But a string of missions gone wrong indicate that something strange is lurking within S.H.I.E.L.D.'s own medical and recovery network. How far will Mockingbird have to go in order to solve this puzzle box and get to the truth? Bestselling author Chelsea Cain teams with newcomer Kate Niemczyk.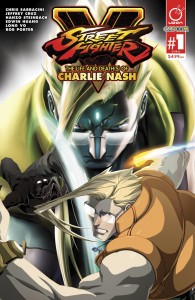 STREET FIGHTER V CHARLIE NASH
UDON ENTERTAINMENT INC
(W) Chris Sarracini (A) Jeffrey Chamba Cruz & Various (CA) Jeffrey Chamba Cruz
Fan-favorite character Charlie Nash is finally back in the all-new Street Fighter V! This oversized special 1-shot reveals the history of Guile's troubled friend and mentor, and establishes his new status quo in the Street Fighter universe. Expect appearances from Chun-li, M.Bison, and more as the life and death(s) of Charlie Nash are laid bare!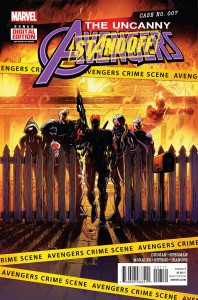 UNCANNY AVENGERS #7
MARVEL COMICS
(W) Gerry Duggan (A/CA) Ryan Stegman
AN AVENGERS STANDOFF tie-in!
•  The Uncanny Avengers come to the aid of S.H.I.E.L.D. during a manhunt.
•  The team makes a shocking discovery about an ally.
•  What does it all have to do with the mystery unfolding in Pleasant Hill?
TRADES AND HARDCOVERS!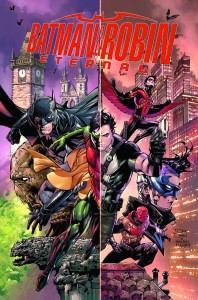 BATMAN AND ROBIN ETERNAL TP VOL 01

DC COMICS
(W) James TynionIV & Various (A) Tony S. Daniel & Various (CA) Tony S. Daniel, Sandu Florea
Not many years ago, Batman and Robin worked the most disturbing case of their crimefighting careers: bringing down the organization of the human trafficker known only as Mother. At the time, Dick Grayson did not understand the scope of that case, but now its darkest secrets are coming back to haunt him and everyone else who ever worked with Batman! Collects BATMAN AND ROBIN ETERNAL #1-12, plus the eight-page story from BATMAN: ENDGAME SPECIAL EDITION #1.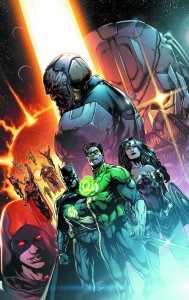 JUSTICE LEAGUE HC VOL 07 DARKSEID WAR PART 1

DC COMICS
(W) Geoff Johns (A) Jason Fabok & Various (CA) Jason Fabok
The Justice League came together to stop the forces of Darkseid from destroying Earth five years ago. Now the ruler of Apokolips returns, but this time he's set his sights on the world-shattering Anti-Monitor. Will the combined might of the Justice League be enough to protect Earth from becoming collateral damage as gods fight? This new JUSTICE LEAGUE hardcover collects JUSTICE LEAGUE #40-44 and a story from DC COMICS DIVERGENCE #1.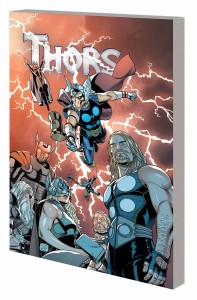 THORS TP

MARVEL COMICS
(W) Jason Aaron, Walter Simonson (A) Walter Simonson & Various (CA) Chris Sprouse
The Thors of every Battleworld domain, united as one! Whenever there's trouble anywhere on Battleworld, the Thors bring the thunder as Doom's lightning-wielding cosmic cops. But a string of mysterious murders leaves some of them asking questions that may unravel all of reality! Thors you know (including Ultimate Thor, Beta Ray Bill and the Odinson himself) team with Thors you don't (say hello to Groot Thor) and place their lives on the line to hunt the killer. But will a surprising suspect help uncover the truth, or offer only lies? It's a hard-hitting Marvel Comics police drama…with hammers. If it were a TV show, it would be called Thor and Order. Plus: In an all-time classic, relive the green-skinned glory of the original Frog of Thunder! Collecting THORS (2015) #1-4 and THOR (1966) #364-365.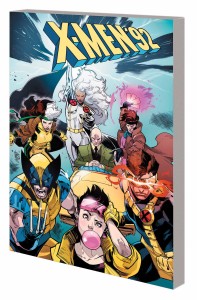 X-MEN 92 TP VOL 00 WARZONES

MARVEL COMICS
(W) Chris Sims, Chad Bowers (A) Scott Koblish (CA) Pepe Larraz
Revisit a blue-and-golden age for the X-Men in Battleworld's most animated realm! The '90s-era team is as uncanny as ever: Professor X, Cyclops, Storm, Wolverine, Rogue, Gambit and – yes! – Jubilee. And when the Clear Mountain Project purports to offer evil mutants a chance at rehabilitation, it's up to the X-Men to investigate! As things go wrong, they'll face some of their decade's fiercest foes, like Cyber and Omega Red – but who on Battleworld is the Shadow Queen?! With the X-Men in deep trouble, will anyone step up to save the domain of Westchester from a future of fear and hatred? How about an X-Force '92 lineup featuring Cable, Deadpool, Domino, Psylocke, Archangel and Bishop? Could this totally tubular tale be any more '90s? Collecting X-MEN '92 (2015) #1-4.
HERE'S THE FULL LIST!
If you want a full visual list of everything click this link whydonthca (tho this might not update til Monday or something)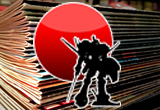 (the following list of comics reflects all the comics coming into both locations. If there's something on this list that's not in stock at your favorite BNW location do not hesitate to ask for us to order it for you!)
COMICS AND MAGAZINES
Action Comics #50
Adventure Time #50
Agents Of Shield #3
Alabaster The Good The Bad & The Bird #4 (OF 5)
All New Wolverine #6
Alter Ego #138
Amazing Spider-Man #9
Back Issue #87
Batman And Robin Eternal #23
Batman Superman #30
Batman Teenage Mutant Ninja Turtles #4 (OF 6)
Black Jack Ketchum #4 (OF 4)
Black Knight #5
Bunker #15
Catwoman #50
Codename Baboushka Conclave Of Death #5
Constantine The Hellblazer #10
Crossed Plus 100 #14
Dark And Bloody #2 (OF 6)
Dark Knight III Master Race #3 (OF 8) Collectors Ed Hc
Descender #11
Detective Comics #50
Dirk Gently A Spoon Too Short #2 (OF 5)
Disney Princess #1
Doc Savage Spiders Web #4
Doctor Strange #5 2nd Ptg
Doctor Strange #6
Doctor Who 12th Year Two #3
Drive #4 (OF 4)
Earth 2 Society #10
Escape From New York #15
Fables The Wolf Among Us #15
GFT Van Helsing Vs Dracula #5 (OF 5)
GFT Wonderland #45
GI Joe A Real American Hero #226
Gotham Academy #16
Green Lantern Corps Edge Of Oblivion #3 (OF 6)
Guardians Of Galaxy #6
Hangman #3
Harrow County #10
Haunted Love #2
Haunted Mansion #1 (OF 5)
Head Lopper #3
Heavy Metal #279
Howard The Duck #5
Infinity Entity #1 (OF 4)
Jupiters Circle Vol 2 #4 (OF 6)
Lantern City #11 (OF 12)
Leaving Megalopolis Surviving Megalopolis #3
Legend Of Wonder Woman #3 (OF 9)
Limbo #5 (OF 6)
Mars Attacks Occupation #1 (OF 5)
Massive Ninth Wave #4
Mighty Thor #5
Mockingbird #1
Ms Marvel #3 2nd Ptg
Ms Marvel #5
New Romancer #4 (OF 6)
New Suicide Squad #18
Ninjak #13
Power Button #0
Red Hood Arsenal #10
Red Wolf #4
Rocket Raccoon And Groot #3
Savage Dragon #212
Shaft Imitation Of Life #2 (OF 4)
Shutter #19
Slash & Burn #5
Snow Blind #4
Spider-Gwen #6
Spider-Man #1 2nd Ptg
Spider-Man 2099 #8
Spider-Man Deadpool #3
Spongebob Comics #54
Squadron Supreme #2 2nd Ptg
Star Trek Ongoing #55
Star Wars #15 2nd Ptg
Starfire #10
Street Fighter V Charlie Nash
Telos #6
TMNT Amazing Adventures #8
Transformers More Than Meets Eye #50
Uncanny Avengers #4 2nd Ptg
Uncanny Avengers #7
Uncanny X-Men #2 2nd Ptg
Uncanny X-Men #3 2nd Ptg
Vision #5
Voltron From The Ashes #6 (OF 6)
War Stories #17
Weirdworld #4
X-Files Deviations (ONE Shot)
TRADE PAPERBACKS, GRAPHIC NOVELS, HARDCOVERS AND MANGA
Azrael Tp Vol 01 Fallen Angel
Batman And Robin Eternal Tp Vol 01
Batman Beyond Tp Vol 01 Brave New Worlds
Batman Contagion Tp
D4ve2 Tp Vol 02
Dragonlance Chronicles Tp Vol 03 Dragons Of Spring
Earth 2 Society Tp Vol 01 Planetfall
Imperium Tp Vol 03 Vine Imperative
Justice League Hc Vol 07 Darkseid War Part 1
Justice League Tp Vol 06 Injustice League
Steven Universe Tp Vol 02
Superior Iron Man Tp Vol 02 Stark Contrast
Teen Titans Tp Vol 02 Rogue Targets
Thor Tp Vol 02 Who Holds Hammer
Thors Tp
TMNT Adventures Tp Vol 11
Tokyo Ghost Tp Vol 01 Atomic Garden
X-Men 92 Tp Vol 00 Warzones