Start your weekend off with what's coming out this Wednesday March 2, 2016!
Do You Get Our EMail Newsletter Every Monday?

Sing up over HERE and get updates every Monday afternoon and help break up those early in the week doldrums!
NEW Magic Duel Decks!
Are you Blessed or Cursed!?
Some Of Our Pals Have A New Podcast!
If you enjoy listening to podcasts and especially enjoy ones about comics and nerd related things check out the new podcast from Indy Hall's Adam and B3ar Fruit's Octavius called Comic Book Junto! (I'm currently listening to the Deadpool Movie Episode while I write this)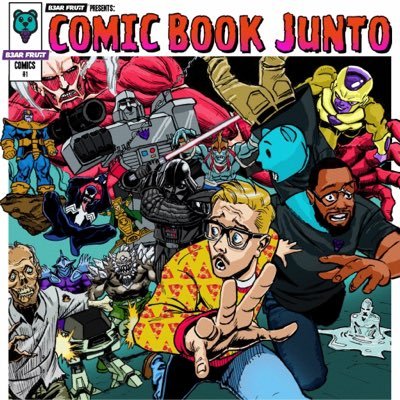 Soooo That's How You Spell Batusi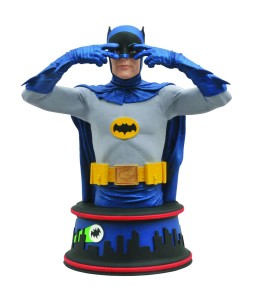 BATMAN 1966 BATUSI BUST

DIAMOND SELECT TOYS LLC
A Diamond Select Toys release! We'll say this for Batman, the caped crusader sure knows how to party! Based on a particularly classic episode of the Batman Classic TV Series, this exclusive resin bust features Batman doing his "Batusi" dance moves, which soon became a pop-culture touchstone. Measuring approximately 6 inches tall and featuring the likeness of actor Adam West, this bust comes packaged with a certificate of authenticity in a full-color box. Designed by Barry Bradfield! Sculpted by Jean St. Jean!
Think There's A Batman Movie Coming Soon?!
DARK KNIGHT RETURNS 30TH ANIV 2 PACK AF
DC COMICS
Two of the most popular figures inspired by Frank Miller's epic are back! Just in time for the 30th Anniversary of THE DARK KNIGHT RETURNS, these figures feature new decos and are ready for action!
SUPERMAN — 6.75″
BATMAN — 6.75″
Daredevil TV Show Funko POPS are here!

AMAZING SPIDER-MAN AND SILK SPIDERFLY EFFECT #1 (OF 4)
MARVEL COMICS
(W) Robbie Thompson (A) Todd Nauck (CA) W. Scott Forbes
Spider-Man and Silk aren't necessarily pals right now, but they've got no choice but to work together when they accidentally travel back in time to just BEFORE they got their spider-powers! Now, they have to get along while stopping a threat to the timeline…WITHOUT accidentally wiping out their own powers! Writer Robbie Thompson (Silk, Venom: Spaceknight) teams with artist Todd Nauck (Nightcrawler, Amazing Spider-Man) to bring us a tale of Amazing Anachronistic Arachnids! Collecting the first two chapters of the Infinite Comic series.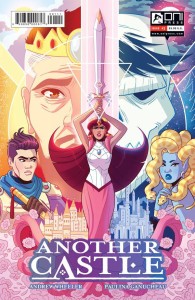 ANOTHER CASTLE #1 (OF 5)
ONI PRESS INC.
(W) Andrew Wheeler (A/CA) Paulina Ganucheau
Princess Misty of Beldora longs for a more exciting life, but gets more than she bargained for when she is captured by Lord Badlug, the ruler of the neighboring kingdom of Grimoire. He intends to marry her and conquer Beldora, leading the land into ruin and chaos. Together with the long-suffering citizens of Grimoire and a certain bumbling prince, Misty must fight to protect her kingdom and free both realms from Badlug's tyrannical rule.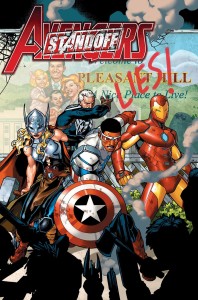 AVENGERS STANDOFF ASSAULT ON PLEASANT HILL ALPHA #1

MARVEL COMICS
(W) Nick Spencer (A/CA) Jesus Saiz
Pleasant Hill looks like the perfect small-town community — but underneath the surface, a deadly secret lurks. One so explosive it will draw estranged allies Steve Rogers and Sam Wilson back together to save a friend in danger and put things right. But when the combined might of the Captain Americas isn't enough, whom do they call? In the face of unspeakable evil, it's time for the Avengers to Assemble like never before! The blockbuster spring AVENGERS event starts right here!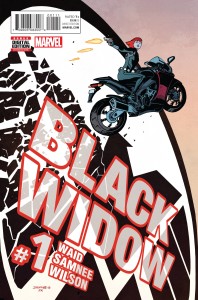 BLACK WIDOW #1
MARVEL COMICS
(W) Chris Samnee, Mark Waid (A/CA) Chris Samnee
S.H.I.E.L.D.'S MOST WANTED!
The Eisner Award-winning team of Mark Waid and Chris Samnee are taking Black Widow on the lam! Natasha has spent years gathering secrets, and when some of the darkest ones begin mysteriously going public, no one is safe. With her betrayed former confederates at S.H.I.E.L.D. on her heels and a lifetime of training and ingenuity at her disposal, Natasha's out for answers in a knock-down-drag-out tale of action and espionage! Hidden enemies, old friends and unusual allies collide, and all eyes are on Black Widow. The chase is on!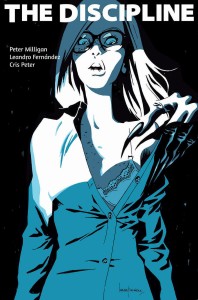 DISCIPLINE #1

IMAGE COMICS
(W) Peter Milligan (A/CA) Leandro Fernandez
Between fighting her sister and hating her husband, Melissa still finds time to fall in lust with a stranger who's an awful lot more than he seems. What appears to be a simple seduction is revealed as something much darker and more dangerous. This controversial and erotically-charged tale of sex, death, and metamorphosis begins with an explosion of carnality and weirdness.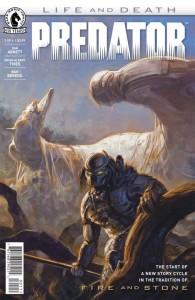 PREDATOR LIFE AND DEATH #1 (OF 4)
DARK HORSE COMICS
(W) Dan Abnett (A) Brian Thies (CA) David Palumbo
Colonial Marines on the planet Tartarus battle extraterrestrial hunters over the possession of a mysterious horseshoe-shaped spaceship of unknown origin. The Weyland-Yutani rep wants the ship, and the marine captain wants to protect her crew. But neither objective is likely when a band of Predators attacks!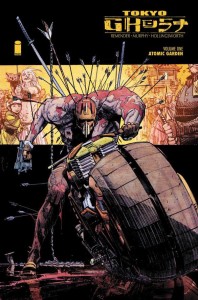 TOKYO GHOST TP VOL 01 ATOMIC GARDEN
IMAGE COMICS
(W) Rick Remender (A/CA) Sean Murphy
SPECIAL LOW INTRODUCTORY PRICE OF $9.99
The Isles of Los Angeles 2089: humanity is addicted to technology. Getting a virtual buzz is the only thing left to live for, and gangsters run it all. Who do these gangsters turn to when they need their rule enforced? Constables Led Dent and Debbie Decay are about to be given a job that will force them out of the familiar squalor of LA and into the last tech-less country on Earth: The Garden Nation of Tokyo.Collects TOKYO GHOST #1-5
HERE'S THE FULL LIST!
If you want a full visual list of everything click this link whydonthca (tho this might not update til Monday or something)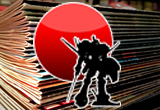 (the following list of comics reflects all the comics coming into both locations. If there's something on this list that's not in stock at your favorite BNW location do not hesitate to ask for us to order it for you!)
COMICS AND MAGAZINES
A-Force #3
Action Lab Dog Of Wonder #1
All New Inhumans #3 2nd Ptg
All New X-Men #3 2nd Ptg
Amazing Spider-Man And Silk Spiderfly Effect #1 (of 4)
Angel And Faith Season 10 #24
Another Castle #1
Army Of Darkness Furious Road #1 (OF 5)
Avengers Standoff Assault On Pleasant Hill Alpha #1
Batgirl #49
Batman 66 Meets The Man From Uncle #4 (OF 6)
Batman And Robin Eternal #22
Batman Beyond #10
Beyond Belief #3
Black Widow #1
Bobs Burgers Ongoing #9
Captain Marvel #1 2nd Ptg
Charmed Season 10 #17
Daredevil #3 Garney 2nd Ptg
Darth Vader #17
DC Comics Bombshells #10
Deadly Class #19
Deadpool #8
Discipline #1
Doctor Who 11th Year Two #6
Dreaming Eagles #3
Exodus Life After #4
Giant Days #12
Grant Morrisons 18 Days #9
Green Lantern #50
Guardians Of Infinity #4
Hobby Japan Feb 2016
Injustice Gods Among Us Year Five #5
Invincible Iron Man #7
IXth Generation #8
Joe Golem Occult Detective #5
Johnny Red #5 (OF 8)
Knights Of The Dinner Table #229
Lone Wolf 2100 #3 (OF 4)
Marvel Universe Avengers Assemble Civil War #1
Mercury Heat #8
Midnighter #10
Mighty Morphin Power Rangers #0 (3RD Ptg)
Mighty Morphin Power Rangers #1
Narcopolis Continuum #3 (OF 4)
New Avengers #5 2nd Ptg
Nova #5
Obi-Wan And Anakin #2 (OF 5) 2nd Ptg
Old Man Logan #3
Omega Men #9
Poison Ivy Cycle Of Life And Death #1 (OF 6) 2nd Ptg
Predator Life And Death #1 (OF 4)
Prophet Earth War #2 (OF 6)
Regular Show #33
Revival #37
Saints #6
Scooby Doo Team Up #15
Sheriff Of Babylon #4 (OF 8)
Spider-Man #2
Spider-Man 2099 #7
Spider-Woman #4
Street Fighter Unlimited #4
Stumptown V3 #9
Survivors Club #6
Swamp Thing #3 (OF 6)
The Unmentionables (ONE Shot)
Train Called Love #6 (OF 10) C
Uncanny Avengers #6
Uncanny X-Men #4
Unfollow #5
Vampirella Vol 3 #1
Violent #3
Walking Dead #152
TRADE PAPERBACKS, GRAPHIC NOVELS, HARDCOVERS AND MANGA
Black Canary Tp Vol 01 Kicking And Screaming
Bobs Burgers Ongoing Vol 02 Well Done
Coloring DC Tp Vol 01 Batman Hush
Dan Clowes Patience Hc
DC Comics Bombshells Tp Vol 01 Enlisted
Doctor Who 9th Hc Vol 01
Harley Quinn And Power Girl Tp
Inhuman Hc
Injustice Gods Among Us Year One Complete Collection
New Lone Wolf And Cub Tp Vol 08
Snowpiercer Hc Vol 03 Terminus
Superman Unchained Tp
TOYS
Dark Knight Returns 30th Aniv 2 Pack Af
Terminator 2 Ult T-1000 7in Af
ODDS AND ENDS
Batman 1966 Batmobile Bank
Batman 1966 Batusi Bust
Oh! How About Some Daredevil Trailers!?!