Here we are! Another weekend quickly approaching and this one features a Magic Pre-release at our Willow Grove location!
Do You Get Our EMail Newsletter Every Monday?

Sing up over HERE and get updates every Monday afternoon and help break up those early in the week doldrums!
HERE'S INFO ON THAT GATEWATCH PRE-RELEASE IN WILLOW GROVE!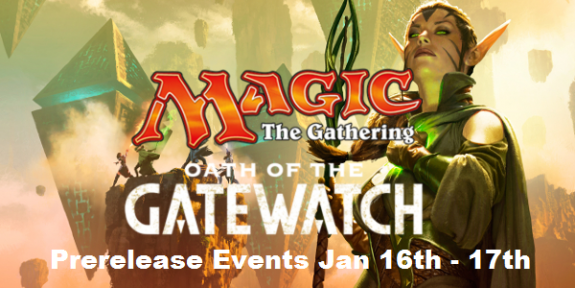 From Midnight on January 16th our Willow Grove shop will be hosting a weekend of slinging spells for the Pre-Release of the latest Magic the Gathering set: GATEWATCH!
POP DEALS!
While supplies last we've got some good deals (SERIOUSLY JUST $5!!!) going on some sweet Funko Pop figures right now at both locations! Get 'em while they're hot!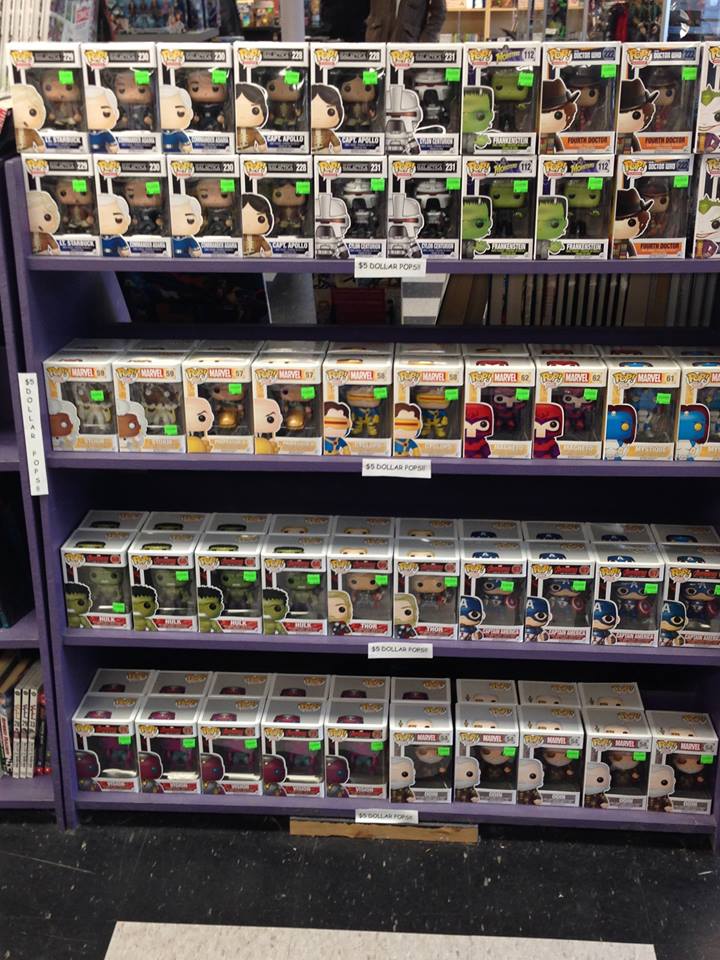 DC LEAD FIGURES GET RE-ISSUED AS BEST OFS!
DC SUPERHERO BEST OF FIGURE COLLECTOR MAGAZINES
EAGLEMOSS PUBLICATIONS LTD
The best figurines from the DC Super Hero Collection are being relaunched in metallic polyresin with new packaging, improved figurine bases and updated magazines. The collection features 1:21 scale figurines of DC Comics greatest heroes and villains. Each figurine comes with a 16-page booklet detailing the character's history.
Actual Figurine Size 3 1/2 inches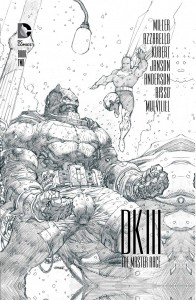 DARK KNIGHT III MASTER RACE #2 (OF 8) COLLECTORS ED
DC COMICS
(W) Frank Miller, Brian Azzarello (A) Andy Kubert & Various (CA) Jim Lee
The unexpected finale to the Dark Knight saga continues as Carrie Kelly gets caught…that is, she finds herself…she gets into-well, you're just going to have to read it yourself.
This oversized title collects both stories from DARK KNIGHT III: THE MASTER RACE #2 at the same size!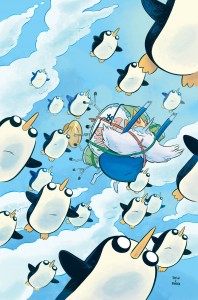 ADVENTURE TIME ICE KING #1

BOOM! STUDIOS
(W) Emily Partridge, Pranas T. Naujokaitis (A) Natalie Andrewson (CA) Shelli Paroline, Braden Lamb
What's to Love: The Ice King is probably one of the most tragic and hilarious characters in the Land of Ooo, but we've never had the chance to really focus on him before. Now we're taking a look at just what makes the Ice King tick with Emily Partridge (Adventure Time) and artist Natalie Andrewson (Lumberjanes).
What It Is: The Ice King has always been there, kidnapping princesses, messing with Finn and Jake, and generally being a weirdo. But there's way more to him than that! He's a deep, thoughtful person with a heart full of love! Or…maybe he just really wants to marry a princess. Either way, this is one journey the citizens of Ooo aren't likely to forget!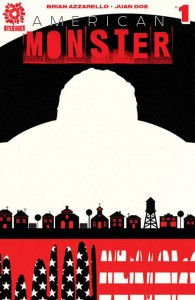 AMERICAN MONSTER #1

AFTERSHOCK COMICS
(W) Brian Azzarello (A/CA) Juan Doe
In a small Midwestern town, a large man with a horribly scarred face gets off a bus, and takes a room. He spooks the locals–nobody knows him–or do they? It's impossible to say be-cause he seemingly has no face. The man's intentions remain unknown, until he takes on a corrupt sheriff and the rural crew of racist arms dealers. The town's impression of the man changes, and he's seen as a hero…until his real intentions bubble to the surface. The man isn't there to end the gang, but to take it over. And he's just getting started.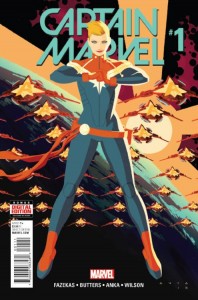 CAPTAIN MARVEL #1
MARVEL COMICS
(W) Tara Butters, Michele Fazekas (A/CA) Kris Anka
Face front, true believers! The Captain has made her return and oh, how mighty it is. It's a bold new frontier for Carol Danvers as she soars to new heights in her greatest mission yet–leader of the all-new Alpha Flight space program. Yup, Alpha Flight. As earth's first line of defense, Carol and her team aim to protect the planet from extraterrestrial threats. But can Carol be a soldier and a diplomat? Especially when an unknown enemy emerges that Carol can't quite punch. The superstar team behind Marvel's Agent Carter television series, Tara Butters and Michele Fazekas, make their comics debut alongside the awesomely-talented Kris Anka.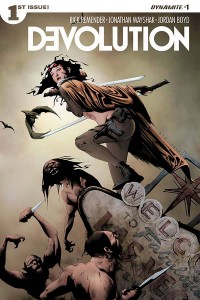 DEVOLUTION #1 (OF 5)

D. E.
(W) Rick Remender (A) Jonathan Wayshak (CA) Jae Lee
Every living creature on Earth has been devolved – the evolutionary clock turned back, reverting all life to odd mutations and prehistoric incarnations. The cities of man are little more than bloody territories ruthlessly dominated by tribal Neanderthals ruling from the backs of mammoths, packs of saber-toothed tigers, and giant man-eating insects. Writer Rick Remender (Black Science, Fear Agent), artist Jon Wayshak (The Authority), and colorist Jordan Boyd (Ant-Man, Planet Hulk) take you on a journey with the last band of "Still Sapien" humans in the hope of locating an antidote and re-evolving the human race.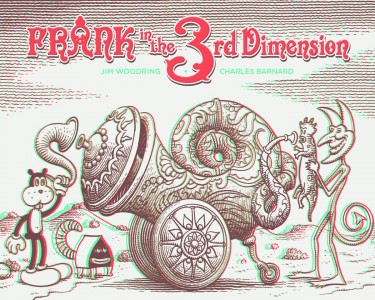 FRANK IN THE 3RD DIMENSION HC

FANTAGRAPHICS BOOKS
(A/CA) Jim Woodring
$22.99 / HC 3-D Board Book / 32 pgs / FC / 11 x 9
See Frank as you've never seen him before. Frank in the 3rd Dimension uses the most technologically advanced 3D ever produced and is an experience that has to be savored to be believed. The 3-D process involves over 150 layers per drawing in order to round and "sculpt" each image into full 3-D. The results are mind-staggering. Frank in the 3rd Dimension is a series of Jim Woodring's loveliest pictures – 32 vignettes, dioramas and psychedelic moments to be mused and mulled over. Complete with gorgeous Woodring-designed 3-D viewing glasses!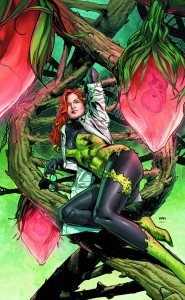 POISON IVY CYCLE OF LIFE AND DEATH #1 (OF 6)
DC COMICS
(W) Amy Chu (A/CA) Clay Mann
Life. Death. Poison Ivy has power over both. But can she keep her friends and hold down a regular job at the same time? As Dr. Pamela Isley, she joins the prestigious plant sciences department at Gotham Botanical Gardens, but things quickly get complicated when a fellow scientist is murdered and it looks like the work of Ivy. Don't miss the start of this new 6-issue miniseries!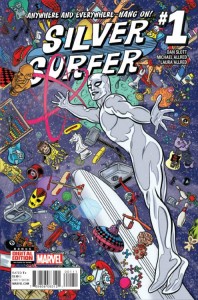 SILVER SURFER #1
MARVEL COMICS
(W) Dan Slott (A/CA) Mike Allred
"Fantastic Planet"
The Surfer has taken Dawn Greenwood to the end of the universe, and now he's going to show her the most fantastic planet of them all: Earth! It's your homeworld like you've never seen it before: with monsters, magic and…a secret that will change everything! The perfect jumping-on point for the book everyone's talking about!
NOW THAT ALL THAT'S OVER LET'S GET DOWN TO BUSINESS!
HERE'S THE FULL LIST!
If you want a full visual list of everything click this link whydonthca (tho this might not update til Monday or something)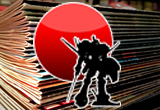 (the following list of comics reflects all the comics coming into both locations. If there's something on this list that's not in stock at your favorite BNW location do not hesitate to ask for us to order it for you!)
COMICS AND MAGAZINES
68 Last Rights #4 (OF 4)
Adventure Time Ice King #1
All New X-Men #1 2nd Ptg
American Monster #1
Astonishing Ant-Man #4
Astro City #31
Batgirl #47
Batman #48
Batman And Robin Eternal #16
Batman Arkham Knight Genesis #6 (OF 6)
Betty & Veronica Comics Annual Digest #240
Big Trouble In Little China #20
Blacklist #6
BPRD Hell On Earth #139
BTVS Season 10 #23
Captain Marvel #1
Clean Room #4
Crossed Badlands #92
Crossed Plus 100 #13
Daredevil #1 2nd Ptg
Dark Horse Presents 2014 #18
Dark Knight III Master Race #2 (OF 8) Collectors Ed Hc
Dark Tower Drawing Of Three Lady Of Shadows #5
Deadpool #6
Devolution #1 (OF 5)
Doctor Fate #8
Doctor Strange #3
Dragon Age Magekiller #2 (OF 5)
Drax #3
GI Joe A Real American Hero #224
Hangman #2
Harley Quinn #24
Hercules #3
Howard The Duck #2 Gwenpool B&W 2nd Ptg
I Hate Fairyland #4
Imperium #12
Injustice Gods Among Us Year Five #2
Invincible Iron Man #4 2nd Ptg
Jim Hensons Storyteller Dragons #2
Judge Dredd (ONGOING) #2
Justice League Darkseid War Batman #1 2nd Ptg
Justice League Darkseid War Flash #1 2nd Ptg
Justice League Darkseid War Green Lantern #1 2nd Ptg
Justice League Darkseid War Shazam #1 2nd Ptg
Justice League Darkseid War Superman #1 2nd Ptg
Legacy Of Luther Strode #4
Looking For Group #10
Lucifer #2
Lumberjanes #22
Martian Manhunter #8
Marvel Universe Avengers Assemble Season Two #15
Max Ride #3 (OF 5)
Ms Marvel #3
New Avengers #5
Nowhere Men #7
Pathfinder Hollow Mountain #3 (OF 6)
Patsy Walker Aka Hellcat #2
Pencil Head #1 (OF 5)
Phonogram The Immaterial Girl #6 (OF 6)
Plants Vs Zombies Ongoing #8
Poison Ivy Cycle Of Life And Death #1 (OF 6)
Postal #9
Rachel Rising #39
Red Thorn #3
Robin Son Of Batman #8
Rook #4
Secret Six #10
Silver Surfer #1
Simpsons Comics #225
Sinestro #19
Star Wars #15
Star-Lord #3
Starbrand And Nightmask #2
Street Fighter Unlimited #2
Superman Wonder Woman #25
Superzero #2
Symmetry #2
Titans Hunt #4 (OF 12)
Tokyo Ghost #5
Transformers #49
Transformers Robots In Disguise Animated #6
Uncanny Inhumans #4
Uncanny X-Men #2
Usagi Yojimbo #151
Walking Dead Magazine #15 Px Ed (
Wayward #13
Weird Love #11
Will Eisner Spirit #7
Wolf #5
Wonder Woman #48
Wrath Of The Eternal Warrior #3
TRADE PAPERBACKS, GRAPHIC NOVELS, HARDCOVERS AND MANGA
All New X-Men Tp Vol 07 Utopians
Book Of Death Tp
Doctor Who Prisoners Of Time Tp
Frank In The 3rd Dimension Hc
Horror By Heck Hc
Grayson Tp Vol 01 Agents Of Spyral Tp
Grayson Tp Vol 02 We All Die At Dawn
Monster Tp Vol 07 Perfect Ed Urasawa
New Teen Titans Tp Vol 04
Showcase Presents Batman Tp Vol 06
Star Wars Tp Lando
Thor Tp Vol 01 Goddess Of Thunder
TOYS
Movie Realization Star Wars Meisho Boba Fett Af
ODDS AND ENDS
DC Comics Icons Harley Quinn Statue
DC Superhero Best Of Fig Coll Mag #1 Batman
DC Superhero Best Of Fig Coll Mag #3 Wonder Woman