You already know but we're supposed to get a butt load of snow tomorrow and people are out there prepping like it's the End Times again (hope you've got comics at home)…
Here's what's coming out next week…
Unless something crazy happens w/ the snow tonight BNW will most likely be closed Saturday January 23 2016
Be sure to check out our Facebook Pages ( Willow Grove   Old City) and Twitter for up to date details!
IN CASE YOU MISSED IT!
Do You Get Our EMail Newsletter Every Monday?

Sing up over HERE and get updates every Monday afternoon and help break up those early in the week doldrums!
GATEWATCH IS HERE!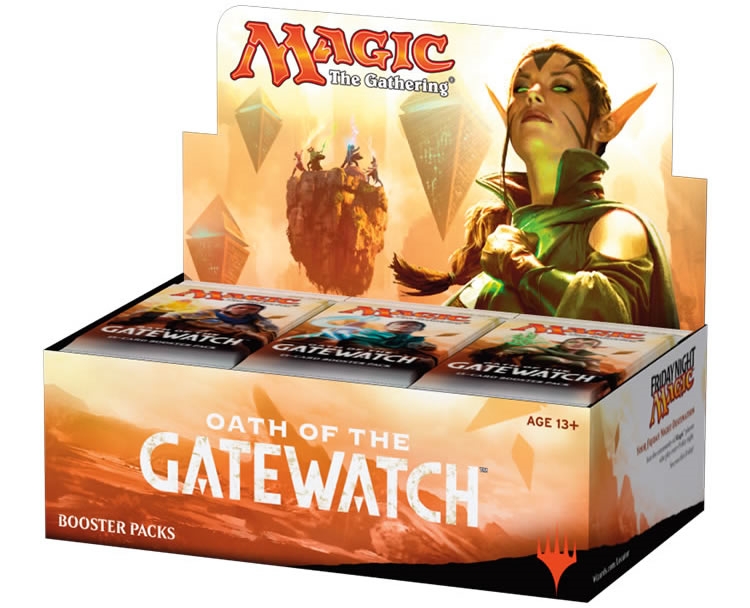 Get it now at either BNW!
POP DEALS!
While supplies last we've got some good deals (SERIOUSLY JUST $5!!!) going on some sweet Funko Pop figures right now at both locations! Get 'em while they're hot!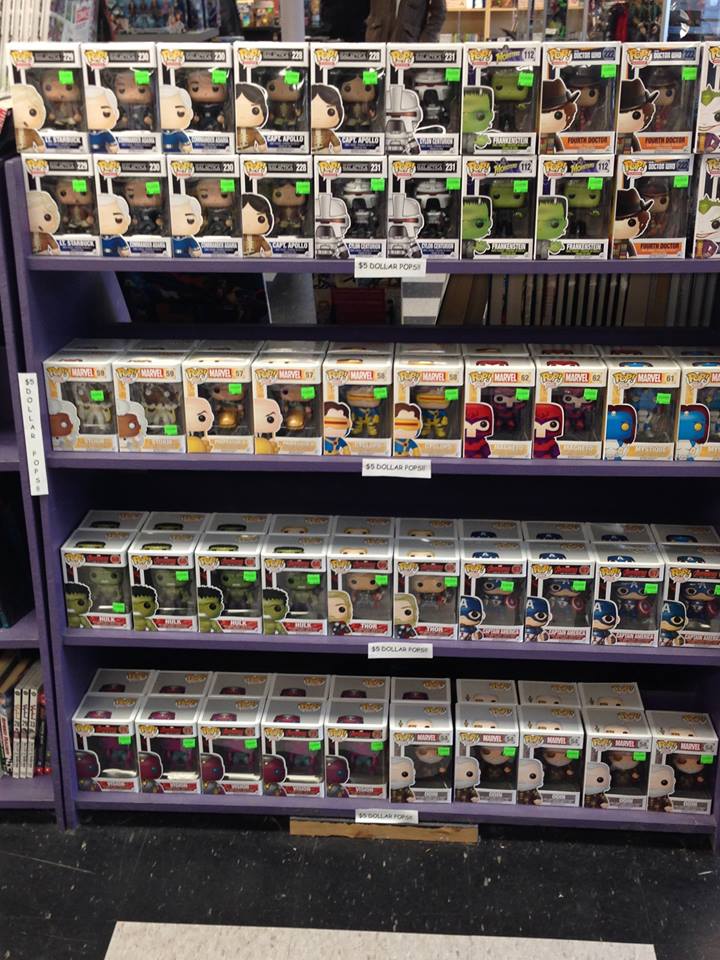 NEW ARKHAM TOYS!
From the highly anticipated Batman: Arkham Knight video game, Azrael, Professor Pyg and Man-Bat come to life in these new action figures based on their appearance in the game!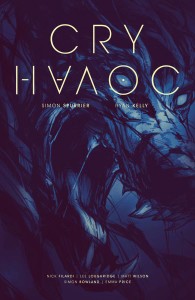 CRY HAVOC #1

IMAGE COMICS
(W) Simon Spurrier (A/CA) Ryan Kelly
BEHOLD THE MODERN MONSTROSITY.
X-Men Legacy writer SIMON SPURRIER and superstar artist RYAN KELLY present fiends, fragility, and firepower in an all-new series, mixing the hard-boiled militaria of Jarhead with the dark folklore of Pan's Labyrinth. Includes an unprecedented use of multiple colorists (MATT WILSON, LEE LOUGHRIDGE, & NICK FILARDI) to define the story's threads, and an incredible variant cover by Eisner Award winner CAMERON STEWART. This is not the tale of a lesbian werewolf who goes to war. Except it kind of is.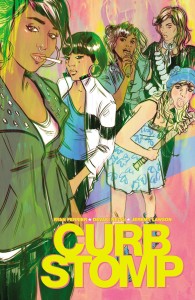 CURB STOMP TP
BOOM! STUDIOS
(W) Ryan Ferrier (A) Devaki Neogi (CA) Tula Lotay
What's to Love: Punk rock isn't dead…yet. Turf wars, breaking rules, crushing violence, and Black Flag-these are a few of our favorite things, and Curb Stomp straight-up knocks our teeth out (in a good way). It's an unflinching, visceral look at the lengths one woman will go to protect her friends, her family, and her home-perfect for fans of Rat Queens and the seminal '70s cult-favorite film The Warriors.
What It Is: Three gangs. Five girls. No way out. Machete Betty leads a small gang of women under the self-appointed task of protecting their home of Old Beach, one of three boroughs surrounding a rich metropolitan city. When Betty takes the life of a rival gang member in an act of self-defense, she sets off a chain reaction of retaliation, gang warfare, and unlikely allies. It's up to the The Fever-Machete Betty, Derby Girl, Bloody Mary, Daisy Chain, and Violet Volt-to defend their turf at all costs. Collects the complete four-issue limited series.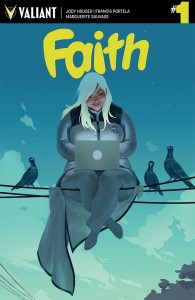 FAITH #1 (OF 4)
VALIANT ENTERTAINMENT LLC
(W) Jody Houser (A) Francis Portela, Marguerite Sauvage (CA) Jelena Kevic-Djurdjevic
FAITH BEGINS! VALIANT'S MOST DEMANDED HERO STEPS OUT OF HARBINGER…AND INTO AN ALL-NEW ADVENTURE!
Faith Herbert, the psionically gifted "psiot" known as Zephyr, has been a neglected child, a pawn of the Harbinger Foundation, and a washout with the government superteam called Unity. But now she's taking control of her life and becoming the hero she's always known she can be – complete with a secret identity, a codename, and a cover assignment that routinely throws her into harm's way! But flying solo is going to be tougher than she ever thought as she uncovers a deep-rooted alien conspiracy that could destroy human civilization from the inside out! Is Faith out of her depth…or in for her biggest adventure yet? Rising star Jody Houser (Orphan Black) and red-hot artist Francis Portela (Green Lantern) pilot a new chapter for Valiant's high-flying hero right here in her first-ever limited series!
GHOSTBUSTERS INTERNATIONAL #1 (OF 4)
IDW PUBLISHING
(W) Erik Burnham (A/CA) Dan Schoening
There's something strange in the neighborhood… and whether that neighborhood is in New York City or Venice, Italy, the Ghostbusters will be there! After a bust at the United Nations, the boys in gray are engaged to investigate an Old World haunting, where they begin to unravel a mystery that sends them around the globe (while still trying to keep their contract with the City, County, and State of New York!). Join us for the next chapter in Ghostbusters history – because you demanded it: GHOSTBUSTERS INTERNATIONAL!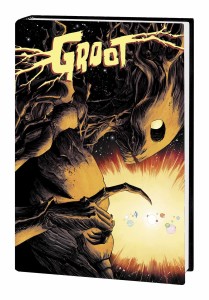 GROOT PREM HC
MARVEL COMICS
(W) Jeff Loveness (A) Brian Kesinger (CA) Declan Shalvey
I am Groot. I AM Groot. I am GROOT. I AM GROOT!!! Translation: For the first time ever, the most famous talking-tree-thing in the Marvel Universe stars in his own series! Life is good for Rocket and Groot, your two favorite Guardians of the Galaxy. They're having a heck of a time on a well-deserved celestial road trip — until Rocket gets raccoon-napped! Taking a leaf out of his feisty, furry friend's book, Groot will have to uproot, branch out alone and em-bark on a cosmic odyssey. He'll face an adventure filled with aliens, sharks, explosions and the Silver Surfer. Far out! Along the way, a world needs saving, and a ship full of mercenaries is cruising for a bruising. Is he the right tree for the job? Well, he is Groot! Collecting GROOT #1-6.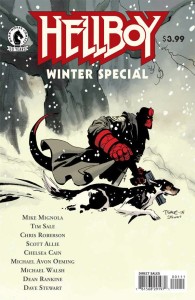 HELLBOY WINTER SPECIAL 2016 #1
DARK HORSE COMICS
(W) Mike Mignola & Various (A) Michael Walsh & Various (CA) Tim Sale
Best-selling novelist Chelsea Cain writes and Michael Avon Oeming draws the first of three snowbound stories. Then Tim Sale visits Mignola's prehistoric mythology, and in a lead-in to the upcoming issues of Hellboy and the B.P.R.D.: 1953, Hellboy explores a haunted mine in the barren wastes of Wyoming.
Mike Mignola (W/Variant cover), Chris Roberson (W), Chelsea Cain (W), Scott Allie (W), Michael Walsh (A), Michael Avon Oeming (A), Tim Sale (A/Cover), and Dave Stewart (C)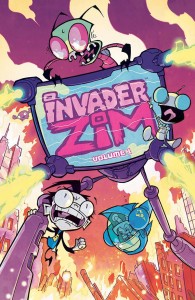 INVADER ZIM TP VOL 01

ONI PRESS INC.
(W) Jhonen Vasquez, Eric Trueheart (A/CA) Aaron Alexovich, Megan Lawton
Collects the first five issues of the comic series based on the hit TV show, INVADER ZIM! "Never has a comic so purposefully stupid lied on a foundation of comedic skill so honed and smart." You said it, Paste Magazine. From the far reaches of weird space to the incomprehensible world of underground art, ZIM is back! And his thirst for world domination has only grown!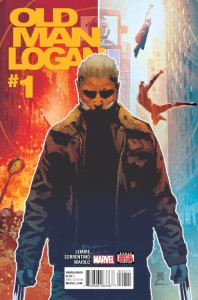 OLD MAN LOGAN #1
MARVEL COMICS
(W) Jeff Lemire (A/CA) Andrea Sorrentino
Fifty years from now, Logan — the man who no longer calls himself Wolverine — will have endured many atrocities: The Marvel Universe's villains will have banded together and rid the world of its heroes. Logan's closest friend, Hawkeye, will have been murdered in cold blood right before his eyes. And driven mad by the same radiation that gave him his superhuman strength, Bruce Banner will have fathered a family of hillbilly Hulks…that eventually went on to slaughter Logan's wife and two children. But now, in the present, Old Man Logan wakes up to discover himself in a world before these atrocities, before the Wasteland. And he's going to seize this opportunity and change history to ensure that his future never comes to pass…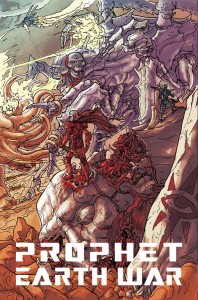 PROPHET EARTH WAR #1
IMAGE COMICS
(W) Brandon Graham, Simon Roy (A) Giannis Milonogiannis, Simon Roy (CA) Simon Roy
THE EPIC CONCLUSION TO PROPHET BEGINS HERE!
A clone general goes against his Brain-Mother overlords to gain control of an alien egg. Start of the final six issue mini-series.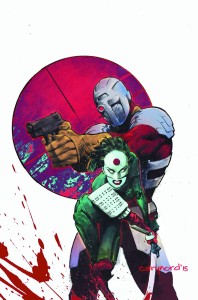 SUICIDE SQUAD MOST WANTED DEADSHOT KATANA #1 (OF 6)
DC COMICS
(W) Brian Buccellato, Mike W. Barr (A) Viktor Bogdanovic & Various (CA) Cary Nord
Two of the stars of next year's highly anticipated action movie break out in their own solo adventures in this extra-sized, 6-issue miniseries!
First, in a story by Brian Buccellato, Viktor Bogdanovic and Richard Friend, Deadshot is on the run, taking on a series of new contracts, and re-establishing himself as the world's most deadly marksman. But things are about to get complicated for Floyd Lawton when a figure from his past threatens to expose a dark secret…and Deadshot gets word of his next target: Lex Luthor!
Then, writer Mike W. Barr returns to the character he co-created in "Katana, Cult of the Kobra," with art by Diogenes Neves. Katana needs to know more about Soultaker's origin if she's going to have any hope of controlling the sword instead of falling under its influence. Dr. Helga Jace, a Markovian astrophysicist, may be able to shed some light-but before Katana can get the info, Kobra's forces attack!
HERE'S THE FULL LIST!
If you want a full visual list of everything click this link whydonthca (tho this might not update til Monday or something)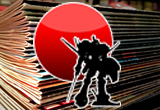 (the following list of comics reflects all the comics coming into both locations. If there's something on this list that's not in stock at your favorite BNW location do not hesitate to ask for us to order it for you!)
COMICS AND MAGAZINES
All New All Different Avengers #4
All New Inhumans #3
All New Wolverine #2 2nd Ptg
Angela Queen Of Hel #4
Aquaman #48
Art Ops #4
Atomic Robo & The Ring Of Fire #5 (OF 5)
Batman And Robin Eternal #17
Beauty #6
Black Canary #7
Black Magick #4
Bloodshot Reborn #10
Blubber #2
Carnage #4
Chew #54
Colder Toss The Bones #5 (OF 5)
Conan The Avenger #22
Cry Havoc #1
Cyborg #7
Daredevil #3
Deadly Class #18
Deadpool And Cable Split Second #2 (OF 3)
Deathstroke #14
Doctor Who 10th Year Two #5
Dreaming Eagles #2
East Of West #24
Elfquest Final Quest #13
Escape From New York #14
Extraordinary X-Men #3 2nd Ptg
Extraordinary X-Men #6
Faith #1 (OF 4)
Fuse #17
GFT Grimm Tales Of Terror Vol 2 #4
GFT Red Agent #1 (OF 5)
GFT Steampunk #1 (OF 2)
GFT Wonderland #43
Ghostbusters International #1
Grayson #16
Guide To Marvel Cinematic Universe Ca First Avenger
He Man The Eternity War #14
Hellboy Winter Special 2016 #1
Hip Hop Family Tree #6
Howling Commandos Of Shield #4
Island #6
Jacked #3 (OF 6)
Jem & The Holograms #11
Jupiters Circle Vol 2 #3 (OF 6)
Justice League 3001 #8
Justice League Of America #7
Kanan #10
King Conan Wolves Beyond The Border #2 (OF 4)
Last Gang In Town #2 (OF 7)
Marvel Universe Ult Spider-Man Spider-Verse #3
Marvels Captain America Civil War Prelude #4 (OF 4)
Monstress #1 3rd Ptg
Monstress #3
Moon Girl And Devil Dinosaur #3
Negative Space #3 (OF 4)
Odyc #9
Old Man Logan #1
Omega Men #8
Orphan Black Helsinki #3 (OF 5)
Outcast By Kirkman & Azaceta #15
Pastaways #8
Peanuts Vol 2 #30
Previews #329 February 2016
Marvel Previews #7 February 2016 Extras
Prophet Earth War #1 (OF 6)
Revival #36
Rick & Morty #10
Ringside #3
Saga #33
Savage Dragon #211
Scooby Doo Team Up #14
Simpsons Illustrated #21
Southern Bastards #13
Spider-Man 2099 #5 2nd Ptg
Spider-Woman #3
Suicide Squad Most Wanted Deadshot Katana #1 (OF 6 )
Superman #48
Superman Lois And Clark #4
Tarot Witch Of The Black Rose #96
Teen Titans #16
TMNT Ongoing #54
Transformers Sins Of Wreckers #3 (OF 5)
Twilight Children #4 (OF 4)
Unbeatable Squirrel Girl #4
Venom Space Knight #3
We Are Robin #8
Wes Craven Coming Of Rage #4 (OF 5)
X-Files Season 11 #6
TRADE PAPERBACKS, GRAPHIC NOVELS, HARDCOVERS AND MANGA
Adventure Time Sugary Shorts Tp Vol 02
Armor Wars Warzones Tp
Batman By Ed Brubaker Tp Vol 01
Batman The Jiro Kuwata Batmanga Tp Vol 03 (OF 3)
Bee And Puppycat Tp Vol 02
Big Trouble In Little China Tp Vol 02
Book Of Death Fall Of The Valiant Universe Tp
Curb Stomp Tp
Deadman Wonderland Gn Vol 13
Groot Prem Hc
Inhumans Tp Attilan Rising
Invader Zim Tp Vol 01
Jojos Bizarre Adv Battle Tendency Hc Vol 02
Lazarus Tp Vol 4 Poison
League Of Extraordinary Gentlemen Gallery Ed Hc
Mind MGMT Hc Vol 06 The Immortals
Rasputin Tp Vol 02
Shield Tp Vol 02 Man Called Death
Spider-Woman Tp Vol 02 New Duds
Supergirl Tp Vol 01 The Girl Of Steel
Swamp Thing Tp Vol 07 Seasons End
Sword Art Online Girls Ops Gn Vol 02
Sword Art Online Phantom Bullet Gn Vol 01
Ultraman Gn Vol 03
Umineko When They Cry Gn Ep 5 Vol 03
What If Tp Infinity
TOYS
Batman Arkham Knight Azrael Af
Batman Arkham Knight Man Bat Af
Batman Arkham Knight Professor Pyg Af
Predators Series 14 Af Asst
ODDS AND ENDS
DC Batman Auto Fig Mag #79 Classic Tv Catmobile
Marvel Chess Fig Coll Mag Special #4 Gamora & Drax