First NEW COMICS DAY of the NEW YEAR!
Do You Get Our EMail Newsletter Every Monday?

Sing up over HERE and get updates every Monday afternoon and help break up those early in the week doldrums!

HEY, CHECK OUT SOME AWESOME COMICS WITH THE WORD GIRL IN THE TITLE!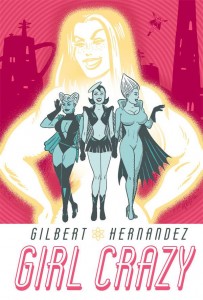 GIRL CRAZY HC
DARK HORSE COMICS
(W/A/CA) Gilbert Hernandez
Kitten, Maribel, and Gaby are childhood friends celebrating their sixteenth birthday. But someone's missing-their fourth friend, Una, is imprisoned in Tijuana. So the girls set out to give Una the ultimate birthday gift-freedom-even if it means taking on an entire city!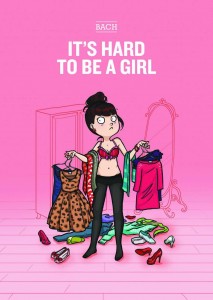 ITS HARD TO BE A GIRL GN
SOARING PENGUIN PRESS
(W/A/CA) Estelle Bachelard
The humorous daily struggles of Estelle and Charles and the ever-increasing calamities they find themselves in. Estelle is a fashion addict and shopaholic, particularly drawn to shoes. She shares her life with Charles, who works with her in the video gaming world. Despite this commonality, Charles often has trouble understanding her taste for style that often leads to calamity. Observant and keenly self-deprecating, Bach delivers a wry, insightful commentary on everyday life.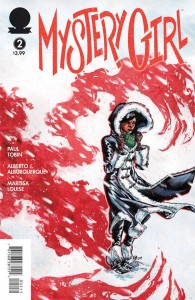 MYSTERY GIRL #2
DARK HORSE COMICS
(W) Paul Tobin (A/CA) Alberto Alburquerque
Trine knows the answer to any question, except how she knows it. But that's a mystery for later. The mystery for now concerns frozen mammoths in Siberia, and Trine, who never leaves London, wants to go see them herself. And close behind her is a killer who's targeted Trine for reasons even she doesn't know.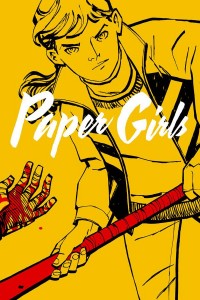 PAPER GIRLS #4
IMAGE COMICS
(W) Brian K. Vaughan (A/CA) Cliff Chang
What lurks beneath the streets of Stony Stream?
SOME SERIOUS #1s THIS WEEK!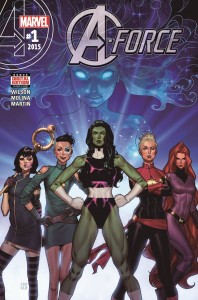 A-FORCE #1
MARVEL COMICS
(W) G. Willow Wilson (A/CA) Jorge Molina
A-FORCE, ASSEMBLE! From the ashes of Battleworld, Marvel's newest hero SINGULARITY has risen and entered the Marvel Universe. But she didn't make the journey alone. To combat the most fearsome threats from across the multiverse, Singularity will summon the world's mightiest team of Avengers to her side: SHE-HULK. CAPTAIN MARVEL. DAZZLER. MEDUSA. NICO MINORU. Together, they are A FORCE to be reckoned with!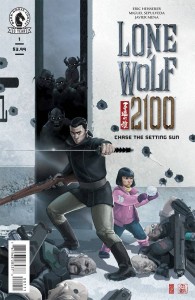 LONE WOLF 2100 #1 (OF 4)
DARK HORSE COMICS
(W) Eric Heisserer (A/CA) Miguel Sepulveda
2100 CE: A devastating manmade plague is turning the human race into cannibalistic monsters known as the Thrall. But there is hope: young Daisy Ogami's blood holds the secret to a cure-if Itto, her android protector, can get her to a place where it can be extracted!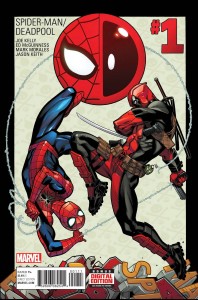 SPIDER-MAN DEADPOOL #1
MARVEL COMICS
(W) Joe Kelly (A/CA) Ed McGuinness
BECAUSE YOU DEMANDED IT!
The Webbed Wonder and the Merc with a Mouth are teaming up for their first ongoing series EVER! It's action, adventure and just a smattering of (b) romance in this episodic epic featuring the WORLD'S GREATEST SUPER HERO and the star of the WORLD'S GREATEST COMICS MAGAZINE. Talk about a REAL dynamic duo!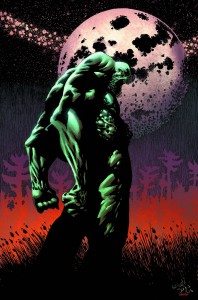 SWAMP THING #1 (OF 6)
DC COMICS
(W) Len Wein (A/CA) Kelley Jones
Swamp Thing returns in an all-new series written by his co-creator, legendary writer Len Wein! Swamp Thing has received an ominous warning, and now he finds himself under attack from the forces of dark magic. These are more than just your average monsters-and there's something much worse looming on the horizon for Alec Holland!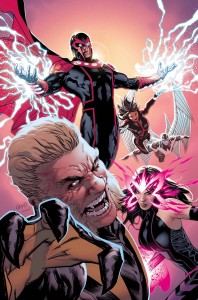 UNCANNY X-MEN #1
MARVEL COMICS
(W) Cullen Bunn (A/CA) Greg Land
In a world that's never hated or feared mutants more, there is only one constant: BIGGER THREATS REQUIRE MORE THREATENING X-MEN. Refusing to accept one more mutant death, the most ruthless mutants on Earth have banded together to proactively mow down their enemies. But with a team populated by relentless killers, one question applies above all others: Can they stay away from each other's throats long enough to sever their targets'?
NOW LET'S GET DOWN TO BUSINESS!
HERE'S THE FULL LIST!
If you want a full visual list of everything click this link whydonthca (tho this might not update til Monday or something)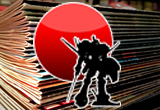 (the following list of comics reflects all the comics coming into both locations. If there's something on this list that's not in stock at your favorite BNW location do not hesitate to ask for us to order it for you!)
COMICS AND MAGAZINES
A-Force #1
Action Comics #48
Alter Ego #137
Amazing Spider-Man #1.2
Angel And Faith Season 10 #22
Angry Birds Comics (2016) #1
Archie #5
Barb Wire #7
Batman And Robin Eternal #14
Batman Beyond #8
Bitch Planet #6
Black Science #19
Contest Of Champions #4
Dark Corridor #6
Darth Vader #15
Dc Comics Bombshells #8
Dead Vengeance #4 (OF 4)
Deadpool #5
Detective Comics #48
Doctor Strange #4
Doctor Who 10th Year Two #4
Doctor Who 12th Year Two #1
Elephantmen #68
Fade Out #12
GFT Robyn Hood Ongoing #18
GFT Van Helsing Vs Dracula #4 (OF 5)
GI Joe A Real American Hero #223
Giant Days #10
Grant Morrisons 18 Days #7
Green Arrow #48
Green Lantern #48
Guardians Of Infinity #2
Heavy Metal #278
Hi Fructose Magazine Quarterly #38
Hobby Japan Dec 2015
Injustice Gods Among Us Year Five #1
Invader Zim #6
Invincible Iron Man #5
Joe Golem Occult Detective #3
Johnny Red #3 (OF 8)
Lara Croft Frozen Omen #4 (OF 5)
Letter 44 #22
Lone Wolf 2100 #1 (OF 4)
Marvels Captain America Civil War Prelude #3 (OF 4)
Midnighter #8
Miracleman By Gaiman And Buckingham #6
My Little Pony Friends Forever #24
Mystery Girl #2
Mythic #6
Nailbiter #19
October Faction #12
Pacific Rim Tales From The Drift #3
Paper Girls #4
Popeye Classics Ongoing #42
Regular Show #31
Saints #4
Sheriff Of Babylon #2 (OF 8)
Spider-Gwen #4
Spider-Man Deadpool #1
Star Trek Starfleet Academy #2 (OF 5)
Star Wars #14
Stray Bullets Sunshine & Roses #11
Survivors Club #4
Swamp Thing #1 (OF 6)
Telos #4
Totally Awesome Hulk #2
Ultimates #3
Uncanny X-Men #1
Unfollow #3
Vision #3
Weirdworld #2
Woods #19
X-O Manowar #43
TRADE PAPERBACKS, GRAPHIC NOVELS, HARDCOVERS AND MANGA
100 Bullets Tp Book 04
Age Of Reptiles Ancient Egyptians Tp
Baltimore Hc Vol 06 Cult Of The Red King
Batman Arkham Knight Tp Vol 01
Batman Detective Comics Hc Vol 07 Anarky
Batman Detective Comics Tp Vol 06 Icarus
Color Your Own Deadpool Tp
Deadpools Secret Secret Wars Tp
FBP Federal Bureau Of Physics Tp Vol 04 End Times
Girl Crazy Hc
Its Hard To Be A Girl Gn
Mu Ultimate Spider-Man And Avengers Digest Tp
Red Hood And The Outlaws Tp Vol 07 Last Call
Silver Surfer Tp Vol 03 Last Days
Sonic Mega Man Worlds Collide Complete Epic Tp Px
Star Wars Darth Vader Tp Vol 02 Shadows And Secret
Ultimate End Tp
TOYS
Friday The 13th Pt 6 Jason 7in Ult Af
Marvel Minimates Ser 65 Deadpool Asst
ODDS AND ENDS
Star Trek Starships Fig Mag #55 Vulcan Dkyr
Star Trek Starships Fig Mag #59 Uss Relativity