The Holiday Season is in FULL SWING! 6 Days and counting til the big ol Christmas Day! Are you ready!?
Do You Get Our EMail Newsletter Every Monday?

Sing up over HERE and get updates every Monday afternoon and help break up those early in the week doldrums!
STILL STUCK W/ HOLIDAY SHOPPING?!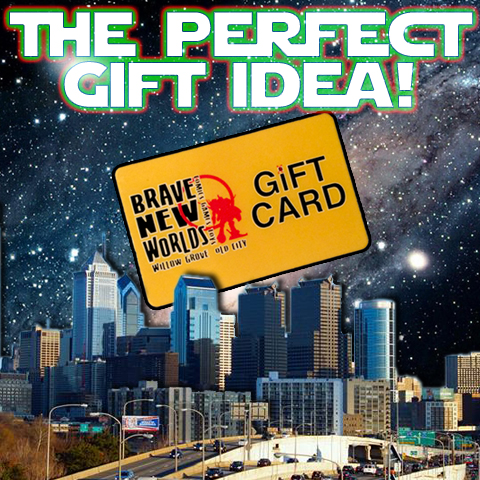 They're are available at both locations!
Pick your location and head on over and grab one! We'll even toss it in a nice green envelope for you!
You can get one for ANY amount over $10!
Seriously! Pick how much you want on the card and we can toss it right on there simple as that!
You can use them at either location!
Seems like we've helped alleviate some of those Holiday Shopping Stresses right there!
WARHAMMER 50% OFF IN WILLOW GROVE!

You read that correctly! Games Workshop stuff is now 50% OFF out at Brave New Worlds Willow Grove! Holy crap!
MEET A WWE HALL OF FAMER!

If you're looking for something to do on the Sunday following Christmas this year why not come over to the squared circle that will be Brave New Worlds Old City and meet RIKISHI! MORE DETAILS OVER HERE!
THERE HAS BEEN A SEASONING! HAVE YOU TASTED IT!?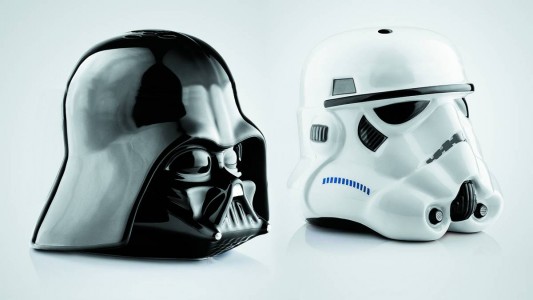 SW SALT & PEPPER SHAKER SET VADER/STORMTROOPER

UNDERGROUND TOYS
Feel the power and might of the Empire on your dining room table with this salt and pepper shaker set featuring Darth Vader and a Stormtrooper!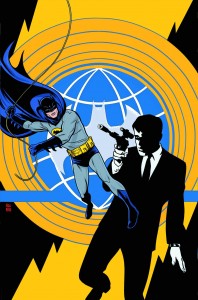 BATMAN 66 MEETS THE MAN FROM UNCLE #1 (OF 6)
DC COMICS
(W) Jeff Parker (A) David Hahn (CA) Michael Allred
Two 1960s television icons cross paths for a groovy, globe-spanning adventure in this one-of-a-kind miniseries. The deadly organization known as T.H.R.U.S.H. has a new twist in their plans for world conquest-they're recruiting some of Gotham City's most infamous villains! Agents Napoleon Solo and Illya Kuryakin bring this information to the one man who knows everything about these new enemies: Batman. Before you can say "Open channel D," the Dynamic Duo and the Men from U.N.C.L.E. are jetting off to Europe to thwart the schemes of this deadly criminal cartel.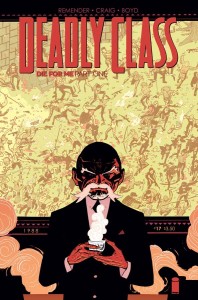 DEADLY CLASS #17

IMAGE COMICS
(W) Rick Remender (A/CA) Wesley Craig
    New Story Arc
The Kings Dominion school grounds become a killing field, and Marcus Lopez is hunted by his classmates as their final exam. Onetime friends and lovers become hunters in the dark, brandishing blades, bullets and a burning desire to become best in class
Sign up with Rick Remender (BLACK SCIENCE, TOKYO GHOST), Wes Craig (BLACK HAND COMICS), and Jordan Boyd (INVISIBLE REPUBLIC, Planet Hulk) for the bloodiest year of DEADLY CLASS yet!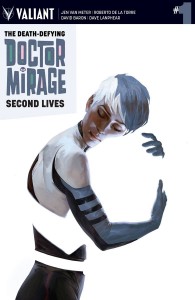 DR MIRAGE SECOND LIVES #1 (OF 4)
VALIANT ENTERTAINMENT LLC
(W) Jen Van Meter (A) Roberto de la Torre (CA) Jelena Kevic-Djurdjevic
In time, even the dead may die…and, now, after multiple 2015 Harvey Award nominations, the most sought-after couple in comics returns with an all-new adventure from Eisner Award-nominated writer Jen Van Meter (Hopeless Savages) and acclaimed artist Roberto de la Torre (Daredevil)!
Occult investigators Shan and Hwen Mirage lived their lives in the thrall of an epic love that few will ever have…until Hwen died tragically before his time. Now, after a perilous trip through the underworld, Shan and Hwen have been reunited…but Hwen is still an intangible spirit of the dead – incapable of opening a spellbook or even touching his wife.
Their options exhausted, the death-defying Doctors Mirage are about to enact a dangerous spell to restore Hwen's solid form…and grant his ghost a second life. But, in the wrong hands, their ancient rite will become a tool of terror – and unleash a force of pure, homicidal evil that lusts for the murder of the living and the dead alike… a torturous death that obliterates not just everything a person ever had in this world, but everything their ghost will be in the next!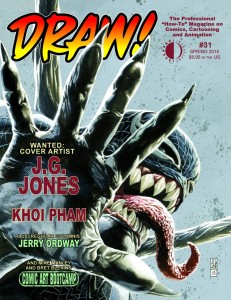 DRAW #31

TWOMORROWS PUBLISHING
Draw!, the professional "how-to" magazine on comics and animation, busts some new moves, Philadelphia Freedom style! It features how-to's and demos by Philly area artists JG Jones (52, Final Crisis, Wanted, Batman and Robin) and Khoi Pham (The Mighty Avengers, The Astonishing Spider-Man, The Mighty World of Marvel). Plus, regular contributor Jamar Nicholas gives his reviews of art supplies, and we finish this jam-packed issue with Jerry Ordway (demonstrating the "ORD-way" of drawing!) and Comic Art Bootcamp by Draw! editor Mike Manley (another local Philly resident) and Bret Blevins. Grab a side of cheese fries, and enjoy this artistic belly buster!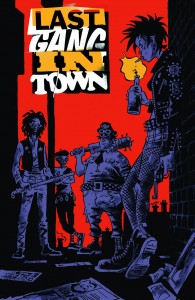 LAST GANG IN TOWN #1 Of(6)

DC COMICS
(W) Simon Oliver (A) Rufus Dayglo (CA) Rob Davis
  Forget what you know of England, of the "Land of Hope and Glory." Instead, try damp and depressing, and embrace this miserable island for what it is. Our story kicks off in 1976: the country coming apart at its flared corduroy seams, a decade after the Great Train Robbery, when British crime has gone decidedly soft in the middle.
Time for a new generation of criminals to rise: a band of snotty-nosed heroes driven by destiny and cheap cider, who will strike fear back into the establishment, put art back into crime and crime back into art, and pull off what will become known as the heist of the century.
This new series from Simon Oliver (FBP: FEDERAL BUREAU OF PHYSICS) and Rufus Dayglo (Tank Girl), spans three decades, from the punk rock '70s to the decadent '80s and beyond, charting the rise, fall and redemption of a group of bandits that changed the face of the criminal underworld and closed the door on a legacy.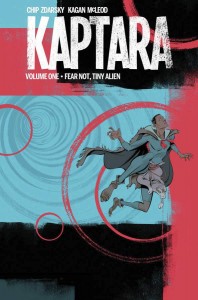 KAPTARA TP VOL 01 FEAR NOT TINY ALIEN
IMAGE COMICS
(W) Chip Zdarsky (A/CA) Kagan McLeod
HOLY COW THE CHEAPEST IMAGE TRADE YET AT $9.98! That's "Chip Cheap™"!
Keith Kanga crash lands on KAPTARA, a world filled with danger and weird danger and dangerous weirdos!  And if he can't survive, then Earth, the place where YOU live, is doomed! Come check out this sci-fi comedy from CHIP ZDARSKY (Sex Criminals) and KAGAN McLEOD (Infinite Kung-Fu) that everyone is calling "published!"Collects KAPTARA #1-5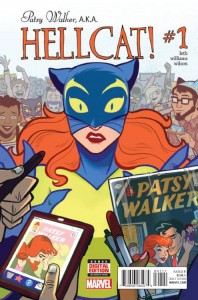 PATSY WALKER AKA HELLCAT #1
MARVEL COMICS
(W) Kate Leth (A/CA) Brittney Williams
PATSY WALKER has managed to escape her past, her enemies and Hell itself (literally), but nothing compares to job hunting in New York City! Between trying to make rent and dodging (literal) bullets, Patsy barely has time to deal with her mother's exploitative romance comics about her childhood resurfacing, much less how they start to interfere with her work and dating life. As she goes from living a double life to a triple, what the Hell is Patsy Walker supposed to do? Raise your (literal) claws for PATSY WALKER, AKA HELLCAT!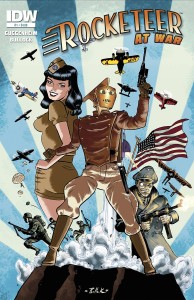 ROCKETEER AT WAR #1 (OF 4)
IDW PUBLISHING
(W) Marc Guggenheim (A/CA) Dave Bullock
Europe, 1942-the world is at war! As the Allies battle against the Axis, able bodied men everywhere enlist in the war effort, including Cliff Secord. Secord, also known as The Rocketeer, has been thrust full throttle into the heat of battle, and-with or without his jet pack-he will depend on his wits and daring if he is to survive!
NOW LET'S GET DOWN TO BUSINESS!
HERE'S THE FULL LIST!
If you want a full visual list of everything click this link whydonthca (tho this might not update til Monday or something)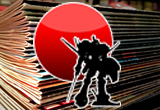 (the following list of comics reflects all the comics coming into both locations. If there's something on this list that's not in stock at your favorite BNW location do not hesitate to ask for us to order it for you!)
COMICS AND MAGAZINES
Aliens Vs Zombies #5 (OF 5)
Amazing Spider-Man #5
Angela Queen Of Hel #3
Aquaman #47
Art Ops #3
Astonishing Ant-Man #3
Astro City #30
Batman 66 Meets The Man From Uncle #1 (OF 6)
Batman And Robin Eternal #12
Batman Arkham Knight #12
Betty & Veronica Comics Double Digest #239
Bloodshot Reborn #9
BTVS Season 10 #22
Captain America Sam Wilson #4
Chew #53
Comic Book Creator #10
Cyborg #6
Daredevil #2
Dark Knight Iii Master Race #2 (OF 8)
Darth Vader #14
DC Comics Bombshells #7
Deadly Class #17
Deadpool #4
Deathstroke #13
Diesel #4 (OF 4)
Doctor Who 11th Year Two #4
Doctor Who 12th #15
Dr Mirage Second Lives #1 (OF 4)
Draw #31
Escape From New York #13
Extraordinary X-Men #4
Fight Club 2 #8
Figment 2 #4 (OF 5)
GFT Grimm Tales Of Terror Vol 2 #3
GI Joe A Real American Hero #222
Gotham By Midnight #12
He Man The Eternity War #13
Hip Hop Family Tree #5
Invisible Republic #8
Island #5
Jack Kirby Collector #66
Jacked #2 (OF 6)
John Carter Warlord #14 (OF 14
Jupiters Circle Vol 2 #2
Justice League 3001 #7
Justice League Of America #6
King Conan Wolves Beyond The Border #1 (OF 4)
Last Gang In Town #1 (OF 7)
Guidebook To Marvel Cinematic Universe Marvels Thor
Marvel Previews #6 January 2016 Extras
Marvel Universe Ult Spider-Man Spider-Verse #2
Mega Man #55
Moon Girl And Devil Dinosaur #2
Nameless #6
New Avengers #4
Outcast By Kirkman & Azaceta #14
Patsy Walker Aka Hellcat #1
Peanuts Vol 2 #29
Pretty Deadly #7
Previews #328 January 2016
Rai #12
Rick & Morty #9
Robin Son Of Batman #7
Rocketeer At War #1 (OF 4)
Saga #32
Sidekick #12
Sinestro #18
Spider-Woman #2
Star-Lord #2
Superman #47
Teen Titans #15
Titans Hunt #3 (OF 12)
TMNT Ongoing #53
Transformers Holiday Special
Transformers More Than Meets Eye #48
Transformers Vs Gi Joe #10
Venom Space Knight #2
Voltron From The Ashes #4 (OF 6)
Walt Disney Comics & Stories #726
Will Eisner Spirit #6
X-Files X-Mas Special
TRADE PAPERBACKS, GRAPHIC NOVELS, HARDCOVERS AND MANGA
Adventure Time Marceline Gone Adrift Tp
BPRD Hell On Earth Tp Vol 12 Metamorphosis
Copra Tp Round Three
Deathstroke The Terminator Tp Vol 02 Sympathy
Demon Tp Vol 01 Hells Hitman
Future Imperfect Tp Warzones
Kaptara Tp Vol 01 Fear Not Tiny Alien
Master Of Kung Fu Tp Battleworld
Roche Limit Tp Vol 02 Clandestiny
Scalped Hc Book 03 Deluxe Edition
Star Wars Force Awakens Visual Dictionary Hc
Superman Action Comics Tp Vol 06 Superdoom
TMNT Ult Coll Hc Vol 06
Where Monsters Dwell Tp Phantom Eagle Flies
TOYS
DC Comics Designer Ser 3 Two Face Af
DC Icons The Flash Chain Lightning Af
Marvel Select Savage Hulk Af
MGS V Phantom Pain Play Arts Kai Ocelot
Universal Select Mummy Ver 2 Af
Universal Select Wolfman Ver 2 Af
ODDS AND ENDS
Femme Fatales Batman Tas Harley Quinn Pvc Figure
Star Wars Salt & Pepper Shaker Set Vader/Stormtrooper