Local Comic Shop Day is a mere TWO Saturdays away! Are you ready for it?! We are! Also here's whats coming at you this week!

Do You Get Our EMail Newsletter Every Monday?

Sing up over HERE and get updates every Monday afternoon and help break up those early in the week doldrums!
BLACK FRIDAY WEEKEND BRINGS THE 1st EVER LOCAL COMIC SHOP DAY!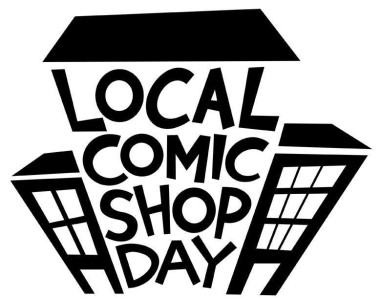 What's Local Comic Shop Day!?
"Local Comic Shop Day™ is a new event designed to call attention to locally owned independent comic book specialty stores, celebrating their unique and vital role in being the primary fire-starters of pop culture. The first Local Comic Shop Day™ will be Saturday, November 28th, two days after Thanksgiving and coinciding with the day American Express has labeled "Small Business Saturday."
Participating retailers will sell exclusive releases from participating publishers. Some items offered will be limited editions, others will be "first day of release" items debuting on LCSD, released on that Saturday – outside of the traditional Wednesday routine. The goal of Local Comic Shop Day™ is to jump start the holiday buying season for storefront comics specialty retailers while also giving comics fans more of what they most desire."
MORE INFO:
HERE'S A FULL POST FROM OUR SITE
our FACEBOOK EVENT is OVER HERE

DEALS DEALS DEALS DEALS!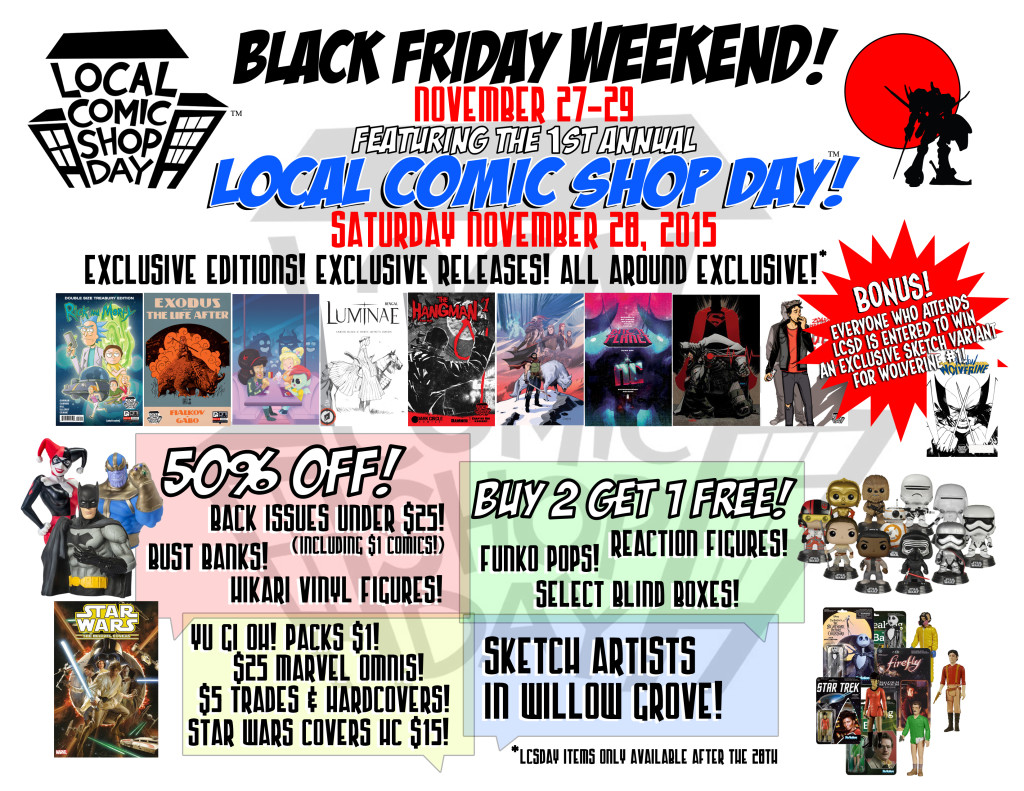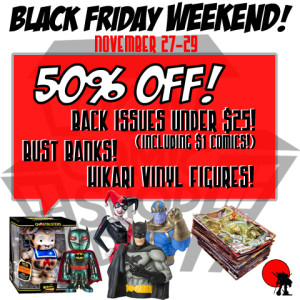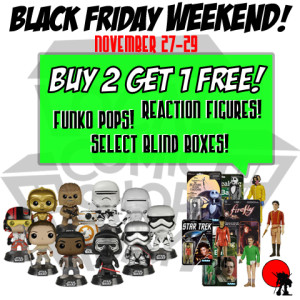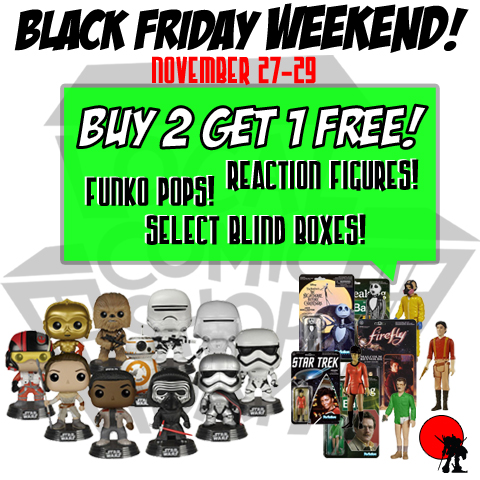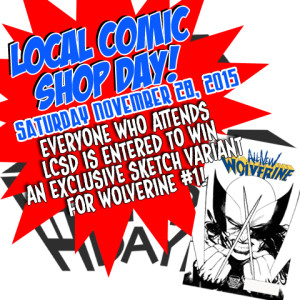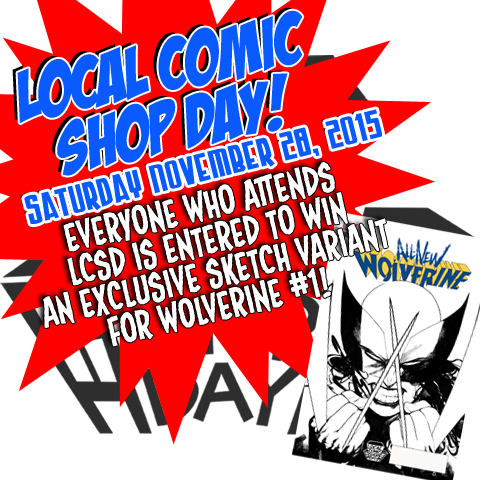 WARHAMMER 50% OFF IN WILLOW GROVE!

You read that correctly! Games Workshop stuff is now 50% OFF out at Brave New Worlds Willow Grove! Holy crap!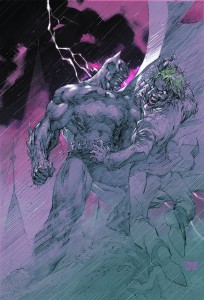 BATMAN EUROPA #1 (OF 4)
DC COMICS
(W) Matteo Casali, Brian Azzarello (A) Giuseppe Camuncoli, Jim Lee (CA) Jim Lee
  Superstar artist Jim Lee returns to the Dark Knight with this premiere issue! The impossible has happened and Batman is on the verge of being taken down by an enemy he cannot defeat: a virus for which there is no cure! And the only hope for his salvation is The Joker! Who infected Batman, what does the Clown Prince of Crime know, and how will the Dark Knight get that information? Together, the enemies crisscross Europe, desperate to find answers before time runs out.
Co-conceived by Matteo Casali and Brian Azzarello, this 4-issue miniseries event will feature art by top talents over layouts by the incomparable Giuseppe Camuncoli (HELLBLAZER, Dark Wolverine), with the first issue pencilled and inked by none other than Jim Lee!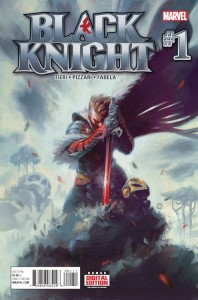 BLACK KNIGHT #1
MARVEL COMICS
(W) Frank Tieri (A) Luca Pizzari (CA) Julian Totino Tedesco
What do you do when it's your destiny to be damned? For centuries, that is the question that has plagued each wielder of the Ebony Blade… with all of them eventually meeting untimely ends due to the sword's curse. And it is the question the current Black Knight, Dane Whitman, must ask himself as his addiction to the blade grows ever stronger and he finds himself in the aptly named Weirdworld. What are the circumstances that brought him to leave Earth and enter this strange and dangerous realm? And what do the Uncanny Avengers have to do with it? Find out here in this new ongoing tale of sword, sorcery and one man's struggle to not lose his soul.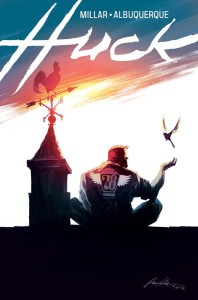 HUCK #1
IMAGE COMICS
(W) Mark Millar (A/CA) Rafael Albuquerque
In a quiet seaside town, Huck uses his special gifts to do a good deed each day. His neighbors return the favors by keeping his abilities a secret. But when a newcomer alerts the media, a firestorm erupts, sending Huck on an adventure that will change everything. This brand-new series from writer MARK MILLAR and artist RAFAEL ALBUQUERQUE presents a comicbook unlike anything you've read before. Featuring a Feel-Good Movie variant cover by RAFAEL ALBUQURQUE.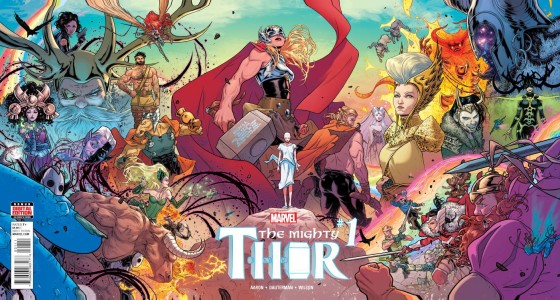 MIGHTY THOR #1
MARVEL COMICS
(W) Jason Aaron (A/CA) Russell Dauterman
When DR. JANE FOSTER lifts the mystic hammer Mjolnir, she is transformed into the Goddess of Thunder, THE MIGHTY THOR! Her enemies are many, as Asgard descends further into chaos and war threatens to spread throughout the Ten Realms. Yet her greatest battle will be against a far more personal foe: the cancer that is killing her mortal form.
MS MARVEL #1
MARVEL COMICS
(W) G. Willow Wilson (A) Takeshi Miyagawa, Adrian Alphona (CA) Cliff Chiang
The internationally-beloved, butt-kicking, smack-talking, most adorable super hero makes her triumphant return. Look out world, Kamala Khan is back and officially an Avenger! Yup, the dream to end all dreams has happened for Kamala. She's toe to toe with the best of the best, but will being one of Earth's mightiest heros be everything she imagined? Is being a celebrity hero as wonderful as Kamala has hoped?
Plus: WHO IS THAT WITH BRUNO?? Welcome back, Kamala Korps. We missed you!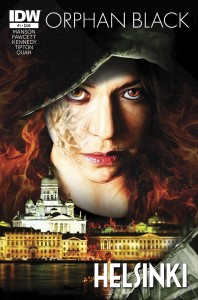 ORPHAN BLACK HELSINKI #1 (OF 5)
IDW PUBLISHING
(W) Graeme Manson & Various (A) Alan Quah (CA) Corbyn S. Kern
Helsinki. Spoken in hushed tones, the word means almost certain death for the clones of Project Leda. Learn the dark secrets of this codename in this special event miniseries by co-creators John Fawcett and Graeme Manson.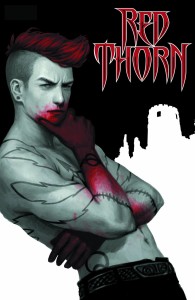 RED THORN #1

DC COMICS
(W) David Baillie (A) Meghan Hetrick-Murante (CA) Choong Yoon
On the rain-soaked streets of Glasgow, a girl whose drawings somehow come to life has just stumbled across her one true love. And thousands of miles below those streets, an ancient demi-god plots his escape from the prison where he's been held for nearly two thousand years. Evil forces are at play and no one is safe as the legends of Scottish mythology collide with the modern world. Fans of FABLES and THE SANDMAN won't want to miss this riveting dark fantasy epic!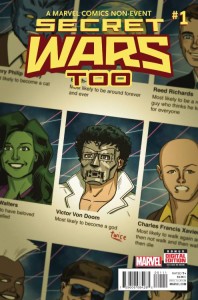 SECRET WARS TOO #1
MARVEL COMICS
(W/A) Various (CA) Chip Zdarsky
THE BEYONDERS TRY THEIR (SCARY, EXTRA-DIMENSIONAL) HAND AT MARKETING:
•  We are Beyond. Dreamers. Destroyers. All of reality our whim. And frankly… we get bored.
•  These tales from across the multifarious domains of Battleworld – not of heroism or consequence, but of humor – provide a brief respite from millennia of omnipotence.
•  We cannot be comprehended by the miniscule human mind. Turn your attention to this book instead of trying.
•  You are welcome.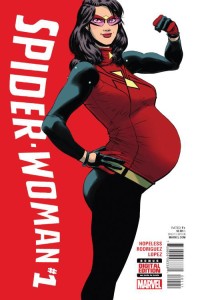 SPIDER-WOMAN #1
MARVEL COMICS
(W) Dennis Hopeless (A/CA) Javier Rodriguez
Jessica Drew is a private investigator, a super hero and… a mom to be? Since we last saw her, Spider-Woman's got a whole NEW responsibility — she's super heroing for two now, after all! Ben Urich and Porcupine are still along for the adventure, too, and aren't making Jess' life any easier – half the time they won't even let her leave the car! How's a gal supposed to save innocent people and keep herself out of harm's way? See how in the mother of all Spider-Stories!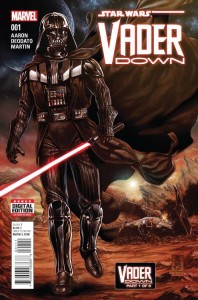 STAR WARS VADER DOWN #1
MARVEL COMICS
(W) Jason Aaron (A) Mike Deodato (CA) Mark Brooks
When Darth Vader accidentally finds himself facing off against the Rebel Fleet on his own, the rebels will learn the true strength of the Dark Side of the Force! Once Vader crashes on a nearby planet, the Rebellion is willing to risk everything for this once-in-a-lifetime chance to take out one of their biggest enemies! Luke! Vader! Leia! Aphra! Han! Chewie! And all manner of Droid, good and evil!
ONE SHOT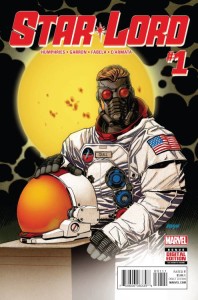 STAR-LORD #1
MARVEL COMICS
(W) Sam Humphries (A) Javi Garron (CA) Dave Johnson
Before Peter Quill traversed the universe, before he was a Guardian, before he was Star-Lord, he was…an astronaut! Well, at least, he wanted to be. But as NASA's biggest burn-out, it looked like the once and future Star-Lord was destined to stay grounded on Earth forever. However, with his burning desire for vengeance, his expert spacecraft knowhow, and his distinct lack of scruples, odds are he won't be on Earth much longer. See how Marvel's scoundrel of the spaceways discovered the galaxy he was destined to guard!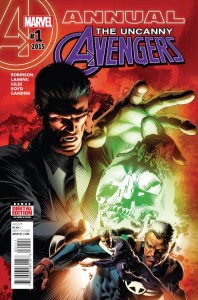 UNCANNY AVENGERS ANNUAL #1
MARVEL COMICS
(W) James Robinson (A) Marc Laming (CA) Mike Deodato
• The only good Nazi is an undead Nazi…
•  The Uncanny Avengers take on magic in this supernatural adventure!
•  Featuring Deadpool! Doctor Voodoo! Agatha Harkness! And the Emerald Warlock makes his marvel debut!
NOW HERE'S THE FULL LIST!
If you want a full visual list of everything click this link whydonthca (tho this might not update til Monday or something)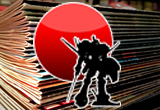 (the following list of comics reflects all the comics coming into both locations. If there's something on this list that's not in stock at your favorite BNW location do not hesitate to ask for us to order it for you!)
COMICS AND MAGAZINES
Action Comics #46
Adventure Time Fionna & Cake Card Wars #5 (OF 6)
Astonishing Ant-Man #2
Astro City #29
Batman 66 #29
Batman And Robin Eternal #7
Batman Arkham Knight Genesis #4 (OF 6)
Batman Europa #1 (OF 4)
Beauty #4
Big Trouble In Little China #18
Bizarro #6 (OF 6)
Black Knight #1
Bloodshot Reborn #8
BPRD Hell On Earth #137
BTVS Season 10 #21
Captain America Sam Wilson #3
Clean Room #2
Cognetic #2
Dark Horse Presents 2014 #16
Dark Tower Drawing Of Three Lady Of Shadows #3
Deadpool #2
Dirk Gentlys Holistic Detective Agency #5 (OF 5)
Doctor Fate #6
Doomed #6
Earth 2 Society #6
Escape From New York #12
Eve Valkyrie #2 (OF 4)
Extraordinary X-Men #2
Futurama Comics #77
Giant Days #8 (OF 12)
Godzilla In Hell #5 (OF 5)
Green Lantern The Lost Army #6
Hacktivist Vol 2 #5 (OF 6)
Harley Quinn #22
Holy F*Cked #3 (OF 4)
Huck #1
I Hate Fairyland #2
Invincible #125
Jem & The Holograms #9
Jughead #2
Kanan #8
Looking For Group #8
Lumberjanes #20
Martian Manhunter #6
Marvel Universe Avengers Assemble Season Two #13
Masks 2 #8 (OF 8)
Mighty Thor #1
Ms Marvel #1
My Little Pony Friendship Is Magic #36
New Avengers #3
New Suicide Squad #14
Onyx #3 (OF 4)
Orphan Black Helsinki #1 (OF 5)
Phonogram The Immaterial Girl #4 (OF 6)
Plants Vs Zombies Ongoing #6
Popeye Classics Ongoing #40
Pretty Deadly #6
Rachel Rising #37
Rat Queens #13
Red Thorn #1
Reyn #10
Savior #8
Secret Six #8
Secret Wars Too #1
Shutter #17
Simpsons Winter Wingding #10
Sleepy Hollow Providence #4 (OF 4)
Sonic The Hedgehog #278
Spider-Woman #1
Star Trek Green Lantern #5 (OF 6)
Star Wars #12
Star Wars Vader Down #1
Star-Lord #1
Steam Man #2 (OF 5)
Telos #2
Titans Hunt #2 (OF 12)
Tokyo Ghost #3
Transformers #47
Uncanny Avengers Annual #1
Uncanny Inhumans #2
Usagi Yojimbo #150
Vampirella #1969
Voltron From The Ashes #3 (OF 6)
Wayward #11
Welcome Back #3
Wes Craven Coming Of Rage #2 (OF 5)
Wrath Of The Eternal Warrior #1
TRADE PAPERBACKS, GRAPHIC NOVELS, HARDCOVERS AND MANGA
A-Force Tp Warzones Vol 00
All New X-Men Tp Vol 06 Ultimate Adventure
Astro City Lovers Quarrel Hc
Batman & Robin Hc Vol 07 Robin Rises
Batman & Robin Tp Vol 06 The Hunt For Robin
Butter And Blood Gn
Captain Marvel And Carol Corps Tp
Death Disability & Superhero Sc
Guardians Of Galaxy Tp Vol 04 Original Sin
Guardians Of Knowhere Tp
Korvac Saga Tp Warzones
Lady Mechanika Tp Vol 01
Loeg Nemo Trilogy Hc Slipcase Ed
Lumberjanes To Max Ed Hc Vol 01
Marvel Zombies Tp Battleworld
Ms Marvel Tp Vol 04 Last Days
Our Expanding Universe Tp
Puma Blues Complete Saga Hc
Quit Your Job And Other Stories Gn
Ragnarok Hc Vol 01 Last God Standing
Rick & Morty Tp Vol 01
Secret Wars 2099 Tp
Silver Surfer Epic Collection Tp Freedom
Star Wars Tp Journey To Sw Force Awakens Shatter Empire
Superman Earth One Tp Vol 03
Superman Wonder Woman Hc Vol 03 Casualties Of War
Superman Wonder Woman Tp Vol 02 War And Peace
Swamp Thing Darker Genesis Tp
Ultraman Gn Vol 02
TOYS
Batman Arkham Knight Commissioner Gordon Af
Batman Arkham Knight Robin Af
Commando John Matrix Ultimate 7in Af
DC Icons Batman Last Rights Af
DC Icons Deadman Brightest Day Af
DC Icons Green Arrow Longobow Hunters Af
DC Icons Mister Miracle Earth 2 Af
ODDS AND ENDS
Batman 1966 Catwoman Bust